Incorporating the Latest Trends in Residential Design
A closer look at the new solutions designers are using meet the demands of today's homeowners
Sponsored by Cascade Architectural, LaCantina Doors, and Rocky Mountain Hardware
Solution: Coiled Wire Fabric Shades
Coiled wire fabric is created by corkscrew weaving individual strands of spiraled wire together. The coiled wire fabric panels can be constructed from several base wire materials, including steel, aluminum, brass, copper, and stainless steel, in a number of different gauges, thicknesses, finishes, and weave types. The weave will determine the percentage of open area that exists in the fabric. Coiled wire fabric panels can be applied as an interior drapery or an exterior scrim.
One unique characteristic of a coiled wire fabric not possessed by solar fabric or blind solutions is fullness. Fullness refers to the billowing drapery effect that can be created when more material is used at an opening than what is required to cover the opening. It is typically expressed in the percentage of additional material that is added. For example, 15 percent fullness indicates that the fabric panel contains 15 percent more fabric than necessary. A panel with 15 percent fullness will have a subtle looseness or wave to it. When a fabric panel with 200 percent fullness is used, that's twice the amount of fabric necessary to cover the opening, and so there is a pronounced ripple in the fabric. This concept of fullness and using more fabric than necessary allows coiled wire fabric to display interesting daylight management capabilities at a window or opening.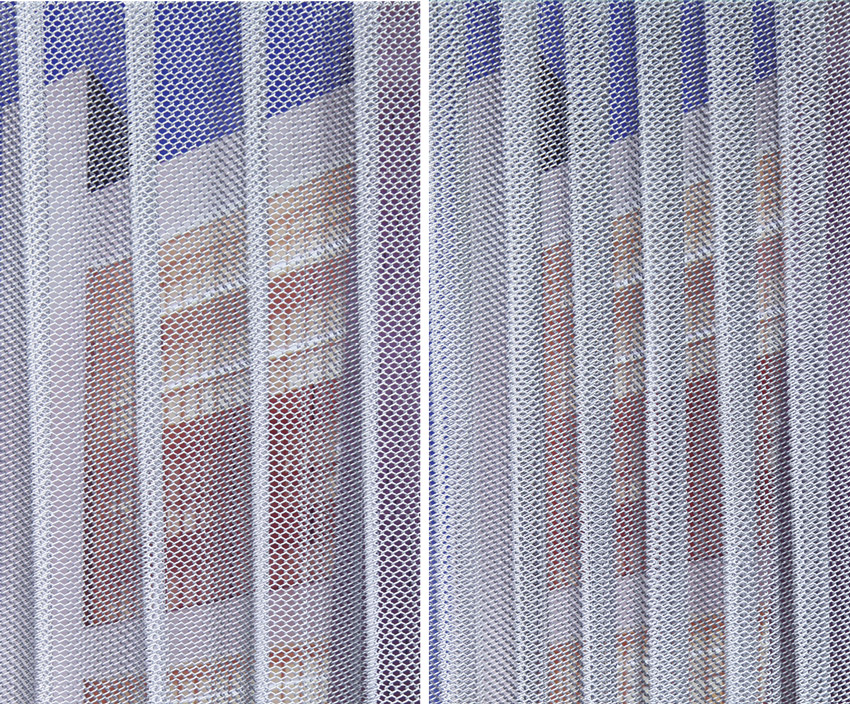 Images courtesy of Cascade Architectural
Coiled wire fabric can be specified in terms of fullness, which refers to the billowing drapery effect created when more material is used than is required to cover the opening. Shown here are examples of 100 percent fullness and 200 percent fullness, respectively.
Design Tip: Managing Glare with Coiled Wire Fabric
Glare is described as a condition when an overly bright light source, or reflection of a light source, enters a person's field of vision. The general rule of thumb is that an object that is 10 times brighter than the ambient visual environment could cause glare conditions. Certainly, the orb of the sun has the ability to create that uncomfortable bright spot, as does a window that may allow overly bright daylight to blast into the home.
The goal of the daylight management solution, whether a solar fabric shade or a coiled wire fabric shade, is to reduce the intensity of the daylight that is allowed to pass through the opening and into the house. Instead of allowing the direct rays of the sun to pass straight through the window, the daylight management devices are designed to reflect, refract, and absorb some of the available daylight, allowing more diffuse daylight into the space.
The fullness factor of a coiled wire fabric adds another dimension to the way that this type of shade manages daylight, creating more angles at which the sun's rays contact the material and more angles to diffuse the sunlight as it refracts off of the metal material, and these results have been quantified.
The engineering firm Interface Engineering performed an independent evaluation on coiled wire fabric to determine how well it helped to minimize glare. It simulated different fabrics in different scenarios and ultimately concluded that coiled wire fabric was able "to dramatically reduce the direct sun penetration into the room, even in the 0 percent fullness application. When the product is used in 50 percent fullness, this glare control is greatly increased, without a significant change to luminance levels further in the room. This can be attributed to the slight increase in visible light reflectance (VLR) between the 0 percent fullness and the 50 percent fullness."
Design Tip: Improve Thermal Comfort with Coiled Wire Fabric
Coiled wire fabric can also help to improve the thermal comfort of a person in a room by effectively absorbing the solar radiation where it drapes or reflecting it back outside. Either way, it keeps a certain amount of infrared radiation that would become heat out of the interior space.
Interface Engineering also evaluated the use of coiled wire fabric to reduce solar heat gain from daylight. The firm attempted to quantify the impact that a coiled wire fabric can have on thermal comfort. Using computational fluid dynamics (CFD) simulations, these fabrics were found to "significantly improve thermal comfort when used as an exterior scrim in conjunction with standard performance double pane windows. When used in conjunction with high-performance, low-e windows, some improvement in thermal comfort is observed, but its effect is less pronounced."
The study found that thermal comfort in buildings without high-performance glazing was significantly affected by the addition of the internal drapery or the external scrims. With this coiled wire fabric in place, occupants felt cooler and more comfortable in the summer, even during the heat of the day, and felt warmer and more comfortable in the winter. Ultimately, this study concluded that these coiled wire fabrics can help people in a room to feel more comfortable during the summer and winter, even if the temperature setpoints of the space are at energy-saving levels.
TREND: UNIVERSAL DESIGN
Incorporating aging-in-place and universal design elements into a home continues to be recognized as an important trend, and it is expected to remain a top consideration over the coming decade as the majority of the Baby Boomers eclipse 65. In fact, in a recent AIA Home Design Trends Survey, leading residential architectural firms identified the growing popularity of universal design as a key trend. The survey identified some of the most popular special features associated with universal design as a first-floor master bedroom, ramps/elevators, wider doorways/hallways, on-grade entry, and easy-to-use features (e.g., handles).
The growing importance of the easy-to-use quality in items found in a home affects the specification of many different objects. Door hardware is one in particular that must be reconsidered to address the increasing attention that is paid to universal design principles. In the past, the decision to specify the door hardware as a door lever or door knob was often entirely based on preference. However, there are important functional differences in the way that levers and knobs operate that do, in fact, make one better suited for residential spaces that are being designed to offer improved accessibility for aging homeowners.
Section 309.4: Operation states that operable parts shall be operable with one hand and shall not require tight grasping, pinching, or twisting of the wrist. Most lever-operated mechanisms, push-type mechanisms, and U-shaped handles are acceptable designs. The force required to activate operable parts shall be 5 pounds (22.2 N) maximum.
Advisory 404.2.7: Door and Gate Hardware states that door hardware that can be operated with a closed fist or loose grip accommodates that greatest range of users. Hardware that requires simultaneous hand and finger movements require greater dexterity and coordination and is not recommended.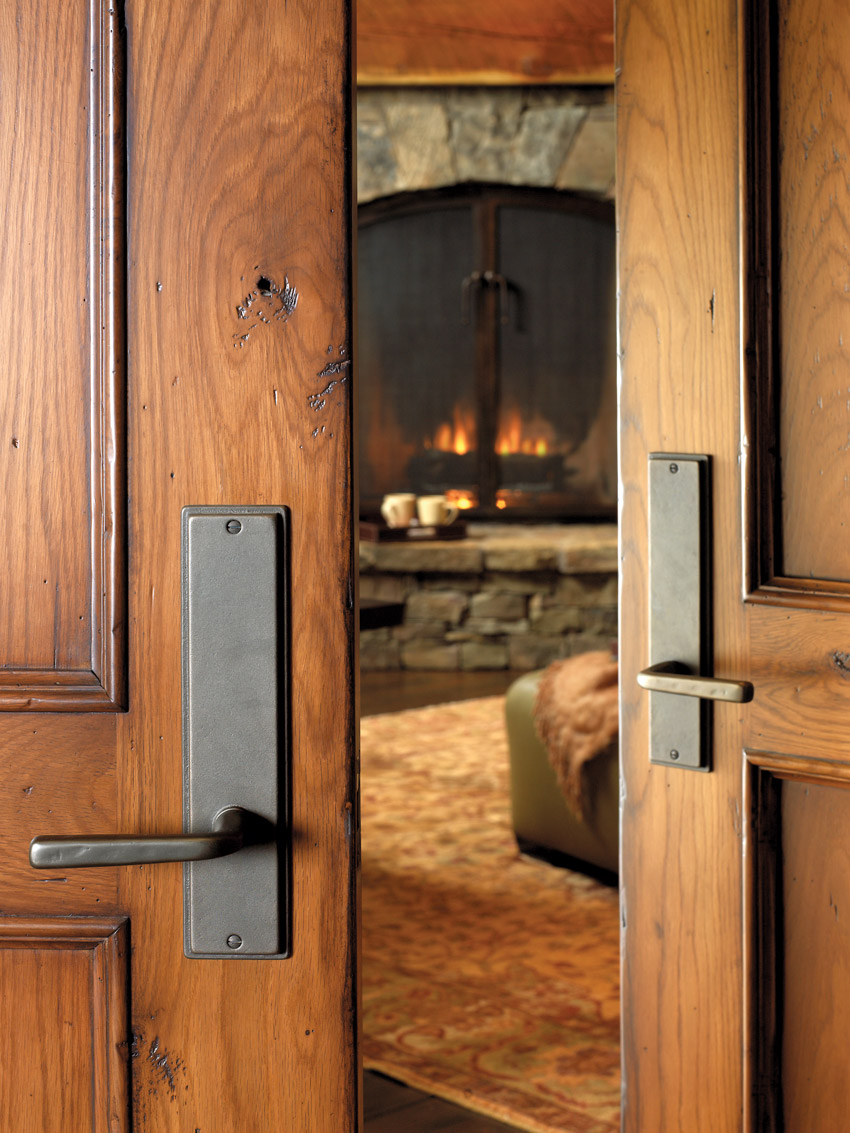 Photo courtesy of Rocky Mountain Hardware
Selecting levers instead of door knobs is one way to incorporate universal design elements into a home.
Solution: Door Levers with Spring-Assist Design
Specifying door levers instead of door knobs throughout a home can make it easier for older and younger occupants alike to move around the house. Door levers are available in a wide range of colors, textures, and finishes that will complement any decor.
Functionally speaking, there is one often-cited negative of choosing a lever handle over a knob. Lever handles operate a latch that is designed with an internal spring assembly that causes the lever handle to bounce back into its horizontal position after it has been used and remain in that position until it is used again. The typical spring assembly is constructed from a stiff metal wire that is wrapped around an interior structure in the handle. The wire extends at both ends to create two spring arms that will catch on an extruding piece of metal and stop the handle in its optimal, horizontal position. Over time, as the spring assembly ages, stretches, or breaks, the lever handle could droop, which is not visually appealing, and eventually the spring will be in such bad shape that the lever handle won't operate. While the droopy lever handle is common, it is not necessary. There are now lever handles available that have been engineered so that the spring will never stretch or break, meaning the lever handle will never droop.
This innovative design is called a spring-assist design, and it creates a stronger spring mechanism with three important improvements. First, the spring coil is made from stainless steel and coated with Teflon to create a stronger, more durable spring. Second, two stops regulate the amount of stretch that the spring can experience and only allow the spring to stretch as much as possible to open the latch. This safeguard is not found in typical lever handles, making it possible, even easy, to overstretch the spring when opening the door. Third, a spring-assist post is cast into the backplate of the handle that easily holds the lever in place in its optimal horizontal position.
This combination of a stronger spring material supported by a spring-assist post that will bear the brunt of the tension when holding the door lever horizontal and the limited stretch allowed in the spring result in a lever product that manufacturers will guarantee to be droop-free and perfectly functioning for the life of the door handle.
Originally published in Architectural Record
Notice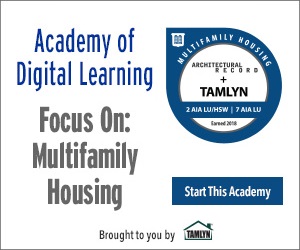 Incorporating the Latest Trends in Residential Design
Buyer's Guide
Fabricoil© Coiled Wire Fabric Systems

Cascade Architectural is committed to serving the product and service needs of our architectural customers. Since 1987, Cascade has provided a full range of functional Fabricoil
©
woven wire mesh fabric systems to domestic and international markets. Suited for projects of any scale, exterior or interior, Cascade reflects our continued commitment to provide architects, engineers, and channel partners with aesthetically pleasing and affordable mesh systems.
Zero Post Corner System

LaCantina's Zero Post Corner System opens the whole corner of any room to truly embrace indoor/outdoor living. LaCantina's innovative design allows two door systems to be connected to each other without the need for a supporting wall or post, providing the ultimate in uninterrupted views.
Edge Door Set

The Edge Collection is a unique offering, as it's profile and width are slimmer than other options. In addition to a more contemporary profile, the collection is available with a choice of six unique textures as well as 12 patina finishes.