Hospitality and Retail Go Green
Checking in to luxury and energy efficiency
Sponsored by ARCHITECTURAL GRILLE, Bradley Corp., Cascade Architectural, Bison Innovative Products, KOVA, and NanaWall
Sustainable Bathrooms
In hospitality and retail settings, bathrooms typically get a lot of use, which means they deserve a lot of design attention. This is true not only for design and functionality but also sustainability. Manufacturers of products used in bathrooms have addressed these points by paying attention to several areas that contribute to green bathroom design. Some of the more significant points in this regard are discussed as follows.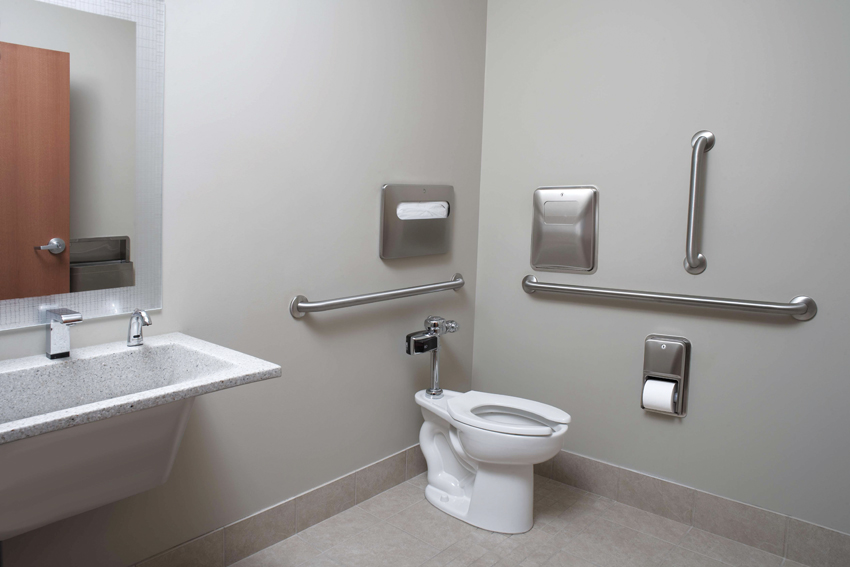 Photo courtesy of Bradley Corp.
Commercial bathrooms incorporate a variety of materials, most of which can be selected from sustainable or
green product choices.
Water Consumption
Water-conserving toilets and faucets are mandated by codes. Manufacturers have embraced this need by providing fixtures that dispense adequate amounts of water with the appearance of abundance. Newer, touch-free handwashing fixtures feature a 0.5 gallon per minute (GPM) or ultra-high-efficiency 0.35 GPM faucet option.
Materials
A variety of materials can be specified into bathroom designs that have better life-cycle assessment properties than others. For example, natural quartz material has become appealing because it can be molded into round and curved shapes providing stunning design options while providing high performance in terms of long-term durability and hygiene. Made from natural materials, such as quartz and granite, plus pre-consumer recycled content and a bio-based resin, natural quartz can contain up to 70 percent natural content and is available as a GREENGUARD certified product.
Similarly, solid-surface material can last longer than some other material choices and easily be repaired and renewed, thus minimizing the need for replacement or disposal. Products made of solid surface are completely molded, including bowls, overflows, backsplashes and aprons, eliminating fabrication waste and the use of sealants and adhesives. Solid surface is a nonporous material, which means that it will not support the growth of mold, mildew, or bacteria—substances that can adversely affect indoor air quality. Recycled solid surface composed of bio-based resin and pre-consumer recycled granules is another GREENGUARD certified option.
Commercial bathroom accessories made of stainless steel can be specified from manufacturers who incorporate both recycled content and renewable energy in its manufacturing process. Up to 100 percent of the energy required for the production of some stainless steel bathroom accessories can be offset with renewable energy. These accessories can also be made from a combination of post-consumer and pre-consumer stainless steel.

Photos courtesy of Bradley Corp.
Innovative products for commercial bathrooms include the wash bar shown above, which incorporates soap, water, and drying all in one fixture at the sink.
Design Innovations
By using manufacturing innovations and processes, recycled packaging and materials, and award-winning product design, manufacturers are improving their contributions to green building design. While this is helpful, they also offer completely touch-free handwashing technology that conserves water and paper while cutting maintenance costs. Touch-free, adjustable-speed hand dryers, for example, cut paper towel waste and are 96 percent less expensive to use than paper towels.
A particular innovation that helps all around is the development of a combination fixture that provides soap dispensing, water, and drying all in one, touchless, easy-to-use approach. This helps reduce consumption of water and energy while keeping everything in one place at the sink, thus helping with the overall cleanliness of the bathroom as well. The sensors in such devices can be programmed to eliminate simultaneous activations of nearby functions, thus saving wasted water and energy.
Kris Alderson, senior marketing manager, Bradley Corp., informs, "Commercial bathroom manufacturers are providing architects and other design professionals with innovative technologies and products that conserve water and energy and incorporate sustainable materials." This is good news for everyone. It is, however, up to the design professionals to select and specify accordingly.
Prepackaged Bathrooms
In hospitality settings, the number of bathrooms located throughout the building is typically quite high. Even if each one is small, as in a hotel guestroom, the fact that there is one in every guestroom plus more in common areas means that their cumulative overall impact is high. This is true in terms of affecting the building design, the amount of square footage needed, the sustainability of the project, and the project budget. Given all of this, it is not surprising that a number of companies have developed prepackaged bathrooms that are designed to reduce these impacts by optimizing the way that bathroom components are ordered and installed. This prepackaging approach can reduce building cost, minimize material waste, enhance overall sustainability, and increase the speed to occupancy.
Many areas of construction are adopting this systems-level thinking to buildings. The general premise is that the design can be fully customized, while standard parts are used to maintain cost control. This is the well-known model of "mass customization" as employed in other industries, such as personal computers, automobiles, and aircraft. In the case of constructing bathrooms, it means that a design professional can work with a manufacturer/supplier from the beginning of the design process to develop a high-performance, appealing, complete bathroom package. This team approach allows for design optimization and a fuller understanding of options, including those related to sustainability. As part of an integrated design process, it also simplifies the overall flow of information and follow-through. Once the design is finalized, then the fabrication can proceed, typically with a higher degree of quality control than if it were all field constructed.
Prepackaged bath kits are fully assembled in order of installation at the warehouse and can be securely packaged into an innovative cradle delivery system. This method of delivery is designed to eliminate component damage, resulting in lower defects while maintaining quality products. As they are completed, based on an agreed-upon schedule, the final modules or packages can be trucked to the site. With proper planning, as the trucks arrive, the packaged units can be lifted with cranes and placed into position in the building as it is being constructed. That means they can be installed more quickly and with much less waste than conventional construction methods.
To expedite the remaining work in the field, a sequential installation guide can be provided by the manufacturer/assembler. The fully coordinated system can include all of the common design elements of a complete bathroom. These can include a full tub with surrounding structure, toilet and vanity with sink, countertop (quartz or other surface), and faucets. Also included in the kit, the needed fasteners, paint, and caulk can be provided for the final on-site assembly. It can further include all of the accessories of a bathroom such as mirrors and towel racks. In short, the customized bath kit can be fully comprehensive and tailored for a range of product options based on the needs of the specific unit and/or entire building.
Trevor Schick, head of the KOVA materials business, has been actively engaged in this innovative bathroom delivery process. He says, "A primary goal is to offer solutions to the challenges builders and contractors face during a project, and installing a bathroom is historically one of the most expensive and time-consuming parts of a build." Schick goes on to point out the positive impact he has observed on the typical construction schedule, stating, "What used to require months of staggered trades and material deliveries can now be accomplished in less than one day by two people."

Photos courtesy of KOVA
Custom-designed, prepackaged bath kits are ideal for streamlining the process of installing multiple bathrooms into hospitality buildings, among others.
Originally published in Architectural Record
Notice