Hospitality and Retail Go Green
Checking in to luxury and energy efficiency
Sponsored by ARCHITECTURAL GRILLE, Bradley Corp., Cascade Architectural, Bison Innovative Products, KOVA, and NanaWall
Learning Objectives:
Identify and recognize the health and welfare benefits of indoor and outdoor spaces that are high performance and provide connections to the natural environment.
Assess the health and sustainability aspects of bathrooms in hospitality and retail buildings.
Explain the importance of proper evaluation and selection of materials for sustainability and green building concerns.
Determine ways to incorporate the health and welfare design and performance principles presented directly into buildings as shown in case studies.
Credits:
This course can be self-reported to the AIBC, as per their CE Guidelines.
As an IACET Accredited Provider, BNP Media offers IACET CEUs for its learning events that comply with the ANSI/IACET Continuing Education and Training Standard.
This course is approved as a Structured Course
This course can be self-reported to the AANB, as per their CE Guidelines
Approved for structured learning
Approved for Core Learning
This course can be self-reported to the NLAA
Course may qualify for Learning Hours with NWTAA
Course eligible for OAA Learning Hours
This course is approved as a core course
This course can be self-reported for Learning Units to the Architectural Institute of British Columbia
This test is no longer available for credit
The transformation of the building industry to be greener and achieve better energy performance over the past several decades is evident everywhere. While great progress has been made, there is still more to do, particularly in the hospitality and retail sector, which is typically a very large consumer of energy. Since a lot of energy consumption usually means a lot of carbon dioxide and other greenhouse gases are emitted into the atmosphere, designers of hospitality and retail buildings are in a position to make a big impact. Hospitality buildings are also large consumers of water, so finding ways to manage and conserve water in these settings can also be significant. This course will look at some of the current initiatives that design professionals can tap into and some examples of strategies that can be employed to reduce these aspects of the environmental footprint for hospitality and retail facilities of all types.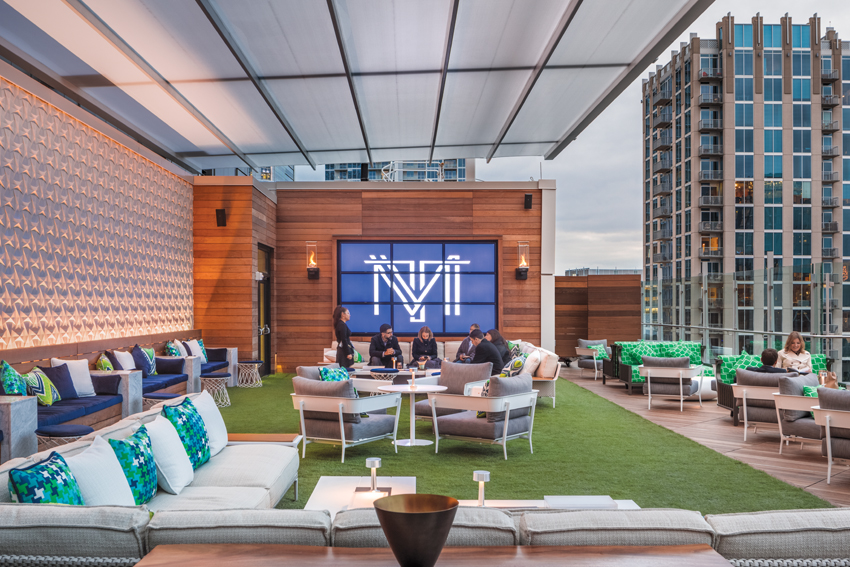 Photo: © Brad Feinknopf/OTTO; courtesy of Bison Innovative Products
Hospitality and retail buildings are being designed to embrace the environment and increase their sustainability, as shown here at the Kimpton Tryon Park Hotel in Charlotte, North Carolina, designed by Cooper Carry.
Indoor/Outdoor Spaces
There are many cases in hospitality and retail settings where taking advantage of an outside space connected to an indoor one is very desirable. Doing so can create either positive or negative impacts on the energy performance of the building, depending on how it is done. The issue becomes one of control between the indoors and outdoors. A great example of this is the use of operable glass walls. When open, they provide a seamless connection between indoor and outdoor spaces, often reducing the need for constructed square footage, while providing natural ventilation to the interior. When closed, high-performance operable glass walls become part of the building envelope, providing a thermal separation between indoors and outdoors while still allowing natural daylight and views.
The key to a successful project is the selection of a quality operable glass wall product that can handle the daily commercial grind that a hospitality and retail environment requires (i.e., has demonstrated traits of reliability, long-term durability, ease of use for the employee, etc.). To contribute to the green and sustainable aspects of the building, it needs to meet the challenges of changing weather and environmental conditions, such as wind, water, and large temperature swings. Of course, it also needs to fit in with the building structural system, resisting impacts and forced entry. Fortunately, all of these components can be specified into operable glass walls, making them excellent candidates for meeting the desires of hospitality and retail clients while still addressing energy performance, carbon contributions, and green building.
How does this all play out in design? Opening glass walls enable hotel designers to create large, inviting entrances, incorporate beautiful views, connect with hotel landscaping, and provide natural daylight and fresh air into registration, dining, and guestroom areas. For retail spaces, a wide-open entrance eliminates barriers by creating a seamless transition between street and store, attracting customers inside, which can lead to an increase in sales. With expanded display areas, shoppers are enticed and are readily drawn deep into the store. When it is time to close, the storefront can continue to showcase the interior and provides a secure, energy-efficient, transparent facade that seals tight as an energy-saving and dust-control measure after-hours. Restaurants can boost revenue with increased seating capacity and enhance dining experiences by installing opening glass walls to open a restaurant's interior to surrounding outdoor spaces, whether a roofed or open patio.
From a performance standpoint, operable glass walls must keep the cold on the outside while maintaining warmth inside in heating season and vice versa in cooling season. All of the usual means to do that are available in operable glass walls, including glazing choices, air infiltration details, and frame options. The products must provide superior humidity and moisture control while resisting wind-driven water from entering the establishment. To meet security concerns, opening glass wall locking mechanisms must be easy to use. Opening glass walls can be specified to be very secure through robust systems that securely lock each panel in place.

Photos courtesy of NanaWall
Opening glass walls provide great design flexibility for hospitality and retail spaces while at the same time offering performance options consistent with green and sustainable design.
Rooftop and Outdoor Spaces
Accessing outdoor spaces is desirable in retail and hospitality settings because it is appealing to guests, potentially profitable to building owners, and environmentally sustainable. Outdoor spaces are seen as amenities in many settings, allowing guests to have a more enjoyable experience enhanced by fresh air and the outdoor environment. Bringing more guests to the venues, whether for events or day-to-day activities, means more business for the owners. When those outdoor spaces are roof decks or terraces, they present an opportunity to design them as green roofs or other sustainable spaces. The key becomes how to create them without damaging the existing roofing systems.
The answer to this design challenge is often found in modular and versatile deck systems that are supported by adjustable pedestals. Such systems give architects the design flexibility to create unique and beautiful rooftop environments and outdoor amenity spaces. Adjustable pedestal deck systems can be utilized over any structural surface: on bare structural decks, rooftop decks, roof membranes, green roofs, plazas/terraces, compacted grade, pavement, pool surrounds, or even inside water features. The surfaces can include a mix of paver materials, such as wood, stone, structural porcelain, crushed rock, grating, artificial turf, and concrete. Additionally, planter cubes and benches can be added to create unique, custom looks. As a fully finished system, it can accommodate restaurants, hotels, retail, and other commercial buildings.
Green roof deck designs demonstrate imagination in the use of materials that minimize maintenance and the environmental footprint. Incorporating a pedestal system can provide pedestrian access to these green roofs and can expand usable space to include gardens and walkways. Similarly, pedestal deck systems help reduce cooling loads of the building because they create a separate, protective layer above the roof that allows air to flow between the deck and the roof.
Adjustable deck systems are commonly available that incorporate three types of components.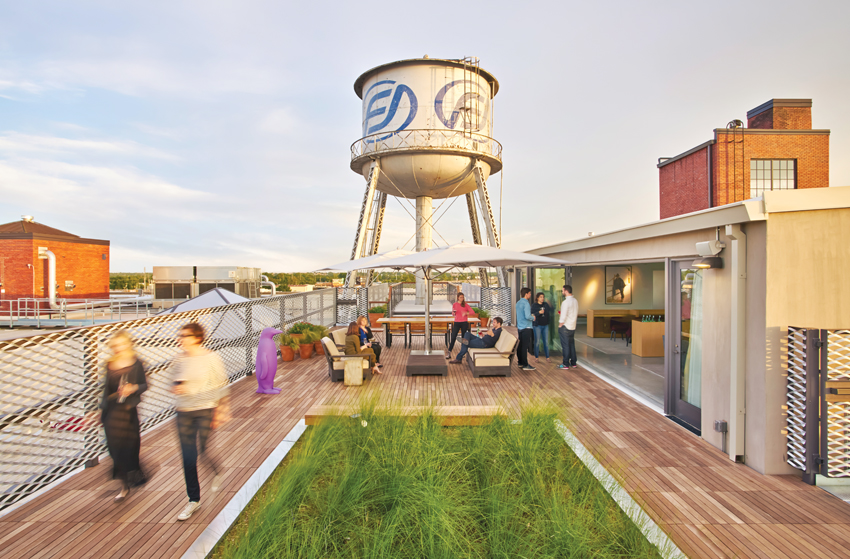 Photo: © Mike Schwartz; courtesy of Bison Innovative Products
The 21c Museum Hotel in Oklahoma City incorporates adjustable deck pedestals and 2x2 smooth 8-plank ipê wood tiles to crown the hotel's rooftop deck. The attractive space includes outdoor lounging, recreation, and green roof areas framing the Ford assembly plant's water tower from the original Albert Kahn design.
Deck Supports
High-density polypropylene plastic that is 100 percent recyclable is a common material to make the adjustable deck supports from. This makes them impervious to water, mold, and freeze-thaw cycles. Their adjustability offers tremendous design flexibility and, compared to traditional deck building materials and methods, provides one of the most labor- and cost-efficient methods of creating a flat, level deck over a sloped surface. As a gravity system, the supports do not penetrate but rather protect roofing and waterproofing membranes, thus causing no damage or harm to the surface below. Adjustable pedestal systems can support decks over occupied space, allowing space for electrical systems, duct work, and irrigation. Pedestal systems are available in a range of heights and weight-bearing capacities to suit a variety of applications. Residential, commercial, and industrial grades each have different characteristics, so deciding which system to specify is dependent on the support and elevation requirements of the installation.
Deck Surfaces
Deck supports are designed to elevate a variety of surfaces, including granite or concrete pavers, wood tiles, composite materials, fiberglass grating, and conventional joist systems. Any modular deck surface material can be removed for routine maintenance, repairs to the roof, or to gain access to other systems. Wood tiles are particularly popular for their light weight, ease of workability, and attractive appearance. Wood tiles can be laid in a parquet or linear pattern, or mixed with pavers, river rock, stone, plank decking, or other options to create unique aesthetics. Often made from hardwoods, wood species include fused bamboo, cumaru, garapa, ipê, mahogany, and massaranduba that are commercial grade and available in standard and Forest Stewardship Council (FSC) certified products. Many of these tropical hardwoods have a rich grain and color, are exceptionally dense, weather very well, and are resistant to insects. The density of hardwood species means there is minimal maintenance. If maintaining the wood color is desired, wood tiles can be periodically cleaned and sealed. Left to weather naturally, they will develop a silvery-gray patina.
Site Furnishings
Manufacturers of pedestal deck systems also offer coordinated, modular elements that are designed to integrate with their deck systems while giving the architect complete design flexibility. For example, modular cubes made from ipê or high-strength aluminum in an array of colors and finishes can serve as planters or include a top for seating and/or storage. Cubes commonly have drain holes and irrigation sleeves that make caring for plants or vegetables convenient and hassle free. Storage can be used for seasonal items like cushions or throw pillows. Similarly, aluminum rock trays that are light weight and durable add dimension and texture to deck areas. Deck designs can even include recessed lighting to enhance the ambiance of the environment while improving visibility and safety during nighttime or other dark conditions.
Overall, pedestal systems create valuable, usable outdoor space for both owners and their clients, customers, and visitors. Rooftop decks are a way for hospitality or retail spaces to differentiate themselves from the competition.
Originally published in Architectural Record
Originally published in May 2020
Notice