Hospitality and Retail Design Update
Some of the latest trends appeal to owners, architects, users, and budgets alike
Sponsored by Amerlux, Doug Mockett & Company, Inc., Hawa Group Americas Inc., Inpro, Mitsubishi Electric Cooling & Heating, NanaWall Systems, Pella EFCO Commercial Solutions, and Planters Unlimited
Learning Objectives:
Identify selected general trends and factors that influence the design and construction of retail and hospitality buildings or spaces.
Assess innovative product and system offerings that can be used to enhance building design, durability, and accessibility, and improve the characteristics of hospitality and retail facilities.
Investigate ways to incorporate specific building technologies and green building strategies into retail and hospitality designs.
Determine ways to economically address material usage, space enhancements, and lighting, while still producing designs that meet owner and user needs.
Credits:
This test is no longer available for credit
The rise and fall of the economy ripples across all building sectors but, outside of residential construction, perhaps those most affected are the hospitality and retail sectors. This was evidenced in a negative way with notable downturns during the recent economic recession. However, these sectors have been on a definite rebound for the past few years, and the projections continue to look positive. The well-known reports prepared by Dodge Data & Analytics predict that the current construction expansion will continue through the coming year as portrayed at the end of 2015 by its chief economist Robert Murray.1 Dodge predicts that total U.S. construction starts for 2016 will rise 6 percent to $712 billion. That growth is still very positive even though it follows 9 percent growth in 2014 and an estimated 13 percent in 2015. Hotel construction, however, has continued to hold up with double-digit progress for the year. The independent business intelligence group known as IBIS World has documented that the hotel construction industry began its recovery in 2012 and corroborates the Dodge data indicating that this sector has grown faster than other non-residential construction and is expected to continue strong into 2016, albeit at a bit slower pace than past years.2 In the meantime, AIA Chief Economist Kermit Baker, Hon. AIA, Ph.D., has noted "The office and retail sectors are expected to lead the commercial real estate market in 2016 with near double-digit increases in construction spending expected."3
All of these reports and predictions bode well for design firms that are engaged in hospitality or retail work. However, to truly capitalize on the opportunity, design firms are working with clients on ways to creatively respond to the changing tastes and needs of customers of hospitality and retail establishments. Toward that end, we will look at eight ways to enhance hospitality and retail building designs, meet owner and user preferences, and stay within project budgets.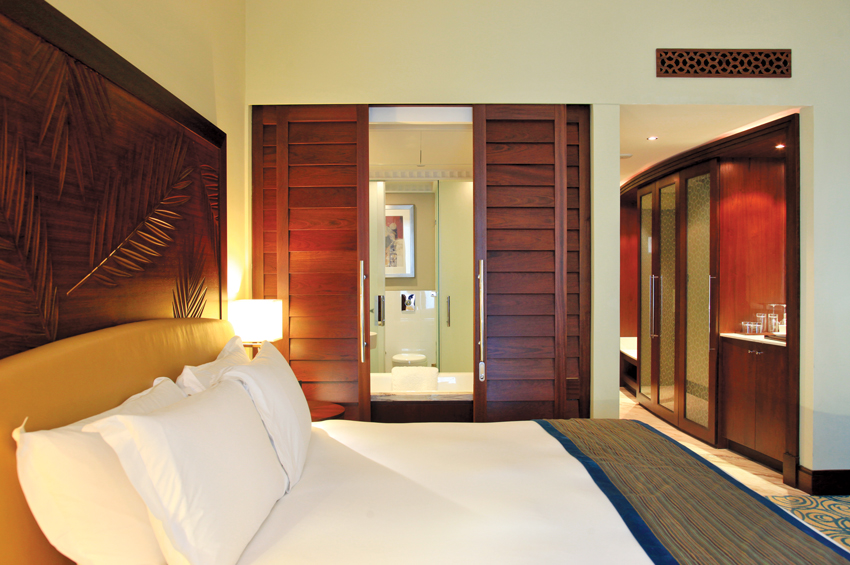 Photo courtesy of Hawa Group Americas Inc.
Hospitality settings have a variety of needs to assure that guest comfort and services are achieved and enhanced by the building design.
Windows and Guest Comfort
Hotel and motel guest rooms are designed to provide a comfortable, quiet environment for sleeping or other activities. Commonly, walls and floors between rooms are addressed for acoustical control and privacy, but exterior walls are important in this regard as well. In particular, windows in guest room walls need to not only allow for desirable light and views, they need to prevent undesirable sound or thermal transmission. The sound-limiting capabilities of windows is particularly important in urban environments, near airports, or other locations that are prone to higher levels of outdoor noise. Similarly, the thermal capabilities of windows are important to prevent drafts and heat loss or gain that can create uncomfortable conditions for guests. Recognizing these needs, window manufacturers have developed the products and the expertise to help architects meet the design requirements of hospitality projects of all types. This includes a wide range of window product options and installation systems, which can be tailored to meet energy efficiency and sound needs as well as owner requirements for return on investment (ROI).
In terms of energy efficiency, many aluminum products are available to provide thermally efficient windows, curtain walls, and storefront systems. Controlling heat energy is addressed in the same manner as controlling sound energy so addressing one or the other will usually mean good results for both. The details of the frames, the thermal breaks included in them, the glazing used, and even the spacers between the glass panes all play into the overall thermal and acoustic performance. These criteria need to be blended into the overall requirements for durability, unit structural performance, design profiles, coloration, and other factors. Architects can readily pick from a full range of such aluminum products with superior thermal U-factors and architectural-grade structural performance with an ability to manage hot and cold environmental fluctuations without sacrificing structural capabilities.
In certain cases, commercial windows made from a material other than aluminum may be desired. In those cases, frames and sashes made of wood, aluminum-clad wood, fiberglass, or vinyl are all commonly used in different types of hospitality projects. The specific material choice is typically driven by a variety of factors, such as aesthetics, cost, energy efficiency, durability, and low maintenance. For example, aluminum-clad wood double-hung windows have been used in historic buildings that also seek energy efficiency. Such windows can provide a historically correct appearance with a wood jamb, a finely detailed sash profile, and even authentic spoon hardware. Equally important, these windows can readily be equipped with energy-saving insulating glass, which can directly help contribute points in the Energy and Atmosphere category of the LEED green building certification program. In the case of renovation and retrofit situations, such windows can address the installation challenge of a complete tear-out by installing the windows in T-shaped subframes with applied brickmould.
Architects should also be aware that some window manufacturers provide a thermal analysis service to help the design team understand the difference in thermal performance between existing windows and new windows in buildings. By providing some basic information about the site, the building, the window openings, and the goals, different window attributes can be input to show a comparative analysis of the different options. This performance information can be correlated with cost information to help identify the relative ROI and other features to help designers and owners make final decisions on how best to proceed.

Images courtesy of Pella EFCO Commercial Solutions
Different types and configurations of windows are available to provide thermal and acoustic comfort to guests. Window manufacturers can also provide thermal analysis services on those windows to optimize the design and improve comfort for occupants.
Originally published in Architectural Record
Originally published in June 2016
Notice