High-Performance Green Trends
New materials save energy, the environment, and promote collaboration in high-performance green buildings
Sponsored by ClimateMaster, Dow Corning, NanaWall Systems, and Tournesol Siteworks
Learning Objectives:
Discuss high-performance thin insulation modules that contribute to meeting stringent green building rating systems for zero energy targets.
Describe innovative, energy-efficient, and space-saving water-source heat pumps that optimize controllability of systems by using thermostats controlled at central command centers or through mobile devices.
Identify new FSC-certified wood exterior decking produced from common domestic species and street furniture composed of lumber upcycled from urban forests.
Define sustainable components from thermal performance to human well-being of high-performance, flexible opening wall systems.
Credits:
This test is no longer available for credit
The green movement has led to growing changes in the materials and products that architects now specify for all buildings—not just those meeting green ratings. The American Institute of Architects has developed a brief history of green materials and is providing guidelines for choosing green products and materials. On their website, they are surveying architects to learn more about their choices. According to the AIA, "As architects, we specify materials every day. Our decisions affect the environment, our communities, and our health. Harnessing the evolving body of knowledge about the impact of materials is integral to improving the craft, science, and art of architecture."1 This AIA initiative supports the growing trend to specify high-performance materials, systems, and products to increase energy efficiency, conserve water, provide more usable floor space, and reuse renewable resources for a sustainable future.
It has been almost 25 years since the American Institute of Architects published the Environmental Resource Guide or ERG, the USGBC posted LEED 1.0 for public review, and the National Institute of Standards and Technology published a new methodology for life-cycle analysis of building materials—Building for Environmental and Economic Sustainability (BEES). Since then, the commitment to developing green buildings and green building products has been exponential in growth.
Today, product manufacturers and engineers are pushing the boundaries of sustainability, with many focused on energy efficiency and water conservation. As Tony Landers, commercial marketing manager at ClimateMaster, comments, "If you look at America as a whole, the electric grid is antiquated, the energy grid is at its maximum, and there is a need to design products to reduce the demand for energy. Studies show that 40 percent of carbon emissions can be attributed to buildings' use of energy. When we analyze the impact of building systems on the longevity of the electric grid, attacking this 40 percent of the energy pie is the easiest adaptation we can make to our products." He continues, "In addition, conserving water by providing a more efficient water source is also important to the sustainability and health of the planet."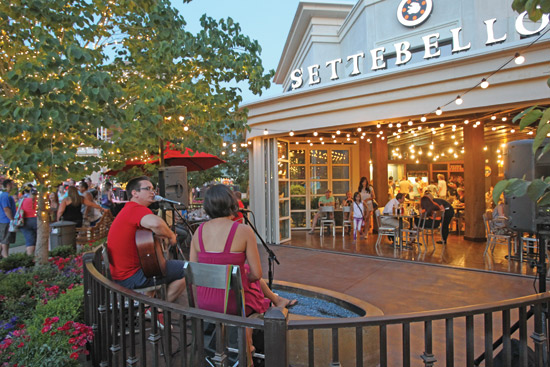 Photo courtesy of NanaWall Systems, CenterCal Properties
An outdoor stage and additional seating areas were created by the installation of an opening glass wall at Settebello Restaurant, Station Park, Farmington, Utah.
Originally published in Architectural Record
Originally published in October 2014
Notice