High-Performance Green Trends
New materials save energy, the environment, and promote collaboration in high-performance green buildings
Sponsored by ClimateMaster, Dow Corning, NanaWall Systems, and Tournesol Siteworks
This test is no longer available for credit
Targeting Zero Energy
Many architects are committed to the reduction of energy consumption over the next few years, guided by numerous green rating systems. They know that they need to combine different strategies to achieve energy efficiency and sometimes meet net-zero goals for their buildings.
Addressing the building envelope requires an analysis of numerous factors. Focusing on the greater losses requires the architect to carefully specify materials that are highly efficient. David Posada, LEED AP, BD + C, CPHC, sustainability manager at GBD Architects, commented on his use of a new building insulation blanket in combination with sunshades at the Kiln Apartments in Portland, Oregon. "As energy codes have gotten more stringent, much of the 'low-hanging fruit' of energy efficiency has already been picked. Code now requires better insulation and higher-performing windows, and the market is making more efficient lighting and HVAC equipment more affordable."
The new dining hall at the University of Alaska Fairbanks is located in a climate where the temperatures can drop to -45 degrees F in the winter, which created a construction challenge for architect Perkins+Will. The architect was committed to the creation of a highly efficient thermal envelope that also allowed views to the night sky. According to Carsten Stinn, project manager and designer for Perkins+Will, "The building is intended to have an open and airy feeling and the amount of daylight and views to the outside was an important design factor. One of the main inspirations for this design was the beautiful, vast Alaskan sky; we wanted large windows to showcase the aurora borealis."
To address these challenges, the project team looked to a new solution—architectural insulation modules, which feature vacuum insulation panel (VIP) technology.
Vacuum insulation panels contain a pressed fumed-silica core contained within a multilayer, aluminized bag under vacuum that delivers initial performance of RSI 5.6 to RSI 6.2 per 25 mm (R-32 to R-35 per inch) at center of panel—substantially better than typical mineral wool insulation, which would need to be 8 to 10 times thicker to deliver an equivalent R-value. Available in pre-engineered sizes, VIP is often used in architectural insulation module form for panel protection and ease of installation.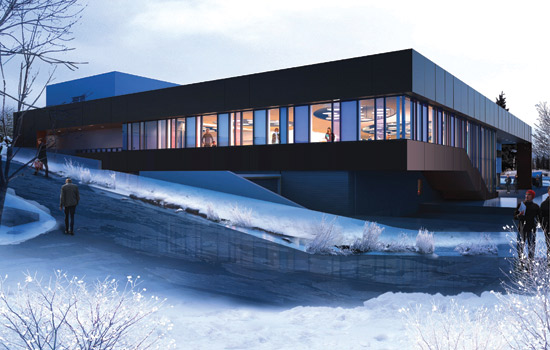 Photo courtesy of Perkins+Will
The University of Alaska Fairbanks, in Fairbanks, Alaska, is monitoring the performance of new architectural vacuum insulation panels, shown between the working glass windows that incorporate new high-performance insulation.
Architectural insulation modules integrate VIP within a protective architectural finish. These modules combine the aesthetics and convenience of curtain wall construction with the added energy-saving benefit of high-performance insulation. These units can be installed using standard construction methods and techniques typical of those currently used for insulated glass in curtain wall structures—no special handling is required. Architectural insulation modules enable new design possibilities for zero-energy buildings, significantly increased thermal resistance in space-limited situations, and the creation of slim wall constructions with high R-value performance.
Using a 1-7/8-in.-thick architectural insulation module with an R-value of 49, the architect was able to minimize heat loss and use traditional spandrel glass configurations to keep a slim building profile. Committed to energy efficiency on the campus, the university is monitoring the energy use of this new building as part of research and teaching goals for their engineering program. "We work hard to display the best techniques for the arctic in a way that also delivers real-life educational experiences to our students," says Jenny Campbell, senior project manager in facility services, design, and construction for the university. "Here at the university, we are continually searching for ways to increase energy efficiency. We have our own heating and cooling plant on campus, so the more efficient our buildings are, the less it costs us."
Saving Energy and Saving Space with Smart HVAC Systems
Small, efficient water-source heat pumps are being used in both renovations and new construction to save space while providing energy-efficient HVAC equipment. These units can be operated with traditional thermostats or smart controls from a central HVAC command station. Some products can be controlled from an application on a mobile device.
Vertical stack units operate quietly and can be placed in walls. Unobtrusive cabinets or small closets are constructed to contain units that provide individual client controls. Unit sizes can be as small as 24 inches by 24 inches and be sheet rocked into a wall. Other models can be mounted in a ceiling or in a small closet. Unlike earlier configurations for water-source heat pumps, they do not need direct access to an outdoor wall. Units can be controlled through a smart thermostat from a mobile device. Clients can warm or cool their units as needed. When used in hotel applications, these systems provide an "eco mode" that can sense if a room is occupied or when someone has left or entered the room to turn the unit on or off. They operate virtually undetected by a hotel guest.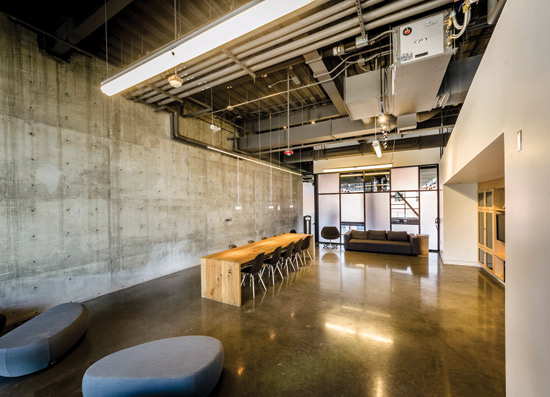 Photo by Skywall Photography, courtesy of ClimateMaster
Guthrie Green is a renovated paper plant with a large geothermal borehole field, which ties into a hybrid system of geothermal heat pumps and a ground-mounted cooling tower. The combination of the geothermal field with the water-source heat pumps provides the capability of reducing heating and cooling costs by approximately 60 percent.
For example, when considering a heating system for a new Kimpton Hotel, the hotel's engineering team and the architects were searching for a solution for an efficient, space-saving mechanical system that would maintain the modern appearance of the design which included floor-to-ceiling windows in all of the guest rooms. They also needed to meet the Chicago Energy Conservation Code (CECC) while maximizing occupant comfort.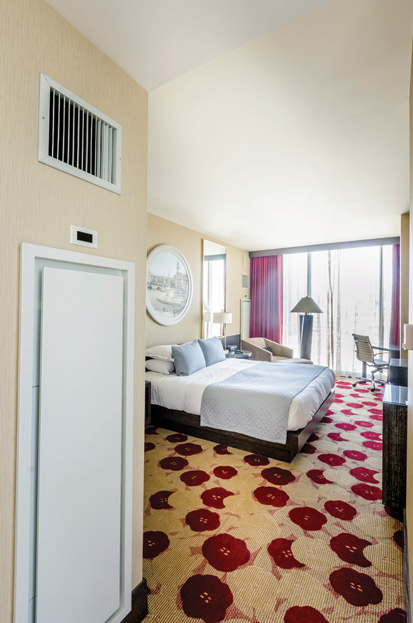 Photo by Skywall Photography, courtesy of ClimateMaster
Designed by GREC Architects, Hotel Palomar in Chicago, Illinois, provides an elevated level of guest comfort and achieves energy efficiency goals with a highly efficient water-source heat pump system integrated into the hotel room interior as a wall panel.
"A heat pump-driven system was the only design that met all stipulations of the project," explains Gary Stern, vice president at Imbert International, a consultant on the project. "This included the energy goals and budget parameters, as well as the ability to separate the residential portion of the building from the hotel." The mechanical system design facilitates the independent operation of the private residences and hotel units when in heating mode. And when in cooling mode, both areas share only a cooling tower on the roof." Specifying a water-source heat pump requires the understanding of the Energy Efficiency Ratio or EER.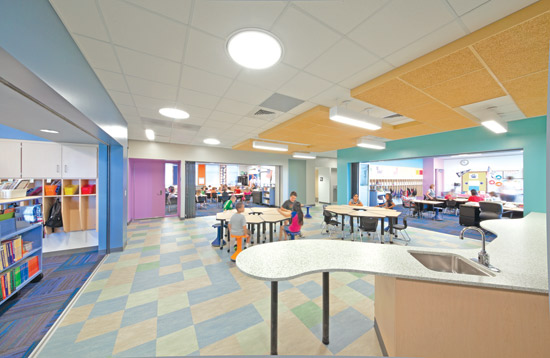 Photo courtesy of NanaWall Systems
New flexible walls remove boundaries, allowing architects to encourage collaborative learning for schools of the 21st century.
The American Heating and Refrigeration Institute rates the efficiency of HVAC equipment through a third-party certification system based on random audits. An EER is a measure of the Btu's per hour for each watt of power an air conditioner uses. According to the Department of Energy, higher EER ratings identify more efficient air conditioners. National appliance standards require room air conditioners to have an EER ranging from 8.0–9.8 or greater, depending on the type and capacity. ENERGY STAR®-qualified room air conditioners have even higher EER ratings. New water-source heat pumps can have EERs between 13-14 and when connected to a geothermal loop the EER can be as high as 45 for some high-performance units.
When the mechanical system for Tulsa's renovated paper company building was designed, inserting small HVAC units in the ceiling was a space-saving decision. Flynt & Kallenberger project manager Justin Roush shared that the "greenest" component of Guthrie Green's sustainable building plan actually lays below the grass, benches, and stage. This is where a field of 120 500-foot geothermal boreholes was drilled prior to the above-ground construction, which ties into a hybrid system of geothermal heat pumps and a ground-mounted cooling tower. This serves as the main mechanical system for the Tulsa Paper Company and Hardesty Arts Center buildings. The geothermal borehole field, organized into 15 operating circuits, provides 600 tons of heating and cooling to both buildings, with the capability of reducing heating and cooling costs by approximately 60 percent.
Originally published in Architectural Record
Originally published in October 2014
Notice