High-Performance Green Trends
New materials save energy, the environment, and promote collaboration in high-performance green buildings
Sponsored by ClimateMaster, Dow Corning, NanaWall Systems, and Tournesol Siteworks
This test is no longer available for credit
Manufacturers are achieving new gains while using common materials and methods from curtain walls to wood deck construction. Dow Corning's New Business Market Development Leader Paul Wisniewski comments, "By making the latest innovation and technology work within current construction techniques, manufacturers can help engineers, architects, and contractors deliver needed game-changing improvements in energy efficiency without requiring applicator retraining or specialized equipment. From eliminating traditionally overlooked thermal losses from thermal bridging and poorly constructed air barriers to delivering substantial improvements in curtain wall thermal performance, high-performance building solutions are necessary to help meet tomorrow's green building challenges today."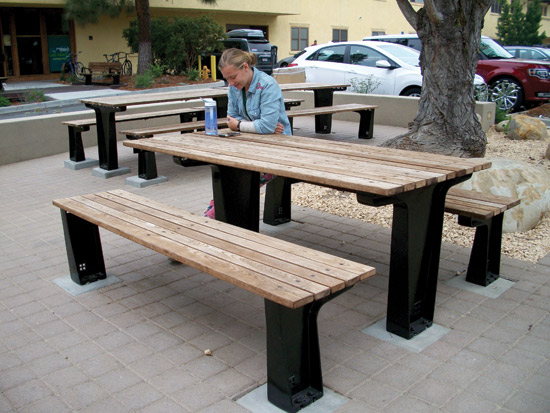 Photo courtesy of Tournesol Siteworks
Patagonia, Inc. of Ventura, California, specified these benches to be constructed from thermally modified ash that has properties similar to that of South American hardwoods.
Chris Lyon at Tournesol Siteworks, a manufacturer of commercial landscape solutions, describes sustainability as a trend towards creating alternatives to vanishing materials such as wood from old-growth forests. He believes that this trend comes from a realization within the specifier communities. "While the owners are driving the use of products based on the performance, specifiers realize that using old-growth wood isn't sustainable. Thirty years ago, architects specified old-growth redwood, today it's South American Ipe. Product manufacturers have been focusing on developing domestic alternatives, and thinking about ways wood can be upcycled. An exciting new opportunity is the use of urban wood such as from the many trees that are being cut down due to the emerald ash borer."
The latest innovations are adding to the portfolios of designers specifying products that take advantage of new research and advanced engineering. Some of these imaginative and innovative new products include the following:
Smart HVAC systems. Architects can now specify smart systems that allow clients to adjust the temperature of their homes or condominiums from a cell phone.
Opening walls in offices and classrooms are removing boundaries and encouraging collaboration. Architects are also designing restaurants with opening walls which provide a seamless transition between the inside and outside. These opening walls have higher thermal performance values that can contribute rather than detract from green building rating systems.
Water-source heat pumps. Historic properties are being renovated with small, water-conserving, water-source heat pumps located in ceiling cavities.
New exterior decking is available using thermally modified lumber from domestic and urban forests.
The use of thin insulation panels and blankets has made creating net-zero or highly efficient thermal envelopes easier.
Originally published in Architectural Record
Originally published in October 2014
Notice