High-Performance Facade Solutions
First impressions are important, but it's what's on the inside that counts.
Sponsored by Construction Specialties, EXTECH/Exterior Technologies, Inc., New Millennium Building Systems, and SAFTI FIRST Fire-Rated Glazing Solutions
This test is no longer available for credit
Architectural Louvers in Facades
Buildings require a precise means to provide intake for outside air as well as exhaust for HVAC systems. Some building designs are also allowing the facade to provide natural ventilation so the building can "breathe" or vent. While the size and locations of such intake or exhaust openings are determined in concert with mechanical engineers, it is typically the architect who determines the aesthetics and how the louvers integrate with the facade. Commonly, the solution lies in selecting architectural louvers which allow for proper airflow while preventing water and even wind-driven rain from entering, plus providing frame joinery that is integral to the adjacent facade. Fortunately, architectural louvers, like expansion joint covers, can be designed to meet these performance needs and be readily customized to integrate into virtually any building facade.
Architectural louvers are typically designed and engineered to meet some specific and demanding performance requirements. Louvers are available in a range of performance categories, including storm-resistant, extreme-weather resistant, impact-rated, acoustically rated, drainable, non-drainable, operating, and even blast-resistant selections. But it's not enough to just pick from one of these different louver types when specifying them. The louver system also needs to be independently tested and certified by the Air Movement and Control Association (AMCA). This is the third-party testing agency for the louver industry that provides a means for manufacturers and products to have consistent and accurate published performance data. No louver model should be used without the appropriate AMCA seal located on the manufacturer's technical data sheet. In particular, AMCA Publication 511 dictates the proper presentation of data and other required technical procedures for certification of air control devices under the AMCA Certified Ratings Program. ANSI/AMCA Standard 500-L1 is the basis of this program and outlines the testing protocols of louvers. Its goal is not to establish minimum/maximum performance ratings but rather to outline a standardized method for testing louvers for different parameters. It includes a laboratory method of testing louvers for ratings in the categories of Air Performance, Point of Beginning Water Penetration, and Wind Driven Rain. In addition, Free Area is included as a calculation, rather than a test, but is also a crucial performance indicator.
Clearly the balance of performance and aesthetics of the louvers is important so they meet the needs of particular buildings, but anytime they are visible on the facade, their ability to blend in or enhance a building design scheme is important too. Aesthetically, architectural louvers offer considerable design flexibility. Louvers can be installed and oriented either horizontally or vertically. They can be custom-curved, outfitted with creative blade color patterns, use varying blade depths, or include asymmetrical blade frequencies and staggered blade placement. LED lights can even be added to create a dramatic or subdued accent. Louvers can be selected and specified in a range of profile styles with different appearances across the louver blade areas. Many are available with a full palette of color options, including color shifting, wood grain, and faux stone finishes. There is even at least one product that offers a louver hidden by perforated sheet, thereby allowing all the air movement, security, and sight screening of standard louvers but with a fresh, modern appearance.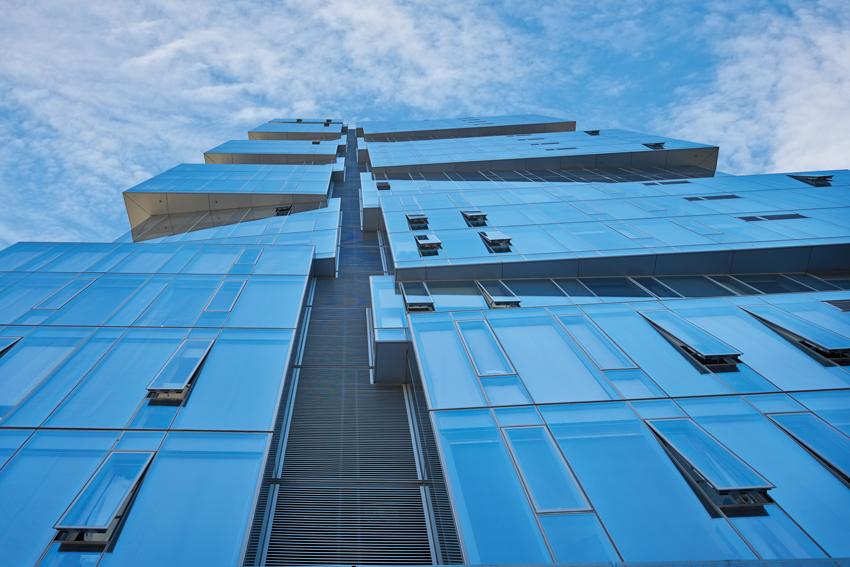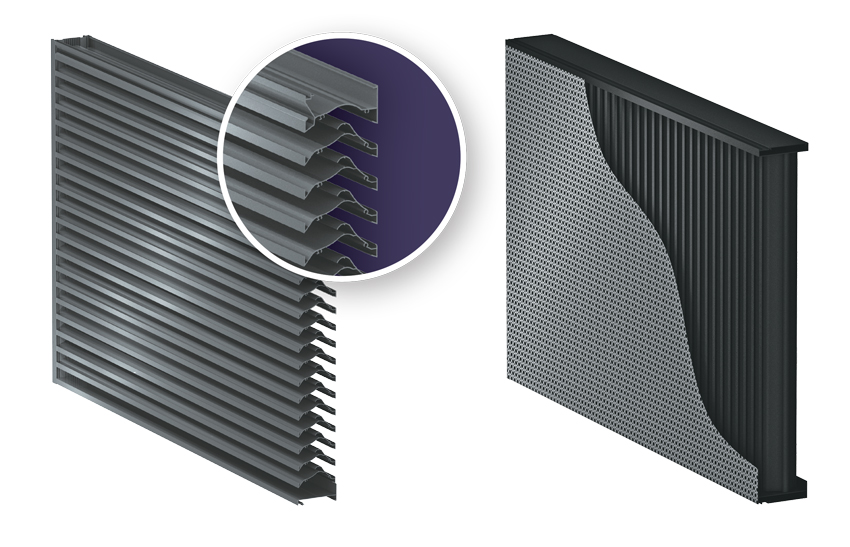 Images courtesy of Construction Specialties
Different types of louvers are available for facades to suit different performance requirements and to provide different design appearances.
In addition to the louver blades, it is increasingly important for the louver frames to have custom joinery to allow for integration into the adjacent facade system. This allows for consistent envelope performance and consistent framing sightlines. They can be specified in colors or other details to match or complement the louver blades or the surrounding facade material. In this way, louver systems can integrate into metal panel, storefront, or curtain wall along with a variety of other facade systems. Perimeter frame extrusions can be standard or custom created to achieve the desired look while not compromising performance.
While some architectural louver products are standard "off-the-shelf" systems, custom systems are becoming more common too. Architectural louvers are often designed to have custom joinery to integrate into curtain wall and metal panel facade systems for example. And they are available with additional customized accessories such as bird screens, sealed insulated blank off panels, sill pans, and LED lights. Often, a custom application can benefit from working with a manufacturer who can run custom tests in certified test chambers on site. Such testing should address air performance, water penetration, and wind-driven rain penetration of the louver but also test to ensure that the integrity and performance of the curtain wall/louver joinery. It is through this approach to custom designs and applications that architectural louvers can help elevate both the look and performance of the building facade.
Eric Sposito, CDT, is the general sales manager at Construction Specialties, a manufacturer of a wide range of architectural louvers. He says that "Custom-designed architectural louvers allow architects to defy traditional airflow design conventions in order to achieve their true vision, without sacrificing performance." In that regard, they can readily meet all design and performance criteria.
Conclusion
Building facades provide a wealth of design opportunities with a wide range of materials and systems to choose from. They also require careful attention to details to be sure that all of the performance needs are met to control wind, water, sun, heat, and normal movement due to expansion and contraction. By keeping up to date with manufactured products, innovations, and creative applications, architects can design buildings that are vibrant, exciting, and long lasting.
Peter J. Arsenault, FAIA, NCARB, LEED-AP is a practicing architect, a green building consultant, continuing education presenter, and a prolific author engaged nationwide in advancing building performance through better design. www.linkedin.com/in/pjaarch
Originally published in Architectural Record
Originally published in November 2017
Notice