High-Performance Facade Solutions
First impressions are important, but it's what's on the inside that counts.
Sponsored by Construction Specialties, EXTECH/Exterior Technologies, Inc., New Millennium Building Systems, and SAFTI FIRST Fire-Rated Glazing Solutions
Learning Objectives:
Identify and recognize the range of performance requirements of a facade as part of the overall exterior design and building enclosure.
Assess the fire and safety performance aspects of building facades, particularly when construction is near the property lines.
Explain the integration of facade materials and systems as they relate to green and sustainable building design.
Determine ways to incorporate the principles discussed as related to the design and performance of buildings as shown in case studies.
Credits:
This course can be self-reported to the AIBC, as per their CE Guidelines.
This course is approved as a Structured Course
Approved for structured learning
Approved for Core Learning
This course is approved as a Core Course
Course may qualify for Learning Hours with NWTAA
Course eligible for OAA Learning Hours
This course is approved as a core course
This course can be self-reported for Learning Units to the Architectural Institute of British Columbia
This test is no longer available for credit
Building facades are the most publicly visible design aspect of a building and at the same time they are most vulnerable to performance issues. They need to enclose the building and control the flow of heat, light, air, and water, but they also need to look good doing it—typically for a long time. When they are well-designed and constructed properly, they can meet these needs by providing stunning exteriors that allow light and ventilation into interior spaces creating delightful places to live, work, or play. At the same time, well-designed facades can perform with long-lasting durability that meets or exceeds a variety of code requirements related to structural integrity, weather resistance, seismic forces, energy efficiency, and fire ratings. However, when done poorly, facades may deteriorate slowly until their original beauty degrades and performance declines noticeably to the point of needing replacement. Given this broad significance of facades, it is not surprising that they are the focus of considerable design efforts, fastidious construction methods, and sophisticated manufacturing techniques. In this continuing education course, we cover some of the latest materials and products that are available to help create distinctive and attractive building facades that can perform as well as they look.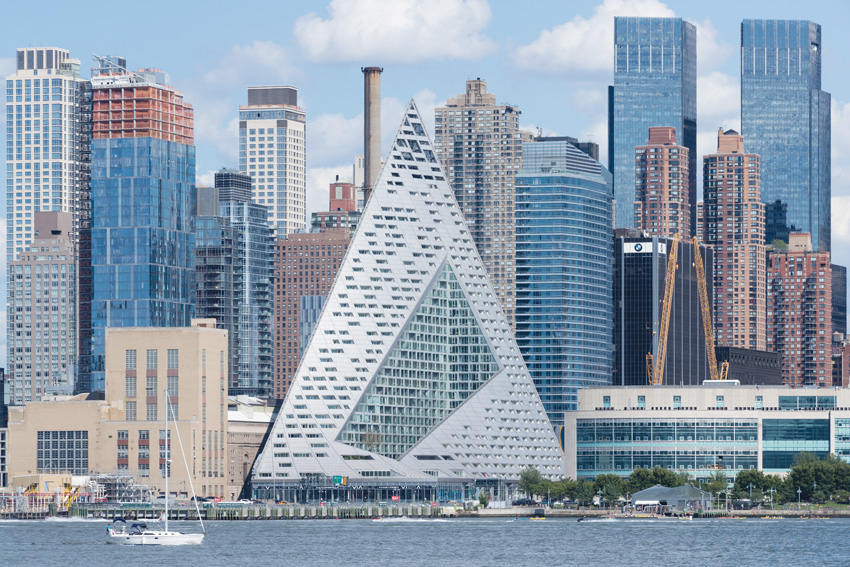 Photo courtesy of Construction Specialties
Building facades provide the visible exterior design of a building but need to perform as the barrier between indoors and outdoors while allowing light and ventilation to penetrate in a controlled manner.
Daylighting Facades
The use of natural daylighting in buildings has always been a desirable trait in building facades, and in recent times it has become the focus of designs that seek energy efficiency and good interior light quality. This focus has led to increased consideration of other glazing choices besides glass. Cellular polycarbonate glazing has emerged as one of the preferred materials for daylighting in many buildings due to its durability, glare reduction capabilities, occupant comfort benefits, and sustainability. Polycarbonate is lightweight and clear enough to transmit light while possessing the strength to withstand hurricane-force winds and blown debris. It isn't affected by yellowing or "fiber-bloom," as is common in fiberglass reinforced panel (FRP) glazing. Because of these traits, plus its fire-resistance rating capability, higher insulating potential, recyclability, and its ability to be shaped and formed, polycarbonate has been used in a wide range of buildings, from industrial structures that demand resilience to cultural institutions that prefer softer, more refined aesthetics.
From a practical standpoint, new advancements in manufacturing technology have further enhanced the benefits of polycarbonate glazing including the following:
Ultraviolet (UV) Light Resistance and Blocking: New coating technology has been developed to resist the damaging effects of UV light such that polycarbonate panel manufacturers now offer 10-year weatherability warranties. The ability of the glazing to further block the transmission of UV light waves into the building means that interior finishes are protected from accelerated fading.
Anti-Reflective: In cases where the reduction of exterior reflective glare is needed for a building's design, anti-reflective polycarbonate glazing is available. Such systems facilitate a better distribution of light throughout a building's interior while reducing reflections and glare. This option is also ideal for entertainment venues that want to project high-resolution images and lighting effects onto a translucent backdrop.
Infrared (IR) blocking: When providing high daylighting levels and solar thermal control are equally important, polycarbonate glazing is available with an external surface that filters unwanted infrared radiation to reduce the solar heat gain of a building. Thus, it promotes comfortable interior temperatures, reduces demand on the HVAC system, and saves on energy costs.
Anti-Graffiti Surface: When a project is in a high-traffic area and is at risk of damage or vandalism, polycarbonate glazing can be specified with an anti-graffiti surface that resists vandalism and scratching. Anti-graffiti glazing is also resistant to natural weathering and typical chemicals, and it is easier to clean.
Of course, a robust daylighting facade system is not dependent on the glazing alone—it must also possess superior framing to withstand water and air infiltration and deliver long-lasting value. In this regard, there are several things to look for in a coordinated, manufactured system. The first is deep glazing channels. Since polycarbonate has a high coefficient of thermal expansion, normal glazing channels (like those used with glass-glazed systems) can lead to panel disengagement. When disengaged, the glazing comes loose from the framing, causing air and water leakage, and compromising the structural integrity of the glazing. To prevent this, deep glazing channels are necessary. Second is the use of low-friction gaskets. Daylighting systems require gaskets with low-friction surfaces which are securely glued in place. If gaskets are not glued into well-designed gasket tracks, and if they do not have low-friction surfaces, then they will become disengaged over time. Further, they will create noise as the glazing expands and contracts. Third is a panel setting seat for the glazing panel to sit on. These are necessary to keep the glazing panels from falling to the bottom of the sill profile, making them vulnerable to water penetration, interior condensation, and decay. Further, these seats must be designed so as to allow air to enter the cavities in the cellular polycarbonate. Some manufacturers don't recognize the importance of these features, but they are essential for robust system performance.
It is also possible to specify and work with pre-fabricated systems as the best way to ensure quality control and avoid installation delays. Not all daylighting manufacturers offer this option, instead relying on field installers to cut, fit, and secure all of the parts and pieces together on the project site. In the interest of better quality control, systems created in controlled factory conditions are available in several types. Some, for example, offer beauty, durability, and economy with vertical panels up to 54 feet long, eliminating horizontal joints and leak potential. Employing tongue and groove joinery, they create a clean, unbroken appearance with an insulation value of up to R-5 for 50mm-thick panels. Other translucent wall systems can deliver daylighting in long spans with minimal structural support using an interlocking clamping structural mullion designed for high wind load and long span conditions. This approach provides a continuous wall of daylight that replicates the external appearance of a channel glass system but at a fraction of the cost. There is even a curtain wall system that can properly accept glass polycarbonate, and metal panels in the same system. All of these polycarbonate systems use deep glazing channels, low-friction gasketing, and controlled gasket to pressure deliver superior resistance to air and water infiltration as tested by AAMA criteria.
Bill Voegele is the president and founder of EXTECH/Exterior Technologies, Inc. He has seen, firsthand, the growth of daylighting in buildings in recent years. He observes, "Daylighting has become popular for good reason—it works. Several studies have proven that people are healthier, happier, and more productive when they work in naturally lighted environments." Regarding the use of cellular polycarbonate, he reflects on the role the industry is playing. "Cellular polycarbonate systems are probably the most economical way to incorporate massive daylighting while still addressing all of the questions that arise regarding spanability, weatherability, light diffusion, and, in some cases, solar heat gain and glare reduction." It is clear this material is poised for use in many more buildings going forward.

Photos courtesy of EXTECH/Exterior Technologies, Inc.
Cellular polycarbonate translucent glazing can provided daylighting facades for a variety of building types, including an integrated facade at Otterbein University (left) and Metro Tower III (right) which emulates the look of a frameless channel glass wall.
Originally published in Architectural Record
Originally published in November 2017
Notice