Healthy School Buildings Mean Healthy Students and Healthy Learning
Using K–12 building design to improve student experiences
Sponsored by ASI Group, Construction Specialties, CornellCookson, Elkay®, Excel Dryer, GAF, Inpro, NanaWall Systems, and Scranton Products®
Safe Rooms
A modern-day reality in schools is the ability to deal with severe weather storms of various types, particularly those in areas prone to high winds. Recent versions of the International Building Code (2015 IBC and later) identify the need for storm shelters in buildings based on separate standards. Specifically, ICC 500: ICC/NSSA Standard for the Design and Construction of Storm Shelters, published jointly by the International Code Council (ICC) and the National Storm Shelter Association (NSSA), has been developed. This standard provides minimum design and construction requirements for shelters to provide a safe refuge from storms that produce high winds, including hurricanes and tornadoes. The premise is that people need to evacuate during a storm or seek protection in a shelter designed for resistance to extraordinary wind loads and flying debris. The ICC 500 standard requires storm shelters in educational occupancies, among others, located in areas prone to extreme tornadoes. That means rooms and facilities that can serve as shelters are increasingly required in schools. The ICC 500 standard provides architects and other design professionals with minimum code requirements for the main wind-resisting structural system, openings, and cladding of these shelters. It also provides basic occupant life safety and health requirements for shelters, including means of egress, lighting, sanitation, ventilation, fire safety, and minimum required floor space for occupants.
Beyond codes, the Federal Emergency Management Agency (FEMA) has issued FEMA P-361: Safe Rooms for Tornadoes and Hurricanes: Guidance for Community and Residential Safe Rooms. This standard addresses many of the same things that ICC 500 does but is more stringent in some cases. All safe-room criteria in FEMA P-361 meet the storm-shelter requirements of the ICC 500, but FEMA P-361 includes a few design and performance criteria that are more conservative than those in the ICC 500. Recognizing that schools are prime areas where safe rooms must be constructed, architects need to understand not only these standards but also the innovative products that are able to help them meet these mandates without compromising design flexibility.
Doors and windows are obvious places that are vulnerable in storms. Fortunately, specialized rolling steel doors that are ICC 500 and FEMA P-361 compliant can be used in a storm to cover over larger openings such as windows or other doors. That means architects can design spaces that allow for more natural light for the majority of the time when the space is used as planned but with the ability to be protected when needed. In schools, large spaces such as cafeterias or auditoriums are often the areas where all of the building's occupants can gather and are good candidates for safe rooms or shelters. However, when swing doors are the only option for openings, these rooms can't bring in the amount of natural light or equipment that may be desired. By comparison, rolling doors can be mounted on the inside of glass windows or other doors so that light, ventilation, and access are possible when the rolling doors are coiled up. Then, when needed, they can be lowered, thus making sure that any projectiles are kept from harming the building's occupants. In addition, unlike swing doors, the rolling doors can be hidden out of sight and only used on demand (i.e., when a storm is imminent). In that regard, they provide much greater design flexibility for an architect to create a well-designed, functional, and safe space for students, teachers, staff, and even local evacuees.
In terms of activation devices, rolling doors can be tied to an alarm system or manually activated. Some advanced rolling doors can automatically react and even reset and reopen after an event (or a standard test). There's no need to reopen every swing door that was shut during an event or test. Teachers can focus on keeping kids safe and calm instead of checking doors or reopening them. In terms of user safety, rolling doors can be outfitted with protection features, such as safety edges and battery backup protection that will hold the door open if power is momentarily lost—preventing nuisance drops. They can also be hooked up to a safe-room backup generator if one is present. In addition, a safe room with an opening that is part of a fire wall can incorporate rolling door products with their own fire ratings.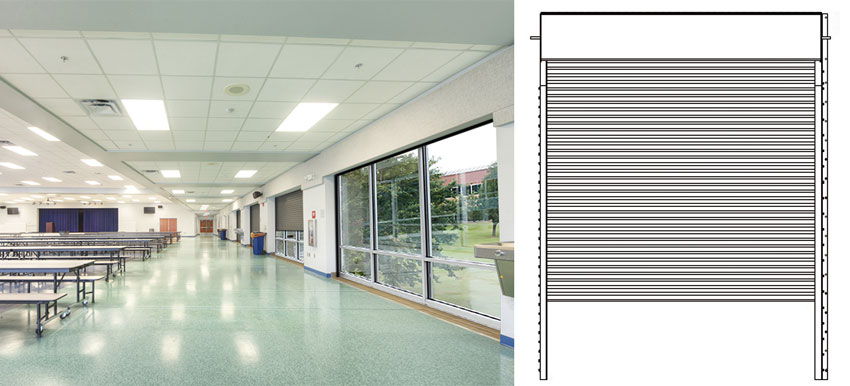 Images courtesy of CornellCookson
Cafeterias are good candidates for safe rooms or storm shelters in schools, but only if the openings are protected, such as by ICC 500/FEMA P-361-rated coiling steel doors that can be stored out of sight when not needed as shown here.
Bottle-Filling Stations
Staying hydrated is an important part of being healthy. Doing so at a school in a manner that is sanitary, accessible, and appealing can be both a design and operational task. Water fountains have long served a role in this regard and are even required by code in most cases, including the need to install at least one fountain at a wheelchair-accessible height that can be accessed from both a forward and parallel approach. However, many students may be looking for alternatives to water fountains, which often include vending machines that only dispense sugary drinks, not necessarily the healthiest choices. If bottled water is available, disposing of multiple plastic bottles is not particularly good for the environment. A better option is to encourage students to carry reusable water bottles with them; however, locating places to refill them can be a challenge.
Recognizing the need for better drinking options, manufacturers of drinking fountains now also offer water bottle-filling stations. These fixtures provide a clean, sanitary source of drinking water that can be supplied into reusable containers across the day. This option is appealing to many students. In the case of one school in Michigan, five bottle-filling stations were installed for use. In the very first month, the school saved more than 2,200 disposable bottles while notably increasing water consumption by students.
Bottle-filling stations can be stand-alone fixtures or incorporated into drinking fountains. They can be mounted on new or existing wall surfaces or recessed as "in-wall" installations. Most offer a "touchless" or hands-free operation based on using a sensor to activate the water flow when a bottle is present. In this way, water flows directly into the bottle with minimal opportunity of the spread of germs from hands or other bottles. That helps keep the spread of disease down and keeps students healthier in the process.
There are other typical features of these bottle-filling stations. Many are calibrated for a quick filling speed to encourage multiple users. Nonetheless, the focused stream may take advantage of a laminar flow of water and dedicated drains such that there is minimal splashing when filling bottles or cups. Many use antimicrobial protection through the use of coatings on key plastic parts to inhibit any mold or mildew growth. To help assure the quality of the drinking water, many also come with built-in filtration to reduce exposure to lead, Class 1 particulates and excess chlorine. In light of concerns about municipal water supplies in recent years, this can be a proactive and comforting feature to include, recognizing of course that the filters do need to be changed regularly. The filters can also notably improve the taste of the water and remove any odor, thus encouraging continued usage.
Enhanced versions of these fixtures can include energy-conscious features that allow for one simple power hookup for refrigeration and other needs. In energy-savings mode, the unit can be programmed to be powered down during the hours it is not expected to be in use. There is also the option to provide highly efficient LED lighting to illuminate the fixture and identify when the bottle is full. They can even come with built-in electronic diagnostics to be sure that everything is operating as it should be.
Particularly relevant to schools, there are vandal-resistant models available. These are built on a robust platform using full stainless-steel construction. Graphics are embossed, and there are vandal-resistant push buttons, bubblers, and screws that are used. The display screen glass, if part of the unit, is shatter resistant. All of this makes these units quite appropriate for high-traffic applications such as gyms, recreational areas, etc. Units such as these can also be used for outdoor drinking solutions as well in play or recreation areas to promote good hydration in those active locations.
Locker Facilities
School buildings typically incorporate lockers, and a lot of them, whether for student's general daily use or in athletic locker rooms with showers. Keeping those areas clean and hygienic is important, but so is using durable, well-designed products.
Locker Choices
When considering lockers as part of a school design, there are many material choices from which to select, including metal, stainless steel, plastic laminate, phenolic, and high-density polyethylene (HDPE). Each have their own capabilities, strengths, and weaknesses, but HDPE plastic stands out due to its particular features and benefits for schools. HDPE is created from extruded polymer resin with a high strength-to-density ratio and is used in many different types of products. It is commonly used for school restroom partitions, where it provides a mid-priced option with the lowest cost of ownership due to its low maintenance requirements. It has also been used to create lockers because in all cases, it resists mold, scratches, dents, chipping, rust, oil, and bacteria, thus offering greater durability. Its finish, with a wide variety of colors and textures, is assured to be a long-term solution since it is produced with a solid color throughout and never needs painting. Because of these attributes, it is common to find it with a 25-year warranty for quality products.
In many school designs, lockers are placed in corridors for easy access and convenience. Of course, that also means there may be fire-resistance requirements to comply with building codes. Manufacturers recognize that, and at least one offers HDPE hallway lockers are fully fire-rated for corridor application. Such lockers are also designed to meet the demands of the school corridor environment and have been shown to withstand the harshest daily use. Because of the durability of the material and the surface, damage is resisted and graffiti is easily wiped clean with a common, nonabrasive cleaner. All of this is understandably appealing to school administrators who seek to keep maintenance costs low.
From a school health standpoint, HDPE partitions and lockers make a lot of sense too. They are available in low- or no-VOC products that are not a source of chemical off-gassing. Further, they don't require paints or harsh cleaners that may contain VOCs either. Because they are nonporous solid surfaces, mold and mildew growth is resisted helping with a healthier indoor environment. As such, they can contribute to points under the LEED green building certification program. Some even have earned GreenGuard certification as administered by UL Environment. Overall, HDPE has become a preferred choice for locker rooms, school lockers, and related partitions since they help those spaces remain healthy and attractive for the long term.
Originally published in Architectural Record
Notice