Healthy School Buildings Mean Healthy Students and Healthy Learning
Using K–12 building design to improve student experiences
Sponsored by ASI Group, Construction Specialties, CornellCookson, Elkay®, Excel Dryer, GAF, Inpro, NanaWall Systems, and Scranton Products®
Interior Wall Surfaces
Schools are busy places with a lot of people and equipment moving daily. They are also places that need regular cleaning to help keep them healthy and sanitary.
Interior Wall Panels
Mounted wall panels are a durable design option that can be used to line corridors, in high-use meeting places where groups gather, or at a school entrance where an added design element can create a warm welcome. Such easy-to-clean manufactured wall panels can provide durability while still allowing for creative designs. Panels can be unique shapes, different sizes, and even different depths to create visual interest. Panel appearances can be selected from a variety of solid colors with the option to match school colors, simulated woodgrain, metal looks, or even digital printed imagery.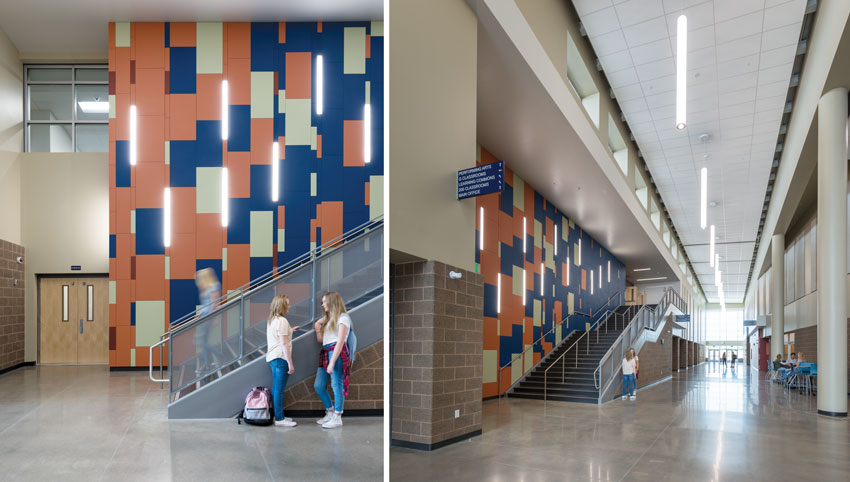 Photos courtesy of Construction Specialties
Manufactured wall panels in a creative pattern help provide a durable, easy-to-clean wall surface at Riverdale High School in Thornton, Colorado.
From a detailing and installation standpoint, interior wall panels can be butt-jointed for a more seamless layout or reveals can create patterns. Reveal options include matching or contrasting colors as well as stainless steel or simulated metal looks. Aluminum trims can offer a modern appeal or a metal picture-frame look. Mounting options include permanent adhesive or demountable systems. The demountable version is available in a quick snapping method that is secured to the wall but has the possibility of being removed and replaced if damage occurs or if there is a reason to get behind the panel into the wall. This type of snap system also has the capability to be installed over many substrates including block walls.
Printed Interior Wall Surfaces
Wall surfaces in schools are commonly used to convey information through the use of artwork, graphics, or similar means. Just like any other wall surface, however, it needs to hold up against heavy use or even abuse, plus be easy to keep clean. To meet these needs, many architects are turning to wall-protection systems that also offer large-scale images that can promote school spirit and morale or spread inspiration for learning.
Printed wall-protection systems are commonly made using clear, rigid sheet plastic with crisp digital imagery printed on the reverse side. This creates greater durability since the rigid sheet protects the image from scratches, dirt, and other hazards, including impacts from backpacks, utility carts, etc. The clear sheet also allows the surface to be cleaned regularly without affecting the graphic image. This durability can be evidenced according to the ASTM D4060 Abrasion Resistance test, while stain resistance and clean-ability can be verified based on the ASTM D6578 test.
From a design standpoint, the possibilities are virtually unlimited in terms of the colors and images that can be printed. Logos, mascots, school mottos, beautiful artwork, or any other type of vibrant imagery is possible and best provided on printed interior wall surface-protection systems. Ultimately, the beauty of these systems is found in creating a design feature that doubles as wall protection that is durable and easy to clean.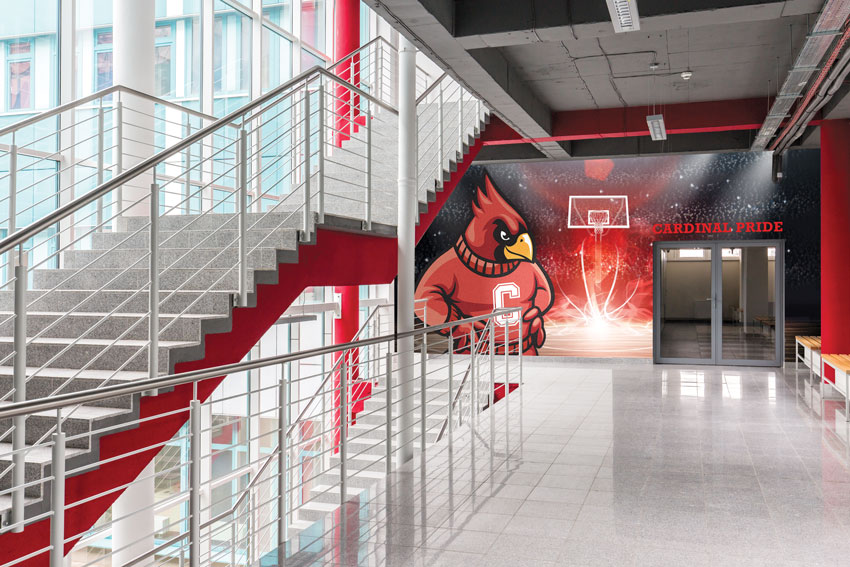 Photo courtesy of Inpro
Printed interior wall surface-protection systems can be used in schools to promote team spirit or provide inspiration all while helping to keep walls clean and durable.
Acoustics and Flexible Space
There is a growing recognition that schools need good acoustical control in order to promote well-being and facilitate learning. At the same time, there is a common design request for more open and shared use of spaces as a way to utilize space efficiently and control the total square footage of a school building. Hence movable walls or folding glass walls have become very common in schools as a way to create smaller enclosed spaces that can open to larger communal spaces. However, when these operable walls separate interactive areas where both are being used simultaneously, sound isolation is needed for student focus and teacher instruction.
The best way to determine acoustical performance in walls is to have them tested to determine their sound transmission class (STC) rating. This common index provides a way to help determine how much sound (measured in decibels) is restricted from passing through a wall or similar assembly. The higher the rating, the less sound that passes through. Ratings on the order of STC 25 to STC 30 allow most speech to be heard or understood through the wall. A better condition that is often cited as a design goal is STC 35 to STC 45, which makes most speech illegible or inaudible. Higher than that is possible but more difficult to achieve.
The design challenge in schools can sometimes be finding a way to incorporate the flexible spaces being sought for classrooms and other spaces while still meeting the acoustical needs of those spaces. Fortunately, there are now folding glass wall products on the market able to achieve unprecedented sound control up to an impressive tested maximum of STC 45. These systems combine acoustically separated aluminum framing and specialized gaskets with acoustically enhanced laminated glass to achieve optimal performance. Some of the other notable aspects about these folding doors include the following.
Floor-supported folding: With floor-supported systems, the main weight of the unit is carried by the lower wheel assembly gliding on top of a stainless-steel floor track. Floor-supported systems are ideal for applications where load-bearing capability of the header is a concern, but they also assist with sound isolation when appropriate gaskets and other components are in place.
Surface-mounted flush sill: A minimal surface-mounted flush sill is available that is ADA and ANSI 117.1 compliant. When installed with finished flooring, it should not only have little if any raised surface, but the gap in the floor track should be minimal as well—as little as 15⁄16 inch (23.5 millimeters) is available. For easy installation, the shallow sill can be installed on the foundation or subfloor, and finished flooring can butt up to the floor track, creating seamless integration between interior spaces.
Minimal sightlines: Panel frames that are slim and contemporary, particularly where two adjacent folding panels meet, mean that transparency and visibility are optimized. Of course, if the interior design scheme calls for smaller-scaled elements, horizontal mullions are also possible.
Swing doors: To accommodate traffic flow, there are options for swing doors to be incorporated in widths up to 3 feet 3 inches (1,000 millimeters) into the side jamb at one end or both. These swing doors may have lower STC ratings than the rest of the system, but all other aspects of a swinging access door, including panic hardware, closers, and kickplates, can be accommodated.
John Brown, AIA, partner, Hollis + Miller Architects, speaks from experience on the schools his firm has designed. "Connectivity, flexibility, and visibility were all very important concepts in the design of the spaces within these schools," he says. "While we still needed the capability of closing off spaces for more traditional classroom and learning spaces, we needed the capability of opening up the walls to accommodate larger groups, which would then allow for collaboration."
David T. Esely, AIA, Sr., is a project architect with the firm and observed the folding glass doors it specified. "When closed, very little sound penetrates, which allows for diverse learning opportunities on both sides of the panels simultaneously," he says. "When the panels are open, the opportunities within the space transform and can then be tailored to specific instructors' needs and requirements. This is all done with ease, speed, and frequency."

Images courtesy of NanaWall Systems
Flexible classroom spaces separated by folding glass walls no longer need to suffer acoustically since new products are available that are designed and detailed to achieve ratings on the order of STC 35 to 45.
Originally published in Architectural Record
Notice