Health-Care Design for All
Architects and designers have many choices for enhancing accessibility, performance, and well-being in health-care environments
Sponsored by Aamsco Lighting, Cascade Architectural, and Inpro
Learning Objectives:
Describe how coiled metal wire panels can be used to divide interior spaceswhile maintaining good airflow.
Identify the features of accessible restrooms that facilitate good hygiene and access to medications.
Explain how antimicrobial products and materials can reduce the spread of health-care-associated infections (HAIs).
List products and materials that can hold up to rigorous cleaning regimens in health-care environments.
Discuss how lighting can impact the safety, health, and well-being of patients and residents in health-care settings.
Credits:
This course can be self-reported to the AIBC, as per their CE Guidelines.
As an IACET Accredited Provider, BNP Media offers IACET CEUs for its learning events that comply with the ANSI/IACET Continuing Education and Training Standard.
This course is approved as a Structured Course
This course can be self-reported to the AANB, as per their CE Guidelines
Approved for structured learning
Approved for Core Learning
This course can be self-reported to the NLAA
Course may qualify for Learning Hours with NWTAA
Course eligible for OAA Learning Hours
This course is approved as a core course
This course can be self-reported for Learning Units to the Architectural Institute of British Columbia
This test is no longer available for credit
Hospitals and other health-care facilities have special considerations when it comes to the health, safety, and welfare of their occupants. Sanitation and cleanliness are of upmost importance. Residents and patients may be older or immune compromised, and thus more vulnerable to disease-causing pathogens than healthy people. In addition, health-care facilities often see a higher proportion of people with special needs when it comes to mobility and access. Care providers must be able to effectively perform their work. At the same time, the building design should ideally promote healing through design choices that create a warm and comforting environment. Finally, the building should be safe, secure, and easy to navigate.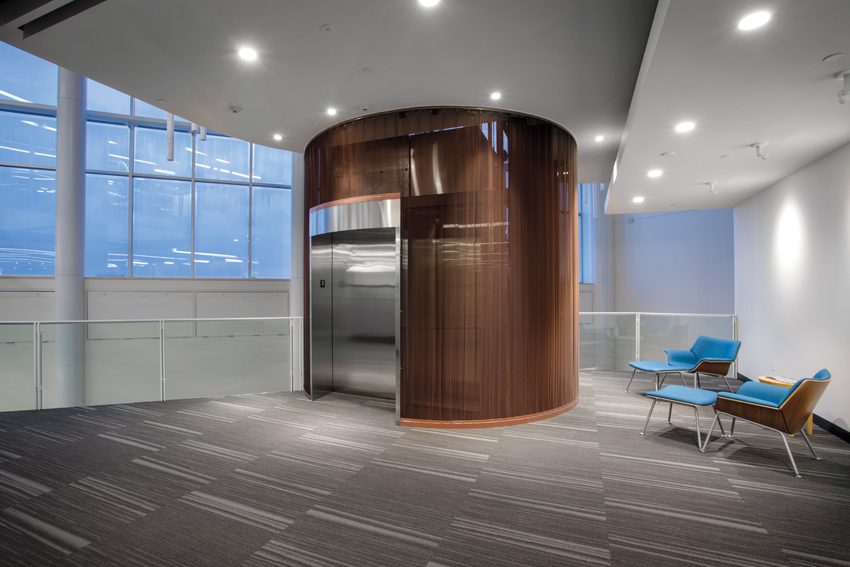 Photo courtesy Courtesy of Cascade Architectural
Coiled wire fabric was used as a visual design element and safety feature around the elevator shaft and stairways at the VGM Group's Iowa headquarters.
The transmission of infectious disease is a serious problem in hospitals and other health-care settings. The COVID-19 pandemic has underscored the importance of mitigating this risk while also maintaining flexibility. Sometimes spaces may need to be rapidly reconfigured to accommodate an influx of patients. At the same time, staff must help prevent the spread of highly infectious disease pathogens. Together, these concerns drive nearly every design choice, from floorplan design and layout to lighting design and the selection of surfaces, finishes, and fixtures.
DESIGN FOR QUALITY CARE AND PATIENT SAFETY
Designers of health-care facilities must balance many factors: the safety, health, and well-being of patients; the effective delivery of care; the creation of a welcoming environment that promotes healing; energy efficiency; and the cost of maintenance and operation, among others.
A literature review conducted by several researchers in 2007 identified several design elements as critical for ensuring patient safety and quality care. These include strategies that help prevent falls, reduce the risk of cross-contamination, and enhance visual performance, among others.
Let's look at a few examples of design choices that enhance accessibility, safety, and health in health-care facilities.
Wheelchair-Accessible Medicine Chest
Wheelchair-accessible medicine chests and mirrors can make a significant difference for someone with a disability. These Americans with Disabilities Act (ADA)compliant products are ideal for assisted-living facilities. One such medicine chest is constructed with an angled, LED-illuminated mirror that allows people with a lower viewing level to see their reflection. It also allows access to medications without assistance by allowing the user to lower the interior shelving down to a comfortable level. This innovative design addresses equity and safety—two key concerns in health-care facility design.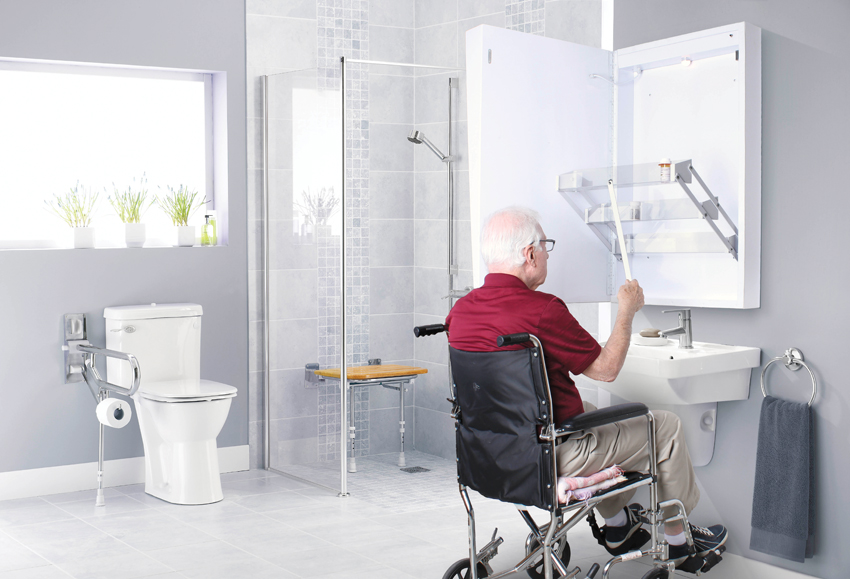 Photo courtesy of AAMSCO Lighting
Safe, accessible medicine storage is important to the health and well-being of residents and patients in health-care facilities.
Copper-Clad Wire Fabric
Copper-clad wire fabric is an innovative product that can be incorporated into building interiors as part of an overall design scheme or to temporarily partition rooms. The material is lightweight and will not interrupt airflow, an important consideration for ensuring airborne pathogens do not build up within a space. The fabric consists of pure copper metallurgically bonded to the surface of low-carbon steel wire. Left in its natural state, copper-clad steel wire has demonstrated antimicrobial properties, reducing the risk of cross contamination and enhancing the safety of health-care facilities.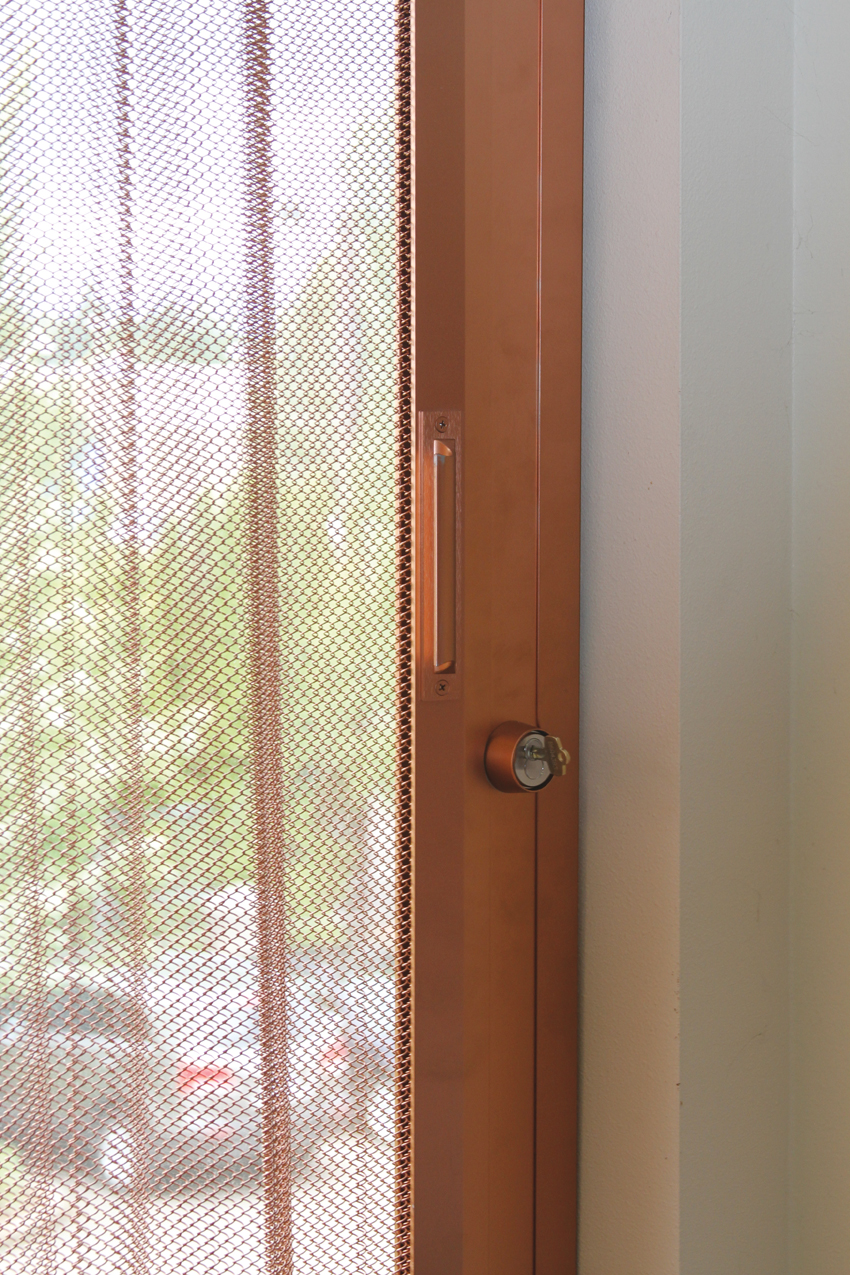 Photo courtesy of Cascade Architectural
Copper-clad wire fabric is naturally antimicrobial and can be used to divide spaces or provide solar and shade control.
Antimicrobial Privacy Curtains
Privacy curtains are often used to divide cubicles in emergency departments. Although single-patient rooms are preferred, privacy curtains are also used to provide privacy to patients who must share rooms. These frequently touched curtains can serve as a vector for disease organisms. However, fabrics that utilize silane-based technology have been tested and proven to be permanently antimicrobial and inhibit the growth of mold and mildew. These fabrics also repel liquids and are highly resistant to most stains.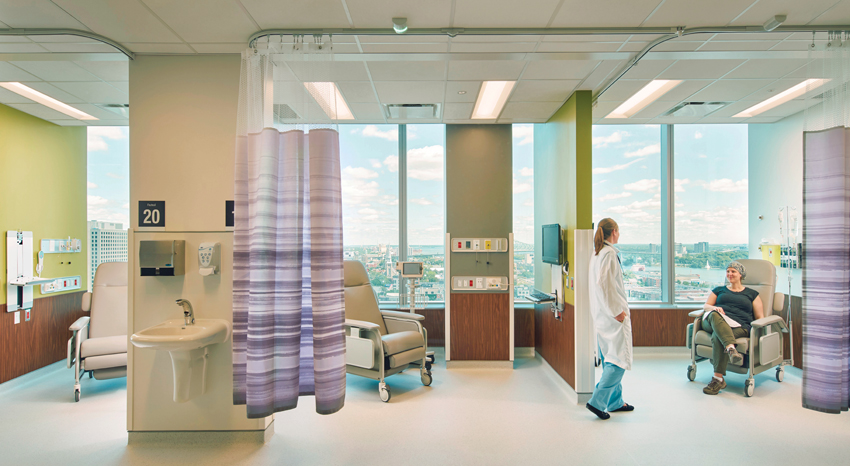 Photo courtesy of Inpro
Privacy curtains can contribute to a safer, hygienic, and dignified health-care environment.
The rest of this course will consider design choices in several key categories: hygienic and accessible restrooms; the creation of hygienic, flexible, and healing interiors; materials and products that reduce the spread of contaminants via surfaces; and design choices for critical care environments.
HYGIENIC AND ACCESSIBLE HEALTH-CARE RESTROOMS
Restrooms offer a special challenge for health-care design. These rooms must be easy to clean and hygienic, but they also must be safe and accessible. Health-care facilities provide treatment for a higher proportion of people with physical challenges. These include physical disabilities as well as conditions such as obesity and age-related declines in vision and motor function. In addition, some patients and residences may suffer mental disorders that make them more prone to harming themselves.
As required by the ADA, all public buildings must be accessible for people with disabilities. This is especially important in hospitals and health-care facilities because they typically serve a much larger population of users with disabilities.
There are specific requirements for ADA-compliant restrooms that guide everything from how much weight certain fixtures must be able to bear to how much space must be allowed around fixtures. Architects and designers should also be aware that there is a trend in hospital design toward more "home-like" interiors. Colors, textures, and styles can impact patient comfort and well-being; this awareness is driving an aesthetic that feels more residential rather than institutional.
Accessible Medicine Storage
People who need health care usually need medications. Someone who is also wheelchair bound must be able to access these medications and other health-related items, such as bandages and toiletries. Many people typically store such items in a medicine cabinet over a sink. However, these cabinets are usually beyond the reach of someone in a wheelchair.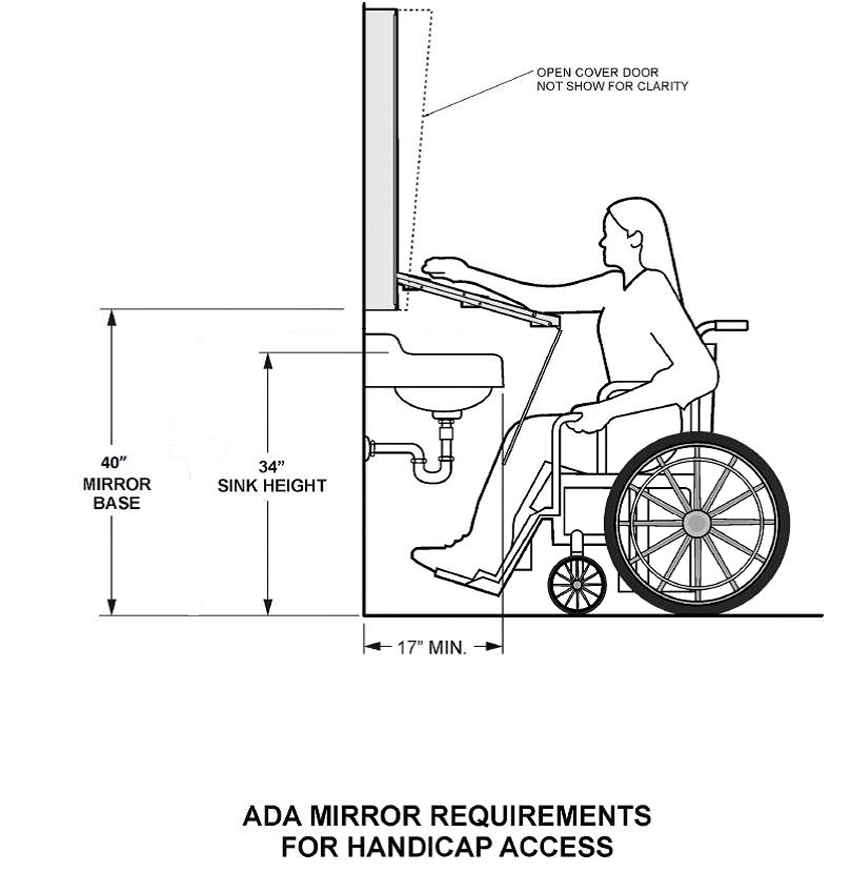 Image courtesy of AAMSCO Lighting
Maximum reaching height from a wheelchair is governed by the depth of a sink or other obstruction located between the person and the wall.
Originally published in Architectural Record
Originally published in October 2020
Notice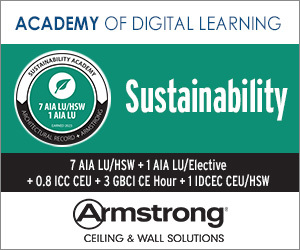 Health-Care Design for All
Buyer's Guide
Mirror-Lux® Assist Medicine Chest

The Mirror-Lux
®
Assist Medicine Chest is a mirrored, LED- illuminated medicine chest that is uniquely designed to allow the user to lower the interior shelving down to a comfortable level.
Children's Hospital New Orleans Parking Garage Draped in Fabricoil®

Cascade Architectural provided a stainless steel Fabricoil
®
facade for the new parking garage at Children's Hospital New Orleans. "Cascade Architectural presented a more cost-effective solution to wrapping the garage in metal mesh, and we also just preferred the inherent coiled design of Fabricoil over other products," says Moses Waindi, senior project architect at EYP.
Sani-Series™ Wall Cladding System

Inpro's Sani-Series
™
Wall Cladding System is comprised of two integrated products. The patented Sani-Base
™
Stainless Steel Wall Base is the industry's only complete waterproof transition from floor to wall. The Sani-Surface
™
Hygienic Wall Cladding comprises industrial-strength, fiberglass-free wall panels that are thermally stable to handle a wide range of temperatures and moisture fluctuations.