Health Care: Better Designs for Better Care
A guide to products that can contribute to safe, sanitary, and pleasant environments in health-care facilities
Sponsored by CertainTeed Ceilings, Construction Specialties, and Inpro
Specifying the Right Materials for the Job
When specifying products for hospitals and other health-care facilities, designers must consider how ceilings, walls, doors, floors, curtains, and handrails contribute not only to the aesthetics but also the function of medical facilities. One of the main contributors to durability and functionality is the materials that are chosen for each component of the design.
When determining materials, there are many considerations including cost, cleanability, sustainability, environmental concerns, and energy or replacement costs. Resources such as health product declarations (HPDs), environmental product declarations (EPDs), and volatile organic compound (VOC) documentation can help designers and architects determine which chemicals are in products as well as the life-cycle environmental impact of products. Industry groups such as the USGBC are embracing HPDs and EPDs and including the use of these declarations within LEED guidelines.
The Benefits of Proper Light Reflectance
As stated earlier, specifying high-quality products that make ceilings easy to clean can increase the health and safety of occupants. In addition to being easy to clean, quality ceiling materials will have high-light-reflectance qualities that can reduce fading and replacement cost. Additionally, light-reflectance qualities can extend daylight further into a space and reduce energy use by limiting the amount of electrical light needed. This is especially true in areas like atriums and lobbies, which are often the first places that patients and visitors see when entering a health-care facility.
Corridors also see a lot of traffic and therefore need proper lighting and light reflectance. This is especially important because corridors are often windowless. Specifying wall and ceiling materials that are smooth, cleanable, and light colored yield adequate light reflection.
Sustainability and Environmental Protection and Cost Savings
Products that are designed to last a long time not only reduce waste and positively impact the environment, but they also can allow health-care facilities to save money on repair and replacement costs.
Doors and walls that are built and covered using durable, batter-resistant materials can lead to longer product life cycles. While the upfront costs for quality materials may be higher, those costs can be recuperated through reduced replacement and repair costs. Often when doors need to be repaired, they have to be removed from the frame, causing a negative impact on the facility and occupants.
When considering the true costs of wood veneer, plastic laminate doors, hollow metal doors, and doors with a sturdy inner core that are clad in a protective material, the following table shows the costs savings that can be achieved over a 10-year period.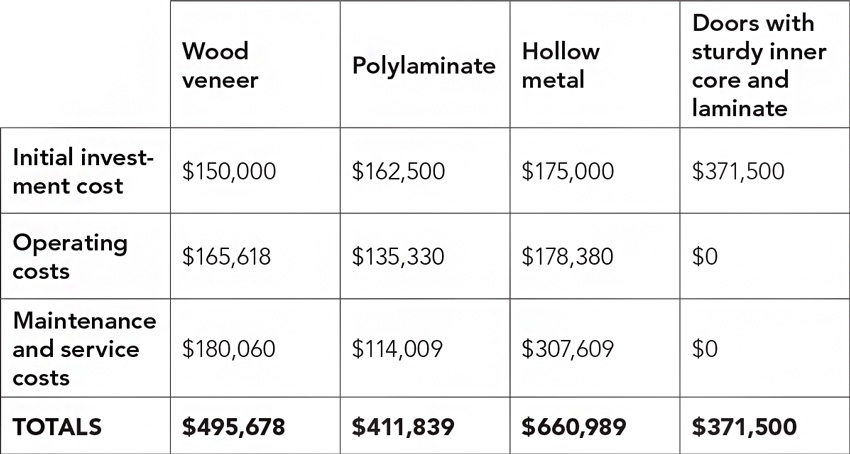 Source: Construction Specialties
This table shows the total costs of various door materials over a 10-year period.
Another potential area for waste in health-care facilities is the use and disposal of single-use or limited-use products, such as cubicle curtains in critical care, isolation, and emergency areas in health-care facilities. Recyclable cubicle curtains help reduce the amount of waste that ends up in the landfill, thus positively affecting the environment. High-quality recyclable curtains look just like fabric and are cost-effective when compared with the life-cycle cost of traditional fabric curtains.
Transfer Showers
In hospitals, user-friendly restrooms and showers are vital, as patients who are there for an extended stay may be experiencing mobility challenges. Universally accessible showers, often called transfer showers, are ideal for hospital settings, as they allow all occupants, regardless of ability, to enter and safely use them. The Americans With Disabilities Act (ADA) provides guidelines for showers that will accommodate users of all needs. The ADA mandates a 36-inch-wide wide minimum entry for shower bases to accommodate a wheelchair. A beveled threshold, finished wall flange, and nonslip floor texturing can be specified for ease of use and safety. Additionally, surfaces that are nonporous can prevent the growth of mold and mildew, thus promoting the health, safety, and welfare of occupants and allowing for easier cleaning and less maintenance.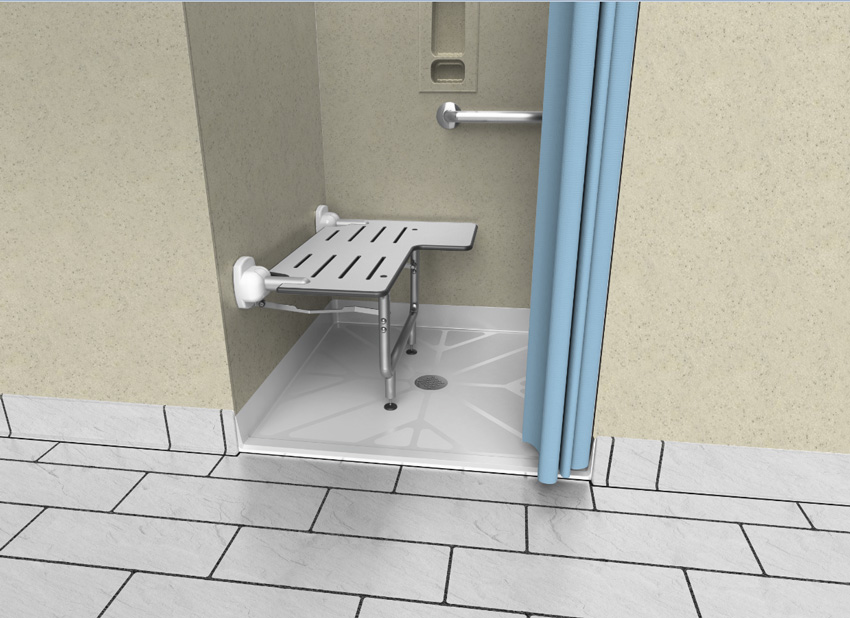 Conclusion
There are a number of factors to consider when specifying materials and products for hospitals and other health-care facilities. These health-care environments must support patients, visitors, and staff by ensuring safety and privacy, providing noise control, and reducing the likelihood of the spread of infectious diseases. Many products and elements that serve these functions also enhance aesthetics, helping provide a pleasant and soothing environment for healing. Specifying the right products and materials for the job can help provide a safe, sanitary, and pleasant healing environment.
End Notes
1Nieminen, Robert. "The Art of Healing Spaces That Perform." interiors+sources. Stamats Communications. 3 Jan. 2017. Web. 5 Nov. 2018.
2Healthcare-associated infections. Centers for Disease Control and Prevention. U.S. Department of Health & Human Services. Web. 5 Nov. 2018.
Originally published in Architectural Record
Notice
Health Care: Better Designs for Better Care
Buyer's Guide
CertainTeed Ceilings Symphony® m

Symphony
®
m
is a mineral fiber panel that provides excellent sound absorption and blocking plus washability with a superior finish and exceptional durability. For demanding health-care applications, Symphony
m
Rx offers additional stain resistance and water repellency. Part of the Symphony Collection, a series of smooth ceilings with design flexibility, Symphony
m
can be combined with Symphony, Adagio
®
, and Tufcore
™
to provide matching visuals with differing acoustic performance within the same space.
Snap Lock Cubicle Curtains

This curtain system eliminates the dangers of removing cubicle curtains from ceiling-mounted track systems. Instead of getting on a ladder to remove the privacy curtain, Snap Lock allows maintenance staff to separate the fabric portion of the curtain from the mesh while standing on the ground. Soiled curtains are then laundered, and the maintenance staff snaps clean curtains back onto the mesh.
Printed Wall Art

With endless images to choose from and various sizes and mounting options to work with, Printed Wall Art will add personality to your walls. Inpro is excited to announce a new partnership with Larry Emerson and his firm The Art Around You. This partnership expands your access to a wide range of images to complete the decor in any space.