Health Care: Better Designs for Better Care
A guide to products that can contribute to safe, sanitary, and pleasant environments in health-care facilities
Sponsored by CertainTeed Ceilings, Construction Specialties, and Inpro
Acoustics in Hospital Spaces
Acoustics should be considered in multiple areas of health-care facilities, including patient rooms, waiting areas, corridors, neonatal intensive care unit (NICUs), and lobbies or atriums. With so many people, machines, phones, and other products including gurneys, wheelchairs, and carts being moved around, the potential for noise is everywhere.
Waiting areas are often full of people, from patients waiting to be seen to loved ones waiting to hear news about a patient. For those who are spending time in a waiting area, the reason for their visit is likely stressful; therefore, sound absorption achieved through a combination of ceiling and wall products is vital for creating a calming atmosphere for patients and families in potentially stressful situations.
Corridors are a main thoroughfare for patients, hospital staff, and visitors. High acoustic performance including both sound absorption and sound blocking is important to keep extraneous noise confined to the corridor.
Sound absorption is required in the NICUs to counteract the high concentration of medical equipment in order to protect the health of tiny patients.
Large open spaces, such as lobbies and atriums, require special attention in order to reduce reverberation. As with most high-profile health-care spaces, design impact and indoor air quality are key.
Mechanical Systems and Interior Finishes
There are many design elements that can be used to dampen sound and reduce noise from mechanical systems and interior finishes in health-care facilities.
Mechanical systems in buildings can transmit noise through the building structure and ducting. Strategies to reduce this noise include centrifugal airfoil, plenum, and mixed-flow fans to reduce ventilation noise. Larger ducts also can be installed to reduce friction rates. Discharge rates for variable air volume (VAV) terminal boxes should be addressed in the design.
Vibration-isolation products can be used to reduce the transmission of noise and vibration from mechanical equipment. In hospital settings, no special treatment is required when using vibration isolation products; however, performance requirements should be reviewed. Since flexible fiber ducting is usually prohibited in hospitals, films and metal no-fill silencers can be an effective tools in reducing duct noise.
Interior finishes also can reduce noise in patient spaces and corridors. For example, ceiling tiles made from glass fiber can be very effective at absorbing sound. Ceiling plenum equipment also can be a source of noise. This noise can be reduced by specifying and using mineral fiber ceiling panels that are designed to absorb sounds.
Ceilings
As discussed earlier, there are three product families that can improve sound performance; these can either enhance wall-to-wall ceilings or mitigate for those situations where wall-to-wall ceilings are not possible. These product families include free-hanging clouds and baffles, direct-to-deck panels, and wall panels.
Clouds. Clouds can be used with wall-to-wall ceilings to boost noise control in areas where many people are speaking at the same time, such as a hospital contact center, reception area, lobby, or dining area in a health-care facility. Adding lowered clouds directly above tables or desks dramatically reduces the overall noise level and sound propagation. Clouds of any shape and color can be installed in layers, on angles, and at any desired depth to create a range of effects, from minimalist acoustic control to dramatic sculptural installations. Available in multiple shapes, sizes, and colors, the premium painted surfaces available on high-quality clouds (on both sides and all edges) can present a finished look from every angle.
Baffles. Baffles are distinct from clouds in that they are installed vertically. In spaces with standard proportions and average ceiling heights, baffles can create a uniquely modern linear visual, providing excellent sound absorption with a relatively shallow system depth. In large atriums and clerestory spaces such as lobbies, suspended baffles are an even better option than clouds, as they visually maintain the magnitude of the space without disrupting sight lines to the top of the building. Baffles come in multiple sizes and colors. As with clouds, the painted surfaces present a finished look from every angle.
Direct-to-deck panels. With the popularity of adaptive reuse projects in urban areas across the country, it is not surprising that roughly 40 percent of ceilings are destined for remodeling projects. Remodels, renovations, and adaptive reuse projects, including urgent-care facilities and hospitals being built in urban areas, can be especially challenging. When applied to the entire ceiling, direct-to-deck panels can simulate a monolithic drywall finish while providing excellent sound absorption. Applied in fields or as individual panels, they can also be used for acoustic remediation in existing spaces. Direct-to-deck panels are available in multiple colors and edge details.
Wall panels. Wall panels and wall protections are particularly helpful in reducing echoes and improving speech intelligibility in spaces with high ceilings and/or highly reflective walls. They are available in many colors, shapes, and sizes, thus allowing for creative patterns. High-density fiberglass wall panels and insulation can contribute to superior sound absorption, thus providing quieter spaces for patients and health-care staff.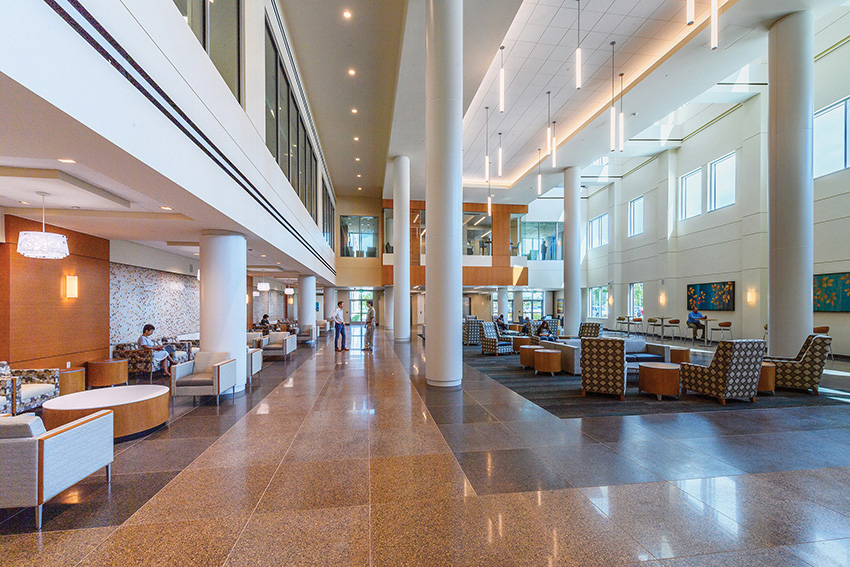 Photo: © Geoffrey Lyon, supplied by CertainTeed Ceilings; Architect: Page; Location: Houston Methodist West Hospital
Houston Methodist Hospital's atrium features a high-density fiberglass ceiling to help with sound absorption while creating a high-end aesthetic.
Floors
With foot traffic, the transportation of patients via wheelchairs and beds, and the movement of heavy carts and machinery down corridors, standard floors have the potential to transmit considerable noise. By specifying floor materials that absorb sound, such as rubber, carpet, or materials containing gypsum, footfalls and carts create less noise when traveling in and out of patient rooms and along the corridors. Sound reduction from footfalls and items being moved from place to place not only have the potential to affect those on the same floor as the movement but also on floors below. Gypsum materials installed in the floor materials as well as the ceiling materials can reduce the transmission of sound both at the source (from the footfall and carts) and at the point where they could enter the room below (the ceiling).
Another way to mitigate sound transmission is by providing a tight seal between floors and walls. Unsealed gaps at these junctions can cause noise leaks. By considering these design elements early in the process, the potential for these types of noise leaks can be mitigated during construction.
Walls Panels and Protections
Wall panels and wall protection are particularly helpful in reducing echoes and improving speech intelligibility in spaces with high ceilings and/or highly reflective walls. They are available in many colors, shapes, and sizes, allowing for creative patterns. High-density fiberglass wall panels and insulation can contribute to superior sound absorption and so provide quieter spaces for patients and health-care staff.
Doors
Doors that provide sound-transmission control can alleviate unwanted noise by reducing the sound energy that is passed between door openings. Doors that provide this level of sound control can be made from solid materials that are 13⁄4 inch thick, then sealed with additional gaskets to prevent moisture intrusion as well as dampen sound. Reinforced edges help reduce damage by impact. If these stainless edges are ever damaged, they can be replaced.
Privacy Curtains
Privacy curtains provide patient privacy and allow doctors and nurses to cordon off sections of a room as needed. Some cubicle curtains are also specifically designed to reduce noise that occurs during curtain movement. These types of products are ideal for recovery rooms, birthing centers, and critical-care areas. Heavy-duty extruded white PVC vinyl tracks offer quieter operation while providing more peaceful environments for patients.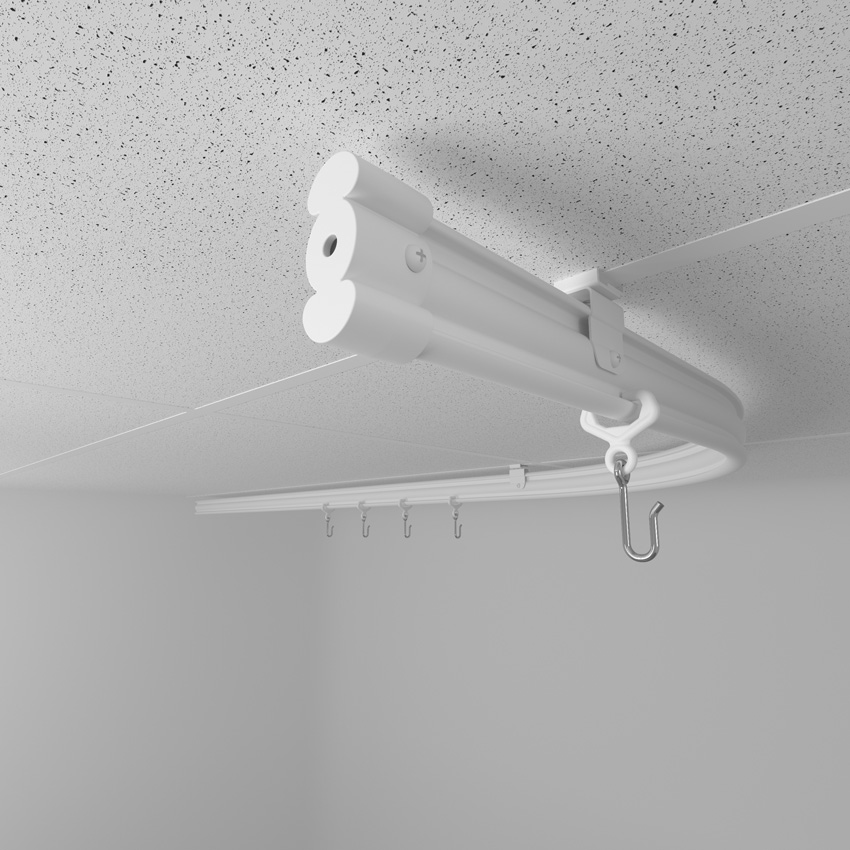 Photo courtesy of Inpro
This curtain track is bendable and designed to be quieter than typical cubicle curtains and tracks.
Originally published in Architectural Record
Notice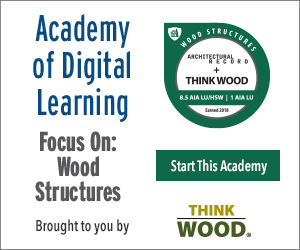 Health Care: Better Designs for Better Care
Buyer's Guide
CertainTeed Ceilings Symphony® m

Symphony
®
m
is a mineral fiber panel that provides excellent sound absorption and blocking plus washability with a superior finish and exceptional durability. For demanding health-care applications, Symphony
m
Rx offers additional stain resistance and water repellency. Part of the Symphony Collection, a series of smooth ceilings with design flexibility, Symphony
m
can be combined with Symphony, Adagio
®
, and Tufcore
™
to provide matching visuals with differing acoustic performance within the same space.
Snap Lock Cubicle Curtains

This curtain system eliminates the dangers of removing cubicle curtains from ceiling-mounted track systems. Instead of getting on a ladder to remove the privacy curtain, Snap Lock allows maintenance staff to separate the fabric portion of the curtain from the mesh while standing on the ground. Soiled curtains are then laundered, and the maintenance staff snaps clean curtains back onto the mesh.
Printed Wall Art

With endless images to choose from and various sizes and mounting options to work with, Printed Wall Art will add personality to your walls. Inpro is excited to announce a new partnership with Larry Emerson and his firm The Art Around You. This partnership expands your access to a wide range of images to complete the decor in any space.