Greening the Site: Design Options for Sustainability
A discussion of current trends in site sustainability techniques to improve the health of urban forests and stormwater quality, and provide design solutions if there is no room for trees
This course is no longer active
Sponsored by Deep Root Partners, L.P., greenscreen®, IRONSMITH, SOIL RETENTION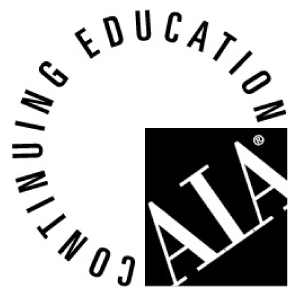 Continuing Education
Learning Objectives - After this course, you should be able to:
Recognize the benefits of urban forests and the ecosystem services they provide.
Identify the trends that can help sustain urban landscapes.
Discuss some of the techniques that enhance urban forest survivability, lessen flooding from stormwater and improve water quality, and other options where space does not allow for trees.
Describe where LEED® and SITES™ credits might be obtained from using pavement suspension, plantable pavement, and green walls for stormwater quality and quantity improvement, lessening the Urban Heat Island effect and improving a site's biomass.
Credits:
As you contemplate your next project, consider that most urban street trees live only eight to thirteen years. Think of the investment local governments and clients make in trees and green infrastructure, and what their reaction (and that of the general public) would be if we said, "But it will only last thirteen years."
This article will highlight recent innovations that help increase the longevity of our green infrastructure, and leave us all with a more sustainable future, as well as identify ways to add biomass to a site if planting new trees is not an option. Whether to support the growth of trees, promote biomass to cool our urban areas, or to reduce stormwater runoff, these techniques may be options to consider as you design your next project to be more sustainable.
According to the U.S. Forest Service Urban and Community Forestry Report, June 2010, "Sustaining America's Urban Trees and Forests: Forests on the Edge," nearly "80 percent of the U.S. population (220 million people) lives in urban areas and depends on the essential ecological, economic, and social benefits provided by urban trees and forests. However, the distribution of urban tree cover and the benefits of urban forests vary across the United States, as do the challenges of sustaining this important resource. As urban areas expand across the country, the importance of the benefits that urban forests provide, as well as the challenges to their conservation and maintenance, will increase. Nationally, urban forests in the United States are estimated to contain about 3.8 billion trees, with an estimated structural asset value of $2.4 trillion. This dollar value reflects only a portion of the total worth of an urban forest.
Urban trees provide innumerable annual ecosystem services that affect both the local physical environment (such as air and water quality) and the social environment (such as individual and community well-being) that influence urban quality of life."
Urban forest benefits range from moderating climate and energy use, cleaning the air, improving water quality and slowing stormwater runoff, to reducing noise, providing havens for urban wildlife, remediating contaminated soils, enhancing real estate values, and generally providing economic and social well-being of communities- not to mention sequestering carbon and helping to moderate climate change. Anything that can be done to sustain this important resource is imperative to creating a livable and sustainable community.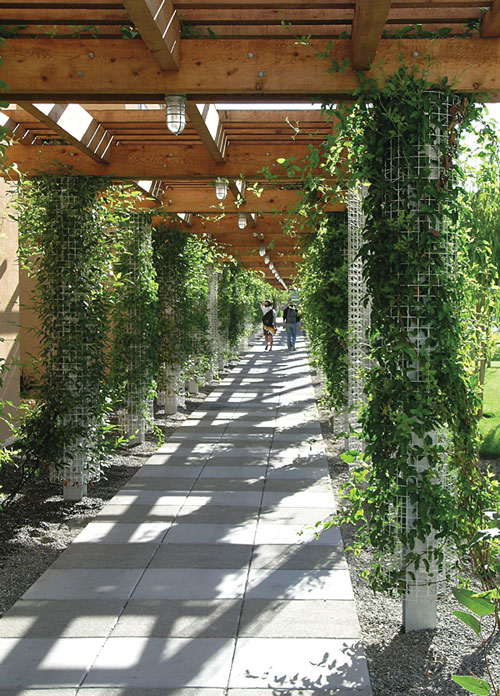 Sonoma State University, Rohnert Park, California; Architect: LPA
Photo: James Sable; Courtesy of greenscreen®
Originally published in GreenSource
Notice