Greater Vision: Alternate Window Materials in Commercial Buildings
This course is no longer active
Advertorial course provided by Pella® Windows & Doors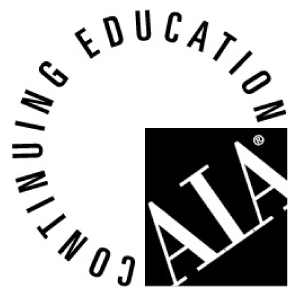 Continuing Education
Learning Objectives - After this course, you should be able to:
Understand window selection criteria and its impact on your projects and clients.
Identify primary advantages and disadvantages of different window framing materials in commercial buildings.
Establish a method to determine the most appropriate window system for future projects.
Credits:
Windows are more than a view between worlds. They offer protection and comfort, and with the right combination of materials windows can increase energy efficiency, enhance daylighting, improve occupant comfort, and provide low maintenance for the building owner. The right window selection also can offer a balance between design, performance and budget when first and long-term costs are considered.
This continuing education program examines factors that influence window selection. It focuses on six key criteria: aesthetics, price, energy efficiency, durability, maintenance and environmental impact. Through comparisons of available materials and selected case studies this unit is intended to help architects and specifiers improve their ability to advise clients on the best window solution for their projects. It will show the options available for window styles and materials for commercial and institutional buildings.
Glass Options
Window assemblies consist of framing, glazing systems, hardware, finishes, sealants, and weather stripping. The first consideration is glass and glazing options. This is a key in calculating long-term cost because of its affect on energy efficiency and building operating expense.
Design requirements, the size of the window openings, thermal performance, cost, sound transmission, maintenance, durability, shading options, weather conditions and local requirements all have a bearing on selection of the glazing system.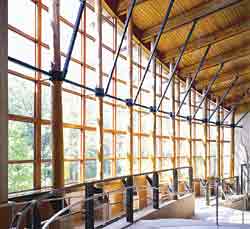 Wood-framed glazing complements the beautiful view of the woodlands at Lakeside Nature Center, Kansas City, MO, by International Architects Atelier.
In commercial structures, the two most commonly chosen systems are sealed insulating glass and dual glazed systems.
Sealed insulating glass consists of two glass panes separated by a perimeter spacer typically made of metal. The sealed space between the panes may be filled with an inert gas like argon to improve the U-value of the insulating glass unit (IGU). In a single-seal system the primary sealant is applied behind the spacer. In a double-seal system, the primary sealant seals the spacer to the glass on both sides, and the secondary sealant, which is applied behind the spacer, provides the structural characteristics needed to hold the unit together. In both cases the sealant minimizes the potential for moisture intrusion and gas loss. However, when the seal in insulating glass fails, moisture appears on the internal surfaces, impairing vision through the glass and permanently damaging the insulating glass, which then must be replaced at a significant cost to the owner. Single-seal sealant systems often carry a five-year warranty against seal failure whereas double-seal systems typically come with a ten- to twenty-year warranty.
Dual glazing comprises two single glass panes set individually into a window frame of aluminum or wood. (Vinyl and fiberglass frames do not typically offer a dual glazing option.) Dual glazing relies on a gasket and vent system design to keep moisture out of the air space and from forming on internal glass surfaces. The space between panes of glass can vary in size to hold blinds or other shading devices and to buffer outside sound, temperature changes and wind. In most cases dual glazing systems offer a life cycle cost advantage over windows with sealed insulating glass since they are not subject to the seal failure commonly associated with insulating glass systems.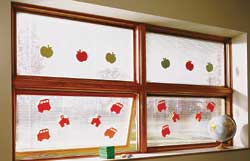 Wayland Union Middle School, Wayland, MI, by Design Plus, Inc., shows how dual glazing with between-the-glass window treatments reduces maintenance.
The table below shows a comparison of sealed insulating glass and dual glazing-at a quick glance, both offer similar advantages in terms of aesthetics, cost, and thermal performance. However, the IGU accommodates a wider range of fenestration types and larger glass sizes, while dual glazing offers a longer life, easier re-glazing, between-glass options, less sound transmission, and better thermal performance when between-glass blinds are included.
Originally published in Architectural Record.
Notice