Flooring: Affecting the Environment from the Ground Up
The flooring industry is making great strides toward reducing its environmental impact, both in products and process
Sponsored by Adsil, Lonseal Flooring, Thermory USA, and USG
This test is no longer available for credit
Performance Test Results
From a performance standpoint, thermally modified wood that is used for decking and porch flooring has been tested to show some very attractive traits. (Note that it is also used as exterior cladding in some cases with similar results.) First, in terms of durability, thermally modified white ash has achieved a Class 1 durability rating (25+ years), while thermally modified scots pine is rated for 20+ years of rot resistance. More specifically, testing has been conducted with fungus spores introduced to thermally modified ash samples with the intention of promoting fungal growth over a period of time. These samples were contrasted with control samples to interpolate the class of rot resistance based on European standards. The result was that a Class 1 rot resistance was achieved in thermally modified ash, which means that, on average, when used for decking or cladding, it can be expected to last outdoors for at least 25 years or more with minimal maintenance or added oils.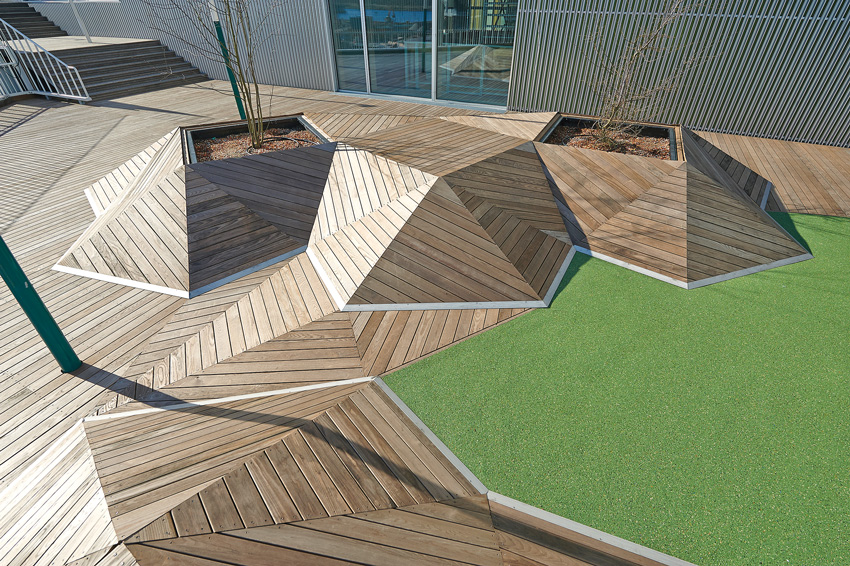 Photo courtesy of Thermory USA and JJW Architects/Brahl Fotografi
Thermally modified wood has been tested and shown to be a durable, rot-resistant solution that maintains the beauty and natural appearance of the wood.
Strength testing is important for all wood products and is the basis for determining span lengths, impact resistance, etc. In that vein, thermally modified ash was evaluated by calculating moisture content, weight, and density, and then subjecting it to a bending device to determine the tested strength of samples. Based on this, the impact resistance was calculated to have no significant change in surface hardness or strength in comparison to standard kiln-dried ash. Hence, its strength and surface are extremely suitable for designs that call for a wood decking surface.
An equally significant trait of any wood used outdoors is its propensity to soak in moisture, causing internal stresses as it expands or contracts accordingly. Hence, testing has been done to determine the moisture content of thermally modified wood compared to standard kiln-dried woods in a set of specific conditions related to temperature and relative humidity. The resulting measured increase in the moisture content of thermally modified ash was shown to be significantly reduced compared to standard kiln-dried woods.
Additional testing has been done that shows that thermal modification reduces the formaldehyde content of the wood more so than standard kiln-dried woods. Additionally, the rate of fire spread and smoke production in thermally modified ash is such that it achieves a Class B rating compared to kiln-dried red oak, which results in a Class C rating. Finally, termite resistance has been shown to be better in thermally modified wood, particularly ash, compared to a control species of southern pine.
Overall, thermally modified wood is proving itself as a viable, sustainable decking and flooring solution for outdoor spaces. It has the capacity to contribute to LEED credits while remaining versatile, appealing, and very workable. Santosh A George, ASLA, MLA, and a senior landscape designer in Irving, Texas, sums it up this way: "We wanted to use a sustainable product that was long lasting with minimal maintenance through the year. Our research said modified wood was the way to go." It appears that more design professionals are agreeing with him.
Flooring Protection
An overriding component to sustainability in buildings is to extend the useful service life of products and materials as long as possible. Those that need to be replaced often obviously have a larger carbon footprint than the same product that is able to last longer in place. Similarly, products like flooring that require regular cleaning and maintenance can either require a fair bit of energy and cleaning products to keep the floor clean or properties can be incorporated to reduce maintenance. Toward that end, many facilities owners are quite pleased when something can be done to increase longevity, reduce slip and fall risk, and improve cleanliness and appearance, all while reducing maintenance efforts and costs.
Clear Protective Coatings
Architects and interior designers can assist in this process by specifying a clear, protective sealer or coating over flooring to preserve, prolong, and protect the floor. This is particularly true for designs that use hard-surface flooring, such as tile, terrazzo, slate, decorative stone, concrete, or even brick pavers. Such finish coatings are based on clear siloxane formulations that covalently bond with the floor surface to produce a strong, thin, high-traction, wearing finish. They commonly deliver excellent long-term protection of the original flooring and wear resistance against foot traffic, both inside or outside. That means the flooring is protected from corrosion, abrasive wear, stains, ultraviolet exposure, and even graffiti or chemicals. In some cases, such coatings may also mitigate micrbial growth, reducing the growth of mold and mildew, and eliminating odors—all of which makes for a healthier indoor environment.
Clear hard-surface finishes contribute to sustainable designs in other ways beyond extending the life of the flooring. A clear, hard-coat surface finish also means reduced maintenance and cleaning costs, particularly if grout is present. Grout between tiles can be problematic since it can absorb dirt and grime, leading to a condition that can be very difficult to clean. The coating can cover and seal the grout, preventing it from harboring dirt or grime. It can also make it easier to clean since the need for waxing and buffing the floor can be eliminated. This not only generates a very real reduction in the cost of cleaning but also means that the building is consuming less cleaning products, thus reducing its environmental footprint during building operations. When cleaners are used, they can readily be selected from very effective green cleaning products instead of relying on harsher chemical cleaners that may be detrimental to the interior and exterior environment.
The University of Florida has used clear floor treatments since 2001 on more than 250,000 square feet of bathroom and common-area tile floors and more than 60,000 square feet of concrete flooring in the student union area. According to Jim Crocker, assistant director of housing, these treatments have provided:
A 30 percent or more reduction in cleaning cost measured in time, labor, and chemicals.
Significant odor reduction in the bathrooms due to the sealed grout.
A marked improvement in the aesthetic surface appearance.
A quicker cleaning turnover of rooms during semester changes.
An easier means of removing chewing gum and stains from concrete.
No mold growth on exterior concrete, which is significant in humid Florida.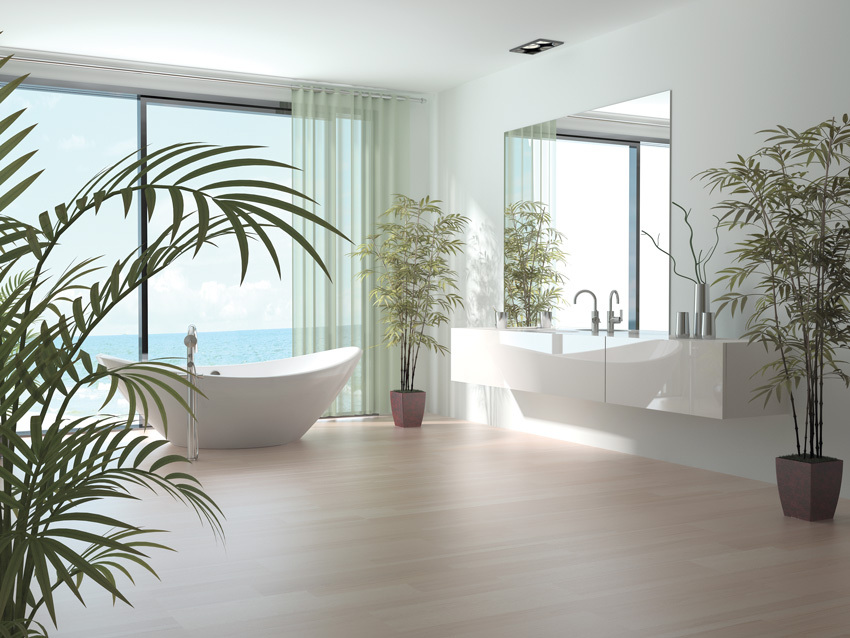 Photo courtesy of Adsil
When specifying clear coating finishes for flooring, a matte finish can be selected, as shown here, or a high-gloss finish can be chosen.
Specifying Performance
When specifying clear hard-surface coatings that seal and create a sustainable finish, following are some traits to include.
Both a gloss and matte finish are available and should be selected as appropriate to the project needs.
The finishing product should meet the requirements of ASTM D4060-14: Standard Test Method for Abrasion Resistance of Organic Coatings by the Taber Abraser. This test method has been useful in evaluating the abrasion resistance of coatings. It covers the determination of the resistance of coatings to abrasion produced by the Taber Abraser on coatings applied to a plane, rigid surface. This standard is similar in content (but not technically equivalent) to ISO 7784–2.
The finished surface should carry certification by the National Floor Safety Institute (NFSI certified) for use as a high-traction surface, wet or dry. The NFSI is recognized for researching various test methods by which materials can be evaluated for their degree of slip resistance and offers the most comprehensive evaluation process to date.
For locations where cleanliness is a concern, the coating should also meet ASTM G21-15: Standard Practice for Determining Resistance of Synthetic Polymeric Materials to Fungi. This practice covers determination of the effect of fungi on the properties of synthetic polymeric materials.
Where extreme temperature tolerance is needed, the coating needs to meet ASTM D2485-18: Standard Test Methods for Evaluating Coatings for High Temperature Service. These test methods cover the evaluation of the heat-resistant properties of coatings designed to protect surfaces exposed to elevated temperatures during their service life.
Properly specified, these products can be expected to perform quite well. Michael A. Kulp of Prestige Restoration & Maintenance in Long Island City, New York, has experienced the day-to-day aspects of using a quality clear coating on hard-surface flooring and notes, "To date, we have not had to correct a single condition where our coating did not deliver as promised, and many of our commercial installations have lasted over three years before needing a recoat. Residential installations can last a lifetime." That is testament to their performance and durability, but in addition, he observes, "We have received countless compliments regarding the 'wow factor' of newly restored flooring, noticeable reduction of odors in restrooms, and ease of cleaning and labor reduction after installation." The full experience of the space is improved, thus creating a better, more sustainable indoor environment for owners, occupants, visitors, and employees.
Originally published in Architectural Record
Notice