Fabulous Functional Flooring
This ubiquitous finish material is the setting for great commercial building design as long as it is durable and long-lasting
Sponsored by Construction Specialties, LONSEAL® FLOORING, Neolith by TheSize, and New Millennium Building Systems
This test is no longer available for credit
Vinyl Sheet Flooring
High-quality vinyl sheet flooring has been a go-to flooring choice for many designers for a long time, particularly for demanding interiors such as health-care and assisted living facilities, high-impact athletic/exercise rooms, retail and hospitality spaces, and educational facilities. When looking to select and specify this versatile, resilient flooring, here are some of the latest developments in this product choice.
Patterns and textures: No longer limited to only flat, smooth surfaces, high-quality vinyl sheet flooring is now available in patterns and textures that emulate other materials, including diamond plate pattern, linen pattern, and wood-grain pattern. They also offer a wide array of colors that can be incorporated into an overall interior design scheme.
Top finish choices: Some sheet vinyl products are available with a factory-applied urethane finish that creates a no-wax surface. This finish protects the flooring, reduces scuffing, and simplifies routine maintenance. As such, it extends the life of the flooring by protecting it from wear due to staining and soiling.
Athletic surfaces: Whether talking about everyday fitness buffs or the most dedicated and intense athletes in the world, they all require top-of-the-line equipment to stand up to the intensity of their training. That includes the flooring that they work out on. In response, manufacturers have created high-quality resilient sheet flooring with shock-absorption qualities to help relieve some of the pressures exerted from physical activities. Such flooring features an anti-fatigue, cushioned-step, closed-cell foam backing that is designed especially for high-impact activities. Available with very low-VOC-emitting flooring, it allows fitness enthusiasts to push their strength to the maximum level.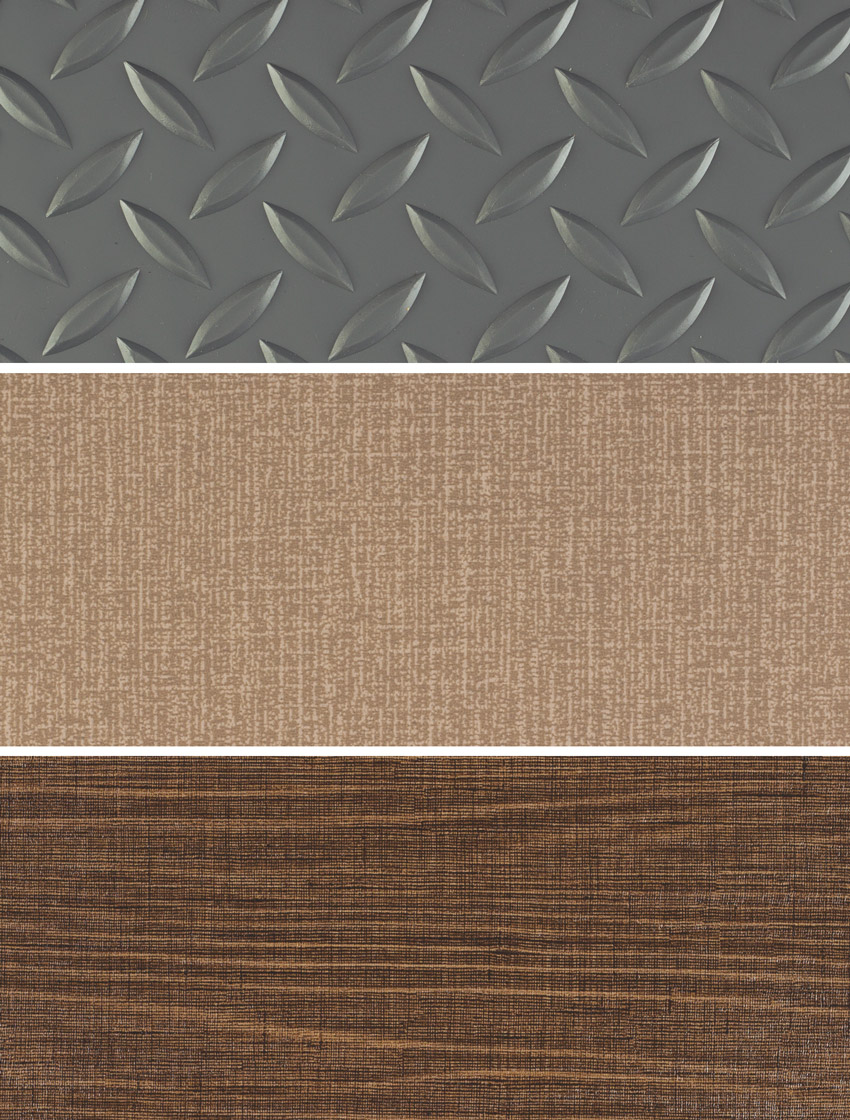 Images courtesy of LONSEAL FLOORING
High-quality sheet vinyl flooring is available in a range of embossed patterns, textures, and colors that provide more design options than previously, including diamond plate pattern, linen pattern, and wood-grain pattern, all shown here.
There are also advances in the way resilient sheet vinyl is pursuing and achieving greater sustainability and green building recognition. Some of these ecofriendly features can be summarized as follows:
LEED contributions: High-quality vinyl interior flooring products are available that contribute toward LEED v4 Building Product Disclosure and Optimization: Environmental Product Declarations (EPDs) (Option 1). This qualifies the materials and sources with an industry-wide EPD. They can also contribute toward Sourcing of Raw Materials (Option 2), which means the products have post-industrial recycled content, commonly ranging from 10–20 percent, with some reaching 50 percent or more. Interior flooring products and adhesive products are also available to meet the requirements of Indoor Environmental Quality credits for general emissions evaluation and VOC content requirements.
FloorScore® certification: This well-known program from the Resilient Floor Covering Institute (RFCI) and Scientific Certification Systems independently tests and certifies flooring products for compliance with indoor air quality emission requirements. Some products have recently been developed and certified for low VOC content, a notable distinction from other products.
Collaborative for High-Performance Schools (CHPS): Some manufacturers are a member of and meet the standards for the CHPS program, a well-known green building rating system especially designed for schools.
ISO 9001 and 14001 compliance: Flooring products can be specified to be obtained from a facility that has certifications from the International Organization for Standardization (ISO), which provides a rigorous external third-party verification process. Specifically ISO 9001: Quality Management Systems ensures a manufacturer's compliance to its own internal quality standards. In addition, ISO 14001: Environmental Management Systems addresses ever-changing environmental laws and regulations.
Operations and maintenance: The formulation of high-quality sheet vinyl flooring can help with better indoor environmental quality during the operations and maintenance of a building as well. A preapplied urethane finish can reduce maintenance efforts and reduces the need for chemicals from finishes and strippers. It also adds durability and product longevity that can exceed most other flooring options using phthalate-free technology. There are also antimicrobial formulations the feature increased infection control, making them particularly well suited for health-care and school facilities.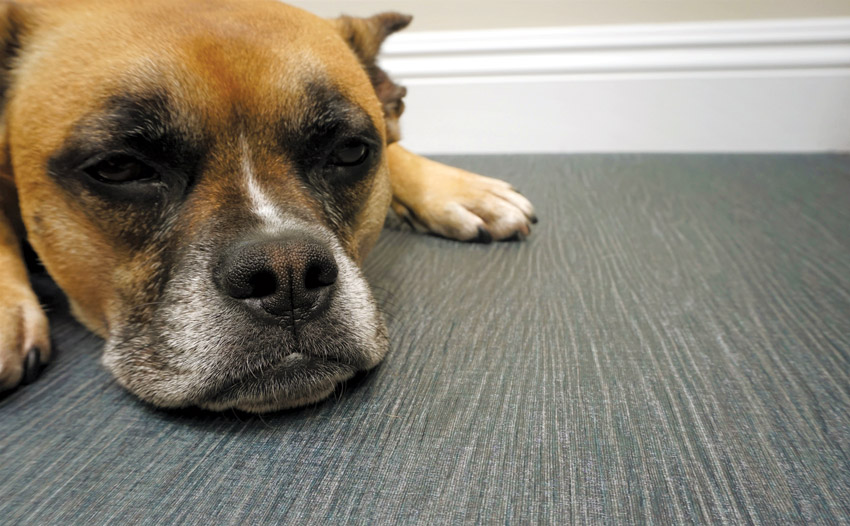 Photo courtesy of LONSEAL FLOORING
High-quality flooring, when properly selected, can make an interior environment feel warm, inviting, and comfortable.
While vinyl flooring manufacturers have made great progress in recent years, some are never satisfied with the status quo and are always striving to raise the bar with ever-more ecofriendly products and new product offerings. Some get their inspiration from the world in which we live in, taking an intellectual approach to invest time in researching the right flooring designs for various interior environments. For example, some new vinyl products feature a wood-grain pattern that has the characteristics of watery lines of waves. This ripple design uses a distinguished, centuries-old, timeless pattern to give everyday commercial building spaces and specialty applications a more genteel touch. Taking its cue from 18th century traditional designs, it can make an interior environment warm, inviting, and comfortable.
Jorge Marquez is president of Lonseal Flooring, and he comments on this type of innovative, ongoing development: "When architects and designers are looking for project uniqueness, they turn to high-quality sheet vinyl flooring. It is known for sophisticated designs, along with a long-standing reputation of providing high-quality flooring."
When applying this type of flooring to a specific facility, Gregg Daniels, the director of facilities services at Mercy Medical Center in Des Moines, Iowa, has some substantial experience. He oversees the central campus, which has been utilizing high-quality sheet vinyl flooring for more than 10 years in a wide variety of applications. Those uses include patient rooms and corridors, ICU and CICU, wellness ASC, brain center, maternity triage and birthing unit, cath lab, nuclear medicine, the MOB cafeteria, and offsite day-care center for children of employees. He notes, "Our facility has carpet in the main lobby and corridor areas that transition to resilient flooring of various types where direct patient care takes place. High-quality sheet vinyl flooring stands out for performance and durability, ease of maintenance, as well as for the realistic wood looks of the products used. The range of colors offered help our design team create comfortable surroundings for patients, visitors, and staff. The product also holds up well under heavy traffic and maintains its original look." As a busy health-care facility, it's concerned about environmental and maintenance issues. "Mercy also recognizes and appreciates a commitment to quality standards via ISO certifications and green attributes that include low VOCs and inclusion of recycled content. Our Environmental Services Department appreciates the transition to easier routine maintenance with a more environmentally friendly, no-wax factory finish. This has led to a significant reduction in overall maintenance costs." In sum, he attributes the ongoing use of these high-quality vinyl products as important to Mercy Medical Center's ongoing successful operation.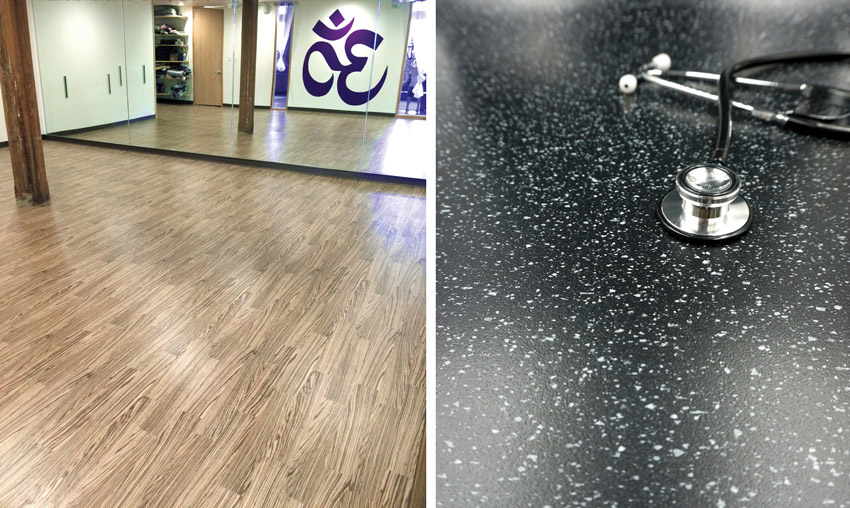 Photos courtesy of LONSEAL FLOORING
High-quality sheet vinyl flooring is available with some innovative characteristics, such as warm, wood patterned designs, antimicrobial formulations, and topcoat finishes that can simplify routine maintenance.
Originally published in Architectural Record
Notice