Fabulous Functional Flooring
This ubiquitous finish material is the setting for great commercial building design as long as it is durable and long-lasting
Sponsored by Construction Specialties, LONSEAL® FLOORING, Neolith by TheSize, and New Millennium Building Systems
Learning Objectives:
Identify the design aesthetic and performance significance of floor surfaces as part of the overall interior design of a building.
Assess the health and safety performance aspects of floor surfaces as they relate to indoor environmental quality and durability.
Explain the importance of floor structure design to enhance space planning, acoustics, and flooring integrity.
Determine ways to incorporate principles presented into buildings as shown in case studies.
Credits:
This course can be self-reported to the AIBC, as per their CE Guidelines.
This course is approved as a Structured Course
Approved for structured learning
Approved for Core Learning
This course is approved as a Core Course
Course may qualify for Learning Hours with NWTAA
Course eligible for OAA Learning Hours
This course is approved as a core course
This course can be self-reported for Learning Units to the Architectural Institute of British Columbia
This test is no longer available for credit
A recent market research report by the firm Grand View Research indicated that the global commercial flooring market size for 2016 was valued at just over $27 billion. That reflects the significance of the market but also the widespread, annual need for commercial flooring. The report goes on to point out that the floor-covering sector is expected to expand within the industry over the next eight years, particularly as product innovation and hassle-free installation technologies come more into play. A general rising demand in the construction industry will help fuel this expansion, of course, but so will consumer expectations and demands that are helping to drive innovative flooring solutions that are durable and require low maintenance. In light of these trends that highlight the significance of flooring as a building product, this course will look closer at four particular design considerations and available product offerings that can be considered for commercial, industrial, and institutional buildings of all types.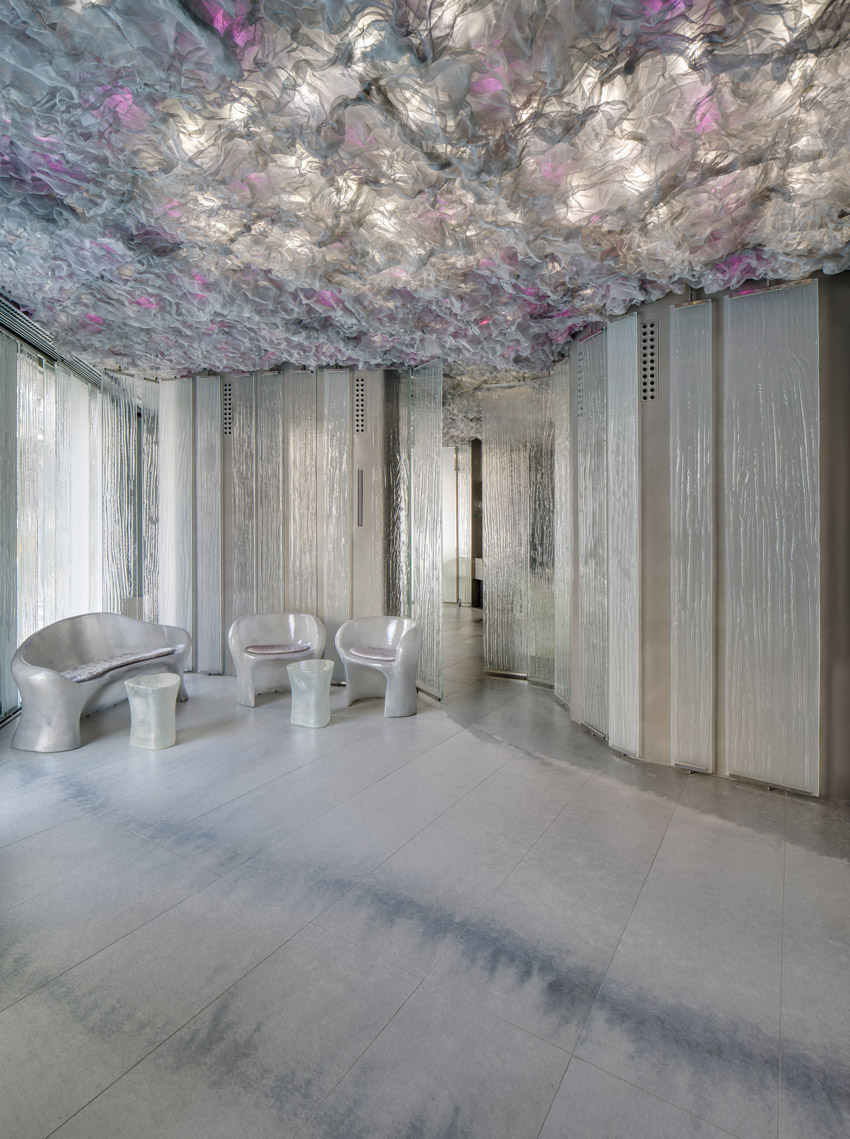 Photo courtesy of Neolith by TheSize
Recent innovations in flooring provide many new design options for color, pattern, and texture while also offering increased durability and ease of maintenance.
Floor Structure
The structural floor system of a commercial building provides many attributes for a building. In addition to tying into the rest of the building structure, it creates a solid separation between building stories to prevent the passage of sound, air, light, and fire. It is also the platform or substrate that supports everything placed on the floor, including the finish flooring. As such, it can either create favorable conditions for the finish flooring to function or, alternatively, can cause problems. In fact, most finish flooring problems come about not because of problems with the finish material but because of problems with the material or structure under it. Therefore, the attributes of the structural floor system can directly affect the real or perceived attributes of the finish flooring, regardless of what is selected.
In many commercial, industrial, or institutional buildings, steel and concrete are commonly used to create the structural floor system. However, it is the selection of a specific type of steel or concrete floor system that can greatly affect the overall performance outcomes of a construction project. There are actually a variety of types and range of capabilities of floor systems that can be both complex and versatile. The final selection can directly influence the unsupported span length, acoustic attributes, vibration control, and fire-resistance ratings. Further, the integration of mechanical, electrical, and plumbing systems and even the ultimate height of the building itself can be dictated by the structural floor system selected for a project.
There are at least three common structural floor system choices considered for many commercial buildings. The first is a conventional, lightweight system using steel girders, beams, or trusses to support a metal floor deck that is topped with concrete. This steel-based system is known for its speed of erection, lighter weight, and versatility. Second is an all-concrete system, whether precast or poured in place, which is usually thinner in overall height compared to a steel floor system. However, all-concrete systems need to be assessed for the amount of additional dead weight they create compared to other systems. A third, and innovative alternative, is the use of long-span composite floor systems that combine the lighter weight and erection ease of steel with the strength and durability of concrete. Referred to as a long-span composite floor system, it achieves a thin-slab advantage characterized by a narrow floor structure, longer unobstructed floor spans, and a range of under-floor aesthetic ceiling options. These systems not only address the economy of the structure, but they also address the final design of rooms or spaces, including ceiling design, acoustical treatments, sound attenuation, and fire resistance.
Long-span composite floor systems can weigh up to 40 percent less than comparably utilized cast-in-place (CIP) concrete floors, can provide fire resistance ratings up to 4 hours, and can achieve clear spans up to 36 feet. This makes them very well suited for a full range of new and renovation/retrofit building projects, including multistory residential, commercial, health-care facilities, parking garages, specialty platforms, and high-rise buildings. From an economic standpoint, less steel and less weight in these composite systems contribute to lower overall project costs. As part of an integrated structural system, they can enhance the structural performance of the rest of the building whether those other portions are based on steel, concrete, masonry, or framed bearing walls. Composite floor systems can also be constructed faster, safer, and more cost effectively than alternative systems.
Long-span composite floors function by using the best of each material in this hybrid system: the tensile strength of a corrugated metal deck and the compressive strength of reinforced concrete. Together, this system allows for longer spans that can eliminate the need for intermediate supports and create a single floor/ceiling assembly that allows more economical floor-to-floor heights. Two common types are as follows:
Dovetail composite deck profiles: This typical profile is capable of supporting clear spans up to 28 feet. Its name comes from the dovetail shaped profile of the corrugated metal panel that receives the concrete and bonds firmly with it. This can provide extra rigidity and strength that allows finish flooring to function properly without fear of deflection or movement. This profile can be particularly useful in midrise or multistory residential projects such as hotels, health-care communities, and dormitories, where walls between units can support the floor deck without the need for intermediate supports.
Deep-deck composite profiles: Deep-deck composite floors support even longer, wider, and more open spaces than dovetail profiles. Clear spans up to 36 feet are commonly achievable, meaning they are well suited for buildings where open space and free flowing interiors are sought.
The flexibility and attributes of a composite floor system can change the way architects and engineers view a project. It's no longer just a floor—it's an evolved structural floor and ceiling system that is integral to better building design. Vitaliy Degtyarev, PE, design and research engineer for New Millennium Building Systems, has observed this first hand. "A hospital renovation project called for wide, open floors designed to accommodate unique serviceability requirements," he says. "Thirty-three-foot spans between beams, combined with overhangs as long as 14 feet, provided a unique design challenge. The solution was found in a composite floor slab approach. Since the floor system also supported operating room equipment and an outboard curtain wall system, controlling deflection was a critical and successful function of the composite design."

Photos courtesy of New Millennium Building Systems
Long-span, composite structural floor systems create a strong, durable, and economical floor substrate for applying finish flooring materials.
Originally published in Architectural Record
Originally published in April 2018
Notice