Exteriors and Outdoor Design
Design trends for exterior spaces and four-season rooms
Sponsored by AGS Stainless, Inc., Bison Innovative Products, Panda Windows & Doors, and Western Red Cedar Lumber Association
This test is no longer available for credit
Railing Systems to Enhance Exterior Views
Many exterior spaces, such as decks, patios, and roof gardens, require safety rails to meet code and occupancy requirements. Railing systems with glass panel or stainless cable infills framed in an all stainless steel support structure offer options for providing safety while minimally obscuring views. No other commonly used material can match the timeless beauty and durability of a stainless steel railing system. Custom stainless rails enhance the overall beauty of both the indoor and outdoor living spaces, as custom rails can be considered "functional artwork." Whereas an original painting or sculpture can enhance a living space, custom rails are not only beautiful, but they also provide a functional use within the space. In addition, cable rail, glass rail, and bar rail infills minimize obstruction of the surrounding view, thus allowing greater enjoyment of landscape views and the environment.
Suitability of Stainless Steel Railing Systems for Outdoor Applications
Ornamental rails add beauty to exterior living spaces, and they should be incorporated into the design at the onset to provide a complete project aesthetic. There are a number of railing styles available in the marketplace, including:
stainless steel cable railing systems,
stainless steel glass railing systems, and
stainless steel horizontal bar railing systems.
Stainless steel is well-suited for railing systems because of its chemical composition. Alloys not found in regular steel, such as chromium and nickel, give stainless excellent corrosion resistance. The origin of the name "stainless steel" comes from the fact that it 'stained less' than it parent metal.
The two most common grades of stainless steel for applications like railing, sculptures, and facades are 304 and 316. While similar, the amounts of chromium (Cr) and nickel (Ni) vary slightly (8 to 11 percent Cr, 18 to 20 percent Ni for 304; 10 to 14 percent Cr, 16 to 18 percent Ni for 316). The presence of molybdenum in 316 makes it the best choice for more severe conditions, such as marine, pool, and industrial environments.
Prefabrication of Custom-Made Stainless Rails vs. Local Fabrication
When it comes to visual appearance, stainless steel provides a sleek, modern look and can be installed both indoors and outdoors. Creating a beautiful, custom-made stainless steel railing system is not an easy undertaking though, as it requires tungsten inert gas (TIG) welding: a welding skill that requires a fairly high degree of precision and expertise on the part of the metal fabricator. TIG welding is an arc welding process that uses a nonconsumable tungsten electrode to create the weld. In addition, building a custom stainless railing system requires a degree of sophistication and a contractor familiar with the materials. Usually the general contractor subcontracts this work out to a local metal fabricator who estimates, designs, fabricates, and installs the rails. The local metal fabricator will fabricate much of the railing system in its shop, and then, to ensure that everything fits precisely, field adjustments are performed via on-site cutting and welding.
There is an advantage with 'prefabrication' in that the railing prefabricator will build out the entire railing system "on paper" first. The prefabricator will adjust all the measurements (down to a 1/16 of an inch) in CAD, identify and number the system components, and then perform all of the cutting, welding, grinding, and polishing required to build the railing system. When custom rails are prefabricated, the entire railing system ships to the jobsite ready to be installed. Self-installation by the contractor can result in shorter railing installation times and lower installation costs. Additionally, because prefabricated custom rails are built in a quality-controlled environment, the metal fabricator does not have to deal with on-site challenges and other environmental conditions when fabricating the rails.
Stainless Steel Cable Rail Systems
Stainless steel cable railing systems are a good solution when designers are looking for modern and virtually transparent railing systems. These stainless steel cable rail systems provide a linear horizontal aesthetic through the use of thin, highly durable stainless steel cabling. These rails can be used for stairways and to secure outdoor living areas. The railing systems are available in standard 36-inch, 42-inch, and custom heights for residential and commercial use. Local codes will dictate the required heights. There are options to powder coat the rails in a choice of colors should clients prefer something other than the brushed satin (#4 finish, 80 grit) stainless steel finish. Top rail styles are available in various geometric shapes and treatments, including elliptical, flat, round, round with lighting, and wood. Mounting options for the posts include top mount on a deck, stringer or flat surface, fascia mount (on the side), or core drill for concrete installations.
Although there are numerous configurations for the structure of the cable, referred to as "the lay," the most common lay for cable infill is 1×19. This means that one strand of cable is wrapped by 19 strands of cable. This diameter allows for minimal visual obstruction, and the lay (1×19) minimizes stretch. Although both A304 and A316 stainless are commonly used for cable infill, A316 is recommended, as it provides greater resistance to corrosion. A316 is better suited for coastal environments, areas around pools, and heavily salted roadways.
Electro-polishing the cable will provide an even greater level of corrosion resistance. There are a variety of fitting options available, with both adjustable and nonadjustable components, that will accommodate most cable-anchoring scenarios. In most cases, the cables are tensioned at the ends by tightening a nut onto a threaded fitting. This allows for a clean, sleek line.
Stainless steel cables are very strong and can usually withstand 1,900 pounds of force without breaking. Because of this, it is important not to overtighten the cable runs during installation, as this can damage the posts.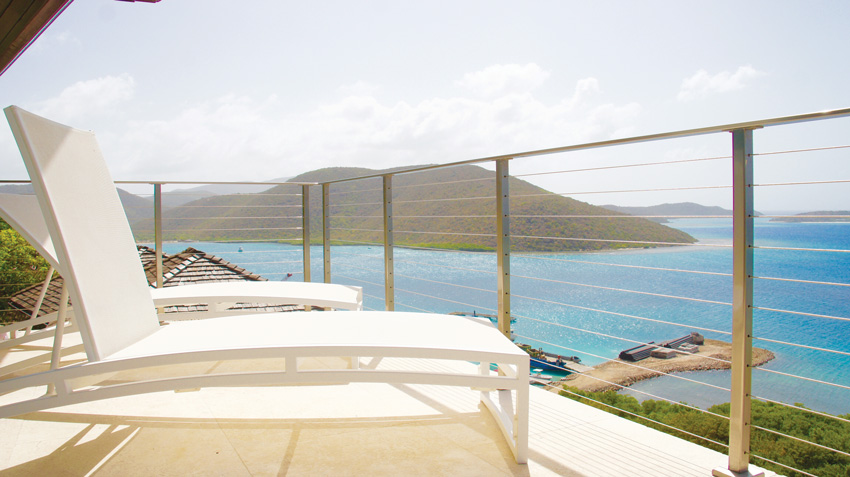 Photo courtesy of AGS Stainless, Inc.
A stainless steel cable railing system provides panoramic views from this outdoor deck.
Stainless Steel Glass Infill Railing Systems
Glass infill railing systems provide a clean, refined look for designers requiring a virtually transparent railing system. With glass infill railing systems, there is the added safety and strength of tempered safety glass. The glass infill in these systems can also provide a windbreak benefit. When specifying glass rails, the railing manufacturer typically provides all the stainless steel components, with the glass panels supplied by a glass installer local to the project. As with the cable rail systems, these railing systems are available in standard 36-inch, 42-inch, and custom heights for residential and commercial use.
All railing infill products have strengths and weakness. For example, cable and bar infills tend to perform well in areas subjected to the wear and tear of severe winds, storms, excessive heat, and weather. This is due in part to the fact that their cables and bars are fairly thin, allowing the wind, rain, and snow to easily pass through them. Glass infill, while doing a great job at keeping the line of sight clear, tends to collect dust, dirt, and fingerprints, and it will thus require frequent cleaning.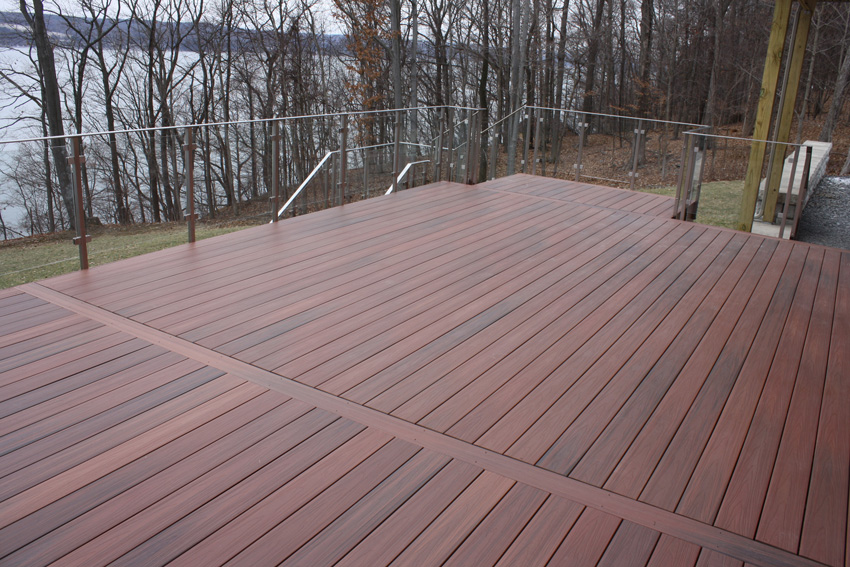 Photo courtesy of AGS Stainless, Inc.
A side-mounted glass railing system extends the views from this deck in Lansing, New York.
Bar Rail Systems
Until now, installing bar rails required on-site welding and fabrication. Issues could arise with the quality of the on-site "finishing" of those welds. There is a new system available that is a predesigned and prefabricated component-based bar rail system. As with the other custom railing systems, the component-based bar rails are available in standard as well as custom heights. There are also options to powder coat the railings in a choice of colors other than the brushed satin (#4 80 grit) stainless steel finish, as well as numerous options for top rail styles, post styles, and options for post mounting. Designers can select from the various options to achieve the aesthetic affect and best installation for their project.
Solar-Powered LED Accent Lights for Railings
Solar-powered LED accent lights are an available lighting option for any deck or outdoor living space. These lights are solar-powered and are designed for sustainability and ease of installation. Housed in a stylish yet sturdy marine-grade stainless steel shell, this exterior lighting accessory nicely complements any outdoor railing system by offering sleek, long-lasting elegance at an affordable price.
Created as a lighting accessory for a wide array of exterior settings and both residential/commercial applications, there are a wide range of display possibilities for these LED accent lights. They can be mounted upon deck posts within outdoor living spaces, on second-story rails to create depth, on front walkway pillars to create a welcoming visual effect, or attached to any building's exterior to accentuate focal points.
This LED accent light is made up of predrilled, A316-grade brushed stainless steel for durability and ease of installation; it also features light channels and an open bottom for a beautiful down-lighting affect. It can provide up to 10 hours of lighting without electrical wiring, as it is powered via one rechargeable AAA NiMH battery. The battery gets recharged during daylight hours via the 1.5-by-3-inch slim solar panel.
This light "is designed to enhance practically any call-out area—outdoor living spaces, grand entryways, second-story railings, you name it," explains Kevin T. Harris, Director of Sales and Marketing at AGS Stainless. "It is so simple yet elegant, it quite literally lights up any space needing a bit of light." As this LED accent light is an easily mountable, solar-powered light, it is an ideal energy-saving lighting solution when an electrical supply is neither wanted nor available.
Maintenance Requirements for Stainless Steel Railings
When installed in an outdoor environment, all commonly used railing materials require some ongoing maintenance. This is especially true in high-impact environments near saltwater and/or heavy industry. Although stainless steel is corrosion resistant (particularly A316 stainless), it bears rementioning that this material is known as "stainless" steel, not "stain-free" steel. In many locations, the cleaning routine for an A316 (known also as marine-grade) stainless railing system is a periodic soap and water bath. The railing manufacturer will provide details on the proper care and cleaning of the railing system.
Cable Railings and Code Compliance
Cable railing systems (cable as an infill) are subject to building code requirements. These requirements include minimum loads to be resisted and maximum openings between cables that cannot be exceeded. The load requirement is a 50-pound horizontal force applied on a 12-inch square area. The opening size is governed by a 4-inch sphere not being able to pass between 2 cable rails.
As cable rail is still a relatively new railing solution, not all local building departments have approved its use. The most common argument against using cable rail is that the horizontal orientation of the cable creates a potential safety hazard for young children. The rationale is that the cable can create a potential 'toe hold" or "ladder effect," allowing children to climb up on the railings and place themselves at risk of injury.
The use of horizontal stainless steel cables as a railing infill is not prohibited by either the International Building Code (IBC) or the International Residential Code (IRC). Although language to this effect appeared briefly in the code some years ago, it was quickly removed. However, some local building officials are using the older code language as a basis for denying cable rail on projects.
Also, local jurisdictions do have the authority to edit or amend the model versions of the code. This means that, even though the use of cable rail is not restricted by the IBC or the IRC, its use can still be prevented or controlled by more restrictive local building codes. For example, cable rail is specifically banned in Chicago while Oakland allows it, but Oakland has a maximum cable spacing of 2.5 inches on center.
If your local building officials are concerned about the use of cable rail on your project, the railing manufacturer can assist you in working with them. The railing manufacturer should be able to provide you with additional documentation including architectural drawings and engineering calculations for your railing system. Having additional documentation as to the safety and stability of your railing system may help to ease the concerns of your local building officials. If your local building officials still reject it as an infill for your project, you can consider using a railing system with "vertical" cables or bars instead of "horizontal," or consider spec'ing a system with glass or another panelized infill product like wire mesh panels.
Originally published in Architectural Record
Notice