Exteriors and Outdoor Design
Design trends for exterior spaces and four-season rooms
Sponsored by AGS Stainless, Inc., Bison Innovative Products, Panda Windows & Doors, and Western Red Cedar Lumber Association
This test is no longer available for credit
Designing Outdoors with a Rooftop Deck
One of the ways to expand interior spaces into the outdoors is through a rooftop deck. Rooftop decks can provide outdoor rooms for relaxation, entertaining, and dining on both residential and commercial projects. Products used in combination for designing rooftop decks include pedestal systems and modular wood tiles.
The pedestal systems provide the designer with options for creating level decks over sloped surfaces. They can also elevate and support modular wood tiles, pavers, and other surfacing materials over existing surfaces that may be unattractive or that may not be ADA accessible. Pedestals that are manufactured in the United States and made with 20 percent post-industrial recycled materials meet LEED and SITES criteria for recycled content.
Wood tiles that qualify for LEED credits should be commercial grade, constructed from sustainably harvested hardwoods, and available with Forest Stewardship Council (FSC) certified species. Those pedestals and wood tiles that are modular and have interchangeable components provide flexibility with the design composition. Modular systems also provide ease of maintenance, as individual units are easily removed and replaced should any unit become damaged.
Roof Deck Products: Modular Wood Tiles
Modular wood tiles come in a variety of sizes and are fabricated from wood planking. The wood tiles can be fabricated from domestic as well as imported woods. To meet LEED criteria, these woods should be responsibly harvested and FSC certified. Several species of South American (Brazilian) hardwoods, including ipê, cumaru, garapa, and massaranduba, are popular for the fabrication of wood tiles because these woods are so durable. FSC-certified (FSC-C13454) ipê, cumaru, garapa, and massaranduba wood tiles could contribute to LEED points under Materials and Resources Credit 7 (MR Credit 6 for CS). They could also meet SITES Section 5.9 – Support sustainability in materials and manufacturing.
It is important to note that these wood tiles are constructed from premium-grade remnants from the flooring and furniture industries. These remnants are the waste materials and shorts purchased from other industries so the wood planks are repurposed content. Thus, these wood tiles comply with strict regulations regarding extraction, milling, and transport. In addition, it is important that the imported woods used in fabrication of these wood tiles comply with the U.S. Lacey Act and meet the Brazilian Institute of Environment and Renewable Resources (IBAMA) requirements that show proof of origin and legal harvesting.7,8
Tropical hardwoods are among the preferred woods selected as a source for many modular wood tiles because these tropical hardwoods contain a rich variety of graining and coloration, are exceptionally dense, and are resistant to insects. Modular wood tiles fabricated from tropical hardwoods can be ideal for blending the warm beauty and upscale appearance of real wood with the durability and low maintenance of the tropical hardwood species, thus providing a product that requires minimal maintenance. If maintaining the wood color is desired, wood tiles can be periodically cleaned and sealed. Left to weather naturally, the wood tiles will develop a silvery-gray patina.
Because of their modular characteristic and flexibility, wood tiles can be installed over a variety of surfaces and are adaptable to a variety of sites. Wood tiles can be used to create large roof deck surfaces on top of buildings as well as decks at ground level. Weighing one-fourth as much as 2-inch-thick concrete tiles, wood tiles are a good alternative when surface material weight is a major consideration.
Wood tiles can be laid in a parquet or linear pattern or mixed with other materials, such as pavers, stone, plank decking, or other options, to create unique aesthetics. When used as the sole surface material, modular wood tiles are ADA compliant, as the surface texture and spacing between the units meet ADA criteria. Also, the modular tiles can be removed for routine maintenance, for repairs to the roof, or to gain access to other systems.
The modular wood tiles meet industry standards and certifications for wind uplift, fire ratings, slip resistance, weight-bearing capacity, and seismic. To ensure adequate weight bearing in support of heavier loads, it is recommended that more pedestals be used above the standard 1:2 ratio of pedestals to wood tiles.
Roof Deck Products: Pedestal Systems
Wood deck tiles supported by pedestal systems can be integrated seamlessly to create a rooftop deck that is as simple as it is beautiful. Pedestals have precise integrated spacer tabs that ensure accurate spacing, lock the surface materials in place, and allow water to drain.
Typical pedestal systems have a threaded design, making the leveling process during installation a simple turn of the pedestal base. This allows contractors, designers and installers to accurately plan, precisely align, and uniformly install level decks with a combination of ease, speed, and accuracy. Also pedestals that have a broad footprint provide stability and are usually impervious to freeze thaw cycles.
Pedestals can contain 20 percent post-industrial recycled material and could contribute to Materials and Resources Credits Section 4 as a single product contributing to multiple LEED points. This also meets SITES Section 5.3: Design for adaptability and disassembly, Section 5.5: Use of recycled content materials, and Section 5.9: Support sustainability in materials manufacturing.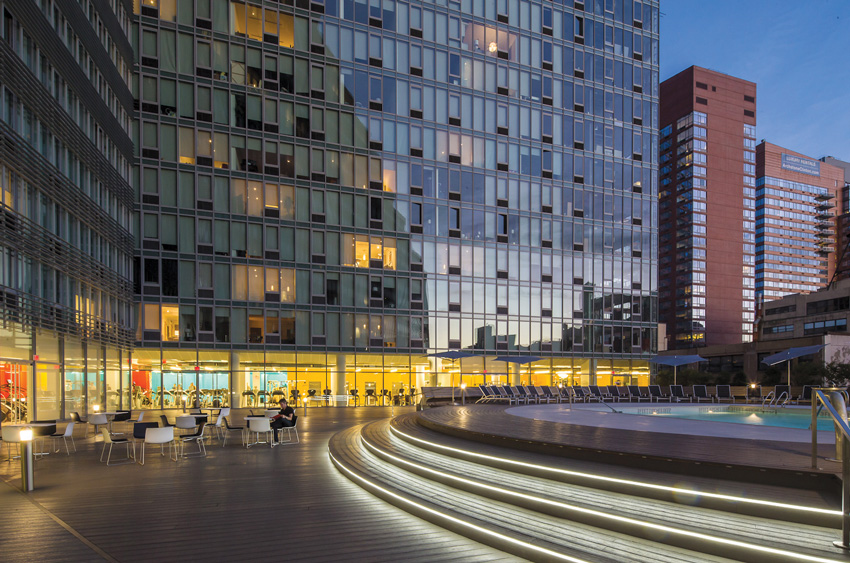 Photo courtesy of Bison Innovative Products
In New York City, the Mercedes House fitness deck utilizes adjustable pedestals with joist tops and custom plank decking to create this stunning circular deck.
Products that enhance outdoor views while meeting safety and sustainability requirements are of benefit to the aesthetics and function of a project, as they can provide the user with a closeup experience of outdoor spaces while ensuring user safety. Railing systems that minimally obscure views are one such product.
Originally published in Architectural Record
Notice