Exteriors and Outdoor Design
Design trends for exterior spaces and four-season rooms
Sponsored by AGS Stainless, Inc., Bison Innovative Products, Panda Windows & Doors, and Western Red Cedar Lumber Association
This test is no longer available for credit
Sustainable Wood for Exterior Projects
When considering materials for exterior applications and outdoor environments, wood from the western red cedar has long been revered for its natural durability and beauty. The botanical name for the western red cedar is Thuja plicata. The name is derived from thujaplicin, which is a chemical substance that is found in mature trees and serves as a natural fungicide, thereby preventing the wood from rotting. Hence, its durability lies in its natural resistance to rot, decay, and insects.
Western red cedar is also a sustainable, resilient tree species, as it has one of the widest growth ranges on the West Coast. It grows in lush forests and mountainsides as well as in many forested swamps and stream banks within its range. According to the U. S. Department of Agriculture's Plant Guide, "western red cedar is one of North America's great renewable resources. The range of western red cedar is essentially in two segments: a Coast Range-Cascade Range segment from southeastern Alaska to northwestern California and a Rocky Mountain segment from British Columbia and Alberta to Idaho and Montana."3 Although the species is slow growing, it is naturally durable and has one of the longest life spans of any North American softwood. According to U.S. Forest Service, this species tolerates shade very well and can thus survive in forest understories. In addition, U. S. Forest Service predictions indicate that this species' growth rates are likely to thrive as accelerated climate change occurs.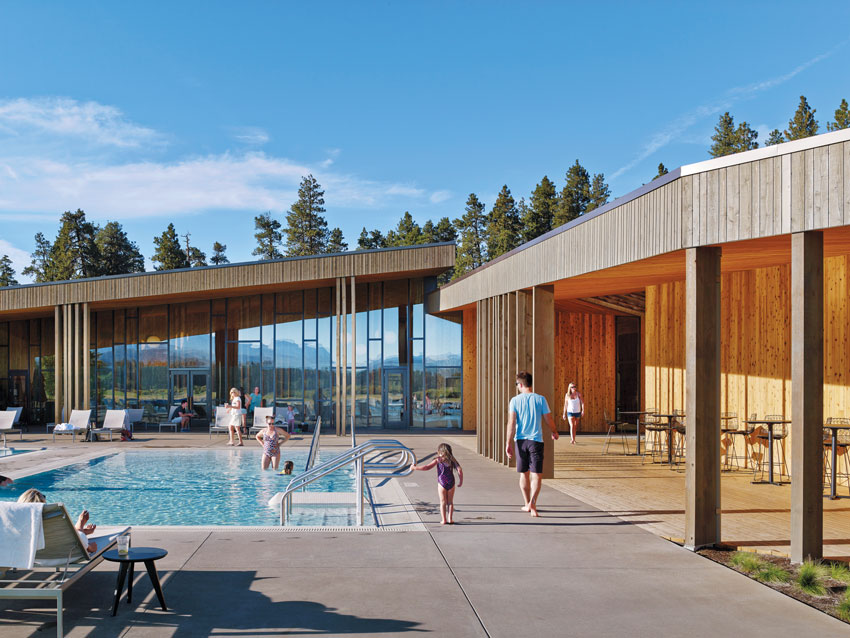 Lakeside at Black Butte Ranch by Hacker; photo by Jeremy Bittermann
Cedar used at an outdoor pavilion at Black Butte Ranch in Oregon.
Western red cedar also has a broad range of aesthetic qualities, making it a popular choice in design applications. It is pitch and resin free, which means that it accepts and holds a variety of finishes. It provides both color and texture to projects, as it is naturally imbued with rich tonal properties, and the knotty grades of decking and siding add textural enhancements to designs.
Paul Mackie is known as "Mr. Cedar" in the building industry and is an expert in the properties of western red cedar. In his opinion, "Western red cedar is simply one of the world's most beautiful woods. No man-made material can duplicate western red cedar's naturally luxurious appearance."
Environmental Certifications for Western Red Cedar
Climate change and impacts made by development are adversely affecting the environment, and in turn our communities and our health. Design teams can significantly reduce these impacts by specifying products that have been verified for improved environmental life-cycle impacts. Products whose manufacture or harvesting reduce negative environmental impacts can be certified as environmentally friendly. Cedar is third-party-certified environmentally friendly in the way it is harvested and its forests are managed. Over the past 15 years, the green building industry has invested a significant amount of resources to responsible procurement of forest products. The U.S. Green Building Council (USGBC) encourages the use of construction products and materials carrying environmental product declarations (EPDs) that are calculated through a life-cycle assessment (LCA). LCA is included in LEED v4. EPDs contribute to LEED points. They are created according to internationally harmonized standards and are third-party verified, ensuring that the results for the product are valid. Products with third-party certification (Type III), including external verification, are valued as one-half of a point for credit achievement calculation through LEED. According to its website, the USGBC recently developed a new pilot alternative compliance path (ACP) credit for its LEED rating system. The ACP is designed to further advance environmentally responsible forest management and helps to remove the use of illegal wood by promoting responsible wood sourcing and chain of custody.
Cedar in Outdoor Design Applications
Aesthetic considerations and human interaction are not part of the protocols for life-cycle assessments of products, but these qualities are important considerations in design projects. Aesthetic qualities contribute to what people find attractive about a place.
"People who like being outdoors on a deck usually like being part of their natural surroundings," says Paul Mackie of the Western Red Cedar Lumber Association (WRCLA), articulating the appeal of natural products as compared to the synthetic character of some composites. "If that's the case, choosing a natural product like cedar is the way to go."
Cedar is used on a variety of projects from small residences to larger commercial and institutional buildings, and it has been specified as a preferred material on balconies, rooftop decks, and exterior facade cladding. Some examples include the following case studies.
Originally published in Architectural Record
Notice