Exteriors and Outdoor Design
Design trends for exterior spaces and four-season rooms
Sponsored by AGS Stainless, Inc., Bison Innovative Products, Panda Windows & Doors, and Western Red Cedar Lumber Association
This test is no longer available for credit
Providing Both Views and Access to the Outdoors Using Door Systems
French Doors and Pivot Doors
French doors can serve as both entry doors and as views to the outside. They are also ideal for creating a smooth flow of pedestrian traffic between the outdoors and indoors. French swing doors using tempered glass can provide panoramic views to the outdoors from inside any home or building.
French doors operate by swinging out or by rotating on standard hinges. An optional multi-point locking mechanism allows the door panel to operate easily even when the panel is oversized and heavy. French doors are available with standard hinges or pivot hardware. As the panels are high-capacity in terms of weight and endurance, there is an opportunity for a large swing door that may exceed 70 square feet in a single panel. These systems are chosen often for curb appeal as main entry doors to residences but may also be used in virtually any other application that calls for a large pivot or French door.
Bifold and Folding Doors
Glass folding doors provide an opportunity to gain open views to the outdoors while maximizing the opening in situations where there is insufficient space for wider swing doors. Folding doors can stack or swing and stack to the interior or exterior.
They can be used along a single-track system and can be constructed of multiple panels with up to 10 panels in one direction. The weight of a folding doors' panels is carried along the header, which allows for ease of operation, even with large groups of folding panels. Typical folding doors are available in heights varying up to 144 inches and widths up to 42 inches. Most manufacturers do not limit the number of panels that can be designed for a system configuration. Thus, a system of folding doors has the potential to provide an expansive panoramic view of an outdoor space. Folding doors that offer a recessed U-channel track can provide a seamless transition from the interior to exterior spaces that is also compliant with the ADA. To ensure security, designers should look for doors that also utilize completely integrated locking and operation mechanisms.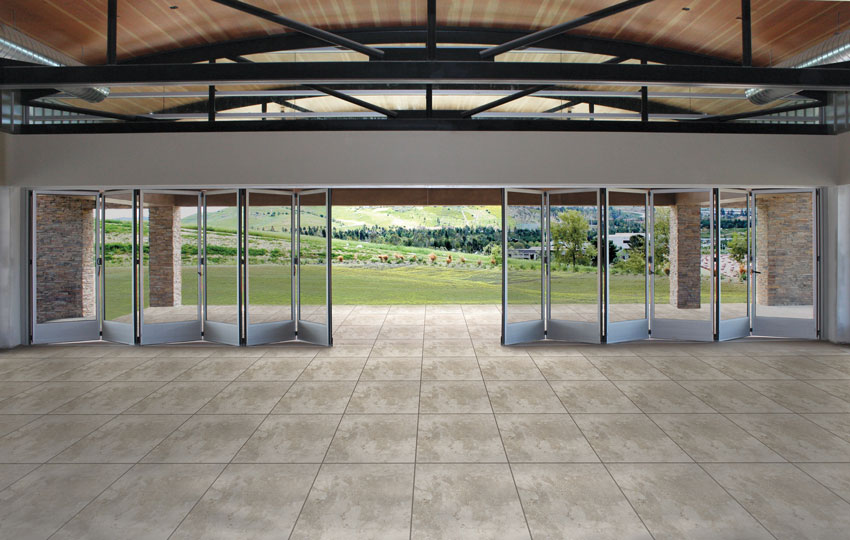 Photo courtesy of Panda Windows & Doors
Expansive numbers of folding doors provide opportunities for panoramic views to the outdoors.
Glass Folding Doors
Glass folding doors provide an opportunity to gain open views to the outdoors while maximizing the opening in situations where there is insufficient space for wider swing doors. Where there is available space in the design, folding doors can be pocketed into the side and completely hidden from view when open, providing an expansive connection to the outdoors.
Pocketing door systems are very popular, as being able to completely hide the door increases the experience of bringing the outside inside, and it also helps to prevent any damage that could occur to the door system while it is closed, such as from children running into it with their bicycles.
Horizontal Sliding Walls and Operable Glass Wall Systems
Multiple panel door systems that operate along a single recessed channel track system are termed horizontal sliding wall systems, and in the case where they are either framed glass or frameless glass, they are sometimes named operable glass wall system. The tracking system uses multiple panels to span large openings without having to stack the tracks, thus eliminating large jamb widths. Additionally, where there is room, these systems are often pocketed inside a closet, providing a fully open expanse when not closed.
Horizontal sliding wall systems allow the designer to create an "operable wall" system that can span oversized openings, while allowing the panel storage in the open position to be minimal. Configurations include independent panels that all stack together when the system is open. They may also be connected similar to a bifold system, however, the hanging wheel sets are then in the center of the panels to more evenly distribute the weight of the panels. Horizontal sliding wall systems also provide designers with the opportunity for panoramic views to outdoor spaces. Some systems offer panel heights up to 144 inches and widths up to 60 inches per panel without any limits on the number of panels. Some systems can accommodate panel weights in excess of 1,000 pounds.
Combination Lift and Slide Door Systems
Lift and slide door systems incorporate a specially engineered design and hardware set that allows the user to both lift and slide the door system. By using a large leverage handle, the operator engages a double v-gasket seal at the top and bottom of the door to both open and lock the door. The panels in this type of system use their own weight to compress the double v-gasket seals, which creates a completely weather-tight system when in the "down" position. When in the "up" position, the panels, which can weigh 200 pounds or more, can be easily moved with a few pounds of pressure. Track options can include recessed tracks, which come either with or without a drain channel, and the only visible track is a 3/16-inch rail protruding from the finished floor. Thus, the track is "bare-foot friendly". This system is the perfect design choice for very large openings. The framing is sturdy aluminum construction that allow the large, heavy panels to operate smoothly and securely. Lift and slide door systems are available in a variety of profiles and styles. For example, they can be installed on curved walls and can be designed to disappear into a pocket, thus providing unobstructed panoramic views.
Glass window and door products provide a variety of options in the design of indoor and four-season rooms, allowing designers to transition from inside to outside. The range of materials and panel sizes as well as the variety of available systems provide great flexibility toward creating an interior-exterior interface that capitalizes on views while creating architecturally exciting designs. Outdoor rooms and four-season rooms provide users and property owners with spaces to relax and support mental restoration as well as places to meet others and support social interaction, such as at art museums, restaurants, hotels, and other large public spaces.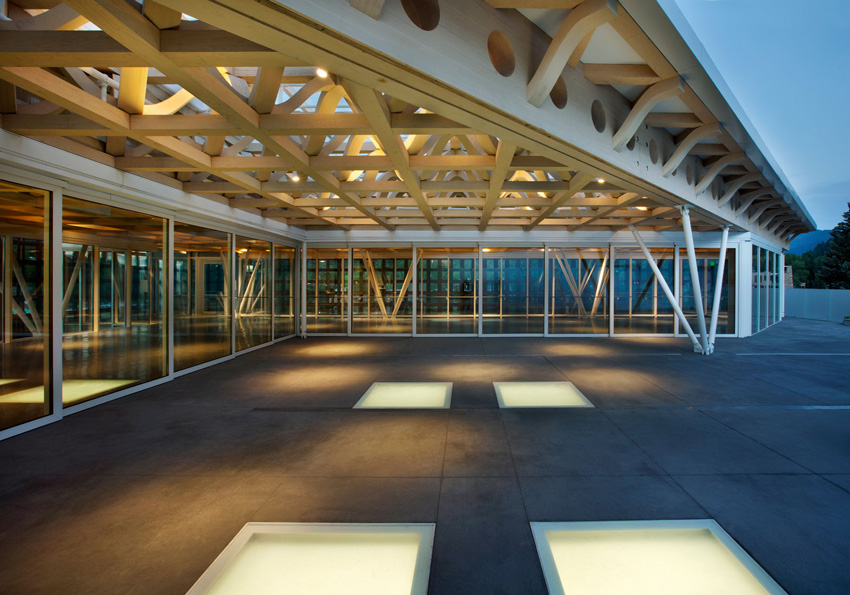 Photo courtesy of Panda Windows & Doors
The roof garden of the Aspen Art Museum features a combination lift and slide door system.
Originally published in Architectural Record
Notice