Exteriors and Outdoor Design
Design trends for exterior spaces and four-season rooms
Sponsored by AGS Stainless, Inc., Bison Innovative Products, Panda Windows & Doors, and Western Red Cedar Lumber Association
Learning Objectives:
Discuss the key sustainability criteria (LEED and SITES) that apply to the design of exterior spaces and outdoor rooms.
Describe some of the various product systems that are available for designing exterior spaces and outdoor rooms, and understand each system's compliance with sustainability criteria.
List design options for exterior deck spaces regarding railings and safety.
Explain the ways in which exterior spaces and outdoor rooms can help to meet LEED and SITES requirements of human health and well-being.
Credits:
This course can be self-reported to the AIBC, as per their CE Guidelines.
This course is approved as a Structured Course
This course can be self-reported to the AANB, as per their CE Guidelines
Approved for structured learning
Approved for Core Learning
This course can be self-reported to the NLAA
Course may qualify for Learning Hours with NWTAA
Course eligible for OAA Learning Hours
This course is approved as a core course
This course can be self-reported for Learning Units to the Architectural Institute of British Columbia
This test is no longer available for credit
There's a lot to love about the outdoors, and this course will explore ways that architects and designers can make inviting and comfortable outdoor spaces that link the outdoors to the interior. There are a variety of products and materials that provide options for designing patios, decks, and outdoor rooms, and that provide experiences in outdoor dining, animated outdoor activities such as poolside recreation, or just relaxing and taking in the surrounding landscape. In addition, outdoor living spaces and rooms can greatly increase the appeal of a home, restaurant, or hotel, and thus increase its value and marketability.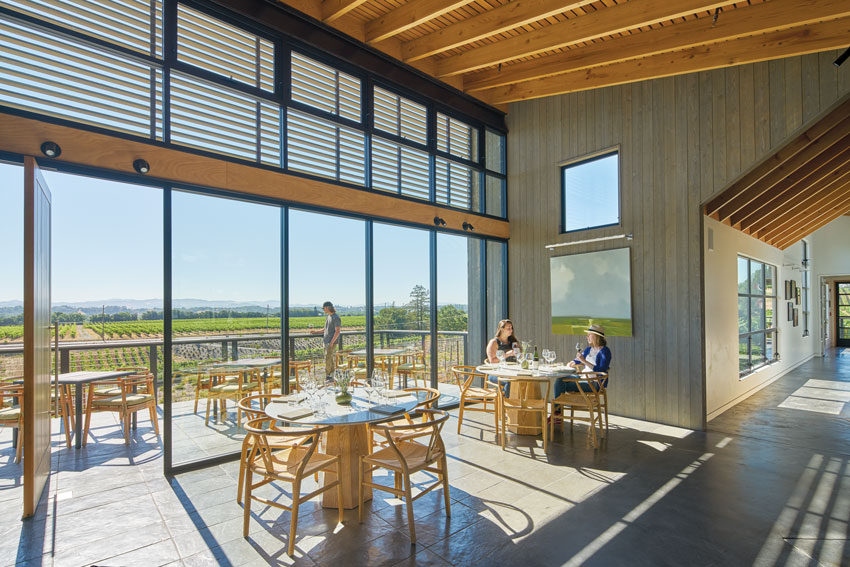 Photo courtesy of MacRostie Winery & Vineyards by Gould Evans/Bruce Damonte
Interior spaces can be linked to outdoor settings through glass windows and doors, roof decks, clearview railings, and the use of natural materials.
Viewing the Outside from Within
One of the ways to link the exterior and interior of a project is through glass. Extending an indoor room to the outside by opening views through glass windows or doors helps to enhance the interior. Expansive windows and doors allow natural light to penetrate into interior rooms as well as provide a visual extension to an exterior space. Natural light penetrating into interior spaces can also reveal textures and patterns through shadows and provides cues as to time of day.
Appropriately selected windows and doors can also create a space that can be used through the four seasons, even in colder climates. Designers should consider the following criteria when selecting an appropriate window or door system to create a four-season space:
thermal and energy efficiency,
ability of the system to accommodate design creativity (i.e., curved walls, corners, etc.),
impact resistance to storms and severe weather,
security options,
material durability, and
ease of system operation.
The window and door product options for creating a visual and physical interface with the outdoors include:
windows and window systems,
French doors and pivot doors,
bifold and folding doors,
operable glass wall systems,
horizontal sliding wall systems,
combination lift and slide door systems, and
multi-sliding doors.
There are a wide range of material framing systems for windows and door product. Two common systems are all aluminum and combinations of aluminum with wood cladding. The aluminum- and wood-clad frame system provides the reduced maintenance of an aluminum clad finish, plus the aesthetic appeal and warmth of wood. The aluminum is bent and folded over the exterior of the door or window frame to prevent weather from penetrating into the wood frame.
Windows and Window Systems
Windows and window systems are available in various styles and sizes and can be customized to fit the project design. Designers have the option of selecting fixed, casement (inswing or outswing), hopper, awning, sliding, and tilt and turn (inswing only) window products depending on the project requirements. One of the key considerations when selecting a style or type of window is energy efficiency. The National Fenestration Rating Council (NFRC) operates a voluntary program that tests, certifies, and labels windows, doors, and skylights based on their energy performance rating. NFRC labels can be found on all ENERGY STAR-qualified windows, doors, and skylight products. Two major categories that are reviewed by the NFRC with respect to energy performance ratings are Sunlight Transmittance and Heat Gain and Loss.
Windows can gain and lose heat via 1) the direct conduction of heat through the glass or glazing, the frame, and/or door; 2) radiation of heat into or out of the room or building; and 3) air leakage through and around the window and door panels. The U-factor, solar heat gain coefficient (SHGC) and air leakage are evaluated by the NFRC to measure and rate the energy performance of windows, glass doors, and skylights. The U-factor is the rate at which a product conducts non-solar heat flow. The lower the U-factor, the more energy efficient the product.
The ability of glazing to transmit sunlight is measured and rated according to the visible transmittance (VT) and the light-to-solar gain (LSG). A product with a higher VT rating transmits more visible light. The LSG provides a gauge of the relative efficiency of different glass or glazing types in transmitting daylight while also blocking heat gains. For example, window glazing with the newer second-generation low-e coatings are able to maintain a low U-factor and are also able to reflect solar near-infrared radiation, thus reducing the total solar heat gain coefficient (SHGC) while still providing high levels of daylight transmission.1
Another example of an energy-efficient window product is a thermally broken aluminum window. The benefits of thermally broken aluminum windows include warmer winters, cooler summers, and a more comfortable living environment. The design of a thermally broken aluminum window includes a polyamide insulator between inner and outer aluminum faces. The result is a permanent thermal barrier that effectively fights energy transfer between the inside and outside and vice-versa.2
Originally published in Architectural Record
Originally published in July 2017
Notice