Cultural Centers
Architectural Record
Monument to Valor
An inventive circular structure is home to a new institution celebrating veterans.
National Veterans Memorial and Museum | Columbus, Ohio | Allied Works
By Joann Gonchar, FAIA
It is amazing we got it built," says architect Brad Cloepfil of his design for the National Veterans Memorial and Museum (NVMM), which recently opened on the banks of the Scioto River, in Columbus, Ohio. Now, nearly six years after his firm, Allied Works, won an invited competition for the $75 million project, Cloepfil still seems incredulous—largely because of the 53,000-square-foot building's demanding structure. The roughly circular NVMM comprises a series of exposed concrete arches that are curved in plan and overlap to create three intersecting rings and a spiraling circulation path, both inside and out. The behavior of the unusual form was tricky to analyze, and its construction was labor-intensive, according to Thorsten Helbig, a partner of Knippers Helbig, the project's New York– and Germany-based structural engineer. The poured-in-place structure was so challenging that, Joann Gonchar, FAIA after participating in a design-assist phase, the preselected ­concrete contractor declined to bid on the building's construction. It took two months to find another qualified contractor. "I had never designed a building that no one wanted to build," Cloepfil says wryly.

PHOTOGRAPHY: JEREMY BITTERMAN, EXCEPT AS NOTED; AERIAL IMPACT SOLUTIONS (RIGHT)
SANCTUARY IN THE SKY
The NVMM, conceived as a series of intersecting arch-supported rings (left and right), is wrapped by an exterior ramp that leads to an amphitheater-like plaza with views of the Columbus skyline.
The idea for what would become the NVMM was first conceived by the late U.S. senator and astronaut John Glenn, who was also a Marine Corps fighter pilot. Although Glenn's initial goal was recognizing veterans from Ohio, the project's ambitions ultimately expanded to include all of the country's servicemen and -women. At its core, however, the primary goal remained consistent: to celebrate veterans and honor their service and sacrifice. The new entity is distinct from other military museums, which are typically dedicated to a single branch of the armed services or one particular conflict. "There is no other institution like this," claims Amy Taylor, COO of the Columbus Downtown Development Corporation. The NVMM is part of a larger effort to revitalize the Scioto Peninsula, directly across the river from downtown.
In order to create a home for the NVMM, which is part shrine and part civic-engagement initiative, Cloepfil decided on arches since "they are somewhat ceremonial." But his chief desire was to "consecrate or set apart" a place for veterans on the seven-acre site, which at the time of the competition was home to an outdated conference facility slated for demolition. His inventive structure seems to emerge from a grass-covered hillock. It supports an ascending serpentine ramp that culminates in an amphitheater-like plaza encircled by a swath of green roof. "It is as though we lifted the earth and inserted the museum underneath," he says. This "sanctuary in the sky" is intended for memorial services or other ceremonies, and as a place where visitors can take in views of the downtown skyline, watch runners and cyclists pass by on Columbus's recently revamped river walk, or appreciate the surrounding landscape designed by OLIN, which features a grove of elm trees and a reflecting pond.
PHOTOGRAPHY: COURTESY ALLIED WORKS
INHABITABLE SCULPTURE
The rings, which were explored in a number of ways, including concept models and as unfurled elevations (top) define interior spaces, such as a the double-story great hall (bottom, left), for dinners and other functions, and the permanent exhibition area (bottom, right).
Inside, where the exposed muscular structure and the helical circulation route continue, there are more spaces for both gathering and contemplation, such as a double-story great hall for dinners and other functions and a below-grade, circular "cyclorama" for meetings or temporary exhibits. A mezzanine level looks out onto the rooftop plaza through windows with glazing striped in multiple colors inspired by the service bars that members of the military wear on their uniforms. But most of the interior is devoted to a permanent multimedia exhibition developed by Ralph Appelbaum Associates, which snakes through much of the perimeter and middle rings. Above the displays, the composite steel-and-concrete roof structure and the wood-louvered ceiling gradually slope downward to create an intimate space. Visitors feel almost as though they are alone while they take in NVMM's displays, including videos relating to the personal stories of veterans, told in their own voices. Joshua, for example, describes his urge, in the aftermath of the 9/11 attacks, to leave West Point early and enlist; Jaspen talks about her desire for her son to see her as a soldier rather than a single mother; and Thom, who emigrated from Vietnam as a child, and whose father had been imprisoned by the Viet Cong, explains that he joined the army "to give back to the country that let me call it home."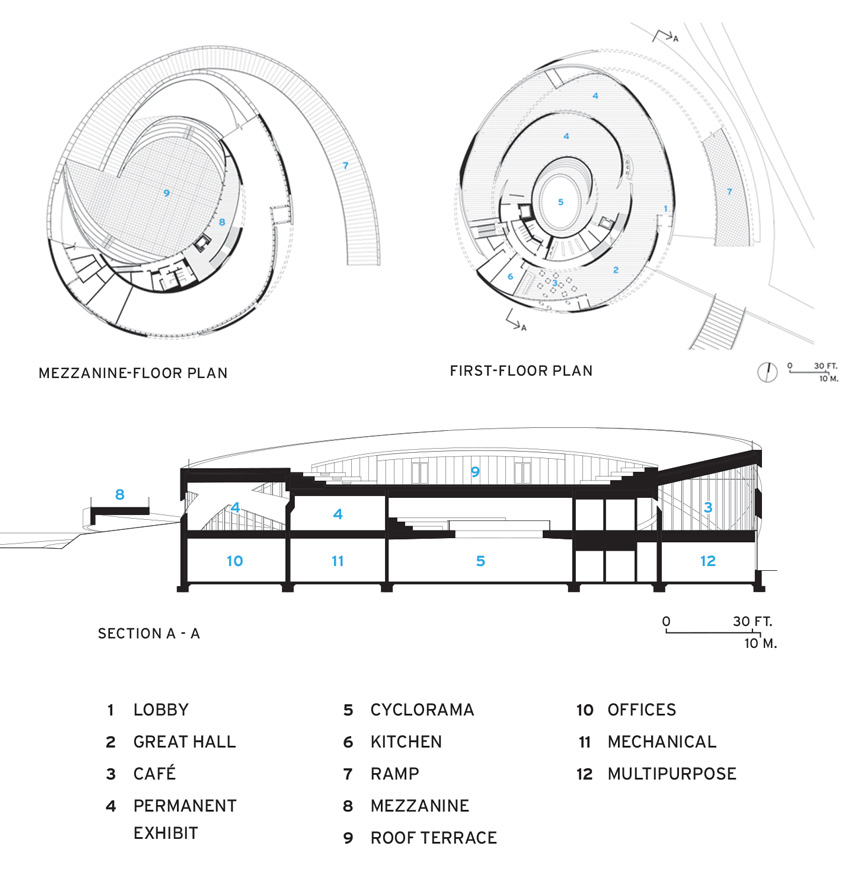 While these narrations can be sobering and intense, the generous areas of glazing inserted within the perimeter ring of arches provide sunlight and a visual connection to the city. "Visitors can step away and go to the window," says Cloepfil. But, unfortunately, although people on the inside can see out, those on the outside can't see in, since keeping heat gain in check necessitated tinted glazing that appears almost black in typical daytime conditions. The lack of transparency is off-putting, lending the building a somewhat forbidding character that detracts from its compelling form and the project team's significant structural achievement.

PHOTOGRAPHY: © BRAD FEINKNOPF (LEFT)
COLOR GUARD
A stair that hugs an inner concrete ring takes visitors from the great hall (left) to a mezzanine level (right). It looks out onto a rooftop plaza through glazing striped to recall the service ribbons that adorn military uniforms.
And the structure is significant. As just one example of its complexity, Helbig points to the curved chain of arches, explaining that their structural behavior is less straightforward than that of typical planar arches, which transfer forces to the ground in pure compres­sion. Along with compression, the NVMM arches respond to loads with bending. But the shape of the arches was not the only source of engineering challenges. Since the concrete bands also overlap—which creates the impression ­that they slip past one another—transferring forces between the seemingly sliding pieces required connection details that include intricately interwoven steel reinforce­ment. Throughout, there is a high density of rebar, with as many as 51 longitu­dinal layers in some locations. The steel helps resist torsional forces and control the quality of the concrete surface, explains the engineer.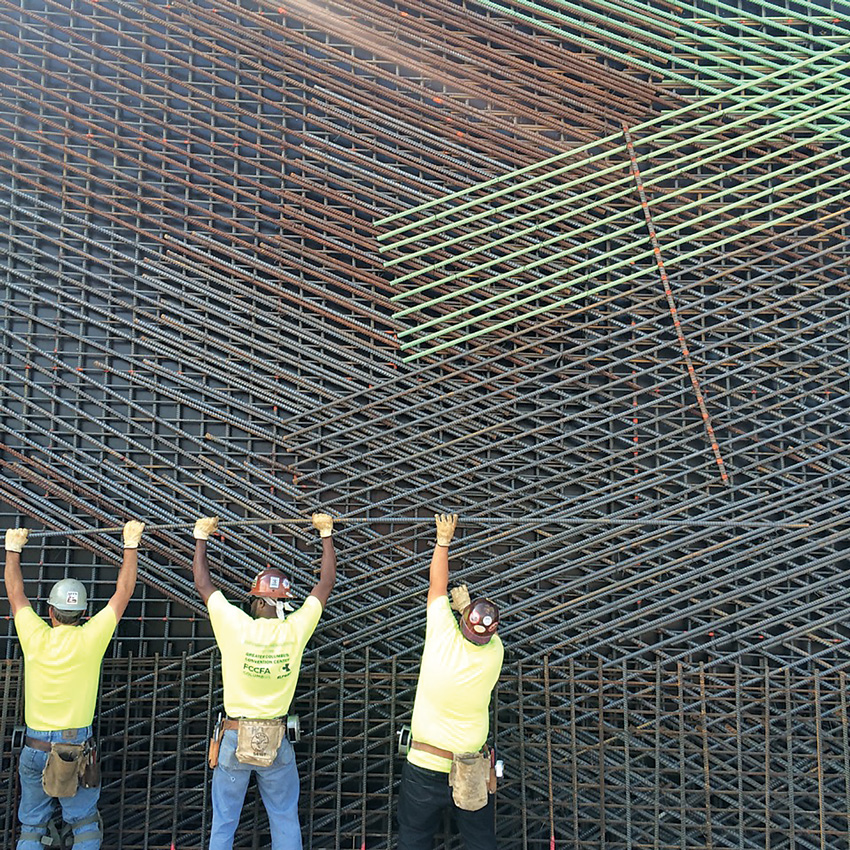 PHOTOGRAPHY: COURTESY ALLIED WORKS
The NVMM's poured-in-place concrete structure includes an unusually high density of reinforcing steel.
The quantity of reinforcement brought with it a host of other problems, namely, tuning the self-consolidating concrete mix to ensure that it flowed without forming voids or large cracks. Contractors and engineers also needed to carefully consider the arches' construction sequence so that the concrete rings would appear monolithic, even though they were made in multiple pours, says Helbig.
The resulting concrete work has been very well executed, though it is not pristine: the outlines of the edges of the plywood forms are visible, as is the occasional hairline crack. But the structure was never intended to be "precious," says Cloepfil, and the slight imperfections do enhance, rather than diminish, its materiality and its formal power. If only the NVMM were more transparent, it would have been a building that was approachable and welcoming without blunting its sculptural presence.
Credits
Architect: ALLIED Works — Brad Cloepfil, founding principal; Kyle Lommen, principal in charge; Chelsea Grassinger, project lead; Nathan Hamilton, project architect; Kyle Caldwell, Chris Brown, Rachel Schopmeyer, Alexis Kurland, Luciana Varkulja, project team
Associate Architect: Design Group
Consultants: Knippers Helbig (structural); Prater Engineering Associates (m/e/p/fp); EMH&T (civil); OLIN (landscape); Ralph Appelbaum Associates (exhibit design); Arup (lighting, security); Reg Hough Associates (concrete)
General Contractor:Turner Construction
Client: Columbus Downtown Development Corporation
Size: 53,000 square feet
Cost: $75 million
Completion Date: October 2018
Sources
Concrete: Baker Concrete Construction
Lighting: Litelab, Gotham, Elliptipar, FC Lighting
White Oak Flooring: Kasell
Roof Pavers: Tectura Designs
Elevator: Schindler
Originally published in Architectural Record
Originally published in December 2018
Notice