Enhancing Design Excellence with Innovative Surface Solutions
Interior wall and floor treatments can improve appearance and performance
Sponsored by Eldorado Stone, Gerflor USA, and MP Global Products
Learning Objectives:
Identify and recognize the aesthetic significance of wall and floor surfaces as part of the overall interior design of a space.
Assess the health and safety performance aspects of wall and floor surfaces as they relate to durability and sustainability.
Explain the importance of proper subfloor preparation and installation techniques to enhance acoustic and moisture control.
Determine ways to incorporate principles presented into buildings as shown in case studies.
Credits:
This test is no longer available for credit
Interior wall and floor surfaces can be viewed as a design medium. In virtually every building, they are opportunities to create the overall look and feel of a space in concert with the surrounding areas and connections to the outdoors. The texture, color, materiality, and form of the surfaces benefit from the palette of choices used by the architect or interior designer to create a variety of results. Beyond the appearance, however, the performance of those surfaces initially and over time is usually critically important to the users and owners of the building. The ability to clean, maintain, and rely on the long-term use of the finished surfaces is important. Similarly, the coordination between individual materials and other building components and spaces is critical for proper performance. From a construction standpoint, the choice of floor and wall surface materials can make a notable difference in the overall time schedule and cost of a building project. Creating a successful project, therefore, depends on a proper understanding of both the design traits and performance characteristics of the products and materials used.
Interior Design
When discussing interior wall and floor surfaces, we are really talking about interior design whether carried out by a licensed architect or a certified interior designer or both. The Council for Interior Design Qualification, or CIDQ, is recognized as a leader in establishing standards of competence for interior design professionals. Accordingly, it asserts to "protect public health, safety, and welfare by identifying interior designers who have the knowledge and experience to create interior spaces that are not just aesthetically pleasing, but also functional and safe." Hence it recognizes the two-fold role of interiors which we have categorized here as design and performance. The council also administers the rigorous NCIDQ Exam for interior designers who meet the eligibility requirements of education and experience. Those who pass the exam are assigned a unique NCIDQ Certification number that attests to their qualifications.
The CIDQ defines interior design as "a multifaceted profession in which creative and technical solutions are applied within a structure to achieve a built interior environment." This means that solutions are sought that are functional, enhance the quality of life of the occupants, and are aesthetically attractive. The process of designing interiors typically follows a rather systematic approach based on coordination of the interiors with the overall project and building goals as well as the human and functional needs of the owners or users. Of course interior building designs must also adhere to code and regulatory requirements and increasingly embody principles of environmental sustainability and healthy indoor spaces. Products selected and specified for interiors can make significant contributions toward building and commercial interior projects, achieving green certifications through programs such as the LEED rating system and others. That means they can have positive impacts on the people in the buildings while minimizing any negative impacts on the natural environment.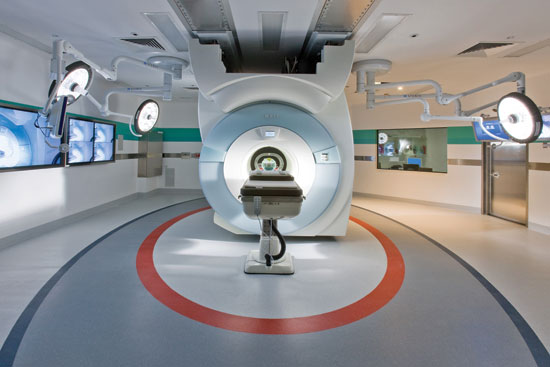 Image courtesy of Gerflor USA
The significance of interior floor and wall surfaces lies in both their aesthetic design impact and their ability to perform as intended in the spaces where they are used.
Beyond certification qualifications, the International Interior Design Association (IIDA) is a preeminent association for commercial interior design professionals. Jessica Mann Amato, president-elect of the IIDA NY Chapter and senior project manager, NELSON, New York, N.Y., sums up her perspective on design this way: "Design is the expression of the envelope that surrounds you at work, at home, at play, everywhere. It's creating an experience, an emotion, or a story of your surroundings; helping life's functions to be pleasing to the senses while organizing you." Based on this perspective, it is clear that the decisions that are made related to the design of interior spaces are interrelated to decisions made for the rest of the building, the people, and the environment too.
Originally published in Architectural Record
Originally published in July 2015
Notice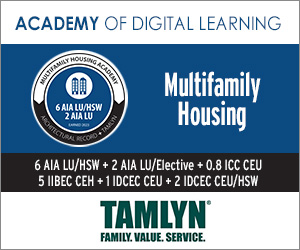 Enhancing Design Excellence with Innovative Surface Solutions
Buyer's Guide
Limestone Veneer

Eldorado Stone presents a new interpretation of this architectural powerhouse with Marquee Limestone. Offered in sleek 12" x 24" stone veneer with the authentic textures and subtle hues of natural cut limestone, Marquee Limestone is sure to play an essential role in your memorable designs.
Commercial Resilient Sheet Flooring

Gerflor USA's Mipolam Premium Dry-Tex™ System is the industry's only commercial resilient sheet flooring resisting up to 98% RH with a one-step, full-spread adhesive installation. Ideal for new construction projects with tight deadlines, it provides maximum wear resistance to high traffic and the best chemical stain resistance on the market.
Laminate Floor Underlayment

QuietWalk® laminate floor underlayment smoothes out little sub-floor imperfections while quieting impact sound and floor to ceiling noise. The recycled fibers that comprise QuietWalk® are randomly air laid which offers the best cost-effective foundation and premium sound control for laminate floating flooring in the marketplace today.