Effective Fenestration for Wellness and Energy Conservation
Strategies to connect to the outdoors, control energy flow, and maintain comfortable interiors
Sponsored by Marvin, NanaWall Systems, and Saint-Gobain SageGlass
Learning Objectives:
Identify and recognize the health, well-being, and energy aspects of providing natural daylight into buildings.
Assess the advances and options in manufactured window units related to increasing daylight, providing a cleaner appearance, and better performance.
Explain the significant design and performance aspects of opening glass walls used as fenestration in buildings.
Describe the different methods of solar and daylight control that are possible through the use of electrochromic glazing.
Credits:
This course can be self-reported to the AIBC, as per their CE Guidelines.
This course is approved as a Structured Course
Approved for structured learning
Approved for Core Learning
This course is approved as a Core Course
Course may qualify for Learning Hours with NWTAA
Course eligible for OAA Learning Hours
This course is approved as a core course
This course can be self-reported for Learning Units to the Architectural Institute of British Columbia
This test is no longer available for credit
Providing fenestration in exterior walls is driven by a variety of factors. In some cases, it is a primary form giver in the design of a building and has certainly been the key to many approaches leading to award-winning designs. In the interest of promoting well-being and healthy environments, fenestration has also been seen as an essential component in that effort. At the same time, fenestration has been the focus of intense advancement and development to address the need for energy conservation in buildings. In this regard, bringing natural light into a building can be an energy saver by allowing artificial lighting to be switched off, as long as that natural light doesn't overpower the interior and create glare or a light level that is too intense. On the other hand, fenestration can allow more heat loss than an insulated wall or too much heat gain from sunlight passing through the glazing, either of which could increase the need for energy to heat or cool a building. Recognizing this array of interconnected variables, manufacturers of fenestration products offer choices in how these products can be sized, specified, and assembled so that architects can select and customize their products to suit the overall design, human needs, and energy performance requirements of many different buildings. With all of these points in mind, this course will look at some of the driving forces behind incorporating fenestration into buildings, latest technologies and products available, and design approaches to help balance light, connectivity, and energy conservation.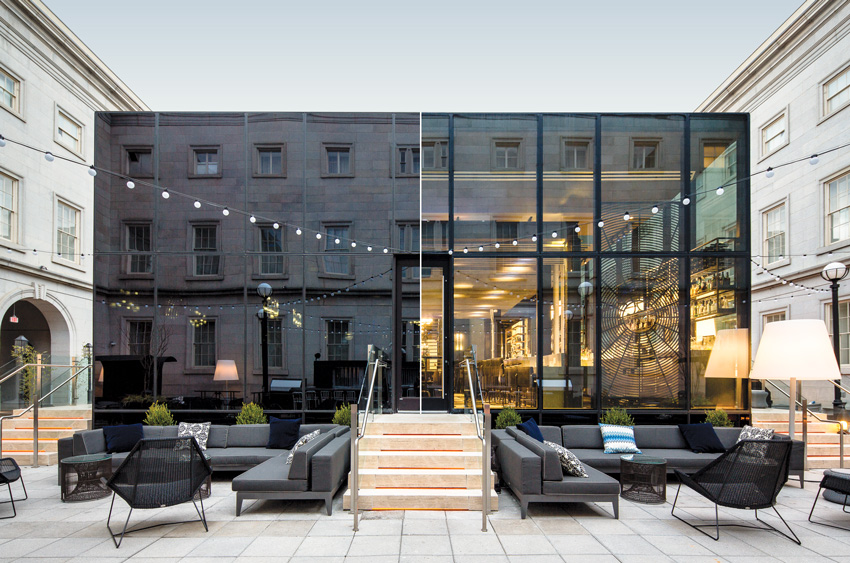 Photo courtesy of Saint-Gobain SageGlass
Fenestration can be implemented in buildings in many different ways to achieve a design concept balanced with performance requirements for natural light, energy use, and weather resistance.
The Power of Light
Many people are attuned to the cultural sentiment for well-lit spaces, but some scientific evidence based on research indicates that increased exposure to light makes people more productive and improves their sense of well-being, therefore improving overall wellness.1 Some specific studies have also looked at particular aspects of the impact of natural light on people, such as the following.
Biophilic design: Human beings have moved relatively quickly from spending most of our time outdoors to most recently spending up to 97 percent of our time indoors.8 Nonetheless, we still have some psychological and deep-rooted connections to things in the natural world that have been traced to the earliest days of living on terrain like meadows and the savanna.2 Recognizing these connections has become the impetus behind an effort known as biophilic design.
Exposure to light: Exposure to natural light has been shown to play an important role in a healthy sleep/wake cycle. More specifically the rhythmic pattern of dawn, day, dusk, and night affects our inherent circadian rhythms, influencing us in physical, mental, and behavioral manners. The rhythms of light and darkness in a person's environment are recognized by a type of receptor in our eyes, while the sun as a light source connects to our internal clocks, telling us when to wake and sleep.3,4
Lack of light: Research has shown that a lack of exposure to light can actually make people sick. In the 1980s, U.S. software firms discovered one of the most detrimental factors to engagement and productivity of their employees was a lack of natural daylight.5 Even worse, doctors began to diagnose patients who spent too much time in artificially lit, poorly ventilated spaces with Sick Building Syndrome, a condition affecting office workers that is attributed to unhealthy or stressful factors in the working environment.6 This has been recognized in Japan in a particular way where skyscrapers and intense urban density led to the concept of "nissho-ken," which translates to "a right to sunlight." After a string of "sunshine suits" in the late 1960s and early 1970s, more than 300 Japanese cities adopted "sunshine hour codes," specifying penalties that developers must pay for casting shadows. "Sunshine is essential to a comfortable life," the court opined, "and therefore a citizen's right to enjoy sunshine at his home should be duly protected by law.'"7
In response to the significance of daylight, then, it becomes incumbent on architects to take this into account in the interest of designing buildings that protect and promote the health and welfare of the people who occupy them. There are, of course, many different ways to meet these needs that center on "designing with light."

Photos courtesy of Marvin Windows and Doors
The concept of "designing with light" involves the judicious use of fenestration to provide connections between the indoor parts of a building and the natural, outdoor world.
Manufactured Windows
Manufactured unit windows are a common staple of many buildings whether residential, commercial, or even institutional. As a fabricated product, they need to have their own physical integrity for internal support and durability over time. In the past, that has meant heavy frame and sash members, usually made out of wood, which reduced the size of the glazing and therefore reduced the amount of light entering through the window.
Modern buildings tend to have more windows made with narrower frames. This increases the capacity for light to pass through the windows while also offering better views.
Those views to the exterior allow a direct connection to the healthy, natural state that people experienced when they spent most of their time outdoors. This speaks to biophilic design, since it brings the feeling of being in nature into the built environment. Manny Gonzalez, FAIA, LEED AP, is principal and director at KTGY, a Los Angeles-based architecture firm. He is sensitive to this biophilic approach, saying, "The feeling of being in nature stays with you, even while inside looking at trees, a garden, or patio. Your mind may not realize it, but your body wants that feeling of getting back to nature."
Applying this human longing for connectivity to the outdoor environment is what Gonzales and others cite as designing around natural light. "Being able to control the lighting— whether it's the natural light that you have, the UV rays that you get through a window, visibility, or window coverings—all those things start tying together when you're creating the proper environment," Gonzalez adds. "If you do a good job as an architect, the resident won't even know that they're experiencing biophilic design. They don't even think about it—it just feels good."
When a building design embraces and enhances the benefits of natural sunlight through deliberate window choices that strengthen our connection to the outdoors, those much-desired feelings of well-being are the natural result. The more exposure to the outdoors and light, the better we feel because we're more in sync with the rhythms of daylight, and therefore more in tune with nature. "All of these things tie into healthy living, the ability to get the sleep that you need, the wellness everyone is talking about trying to get," Gonzalez says. Window manufacturers recognize this point and have responded with updated products that provide minimal sightlines with larger expanses of glass. This combination helps provide a seamless, clutter-free appearance that makes it easier to engage with the outside world through windows and doors.
Christine Marvin, director of corporate strategy and design at Marvin Windows and Doors, is among the window company executives who are working to advance this approach. "People want to feel better and live healthier lives," she notes. "Light has a huge impact on how people feel about their home." In regard to the latest window products available on the market that maximize light and provide cleaner, more modern looks, she adds, "This enables homeowners to achieve what they seek in their home—connection, restoration, and freeness."
Among the features that achieve the myriad design and performance demands of windows, Marvin notes that sightlines can remain unobstructed with less than 3 inches of framing visible across window products in prefabricated and preconfigured components that save on installation time. Further, improvements in the frame design help keep interior temperatures comfortable and address energy conservation as much as improvements in glazing. Durable materials including high-density fiberglass speak to the strength and longevity of the windows, including their ability to seal against unwanted air infiltration over time.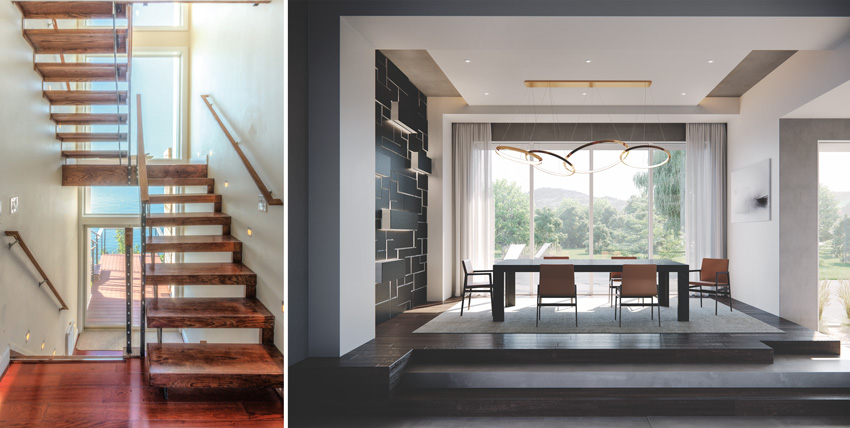 Photos courtesy of Marvin Windows and Doors
Windows are available with narrower framing to improve sightlines with cleaner appearances to maximize the view, receive natural daylight, and provide a sense of wellness to building occupants.
Originally published in Architectural Record
Notice
Effective Fenestration for Wellness and Energy Conservation
Buyer's Guide
Marvin® Modern Multi-Slide Door and Direct Glaze Window

Every Marvin Modern product works together as part of a visual system to help you design and configure with ease and confidence. Consistent profiles across all products—along with special innovations like our integrated mull channel—maintain the narrow and clean sightlines central to modern design.
NanaWall Opening Glass Wall Systems

NanaWall redefined the category of opening glass walls. By combining precision engineering and hundreds of options, we offer design possibilities beyond the conventional for almost any space.
SageGlass HarmonyTM

SageGlass Harmony
TM
is a unique glazing solution for designers seeking to enhance the occupant experience by maximizing visual and thermal comfort. While traditional solar management solutions compromise aesthetics and impede views, Harmony dynamic glass provides daylight, heat, and glare management while maintaining a natural and seamless connection to the outdoors.