Drainage and Drying in Low- and Mid-Rise External Walls
Low profile drainable housewrap removes moisture vapor and bulk water from wall assemblies
This course is no longer active
Sponsored by Benjamin Obdyke and Tamlyn
Performance Criteria of Housewraps
The International Code Council Evaluation Service (ICC-ES) evaluates building products (including housewraps) and provides opinions on code compliance (see chart below). For housewraps, the ICC-ES evaluates a variety of key characteristics including:
Water resistance
At its most basic function, a housewrap must hold out liquid water. ICC-ES allows for three different testing standards, and a quick overview of the protocols may help in better understanding manufacturers' published specs. The "boat test," (a folded-up boat of test material with indicator dye on its wet surface is floated in water, and timed to see how long the dye takes to appear on the dry surface) developed for paper and felt, is the least stringent standard. It is overly sensitive to humidity and vapor transfer and therefore unreliable for plastic housewraps. Better approaches are the "water ponding" or "hydrostatic pressure" tests. Water ponding is a measure of a housewrap's resistance to a "pond" of one inch of water over two hours. Hydrostatic pressure, the most stringent test, exerts significant pressures on a housewrap sample through a column of water (55 cm or higher). A premium housewrap should be able to pass both of the aforementioned tests.
Durability
A housewrap must be able to withstand the handling and application process without compromising its water-resistance performance. The tear resistance, or tensile strength of the product, is the best available indicator of whether or not a housewrap might be damaged. UV and cold resistance are also tested for housewraps. UV resistance depends on the time between the installation of the housewrap and the application of the siding. Many housewraps provide a recommendation that siding be applied 90-180 days after installation of the housewrap; however, in most cases housewrap should be covered within 30 days if possible. The cold resistance test standard is to ensure that housewraps do not start to crack at low temperatures.
Vapor permeability
Permeability measures the amount of vapor transmission that a housewrap will allow over a period of time, minimizing the potential for accumulation of moisture vapor. The higher the "perm number," the more vapor permeable the material. There is debate on the optimal permeance range for housewraps, with 10-20 perms considered by some to be a "sweet spot." Although grounded in building science, the debate over appropriate vapor transmission often focuses too much on the perm number. In reality, the permeability of a housewrap varies from lab conditions to installed conditions (particularly after the housewrap is fastened on a wall). For a product to be considered a housewrap (and not a vapor retarder), the permeance rating must be higher than 5. But a higher perm rating doesn't guarantee a better housewrap. Housewraps with mechanical micro-perforations may allow the passage of more water vapor, but they also make the housewrap vulnerable to bulk water leakage. Other housewraps with high permeability may allow moisture that is stored in reservoir cladding to be driven into the sheathing and insulation through solar drive.
Air resistance
An air barrier is a continuous system that stops the unintended movement of air across the building enclosure. Most housewraps are tested for their resistance to air movement, but the ICC-ES standard does not account for seams and penetrations. Therefore, air resistance is not a critical product selection criterion since real-world performance depends very much on installation conditions.
Drainage
Drainage is widely accepted as one of the most effective measures for reducing moisture damage due to rain penetration. Drainage is a critical component in allowing the housewrap to do its job–particularly in keeping walls dry. According to a study by John Straube and Jonathan Smegal of Building Science Corporation (Modeled and Measured Drainage, Storage, and Drying behind Cladding Systems: Research Report–0905), a 1mm drainage gap "will drain water at a rate considerably greater than rainwater is expected to penetrate behind cladding even in extreme conditions." A 1mm gap between the housewrap and the cladding provided a "measured drainage rate in excess of 1.1 liters/ minute-meter, more than the extreme driving rain intensity of the worst climate in Canada." Manufacturers are now focusing on housewrap products that are designed to provide an integrated gap and drainage plane.
Typical drainable housewrap sheds bulk water and moisture from an exterior wall by providing a low profile drainage space between the housewrap and exterior sheathing. The drainage space in this product is achieved by 1mm to 1.5 mm plastic spacers bonded to a high performance housewrap. Using drainable housewrap eliminates the need for design changes in the wall assembly. It requires no special tools for installation.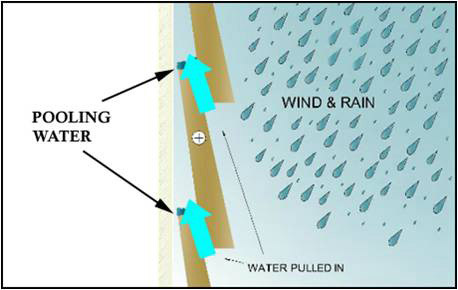 Pressure differentials during a wind-driven rain event can pulls water underneath siding, thereby creating pooling. Drainable housewrap behind the siding will prevent water from getting trapped in the wall assembly.
Provided by Benjamin Obdyke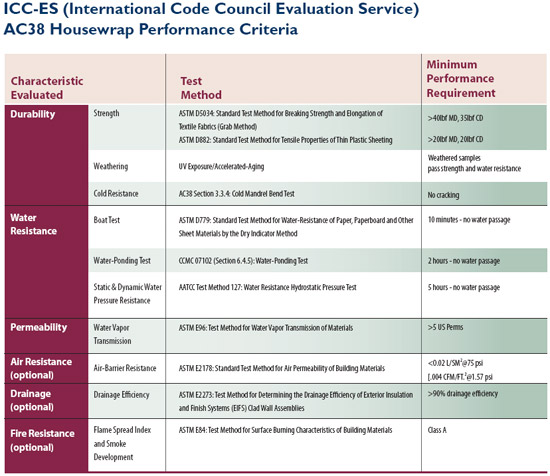 Example of ICC-ES (International Code Council Evaluation Service) AC 38 Housewrap Performance Criteria.
Provided by Benjamin Obdyke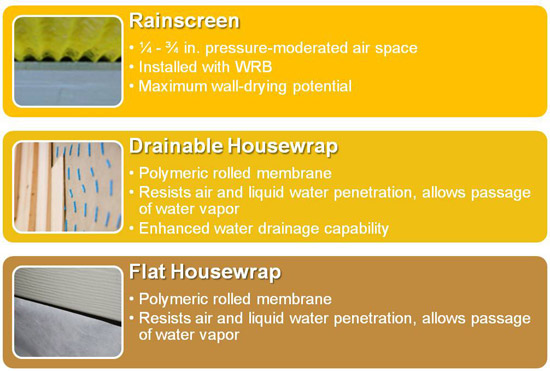 Moisture management options provide different levels of performance.
Provided by Benjamin Obdyke
Notice