Drainage and Drying in Low- and Mid-Rise External Walls
Low profile drainable housewrap removes moisture vapor and bulk water from wall assemblies
This course is no longer active
Sponsored by Benjamin Obdyke and Tamlyn
Reasons for Moisture Management
• Averting the potential for callbacks, remediation and/or litigation costs when mold or structural damage occurs due to improper moisture management.

• Managing moisture infiltration–especially in key coastal regions where experts predict more intense weather in future years.

• Preserving the life of exterior cladding, so that it dries optimally both on the inside and the outside of the cladding.

• Complying with growing federal requirements such as the International Residential Code (IRC) and the International Building Code (IBC), which requires a means of draining water that enters the assembly to the exterior. Oregon has added prescriptive measures since the IRC does not describe how to achieve drainage. In Canada, since 2005, the National Building Code has required the use of "....a drained and vented air space not less than 10mm deep behind the cladding over the full height of the wall..." in areas that exceed a certain annual rainfall threshold. Coastal provinces have already adopted this provision while many of the inland provinces are actively considering it.
Drainable Housewrap Installed on Ocean-front House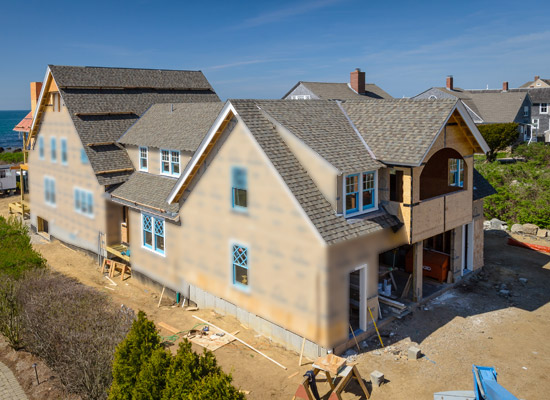 Photo courtesy of Benjamin Obdyke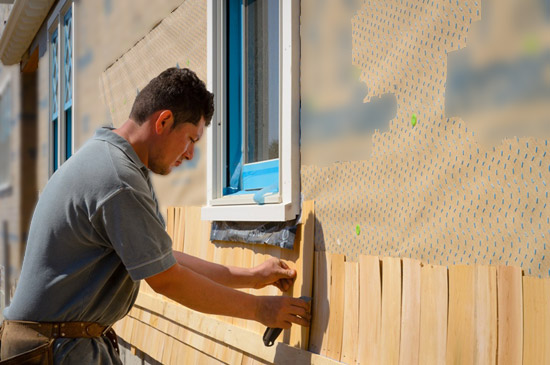 Shingles are installed directly over drainable housewrap.
Provided by Benjamin Obdyke
Designed for "Leadership in Energy and Environmental Design" (LEED®) certification by George Penniman Architects, LLC and constructed by Evergreen Building Systems, LLC, the 4,500-sq. ft. water front home in Westerly, R.I. required moisture management that met the demands of significant ocean exposure.
A drainable housewrap with 1 mm spacers to provide water drainage and channeling was installed. "The product is robust enough that it can withstand the high winds of a waterfront location before it is covered," says Michael O'Neill, Principal, Evergreen Building Systems. "It's easy to work with and the shingles lay flat on it."
Selecting Effective Housewraps
While the need for a solution that prevents moisture infiltration and permits drainage is clear, some confusion still abounds when it comes to selecting the right solution for each project. One reason is terminology. Product names such as housewraps, water resistive barriers, fluid-applied and self-adhered WRBs, and even building papers are frequently interchanged. Another is that housewraps are now available in dozens of varieties. Most are woven or nonwoven plastic fabrics made from either polyethylene or polypropylene. Some have micro-perforations to let water vapor pass through and others are designed to let water vapor diffuse through the fabric itself (micro-porous). In order for design professionals to make the most appropriate and effective choice, they should be familiar with the characteristics of housewraps.
Notice