Maximal products that minimize risk for healthcare facilities
Sponsored by Chicago Faucets, Inpro Corporation, and Rockfon
Learning Objectives:
Select among material options to ensure indoor environmental quality goals are met in the healthcare setting, promoting public health and enhancing quality of life for patients.
Using evidence-based design, create a project that captures visual and auditory benefits for occupants, including biophilia and avoidance of unnecessary noise.
Design a restroom in a healthcare setting that minimizes risk to patients by abating potential sources of infection and protecting vulnerable populations from scalding.
Apply codes and standards, such as FGI, to design a modern healthcare facility that responds to and solves aesthetic and social concerns as well as providing the necessary functional and sustainability required.
Credits:
This course can be self-reported to the AIBC, as per their CE Guidelines.
As an IACET Accredited Provider, BNP Media offers IACET CEUs for its learning events that comply with the ANSI/IACET Continuing Education and Training Standard.
This course is approved as a Structured Course
This course can be self-reported to the AANB, as per their CE Guidelines
Approved for structured learning
Approved for Core Learning
This course can be self-reported to the NLAA
Course may qualify for Learning Hours with NWTAA
Course eligible for OAA Learning Hours
This course is approved as a core course
This course can be self-reported for Learning Units to the Architectural Institute of British Columbia
You are not currently logged in to your CE Center account.
Log in
to view and complete the quiz questions that are embedded in this article.
Following the events of 2020, the American Institute of Architects (AIA) marshaled design professionals to the forefront of the radically changed public space. "Architects are uniquely positioned to help address many of the health challenges our society faces today─including COVID-19," the AIA announced. An increasing body of practice-based evidence does demonstrate the impact that design decisions have on human health for individuals and communities. By using evidence-based approaches, designers can mitigate pollutants that harm public health, promote physical activity that lowers the risk of chronic diseases, alleviate anxiety and stress, and improve emotional well-being to enhance quality of life. The movement towards flexible spaces also allows healthcare facilities to adapt to shifting demands.
A range of products stands at the ready to support design professionals in meeting client goals for healthcare facilities. Good design can support health and well-being. Employing healthy materials and finishes on a project also makes a measurable, positive impact on the health of people interacting with the building. Understanding the ability of materials and products to support health in design allows design professionals to achieve transformational outcomes very quickly.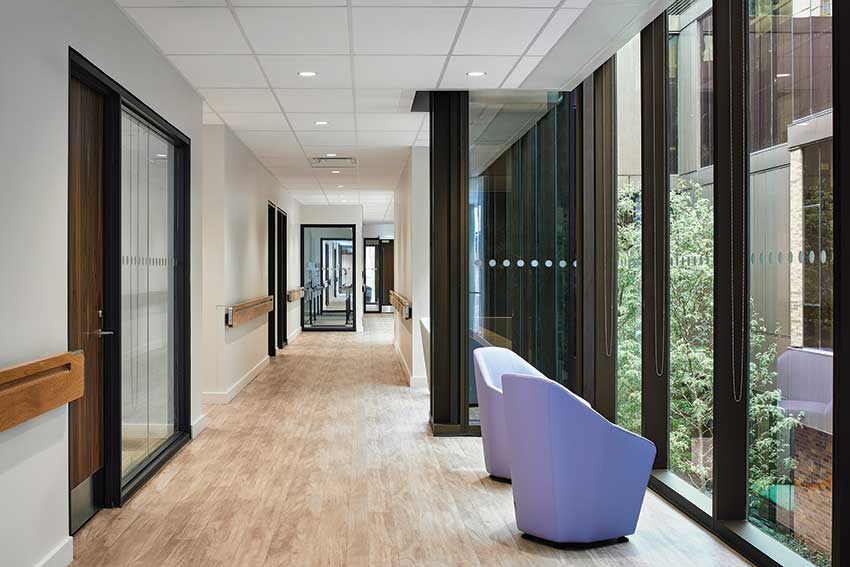 Photo courtesy of Doublespace, Photography; Rockfon
Modern healthcare facilities must exhibit conceptual strengths that solve aesthetic and social concerns as well as the necessary functional and sustainability concerns associated with such a setting. Pictured here is Casey House, a specialty hospital in Toronto.
EXPLORING NATURE IN PRODUCT TECHNOLOGY
Natural Material and Performance: Incorporating Stone Wool
Ensuring a healthy indoor environment is a priority when designing or renovating any space, especially considering that people today spend up to 90% of their time indoors. Indoor environmental quality (IEQ) focuses on the safety, cleanliness, and health and well-being of the buildings' occupants. Key components to delivering IEQ include acoustics, air quality, and daylighting. These IEQ requirements are only heightened for healthcare facilities.
Delivering on these ambitions hinges on the use of quality building materials. The choice of material is critical to deliver both a healthy space and to foster occupant health and well-being. Quality building materials can help create resilient buildings and avoid sick building syndrome, which impacts everyone.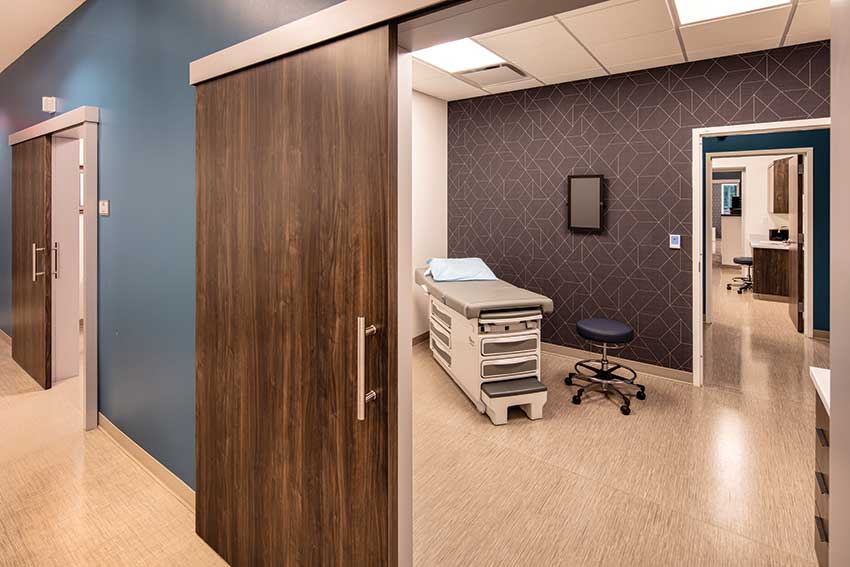 Photo courtesy of Dero Sanford, ThinkDero; Rockfon
IEQ requirements are only heightened for healthcare facilities. PGA Premier Medical Plaza, High Point, N.C.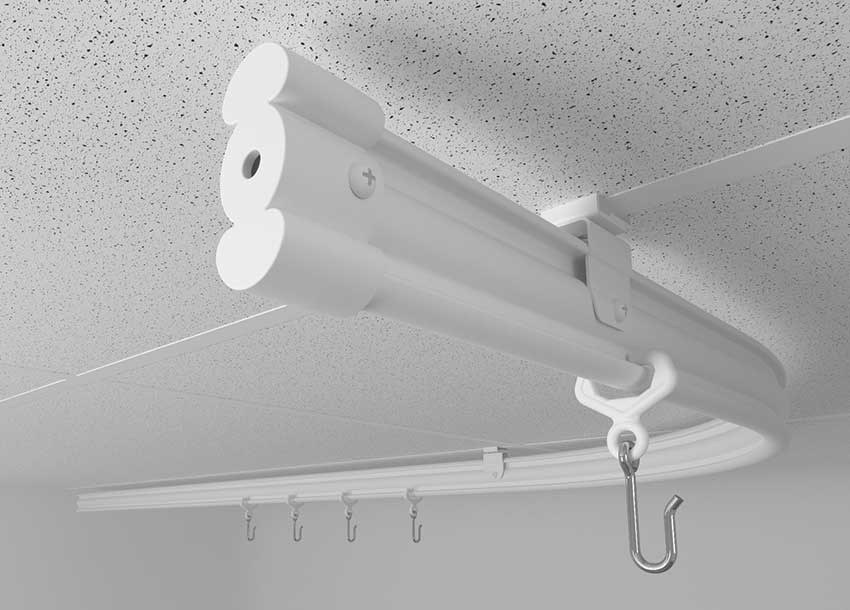 Photo courtesy of Inpro
New bendable track products allow for operation of privacy curtains at a more-comfortable decibel level of conversational speech (70 dBA). Not only does the track minimize unwanted noise, it also conforms to unique designs, allowing for better control of the space and movement for care.
One such building material is stone wool. Manufactured from naturally occurring basalt rock, the basalt is melted and spun into fine fibers to form a lightweight and resilient material to meet many of today's demanding needs in the built environment. A specific application for stone wool is in acoustic ceiling tiles. Highly sound absorptive, hydrophobic, naturally fire resistant, and providing no sustenance to mold and bacteria, as tested to ASTM D3273, stone wool ceiling tiles can play a vital role in delivering indoor air quality. Stone wool ceiling tiles and panels designed specifically for the healthcare environment achieve UL Greenguard Gold for low VOCs, helping achieve the overall design and health and well-being goals for many projects.
One of stone wool's natural properties is its ability to absorb sound and help deliver acoustic comfort. Acoustic comfort refers to an indoor environment that is conducive to providing speech intelligibility, speech privacy, low distractions and annoyance, and good sound quality. In healthcare environments noise control is a very important consideration for the recovery of patients, as "unwanted sound" can increase heart rate, blood pressure, and respiration rate. In hospitals, studies have shown that noise decreases patient and staff satisfaction and increases patient average length of stay and even 30-day readmissions rates.
As part of their pay-for-performance program, the amount of financial reimbursement provided by the U.S. Centers for Medicare and Medicaid Services (CMS) to healthcare providers for the care of patients depends in part on the facility scores as rated by patients using post-discharge satisfaction surveys. Historically, the lowest scoring metric has been quietness at night. In other words, it is known that a noisy healing environment results in poorer medical outcomes and greater costs. Therefore, CMS financially rewards providers with quiet patient environments.
In addition to improving medical outcomes and financial performance, good acoustics are federally mandated through the Health Insurance Portability and Accountability Act (HIPAA) of 1996. HIPAA's Oral Privacy Rule requires healthcare providers to take reasonable actions to ensure patient medical and financial information is kept private even when spoken.
Another critical performance consideration for healthcare settings is resistance to mold and moisture accumulation, which are some of the greatest threats to ceiling life. With no need for added performance chemicals, such as antimicrobials and flame retardants, stone wool ceiling tiles are ideal for healthcare spaces. Stone wool offers exceptional performance and is tested to key standards such as ASTM D3273 Resistance to the Growth of Mold on the Surface of Interior Coatings and ASTM C1338 Determining the Fungi Growth Resistance of Insulation Materials and Facings. They are also supported with a comprehensive range of sustainability and transparency documentation including Environmental Product Declarations (EPDs), Health Product Declarations (HPDs), and Declare labels, helping the client and architect achieve their ambitions goals.
Material Design: Controlling the Hospital Environment to Promote Healing
It takes a team approach and fresh thinking to tackle the factors making today's hospitals twice as noisy as they were 50 years ago. With the advances in material and technologies, the design community is accruing numerous tools in their kit to bring quiet to healing.
Historically, Florence Nightingale is credited with focusing attention on the impact of noise in 1859, writing, "Unnecessary noise, or noise that creates an expectation in the mind, is that which hurts a patient." The auditory environment of the 21st-century hospital is substantially louder, more complex, and more difficult to control than that of Nightingale's time. An article in the Boston Globe on noise in hospitals reported that noise levels have doubled since the 1960s. Numerous reports and studies point to the harmful effects of noise, which include fractured sleep and slower healing. Sleep interruption caused by noise has a significant negative impact on health and healing. Intensive care psychosis or delirium has been directly linked to environmental stressors, including noise, sleep deprivation, and social isolation.
The noise generated by privacy curtains is often overlooked. The opening and closing of privacy curtains in a patient's room contributes to noise levels. Traditional aluminum track noise ranks somewhere between the decibels generated by a busy residential road (80 dBA) and the inside of a bus (90 dBA). Advances in curtain track, which allow the track to be bendable, allow for much quiet operation. New bendable track operates at the more comfortable level of conversational speech (70 dBA). While there is no single silver bullet solution to reducing noise, even privacy curtain track can be designed to act within a multidisciplinary approach, creating a culture of quiet for healing.
By addressing small elements, like a curtain track, healthcare spaces can promote higher IEQ. Since even minute elements can positively impact IEQ, what is the potential when larger building components are scrutinized? Walls are one of the largest elements in an interior. While products exist to help minimize contamination and damage in a healthcare setting, what if walls could also motivate and encourage patients on their healing journey? There is an increasing body of research that shows the use of artwork in healthcare settings leads to improved patient well-being and better outcomes. In addition, the rise in awareness of biophilia and its impact on the calmness and mental state of patients also points to the importance of such elements in healing environments.
By incorporating images on durable PETG (polyethylene terephthalate glycol) wall protection, walls in hospitals are protected from damage, and yet serve as a powerful canvas to inspire patients as they heal. Therefore, walls become another material with dual purpose: safety and holistic healing.
Material Advances: Fixtures
Any time the news is filled with reports of viruses spreading, people become hyper-aware of the possibility of disease transfer through public spaces, particularly restrooms. At any point in time, the surface of a typical sink faucet can harbor germs like the common cold, E-coli, influenza, salmonella, streptococcus, and typhus. According to an article published by the Mayo Clinic, viruses like colds and flu can survive for several hours on a hard surface. And according to the Centers for Disease Control and Prevention (CDC), staph like MRSA can live on a surface for weeks.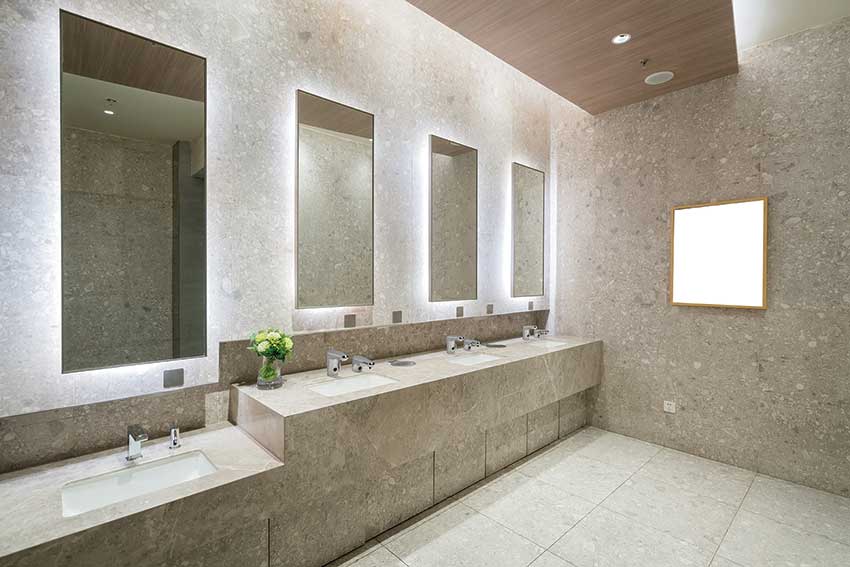 Photo courtesy of Chicago Faucets
Restrooms can play a central role in keeping occupants healthy, if properly designed.
What can facility managers do to promote the health and safety of their occupants and visitors, particularly in higher risk healthcare facilities? Touchless faucets with electronic sensors eliminate the need to touch the faucet to operate it. A no-touch faucet prevents users from leaving behind and picking up germs on faucet handles. Selecting sensor-operated faucets brings additional options, too. Facility managers can manually set faucets for a 60-second scrub mode, a feature that helps hospitals, doctor's offices, and other medical facilities to encourage their caregivers to follow the CDC handwashing guidelines.
Additionally, new faucets offer built-in, ASSE 1070-compliant thermostatic mixing valves, a practical add-on that helps prevent scalding. Alternately, a single-supply fixture that dispenses water from the building's pre-tempered water supply can be specified to protect against scalding. Advances in technology allow touchless faucets to provide the ultimate in convenience and comfort, helping to prevent the spread of germs that can result in healthcare-acquired infections and providing the best care to patients and staff.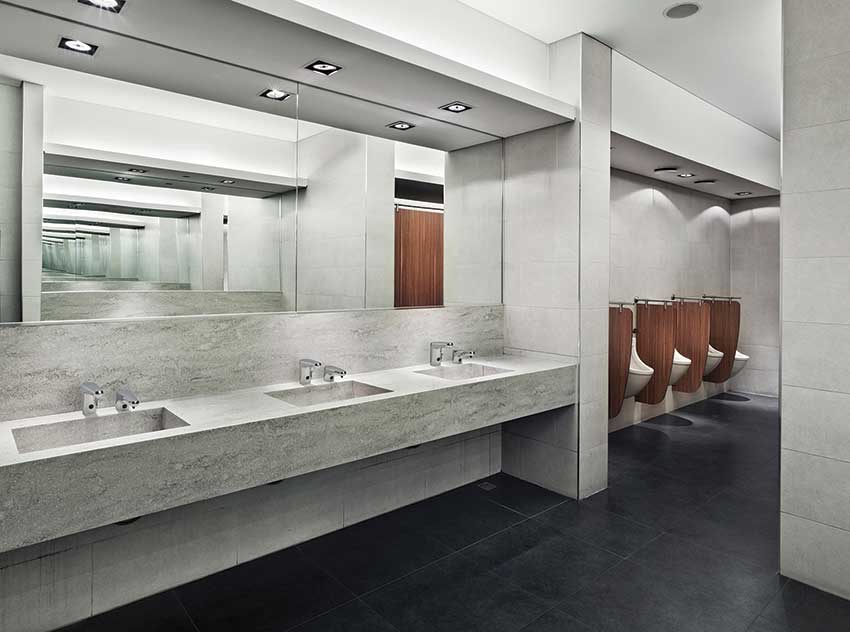 Photo courtesy of Chicago Faucets
Extruded aluminum trim can be effectively used for smooth transitions between different cladding panel types at inside and outside corners, edges, and other locations.
Originally published in Architectural Record
Originally published in November 2022
Notice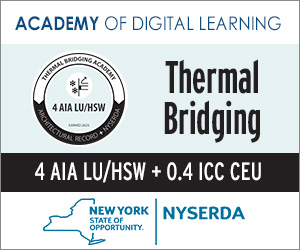 Do-No-Harm Design
Buyer's Guide
Images that makes an impact ... and take an impact!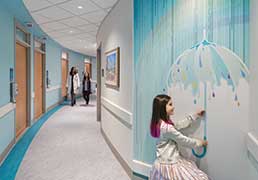 Walls are one of the largest elements of your interiors. Give them a purpose and expand their longevity with Aspex® Printed Wall Protection. Your image, your branding, your statement - Aspex
®
gives you total design freedom while protecting walls from damage at the same time.
Rockfon® Medical™ Plus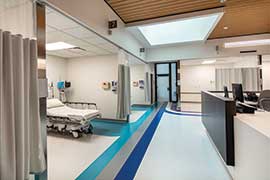 Rockfon
®
Medical
™
Plus delivers high performance acoustic performance with an NRC of 0.90, helping to control unwanted noise within a medical facility, helping create a space for both patients and staff alike. Achieving UL Greenguard Gold for low VOC emissions, it is also fully supported with HPDs and Declare labels.
Black is the New Black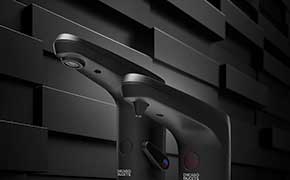 Our most popular touchless faucet, the E-Tronic
®
80 Series, is now available in a rich matte black finish with a matching touchless soap dispenser. Available built-in scald protection and touch-free operation offer the ultimate in user protection and convenience. E-Tronic
®
80 features easy installation, full programmability, and Chicago Faucets durability.