A few technologies have radicalized sustainability. Here are five.
Sponsored by Mitsubishi Electric Cooling & Heating, MP Global Products, LLC, PIMA – Polyisocyanurate Insulation Manufacturers Association, reThink Wood, and Simonton Windows & Doors
Learning Objectives:
Explain how building materials and systems such as ductless HVAC and structural timber systems affect building sustainability and carbon footprint.
Discuss how building envelope design, particularly insulation choice and thermal bridging at window frames, impacts building energy efficiency and sustainability.
Describe how building materials and product solutions, including underlayments and other unseen elements, can improve building occupant health and productivity.
List recent trends in product development and application that impact building performance and sustainability.
Credits:
This test is no longer available for credit
Integration and holism are hallmarks of sustainable design today. In fact, being green is all about being the ultimate design polymath—or to use an antiquated term, a true Renaissance man (or woman). Green building requires some knowledge, if not mastery, of everything from transportation analysis and life-cycle assessments (LCAs) to mechanical engineering and materials chemistry. No wonder sustainability consultants are in such high demand.
One of the truisms of this complex and multidisciplinary world of green building has been that no single product or system can, on its own, make a building green. Yet it can be argued that a number of specified items do have, in fact, an outsize influence on the building's success. A few relatively recent innovations have shown that incremental and sometimes sudden game-changing advances are possible. Some have humble beginnings—industrial lint from fiber spinning, for example, long a waste stream in search of a purpose—while others hail from America's heyday in aerospace invention. These novel creations have influenced how architects and interior designers even define and measure sustainable performance.
This learning unit considers five innovative products or systems on the market today that have disrupted and realigned the world of sustainable design. Two of them play unique support roles: closed-cell insulation and recycled-fiber floor underlayments, while another is a structural system: mass timber. Two others are unitized products delivering novel advances in their categories: ductless split air-conditioning and vinyl-clad and -framed fenestration assemblies. While they are all very different with unique potential impact on green building projects, each one has had a disruptive effect on the trajectory of underlying green design trends.
From Asia with Love: VRF Air-Conditioning
Let's start with a technology for more flexible and efficient HVAC systems, called variable refrigerant flow zoning, or VRF. More and more, architects worldwide are adopting these products pioneered in Japan that, similar to ductless mini-splits, push conditioned refrigerant rather than air to spaces requiring cooling or heating. This is a radical notion in the United States, where more than three-quarters of buildings and residences use ducted conditioning. Yet, for the green building world, the rate of adoption is high, with increasing use on the commercial side. Why?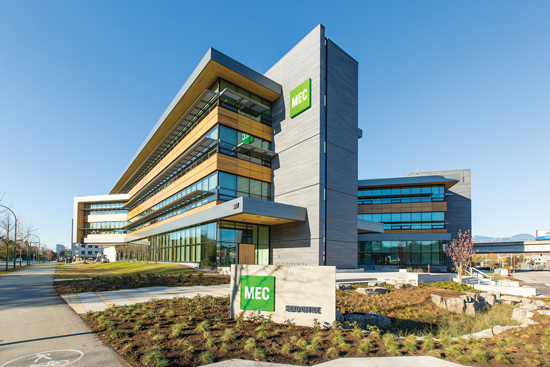 Headquarters for outdoor retailer Mountain Equipment Co-Op, by architect Hugh Cochlin with Proscenium Architecture + Interiors, uses fir and glued-laminated timber columns and beams with nail-laminated timber floor decks.
First, the systems are highly efficient and also eliminate thermal losses and leaks associated with ductwork, which "can account for more than 30 percent of energy consumption for space conditioning, especially if the ducts are in an unconditioned space such as an attic," according to the U.S. Department of Energy (DOE).1 Second, "Personal comfort control requirements are driving the use of VRF in assisted living facilities, health and wellness facilities, college dormitories, classrooms and more," says Kevin Miskewicz, senior manager of commercial marketing for Mitsubishi Electric US Cooling & Heating. "The individual control aspect as well the emphasis on personalized comfort makes VRF a disruptive technology in the relatively staid world of HVAC systems."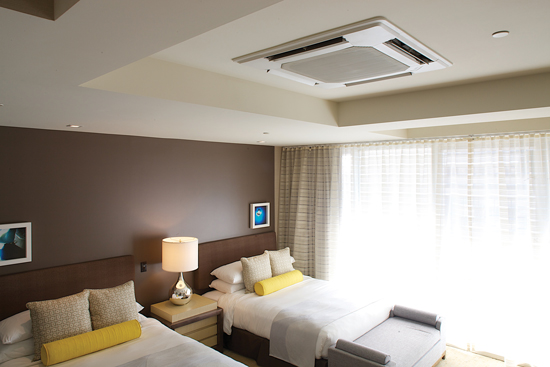 The highly energy-efficient variable refrigerant flow (VRF) zoning system was used in Hotel Wilshire, which earned key LEED credits.
Lumber Goes Big Time: Mass Timber Structures
A second area of unexpected yet radical change is in structural systems, where mass timber is suddenly competing with concrete, steel, and unit masonry. Embraced enthusiastically by some architects, these systems include cross-laminated timber (CLT), glue-laminated timber (or glulams), and also nail-laminated timber (NLT, or nail-lam), which is created from dimensional lumber stacked on edge, fastened together with nails, and often topped with plywood sheathing to create a structural diaphragm. (One architect called the concept "plywood on steroids.") All these thick panels and massive columns and joists are being used for midrise projects in North America and Europe up to 15 stories high, with projects on the boards that will create innovative skyscrapers—of timber.
According to the USDA's Forest Products Laboratory, next-generation lumber and mass timber products are becoming the latest innovation in building, enabling longer wood spans, taller walls, and higher buildings. And it's not just the time-tested benefits of timber driving this adoption. "Wood can contribute considerably to reducing carbon emissions associated with the built environment—both embodied and operational," adds Rebecca Holt, a LEED-accredited sustainable building advisor and senior researcher with Perkins Will, because wood stores carbon and simultaneously offsets emissions from conventional building materials. Plus, there's also the pure excitement of the notion. A recent study by Perkins Will on tall wood buildings and a TEDtalk by architect Michael Green on wood skyscrapers, for example, have become viral sensations.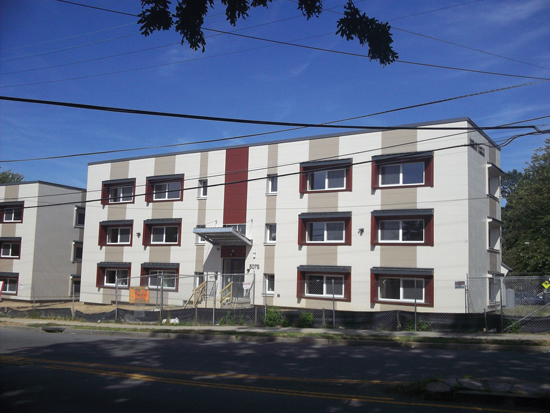 Photo courtesy of PIMA - Polyisocyanurate Insulation Manufacturers Association
For the Weinberg Commons affordable housing renovation in Washington, D.C., the Passive House certified building with very low energy usage was designed by architects Matt Fine and Bruce Zavos of ZA D.
Originally published in Architectural Record
Notice