Detailing Continuity in Building Enclosure Systems
Integrated products and proper detailing help maintain air, water, and thermal barrier integrity
Sponsored by ZIP System®, by Huber Engineered Woods
Learning Objectives:
Explain the four primary, code-based barriers that make up a building enclosure system for traditional and high-performance green and sustainable buildings.
Define the primary issues related to continuity of building enclosure barriers, particularly in wood-framed wall and roof assemblies.
Review the common choices for products and materials for building enclosure barriers, including critical transitional areas when using integrated sheathing to maintain barrier continuity.
Compare different drawing details and solutions for their use in wood-framed wall and roof assemblies for conventional and green/sustainable buildings.
Credits:
This course can be self-reported to the AIBC, as per their CE Guidelines.
The role of the building enclosure is to provide proper separation between the building interior and the exterior. Beyond the structural enclosure, separation is accomplished through the use of four primary types of barriers: water-resistant barriers (WRBs), air barriers, thermal barriers, and vapor retarders. All of them are intended to restrict or control the passage of a targeted item (water, air, heat, or moisture) through a roof, wall, or foundation system. While this can seem fairly straightforward along flat, continuous surfaces, it is the noncontinuous conditions that present design and construction issues. These can include transitions from one material to another, penetrations, or interruptions caused by planned openings such as windows and doors, or changes in surfaces such as roof/wall junctions or parapets. Proper design and specification details of all of these areas is critical, particularly in wood-framed exterior wall assemblies to reduce the risk of compromising any of the four primary barriers. Understanding the choices and developing complete details as part of construction drawings is the best way to achieve integrity and continuity of the building enclosure barriers to create air-tight, weather-resistant enclosures that promote energy efficiency and long-term durability. This course will look at the continuity issues of the four primary barriers and present a series of drawings and details that can help accomplish these goals.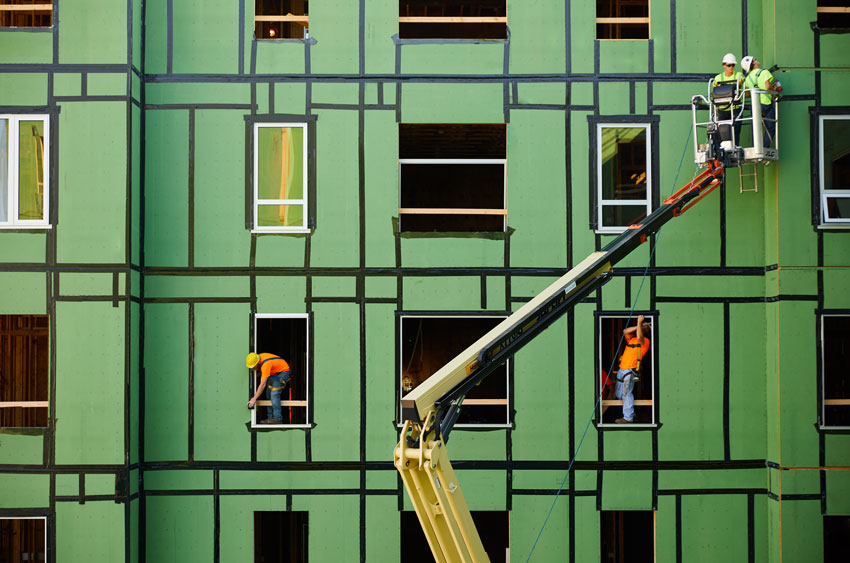 Photo courtesy of Huber Engineered Woods, LLC © 2017
In order to assure the continuity of the water, air, thermal, and moisture barriers in building enclosures, detailed attention is required at changes in wall and roof surfaces, transitions, and openings.
The Primary Issue: Continuity of Barriers
It's easy to write the word "continuous" on a construction drawing to describe any barrier in a building envelope, but that is hardly enough to assure that it will be achieved. The reality is that the building envelope and all of its details need to be designed and constructed to assure that all of the barriers are in fact continuous.
A common technique used in the process of commissioning building envelopes (yes, just like commissioning HVAC and other systems) is to look at a building cross section. Then, starting at the foundation level on one side, draw a line upward. At the first change in construction (i.e., an opening, a different construction assembly or material, etc.), draw a circle around it. Then continue on up the wall until the next change and do the same, and so on. When you reach the point where the wall meets the roof, draw a circle around that point too. Then continue along the line of the barriers at the roof level, at whatever pitch, and circle any changes in conditions there too. At the next roof/wall junction, draw a circle there and proceed down the wall in like manner as the other side until you reach the base of the foundation again. Every circle now represents an architectural detail that is needed to show how all of the barriers in the building envelope need to be treated to be fully continuous across each of the conditions encountered. If the building section is not representative of all possible cross sections of the building, (i.e., different sections are different heights, different massing, etc.), then building sections need to be looked at in the same way for those other areas, and the process of circling the details is needed there as well. Cases where there are offsets in walls or roofs or a change in materials used between sections will need attention. It is also important to address all typical and nontypical openings around windows and doors or penetrations for electrical and mechanical systems.
This process of identifying all of these areas for detailing is important to assure that air, water, heat, and moisture don't end up in places where they aren't intended. The integrity of each of the barriers is the only way to assure that doesn't happen. If any one of them become compromised, then the performance of the building enclosure is lessened below what was intended or predicted. In some cases, that may be a minor inconvenience to occupants who experience a slightly uncomfortable draft or cool surface. In other cases, it can lead to a slow deterioration that may go unnoticed from the outside but cause damage within the construction assemblies that shortens the overall service life of the enclosure. Such damage can also compromise the ability of the envelope to remain energy efficient (i.e., wet insulation with reduced R-values or unintended gaps that increase air infiltration), causing an increase in the need for energy to heat or cool the building. In the worst case, it can lead to functional failure of the barrier and/or the construction assembly. That can subsequently domino to damage other areas of the building, including deterioration of the structural system. If water and moisture get trapped around organic material, it can lead to mold and mildew that can have health impacts on the occupants. These outcomes are undesirable on multiple levels: they aren't good for the building, they aren't good for the occupants, and they aren't good for the professional liability of architects.
Hence, with all of the above in mind, let's first take a closer look at defining each of these barriers and then look at some details to address their continuity.
Originally published in Architectural Record
Notice