Designing Interiors with a Full Palette of Choices
Consider all the options for creative results
Sponsored by ASI Group, Bradley Corporation, Cultured Stone, Inpro, Tamlyn, and Vectorworks
You are not currently logged in to your CE Center account.
Log in
to view and complete the quiz questions that are embedded in this article.
Fire Resistance: As in other spaces, there are two standard test methods used to measure the level of fire safety of interior finishes that may be used in restrooms. The first, ASTM E-84, tests the surface burning characteristics of building materials using a tunnel test method. The other standard is a more rigorous room corner test, performed in accordance with NFPA 286, which measures the contribution of interior finish materials to room fire growth during specified fire exposure conditions. Both of these should be cited in specifications for the appropriate level of fire resistance in materials and products used in commercial building restrooms.
Cleanliness: The need for clean restrooms is also obvious, but it isn't always just up to maintenance staff to achieve that. The materials and accessories used in a restroom design can have a big impact on the ability for the restroom to hold up to repeated cleanings and look good over time. Toilet partitions make one of the biggest visual and material impacts and come in several material options, such as powder-coated steel, stainless steel, solid plastic, plastic laminate, and phenolic. Each has its strengths and weaknesses in terms of cleanliness and durability for different situations. The way partitions are mounted can also impact the ease of maintenance and the types of cleaning products one can use. Similarly, washroom accessories require a good material choice. Specifying washroom accessories with every product part made only of type 304 stainless steel, the standard for the washroom industry, will go a long way in both cleanliness and sustainability. Free plastic dispensers or low-grade dispensing systems can produce less than desirable results all around. Relatedly, specifying top-fill, multi-feed systems for soap dispensers can make maintenance fast and cost effective, creating a better, more hygienic occupant experience.
Keeping these design principles in mind can help ensure a well-rounded, holistic design that is consistent with the interior design of the rest of the building.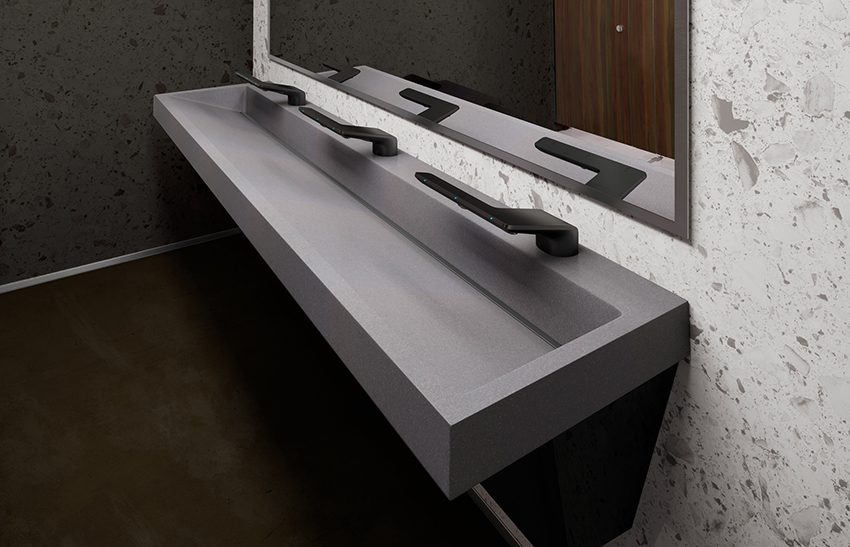 Photo courtesy of Bradley Corporation
All-in-one wash, soap, and dry fixtures provide a sophisticated, high-tech solution to restroom design.
RESTROOM PRODUCT AND MATERIAL CHOICES
When designing commercial restroom spaces, architects and designers have more choices for many of the fixtures and related components of these rooms. This is true not only for partitions and accessories but also for washbasins, faucets, and drying options. Manufacturers offer a full palette of choices in different materials, colors, finishes, and options. This increasingly robust collection of restroom options allows architects and designers to express individual visions while still meeting building performance requirements. Some of these options are discussed in more detail as follows.
All-in-One Handwashing Typical restrooms often incorporate separate fixtures for dispensing soap, water, and hand drying. However, there is a new concept that is gaining popularity. Innovative "all-in-one" handwashing fixtures are now available that incorporate a soap dispenser, a water faucet, and an electric hand dryer all in one streamlined wash bar unit. When paired with an appropriately designed sink, these touch-free fixtures support hygienic handwashing, reduce germ touchpoints in restrooms, and improve overall facility cleanliness. The dryer and bowl work in tandem to keep water from splashing outside the basin onto the floor, walls, or user, improving washroom cleanliness and safety. Integrating soap, water, and dryer into one fixture also eliminates deck and washroom clutter.

All-in-one handwashing models are designed with accessible, easy, and intuitive handwashing interaction for users. Such fixtures are available in an expanded selection of finishes, shapes, and options to fit the needs of different restroom space designs. The all-in-one design integrates soap, water, and dryer in a single piece of durable cast metal in chrome. There are also popular and attractive finishes that are produced with physical vapor deposition (PVD), an advanced process that creates a molecular bond to the fixture, creating a resilient coating that will not corrode or fade.

This handwashing type of fixture is available in several options. In addition to the classic straight bar design, an ultramodern model incorporates a streamlined L-shaped silhouette. Alternatively, other types expand designers' options when only touch-free soap and water are needed, without the hand-drying feature.

Coordinated Soap and Faucet Sets If all-in-one fixtures aren't appropriate for a given project, then well-coordinated separate fixtures may be considered. Coordinated soap dispenser and faucet sets, designed as perfectly matching pairs, can unify and harmonize the look of washroom spaces, eliminating separate mismatched deck mounted soap dispensers and faucets. These identical touchless handwashing sets are available in popular touchless styles – graceful arcs, refined curves, bold angles – and multiple PVD finishes to complement each designer's washroom design vision. For soap and faucet fixtures, PVD coatings are not only a more sustainable way to finish metals than traditional electroplating, but they are also inherently antimicrobial. In addition to polished chrome, PVD finishes include brushed bronze, brushed stainless, brushed black stainless, brushed nickel and brushed brass.

Photo courtesy of Bradley Corporation

Coordinated soap dispensers and faucets can be used to complement a total restroom design appearance.

Basin Materials Designers can pair any model of all-in-one handwashing fixtures or coordinated soap and faucet sets with streamlined, cast-formed basins made of a choice of materials. Currently, many designers are choosing to use a resilient, natural, quartz-based material or customized solid surface basins that are available in a range of sizes, styles, and popular colors.

Matte-finished quartz is a fresh new option with a stone-like appearance for commercial handwashing basins. Made from a sustainable blend of bio-based resin and a mixture of extra-fine grade quartz, this new quartz option is available in current washbasin designs. The natural matte finish provides an understated texture that is available in different monochromatic colors which take their cues from the natural environment. These include colors such as mesa white, limestone, sandbar, desert clay, lunar gray, bedrock, cinder, and black onyx. This visually striking natural quartz material is elegant, durable, hygienic, and sustainable. The material is ideal for accentuating modern washroom spaces with an organic appearance and soft feel that does not show fingerprints. Since it is cast-formed, such washbasins can be specified in a number of attractive seamless shapes and forms.

These expanded surface material options support cleanliness and flexible design since they are nonporous, smooth, resilient, and seamless. These qualities help prevent bacteria and mold accumulation and growth. They can also be more easily cleaned, disinfected, repaired, reused, and have a longer life cycle. Such materials are sustainable, with some achieving GreenGuard certification.
Originally published in Architectural Record
Originally published in October 2022
Notice