Designing for the Contemporary Custom Home
Integrating design choices into a cohesive aesthetic while satisfying performance and sustainability goals
Sponsored by Cascade Architectural, Humboldt Redwood, and Rocky Mountain Hardware
Learning Objectives:
Discuss the many design goals that elements in a contemporary custom home must satisfy, and which features can improve energy performance while contributing to the home's overall aesthetic.
List criteria that can help designers select products and materials that are sustainable, ecologically responsible choices for a custom home.
Explain the role that various third-party certification programs and labels such as the Forest Stewardship Council and Declare can play in making sustainable choices.
Describe how various elements of a custom home can contribute to biophilic design.
Illustrate how manufacturers can work with design professionals to create individualized solutions for custom home projects.
Credits:
This course can be self-reported to the AIBC, as per their CE Guidelines.
As an IACET Accredited Provider, BNP Media offers IACET CEUs for its learning events that comply with the ANSI/IACET Continuing Education and Training Standard.
This course is approved as a Structured Course
This course can be self-reported to the AANB, as per their CE Guidelines
Approved for structured learning
Approved for Core Learning
This course can be self-reported to the NLAA
Course may qualify for Learning Hours with NWTAA
Course eligible for OAA Learning Hours
This course is approved as a core course
This course can be self-reported for Learning Units to the Architectural Institute of British Columbia
This test is no longer available for credit
The contemporary custom home can trace its origins to the Modernist movement of the early and mid-20th century, and to trailblazing architects such as Frank Lloyd Wright, whose designs cultivated a deep connection between indoors and outdoors.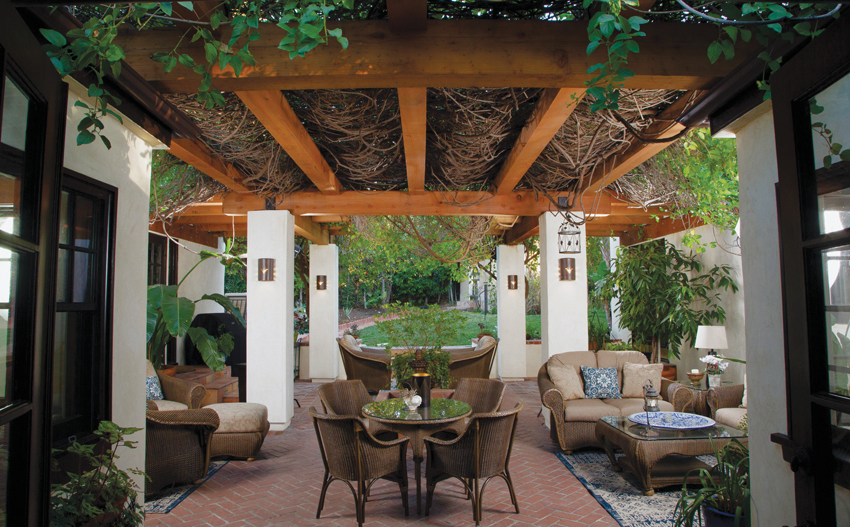 Photo: Jack Hutcheson Photography
Redwood timbers add organic beauty and warmth to indoor and outdoor rooms.
Contemporary homes tend to reflect a blend of styles, and while each design is an original, these homes tend to embrace several general strategies. The connection with the outdoors is paramount, and many contemporary home designs include ample windows and skylights that connect occupants with views, fresh air, and sunlight.
Open plans facilitate daylighting and encourage a more casual living pattern. Gone are the formal dining room and confined kitchen; instead, the kitchen connects to the living area and, just as importantly, to outdoor rooms and patios, where grilling and dining can occur. These open rooms must flow seamlessly into the outdoors, where outdoor rooms and landscaping complement the aesthetic of the main structure.
Contemporary home designs also tend to emphasize simplicity and function: narrow sightlines and an absence of ornament. But far from being austere, the contemporary home aesthetic is characterized by a preference for organic and "unprocessed" materials that work harmoniously with each other to create a sophisticated, modern look that is simple but warm. Often designers and clients show a preference for wood, metal, and stone, as well as an earth-toned or neutral color palette.
Of course, many of these choices play a role beyond simple aesthetics. Clients of custom homes often have many goals for their project, including energy efficiency, safety and security, health, and comfort and convenience. Some are also concerned about the environmental footprint of their home and want to do what they can to minimize negative impacts.
Designers and homeowners have never enjoyed such a variety of choices in nearly every design category, from windows and doors to flooring and finishes. With so many brands, styles, and finish options, the designer has the rewarding but undeniably challenging task of integrating all of these disparate elements into a harmonious whole and ensuring that these elements perform other required functions.
Fortunately, designers can rely on some timeless combinations and materials. Stone, wood, and metal never go out of style; these materials also tend to be durable and strong. Classic combinations include wood doors and cabinetry with metal pulls and hardware; exposed wood beams and metal roofing; and wood- or metal-clad windows and metal fabric shades.
Some specific examples show how durable, timeless materials can help create a harmonious aesthetic while contributing to other design goals.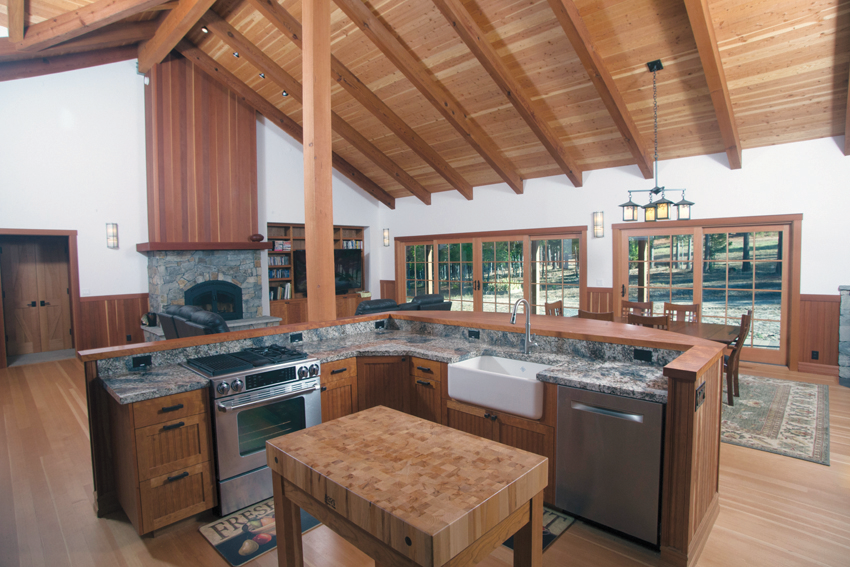 Photo: Jack Hutcheson Photography
Warm and versatile redwood is a material that can be used inside and outside the home in both structural and "appearance" products, such as tongue-and-groove ceilings.
Natural Warmth and Beauty: Redwood Timbers and Uppers
Wood is a classic design choice and one of the oldest building materials. It is beautiful, strong, and versatile, with an array of possible applications. It can be used indoors and outdoors, and in both structural or non-structural applications.
Of all the domestic wood species, coast redwood is among the most desirable. One of the lightest softwoods found in North America, redwood is also structurally strong, making it ideal for a wide range of structural applications where large timbers are required.
Timbers are the largest pieces of solid sawn lumber produced by sawmills, typically 5 inches thick and larger. Cut from the center of the tree, redwood timbers are a rich, reddish-brown tone. Being a natural product, each piece displays a unique grain pattern.
The use of redwood timbers for timber framing and exposed beam construction can produce dramatic results and lend natural beauty and strength to custom home projects. Redwood timbers can be used as posts and beams, in arbors, barns, shade structures, and trellises as well as the main home structure.
Upper grades are high-value appearance products used in finish applications, such as fascia, millwork, paneling, siding, trim, and wainscoting. Redwood upper grades can add natural warmth, beauty, and long-lasting durability to a custom home project. These uppers also exhibit Class B flame spread and are approved for use in California's Wildland Urban Interface fire-hazard severity zones for exterior siding and decking.
When sourced from sustainably managed forests, redwood is an environmentally responsible design choice that sequesters carbon. Whatever the application, redwood can complement a variety of other materials and help create a distinctive aesthetic.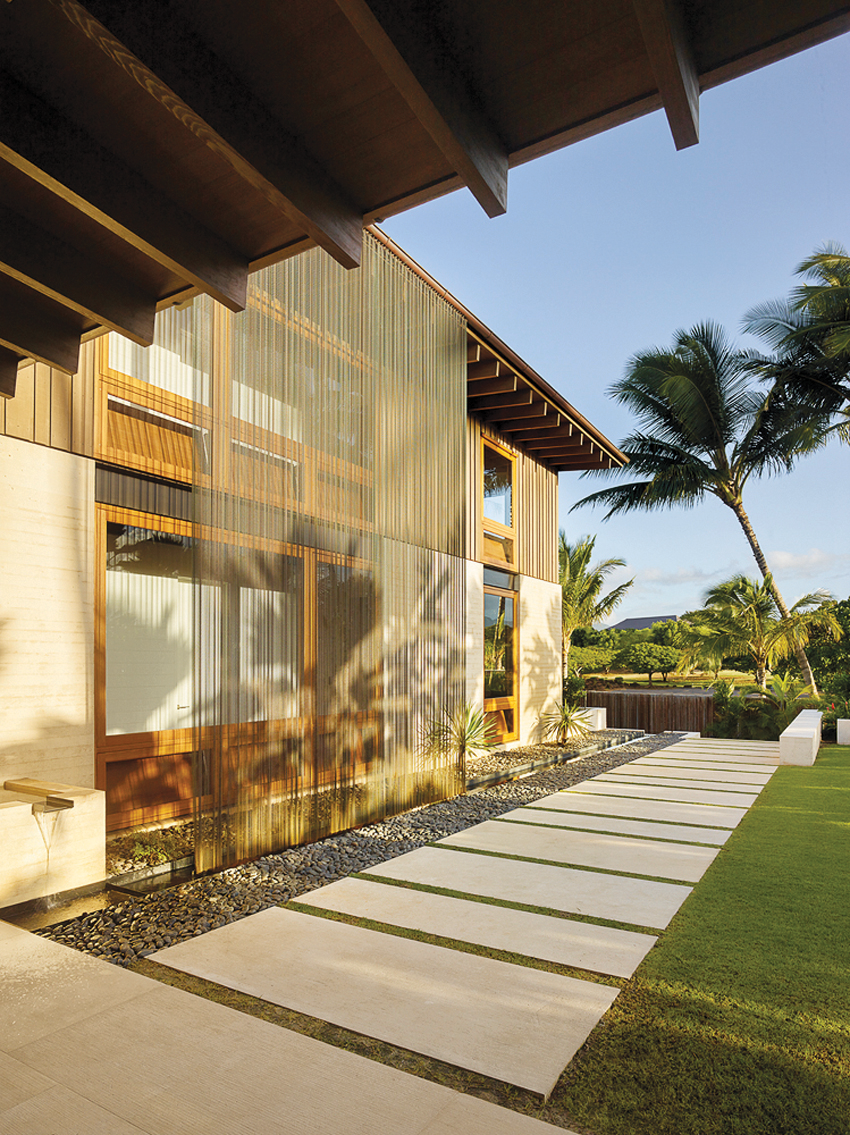 Photo: Matthew Millman Photography; courtesy of Walker Warner Architects
Coiled wire fabric makes a striking design statement while performing the important function of controlling solar gain and glare.
Versatile Style and Functionality: Coiled Wire Fabric Panels
Coiled wire panels are made by weaving strands of stainless steel wire into strong but flexible panels. These panels are highly decorative and versatile. They can be used both inside and on exteriors as cladding facades, solar shading, window and ceiling treatments, room dividers and partitions, and for architectural lighting effects. These panels are ideal for porches, patios, and other outdoor gathering spaces, as they enable air circulation and preserve views while controlling glare and heat gain.
Coiled wire fabric is highly customizable. Available in a range of weave sizes, gauges, and finishes, the panels can reflect and complement a range of architectural styles. The systems are operable; panels can be retracted to allow in more light or closed when the sun is at a lower position and prone to glare.
Coiled wire fabric can help reduce energy costs by controlling solar gain. The material is also easy to maintain, durable, and 100 percent recyclable, making it a good choice for clients striving to reduce the environmental impact of their projects.
Architects, interior designers, and custom homebuilders can take advantage of the design and engineering support offered by manufacturers of these systems, using the basic building blocks to create original designs tailored to the particular aesthetic of the home.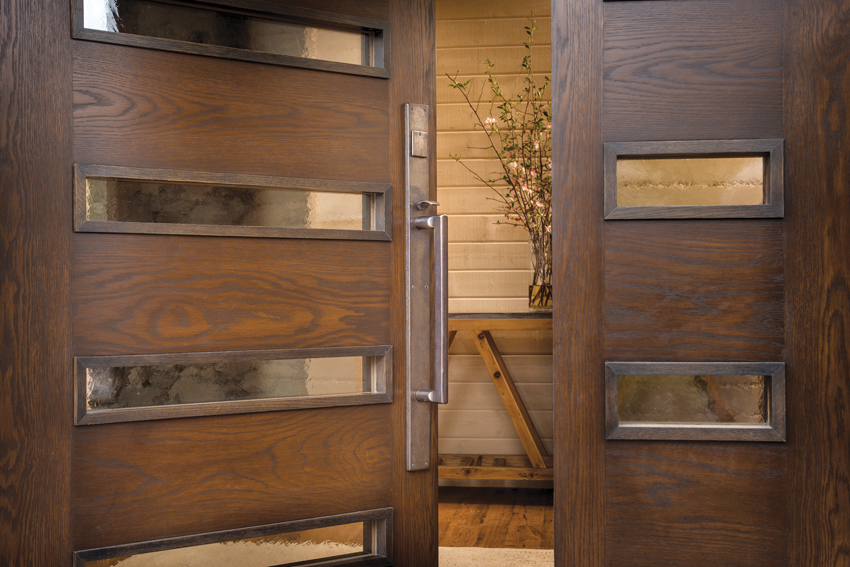 Photo courtesy of Rocky Mountain Hardware
Contemporary bronze pieces brighten up the custom wood entry doors and design elements in this updated Rocky Mountain A-frame home.
Originally published in Architectural Record
Originally published in April 2020
Notice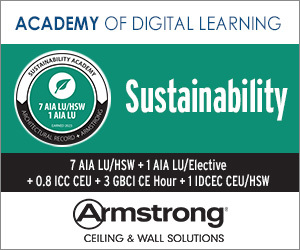 Designing for the Contemporary Custom Home
Buyer's Guide
Natural Finishes and Modern Designs with Fabricoil® Coiled Wire Fabric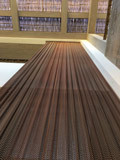 In all market segments, designers are taking advantage of natural metals for a wide variety of functions and applications. When specifying Fabricoil
®
coiled wire fabric, architects have virtually unlimited colors and styles from which to choose. For those looking to achieve earthy or neutral tones, stainless steel or cooper-clad steel can be used to achieve the desired effect.
Redwood Timbers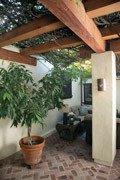 Humboldt Redwood timbers may be used in any application where cedar has traditionally been used, including shade structures, posts, beams, and exposed timber frame construction, to name a few. Humboldt Redwood timbers are a renewable resource from Forest Stewardship Council (FSC C013133) certified timberlands in Northern California.
Element Collection

Rocky Mountain Hardware introduces the Element collection, featuring a minimal profile that allows the beauty of art-grade bronze handles to elegantly punctuate the thoughtful design of any custom door. Available in a range of 12 finishes, this collection is compatible with all mortise lock functions, from entry through passage.