Designing Efficient Multifamily Housing
Strategies to improve energy performance, construction efficiency, and operations
Sponsored by CRL, Mitsubishi Electric Trane HVAC US (METUS), and Tamlyn
Peter J. Arsenault, FAIA, NCARB, LEED-AP is a nationally known architect, continuing education presenter, and a prolific author advancing more efficient building design through better design. www.pjaarch.com, www.linkedin.com/in/pjaarch
View Course Libraries for:
Originally published in Architectural Record
Originally published in September 2021
Notice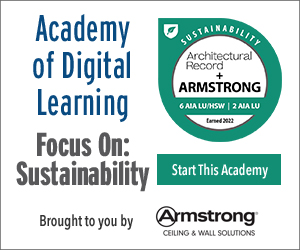 Designing Efficient Multifamily Housing
Buyer's Guide
Palisades S100 Sliding Door & Movable Wall

The Palisades S100 Sliding Door features an ultra-slim 1-5/16" frame that produces expansive views. A 13-foot maximum height and 7-foot maximum panel width creates scale and elegance. Its distinguishing CW40 Performance Grade rating makes it ideal for exterior applications where high loads, limits on deflection, and heavy use are expected.
EZ FIT® Recessed Ceiling Cassette

The ductless EZ FIT
®
Recessed Ceiling Cassette is ideal for multifamily applications looking to maximize tenant space and meet varied design aesthetics. The cassette fits flush to the ceiling between standard 16-inch joists, appealing to retrofits as well. With adjustable airflow, the unit is effective regardless of ceiling height.
Tamlyn Moisture Management

Tamlyn's two moisture management products to better the market are TamlynWrap
™
Drainable WRB 1.5 which gives a non-compressible drainage plane, and TamlynWrap
™
Rainscreen. 6.3/10.1 which provides a vented drainage space. Pairing with these is a complete system of flashing, double-sided seam tape, and flashing boots for circular wall penetrations.