Designing Efficient Multifamily Housing
Strategies to improve energy performance, construction efficiency, and operations
Sponsored by CRL, Mitsubishi Electric Trane HVAC US (METUS), and Tamlyn
Efficient Fenestration
Creating multifamily living units with abundant light and ventilation is both an occupant desire and a code requirement. Design professionals often like to maximize the opportunity for light, views, and ventilation as part of the overall design of a project and to add some distinction to a project helping developers more readily rent or sell the units. Additionally, Passive House and other green building standards recognize the healthy benefits to occupants who have access to daylight, ventilation, and views. The performance issue, of course, is to find the right balance between the use of fenestration to let light and ventilation in compared to the need to control the flow of heat into or out of the space. Since an insulated opaque wall will always be more effective at controlling air infiltration and thermal transfer, it becomes incumbent on the architect to select fenestration that provides the desired design features while still meeting standards for high performance and efficiency.
Balancing Design with Performance
Multifamily designs often seek to provide occupants with expansive views and a visual connection to the surrounding landscape or cityscape. Manufacturers of larger format fenestration recognize this design need and offer products that are easily incorporated into a variety of building design schemes. At the same time, they also recognize the need to provide high performance to meet energy use requirements. That means the glass selected in multi-pane units provides the needed levels of restricting thermal heat flow or solar heat gain as related to the building's climate zone. It also means the frames are designed and constructed to similarly control heat flow and thermal bridging within them. The whole assembly then needs to open easily to provide ventilation but be able to close tightly and securely in a manner that restricts unwanted air infiltration.
Recent innovations in engineering have taken all these design and performance criteria into account to produce some appealing and efficient choices. Specifically, large format glass door systems are available with ultra-slim frames that offer virtually uninterrupted views while effectively mitigating heat transfer using thermal breaks and insulating glass. This means they are effective at working with the rest of the building envelope to help keep interior temperatures cool during hot weather and warm during cold weather. Maintaining comfortable interior temperatures places less strain on heating and cooling systems throughout the year, thus enhancing the energy efficiency of multifamily developments.
From a design standpoint, multifamily units often have fenestration limited to one or two sides of the units. In some cases, the building is designed so windows or views are similarly focused on one or two sides of a building. That means the total amount of fenestration in a building can be controlled for overall energy performance, but a living unit can appear to have large scale, dramatic openings. With this in mind, manufacturers offer grand scale, glazed, operable doors with heights over 10 feet. They also offer a minimal profile using ultra-slim panel frames. Coupled with high performance U-factors, they provide the thermal efficiency needed in new multi-family developments while delivering the expansive views that residents desire.
Mark Suhiro is technical director of the CRL Entrances & Partitions Group and has been deeply involved in this issue. He points out "When it comes to fenestration systems in modern multifamily building design, architects must find a balance between aesthetics and thermal performance." He notes that the fenestration industry is able to find this balance with two types of systems: sliding doors and bi-folding doors.
Large-Scale Sliding Glass Doors
Large-scale sliding doors typically feature a sophisticated design that makes a visual statement. Ultra-slim panel rails and stiles, on the order of only 1-5⁄16-inch wide, create a minimal and uniform frame that produces uninterrupted views while letting daylight flow freely into interiors. Large-scale sliding glass doors are typically custom manufactured to suit a particular project, with panel heights up to 13 feet and widths up to 7 feet. That means they can provide an elegant solution that fits seamlessly with contemporary project designs.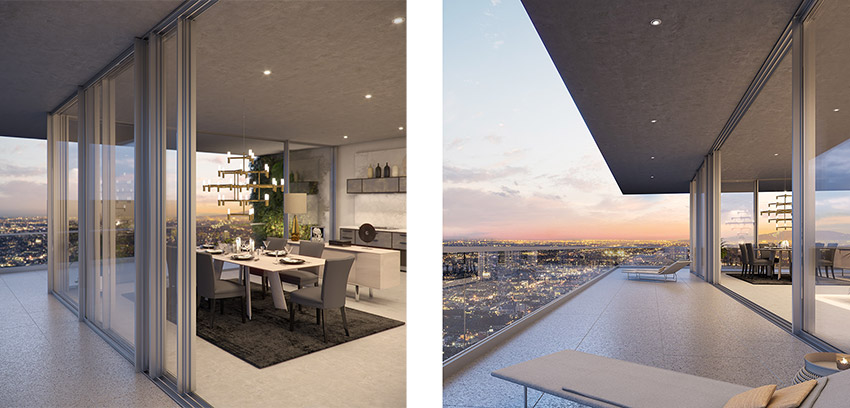 Photo courtesy of CRL
Large-format sliding glass doors provide multifamily units with the ability to capture daylight and views while addressing the performance and efficiency concerns of the building.
Among the available features of these large format sliding doors are thermally broken frames with 1-inch insulating glass that can achieve a U-factor of 0.38. This configuration also has the capability to provide sound attenuation with ratings on the order of STC-33. The frames can be finished in a range of standard colors. Custom colors are also available from some manufacturers.
Despite the large sliding panels, this type of door is engineered to provide fairly effortless, one-handed operation. Panel loads, up to 700 pounds, are evenly distributed across a bottom rolling system with stainless steel wheels resulting in a fluid, frictionless glide. Precision-engineered stainless-steel tracks further facilitate panel movement. Operation is usually manual using a built-in door handle or groove. Due to the larger size of the doors, the locking mechanism is typically a multi-point system. The door sills can be flush to provide a seamless floor transition between the inside and outside of the doors or raised for greater protection against weather conditions.
Altogether, expansive sliding doors provide an attractive and efficient solution for large-format fenestration in multifamily buildings.
Large-Scale Bi-Folding Glass Doors
In addition to large-scale sliding doors, the latest bi-folding glass door systems also offer advancements in aesthetics and thermal performance. These systems are characterized by multiple hinged panels that can stack to one side to allow for a complete opening between rooms or between interior and exterior environments. This is particularly appealing for designs that seek to create seamless transitions between interior and exterior spaces while maximizing ventilation and daylighting. When closed, bi-folding door systems offer minimal obstruction to preserve views and can seal up tightly to effectively protect against air and water infiltration. They can feature thermally broken frames and 1-inch double-pane insulating glass that together produce standard U-factors of 0.36 to help keep interior temperatures at a comfortable level year-round, which puts less strain on air conditioning systems.

Photo courtesy of CRL
Large-format bi-folding glass doors allow for full views and ventilation when open, and weather sealing and thermal performance when closed.
On the aesthetic side, the latest bi-folding doors feature 12-foot frame heights, slim 4-3/4-inch vertical sightlines, and ultra-narrow 1-7⁄16-inch panel rails. Together, this lessens obstructions to help preserve views. When closed, door hinges are completely concealed to deliver a minimal, streamlined look. Similar to sliding doors, bi-folding door systems are engineered to provide easy operation. Panel loads can be mounted on a bottom rolling system to eliminate strain on overhead beams. The panel widths are typically four feet with a maximum height of 12 feet. The sills for bi-folding door systems can also be flush to provide a seamless floor transition between the interior and exterior, or raised to provide better resistance to water and air infiltration.
Originally published in Architectural Record
Originally published in September 2021
Notice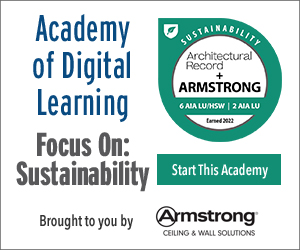 Designing Efficient Multifamily Housing
Buyer's Guide
Palisades S100 Sliding Door & Movable Wall

The Palisades S100 Sliding Door features an ultra-slim 1-5/16" frame that produces expansive views. A 13-foot maximum height and 7-foot maximum panel width creates scale and elegance. Its distinguishing CW40 Performance Grade rating makes it ideal for exterior applications where high loads, limits on deflection, and heavy use are expected.
EZ FIT® Recessed Ceiling Cassette

The ductless EZ FIT
®
Recessed Ceiling Cassette is ideal for multifamily applications looking to maximize tenant space and meet varied design aesthetics. The cassette fits flush to the ceiling between standard 16-inch joists, appealing to retrofits as well. With adjustable airflow, the unit is effective regardless of ceiling height.
Tamlyn Moisture Management

Tamlyn's two moisture management products to better the market are TamlynWrap
™
Drainable WRB 1.5 which gives a non-compressible drainage plane, and TamlynWrap
™
Rainscreen. 6.3/10.1 which provides a vented drainage space. Pairing with these is a complete system of flashing, double-sided seam tape, and flashing boots for circular wall penetrations.