Design Strategies for Optimal Well-Being in Health Care Environments
Improving the patient, visitor, and caregiver experience through innovative and flexible design solutions
Sponsored by AD Systems, Metl-Span, and The Sherwin-Williams Company
Learning Objectives:
Identify architectural design features, such as sliding door systems, that can improve privacy and acoustics and explain how those systems add to a more positive patient experience.
Discuss how specific paint and coatings technologies, as well as FRP systems, can improve building maintenance and life cycle while providing performance and functional attributes to benefit the overall well-being of occupants in health-care settings.
Assess different strategies that can be used successfully to contribute to the design, construction, and operation of modern health-care facilities.
Recognize various design elements used to create healthier, more productive, and more efficient health-care environments.
Credits:
This test is no longer available for credit
This past August, economists from the American Institute of Architects, the National Association of Home Builders, and the Associated Builders and Contractors got together to deliver a midyear status update on the health of the construction sector; the diagnosis was good. Spending through June 2016 increased by 2.2 percent over the same time period last year—$19.6 billion (2016) from $19.2 billion (2015). In a subsequent press release, AIA Chief Economist Kermit Baker, Hon. AIA, stated, "Given current demographic trends, the single-family residential and the institutional building sectors have the greatest potential for further expansion at present." In 2017, growth is expected to swing to the institutional sector, with health-care construction spending poised to double.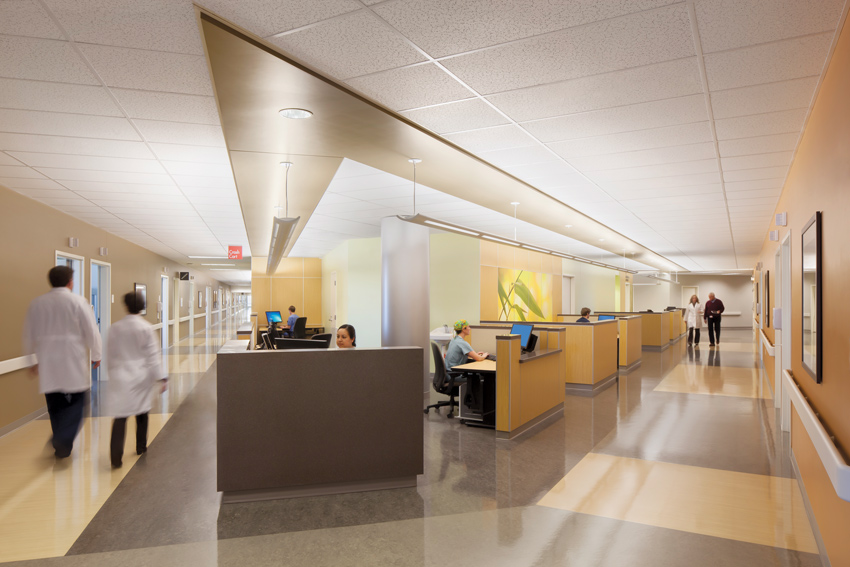 Photo courtesy of The Sherwin-Williams Company
New strategies—from architectural design elements to bacteria-fighting solutions—are being used to create more productive and efficient health-care environments, and, importantly, to promote healing.
This all makes sense from a demographics standpoint. With the U.S. population gradually aging, there inevitably will be a greater demand for hospitals—not to mention the implementation of the Patient Protection and Affordable Care Act, which has resulted in millions more individuals gaining access to health-care insurance coverage, further driving up the need for hospital services.
With the demand for services and health-care construction on the rise, it is more critical than ever to create spaces that keep patients well and provide optimal environments for wellness, comfort, safety, and productivity.
As noted by The Center for Health Design, a 501(C)(3) organization, among the many concepts and strategies that might be considered include:
Healthy building materials: Use products that are easy to maintain, are environmentally friendly, and don't include toxins and carcinogens.
Smart circulation: Include a central building spine that can easily be the backbone of future expansions, with separate public, patient, and service flows.
Patient experience: Think about safety in transfers, bedside technology, and room standardization as well as positive distractions and elements like daylight. Infuse art into spaces where possible and integrate natural forms and materials, while also providing spaces for social interaction.
Family space: Provide areas for family inside patient rooms and outside, with healing gardens available, too.1
The bottom line for everyone involved from patients, medical staff, and concerned friends and families to the project architects and designers is to promote wellness. That means taking a broader approach to the health-care environment. Addressing the patient's physical health is no longer enough. We need to find new ways to promote overall health and well-being.
In the following course, we will look at some products and approaches that can contribute to achieving patient wellness, provider efficiency and overall occupant satisfaction in all types of health-care environments.
Effects of Noise in Medical Settings
In the words of Florence Nightingale, "Unnecessary noise is the cruelest absence of care." Basic tenets of dignity and respect would dictate that a quiet and private space for recovery should be at the core of care in medical settings.
Noise is a factor that affects both patient satisfaction and outcomes as well as staff satisfaction and performance. In order to reduce hospital noise and improve the auditory environment, designers need to make a commitment to creating a complete healing environment for patients and staff.
With a greater focus on patient satisfaction and mandated standards, health-care facilities are seeking ways to increase acoustic comfort and privacy. These two factors strongly contribute to patient satisfaction by optimizing rest and relaxation as well as providing the peace of mind of confidentiality. By incorporating sound-masking strategies in health-care settings, patients are able to sleep better, resulting in an improvement of medical outcomes.
It is no secret that noise is a significant issue for many hospitals. It has been found that there are typically no fewer than 86 different sources, including patients, staff, and visitors talking; an abundance of sounds from televisions, alarms, carts, and doors; and the beeping and buzzing of medical equipment and mechanical systems.2
This cacophony is more than just a nuisance. More and more research shows that noise can actually cause physical harm to patients by elevating heart rate and blood pressure, for instance.3 Furthermore, noise obviously keeps patients from getting needed rest, which serves to weaken the immune system and can lead to problems exacerbated by lack of sleep, such as agitation, delirium, and decreased tolerance to pain.4
Moreover, adverse effects of noise go beyond just the patients. While it might seem that staff can just tune out the sounds they hear day in and day out, it's just not true. No one can fully ignore these disturbances since human senses are designed to detect these types of changes in our environment. Noise disruptions, which impacts caregivers' concentration, causes stress and fatigue, and potentially affects quality of care.3
The challenge of managing hospital noise and creating a quieter, more soothing, and relaxing environment is not just an abstract concept—its success is being measured against Hospital Consumer Assessment of Healthcare Providers and Systems (HCAHPS) scores and Health Insurance Portability and Accountability Act (HIPAA) compliance, and is tied to government funding in the United States. The resulting financial consequences can be substantial. HCAHPS surveys provide the basis for calculating Patient Satisfaction Scores under the Value-Based Purchasing (VBP) program, which enacts penalties on poorly performing hospitals by withholding Medicare payments. Currently, noise remains the lowest-rated marker of patient satisfaction across the United States.5 (For more details on the HCAHPS Survey, see the sidebar in the online portion of this course.)
Originally published in Architectural Record
Originally published in December 2016
Notice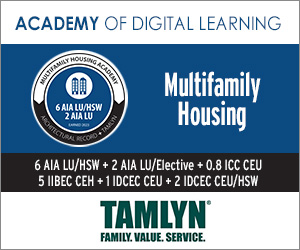 Design Strategies for Optimal Well-Being in Health Care Environments
Buyer's Guide
AD Systems Sliding Door

AD Systems offers complete sliding door and office-front assemblies ideally suited to health-care and corporate environments. This unique product provides excellent acoustical mitigation, reliability, and a wide range of customizable design options and hardware features thanks to its innovative frame design and tested performance. For more information, please visit
www.specADsystems.com
.
FRP CleanSeam

The FRP CleanSeam insulated metal panel is designed to create a virtually seamless joint between the wall and ceiling to prevent mold and mildew growth. The two-part welded seal system creates a permanent bond. FRP CleanSeam is the ideal solution to clean rooms, pharmaceutical, and health-care facilities.
Paint Shield®

Paint Shield
®
is the first EPA-registered microbicidal paint and represents a game-changing advancement in coatings technology. Paint Shield kills greater than 99.9 percent of Staph (Staphylococcus aureus), MRSA (Methicillin-resistant Staphylococcus aureus), E. coli (Escherichia coli), VRE (Vancomycin-resistant Enterococcus faecalis), and Enterobacter aerogenes within two hours of exposure on a painted surface.