Daylighting for Occupant Comfort and Energy Savings
This course is no longer active
Sponsored by Draper, Inc. and Phifer Incorporated
Learning Objectives:
Describe two methods of using natural light to benefit occupant comfort, productivity, and satisfaction at the Brain Performance Institute.
Identify how the Shenzhen International Energy Mansion takes advantage of daylight while reducing solar gain and energy use.
Summarize the benefits that natural light affords to students.
Explain the techniques used at the Houston branch of Vitol to bring in natural light and connect employees to the outdoors.
Credits:
This course is approved as a core course
This course is part of the Daylighting Academy
Below are a set of links to building type studies from Architectural Record, which are in-depth analyses of particular kinds of buildings, with photos, drawings, specifications, detailed descriptions, and design solutions. Click on each link below, read the article then complete the quiz to earn your credit and certificate of completion.
The benefits of natural light and the use of daylighting techniques to reduce solar heat gains, glare, and increase occupant comfort are being addressed in innovative and transformative ways in all types of buildings.
Brain Performance Institute by Page
How is our brain changed by the space we work in? At the Brain Performance Institute, the architecture aims to keep the mind engaged, and natural light is one component of this strategy.
Mark Lamster
National Gallery of Ireland by Heneghan Peng Architects
Patrons and artworks alike were considered as the National Gallery of Ireland underwent a transformation, bringing light to the darkest corners of the four distinct wings, while protecting national treasures from damaging rays.
Tom Hennigan
EY Centre by fjmt
This Sydney high-rise, with its timber blinds that glow golden, has increased spatial comfort and sense of connection to the outdoor environment for its occupants.
Jeremy Hansen
The Glaring Issue of Daylighting in Education Settings
Letting light in is easy. Optimizing visual comfort can be more of a challenge and one that is often overlooked.
Sheila Kim
Shenzhen International Energy Mansion by Bjarke Ingels Group
This two-building complex has found innovative ways to take advantage of daylight, while reducing solar gain by as much as 30 percent.
Clifford A. Pearson
Vitol by PDR
Extensive and strategic use of daylighting has created a pleasant setting and enhanced the work environment for traders at this Houston international energy and commodities trading company.
Miriam Sitz
The Leslie L. Dan Pharmacy Building
This University of Toronto building took a bold approach to lighting, utilizing theater techniques and an atrium that slices vertically through the core of the 12-story structure, pulling sunlight deep inside.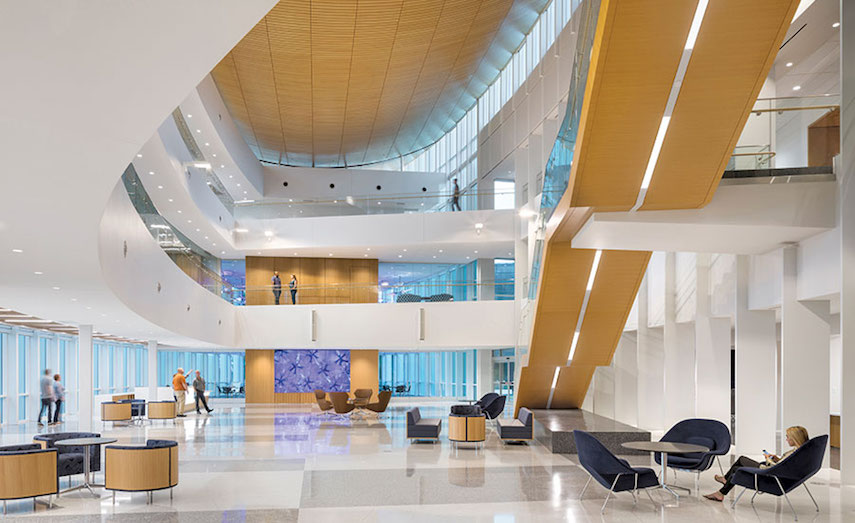 © Albert Vecerka/Esto
Notice