Creative Building Solutions with Pre-Painted Metal Panels
Innovative products offer multiple aesthetics, proven performance, and overall sustainability
Sponsored by Metal Building Manufacturers Association (MBMA) and National Coil Coating Association (NCCA)
Pre-Painted Metal Aesthetics
In addition, to selecting the right profile for a metal wall or roof panel for a project, the visual, aesthetic aspects of the surfaces are clearly important. Since we navigate our environment with our eyes, 80 percent of the information about our world comes from our visual sense. Hence, the following aspects can all play a significant role in the aesthetic design.
Color: Color can play a big part in how the public "views" a building. Literally tens of thousands of colors are available for pre-painted metal. To produce a specific colored coating, colored pigments are selected and blended together. Coating manufacturers have a variety of pigment types from which to choose: organic, inorganic, or both as needed to achieve a desired color. Organic pigments are carbon based and can produce vivid, bright colors like blue, green, yellow, and red. They are not UV stable as a result. Inorganic pigments are mineral based and often made from metal oxides. These pigments have superior color stability. They typically produce more neutral or earth-toned colors. Often the term "solid color" is used, which simply means that the color is uniform across the surface.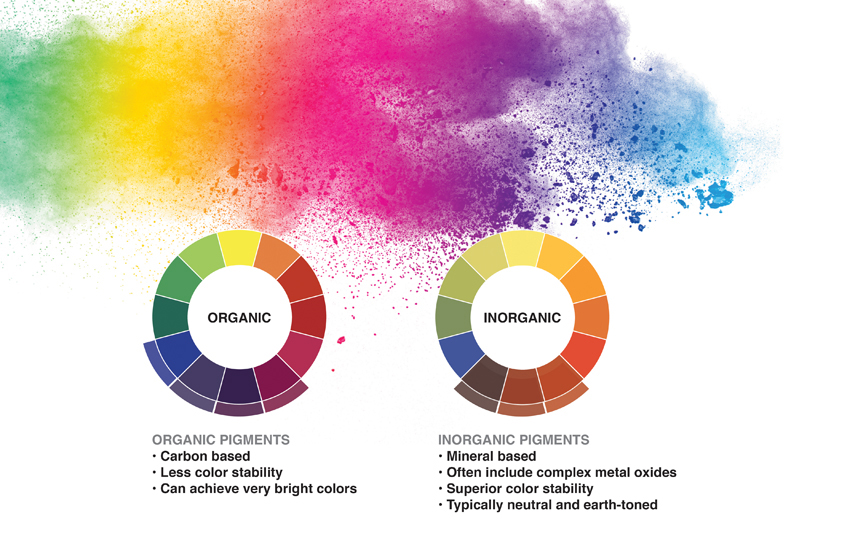 Image courtesy of the National Coil Coating Association (NCCA)
The color of pre-painted coil-coated metal and some of the characteristics of that color are determined by the mix of pigments that are used, including choices from organic or inorganic pigments, or both.
Mica/metallic effects: In addition to solid colors, there are coatings with a pearlescent shimmer also available that offer a different aesthetic. Mica and metallics are a blend of mica and aluminum pigmentation that add varying degrees of sparkle to the surface to produce a metallic luster look. Nearly all automotive finishes utilize a metallic effect, and pre-painted metal building products can do the same.
Color-shifting effects: Coated flakes are added to the coating formulation that cause a color shift due to light reflectivity. Color-shifting pigmentation works when viewed from different angles or under changing light sources. There is a wide range of color shifts that can be achieved, from a dramatic shift from red to a green to a more subtle shift from white to cream. As with mica/metallics, color shifting is well known in the automotive industry and becoming more popular in architectural products.
Prints: An effect that mimics natural materials, print effects can reflect antique styles, patina aesthetics, or natural metals, stonework, and wood. To create a print effect, a one-color basecoat and then a one- or two-color tint coat is applied on top that has some opacity. Coil coaters use a special print roller, such as a roto gravure, that has a pattern template. The pattern is rolled on the top of the primary basecoat to create the desired effect.
Gloss: The way light reflects off the surface of an object is an indication of its gloss level. Similar to interior paints, metal coatings are available in various gloss levels from matte to low gloss, standard, and high-gloss. Gloss is the unit of measurement that specifies how much reflectance a coating will have. The formulation of the coating is crafted to achieve a desired percentage of gloss or sheen.
Texture: There are a few ways that texture can be added to a pre-painted metal. One is to have a stamped-in pattern or embossed patterns similar to the look of clay tiles, stone, asphalt shingles, or cedar wood slates. Another is to add texture within the coating that can add another dimension to a project. In many cases, the metal itself has a tight pattern pressed or stamped into it to lower the reflectance while also adding an interesting aesthetic effect. In the distant past, formulators used hammertone and "wet-look" wrinkle finishes for industrial coatings to create an interesting look, for example, on a toolbox or bicycle frame. For buildings, a more subtle look and feel is usually desired unless a specific area is being accented with a stronger texture.

Images courtesy of the National Coil Coating Association (NCCA)
The texture of either the metal substrate or the paint coating can be enhanced to suit individual project conditions.
By paying attention to all of the above factors and options, pre-painted metal wall and roof panels can be used as significant design elements for all types of buildings. In some cases, it might simply be the opportunity to create a refined and elegant exterior design solution. For others, it can provide differentiation from adjacent buildings or even provide branding opportunities for the owners. This is common with retail, hospitality, and restaurant companies that seek a strong, consistent look for their buildings in multiple locations. Pre-painted metal assures a consistent appearance and design quality regardless of location.
Keep in mind that all of these benefits are not just for new buildings. Existing buildings can be retrofitted with pre-painted metal panels as a dramatic and cost-effective way to create a totally new appearance or enhance an existing style and aesthetic. In the process, the metal components can improve the durability and longevity of the building and help bring the building more up-to-date on energy performance and sustainability.
Originally published in Architectural Record
Originally published in December 2020
Notice