Creative Building Solutions with Pre-Painted Metal Panels
Innovative products offer multiple aesthetics, proven performance, and overall sustainability
Sponsored by Metal Building Manufacturers Association (MBMA) and National Coil Coating Association (NCCA)
Coating Options
What is in a coating? Coatings manufacturers have developed many different formulas that are used to protect metal building components. Since the coating technology has been around for many years and many individual contributions have been made to its advancement, there are a lot of attributes that can be readily achieved. The key is to pick the proper coating for the intended use—not all coating formulations or types of products are the same. While each coating formula has its own unique benefits and intended use, the majority of the formulas use a mixture of four primary ingredients: pigments, resins, solvents, and additives.
Here is how each of these ingredients fills a role to create the most effective coating.
Pigments supply the color and opacity to hide the substrate to achieve nice even color across the entire surface of the substrate. They may also provide some chemical resistance. Pigments are finely ground particles suspended in the film that adds the overall aesthetics to the exterior of a building.
Resins are the "glues" or "binders" that hold the coating together and bind the pigments to the substrate metal. Resins can also play a significant role in the overall performance properties of the coating, including weather resistance.
Solvents are the "thinners" that make the resin and pigment easier to apply or flow and provide application properties that result in a smooth surface. While they are critical to the manufacturing of the coatings, solvents evaporate during the curing step in the pre-painting process. The solvents are captured and incinerated, which creates an environmentally friendly process and finished product.
Additives are supplements to the formulation that are added in very small quantities to provide special or unique characteristics such as texture, flexibility, hardness, or abrasion resistance to meet specific product needs.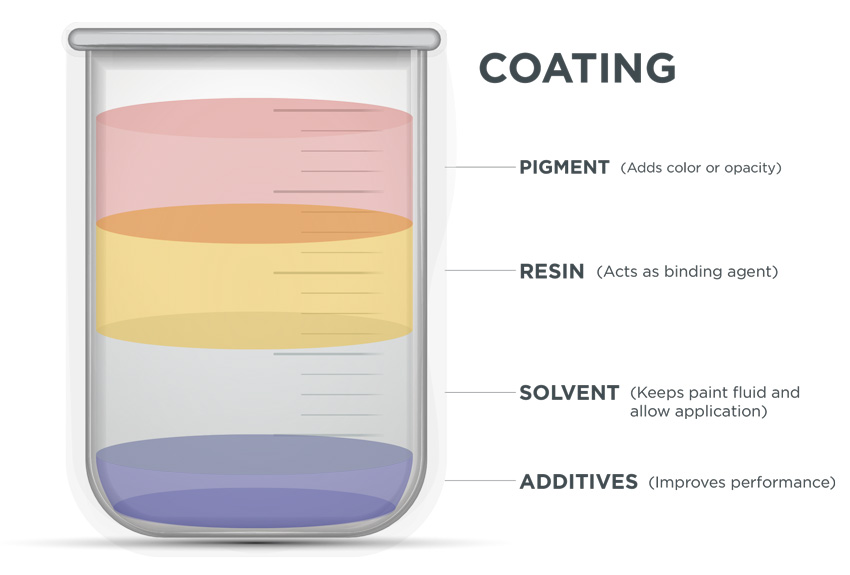 Image courtesy of the National Coil Coating Association (NCCA)
The ingredients in a coating typically include 15 percent pigments, 35 percent resins, 50 percent solvents, and 1 percent additives.
The resin is arguably the most important ingredient in the coating system because it determines the overall performance of the coating. As such, coatings are generally described by using the name of the type of resin used. There are three primary resin-based coating systems used for finishing sheet metal. Each is discussed as follows.
Polyvinylidene difluoride (PVDF): This is the most widely specified paint system for architectural projects. PVDF coatings represent a significant advancement in paint technology with superior weathering characteristics. They have long been recognized for their excellent chalk and fade resistance and are flexible in nature, allowing for the forming of a wide variety of shapes. Adding to their appeal, PVDF coatings are available in a wide selection of colors. They are also commonly known as 70 percent PVDF coatings. It is important to understand that the percentage in 70 percent PVDF represents just the resin, and not 70 percent of the entire coating. The remaining 30 percent in the resin is comprised of acrylic. Kynar and Hylar are common brand names of the 70 percent PVDF resin used in the coating.
Silicone modified polyester (SMP): Silicone modified polyester paint was the product of choice for roofing systems prior to the introduction of PVDF. It is still used on a regular basis in many metal building applications based on its long history and continuing improvements in its technology. It offers good color retention and fairly good flexibility.
Polyester: For less demanding applications, polyester paint systems offer fair to good color retention and good flexibility at a relatively low cost. However, this class of coatings is not widely used in exterior architectural applications.
Pre-painted steel using the appropriate coating finish provides a durable and appealing material that can then be shipped to a metal building manufacturer or metal component fabricator to create the final architectural products. PVDF and SMP coatings in particular are durable and flexible enough to withstand the cold-forming processes and perform well once in place on a building project. For more information comparing the properties and performance of the three primary resin-based coating systems, see NCCA Toolkit #8, "Coil Coating Topcoat Systems," Appendix A (www.coilcoating.org/toolkits).
Cost Factors of Pre-Painted Metal
There can be a misperception that pre-painted metal is simply too expensive for many buildings. The reality is that many building owners can indeed afford to use these products. This is because life-cycle cost analyses prove them to provide great economic benefit. They commonly last longer and do not need replacing as often as other materials do. They also require little to low maintenance, saving on those costs every year that the material is in place. Since pre-painted coil metal is used for very visible parts of a building, such as exterior wall cladding or metal roofing, the positive long-term appearance can help building owners portray the best image of their enterprise, thus boosting revenue. In the case of metal buildings, most manufacturers produce their own roll-formed steel roof and wall panels. By providing a complete building package, including building framing and cladding, they improve the ROI for the entire project.
DESIGN ASPECTS OF PRE-PAINTED METAL
The visual aspects of pre-painted metal, particularly when used for architectural metal wall and roof panels on new or renovated buildings, are diverse and versatile. This comes from a combination of the features of the panels that are fabricated from pre-painted coil stock and the color(s) or special effect selected.
Metal Panel Profiles
The first fundamental design choice when using metal panels for wall, roofing, or other metal building components is the desired profile. This is the cross-sectional shape of the panels that gives it the three-dimensional texture or form on a building.
First, when considering metal wall panels, there are several profile options:
Concealed fastener wall panels: Standard-sized panels can be fabricated with smooth faces or a pattern of squared corrugations or ribs. These are generally classified as architectural panels and are used as very visible design elements of a facade.
Exposed fastener wall panels: A range of ribbed or corrugated metal profiles are available that can be used in either vertical or horizontal orientations. The panels typically overlap, and fasteners are installed through weathertight washers to hold the panels in place.
Insulated metal panels (IMPs): Most metal building manufacturers offer panels that are fabricated with interior and exterior metal panels and filled with rigid foam insulation between them. Many of the same types of profiles available for other metal panels are used with insulated metal panels.
Metal composite material (MCM): In cases where a thicker, lightweight panel is needed, metal composite material panels are used. MCM is formed by joining two thin metal skins to a polyethylene core and then bonded under a precise temperature, pressure, and tension. MCM panels are typically smooth faced and used for a variety of exterior and interior applications.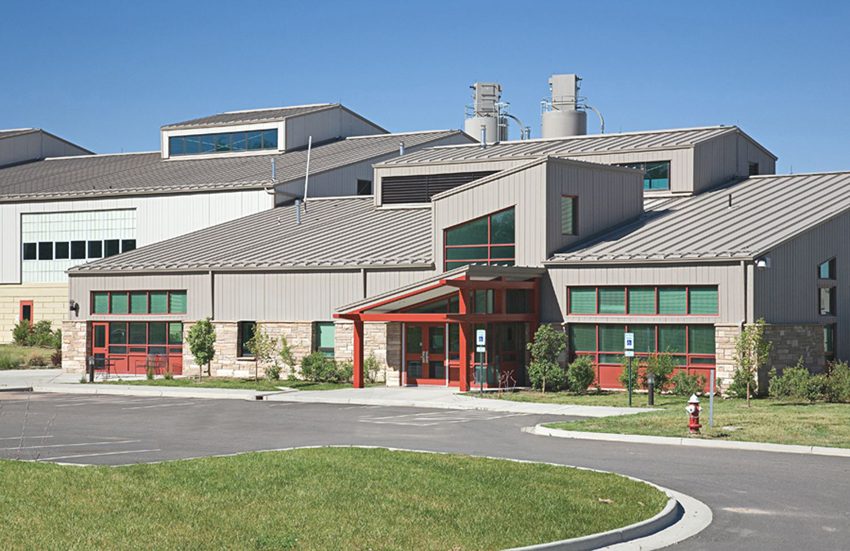 Photo courtesy of the Metal Building Manufacturers Association (MBMA)
Metal roofing and wall panels are available in a wide range of profiles and appearances.
Second, metal roofing panels also offer a range of different profile options, including the following.
Standing seam: This is a common architectural metal roofing profile noted for its pronounced and consistent standing rib and outstanding weather resistance. According to data from the Metal Building Manufacturers Association (MBMA), approximately 40 percent of metal building systems are capped with a standing-seam roof.
Batten seam: This is typically viewed as an extension of a standing-seam system with wider and more obvious batten seams.
Through-fastened: Just like exposed fastener metal wall panels, through-fastened metal roofing is a less expensive, less detailed method using a simple overlap and screw-through technique. Many of the profiles are the same or similar to corrugated and ribbed siding. According to data from MBMA, approximately 60 percent of metal building systems utilize a through-fastened roof.
Insulated metal roofing panels: These rigid foam insulated panels can be used for roofing with panel profiles similar to other roofing profiles.
Metal tile: Panels can be shaped out of light-gauge, pre-painted metal to simulate the look of a clay tile roof. This option can capture a European tile appearance without the weight of tile and with excellent weathertightness.
Modular: Pre-painted coiled metal also can be formed into an interlocking simulated shingle product in standard modular sizes. These products are available in a number of material facsimiles, such as asphalt, wood, and slate.
Originally published in Architectural Record
Originally published in December 2020
Notice