Conserving Water for a Thirsty Planet
Conserving water by using low-flow fixtures and low-impact stormwater design requires system thinking and integrative design.
This course is no longer active
Sponsored by BTL Liners, Inc., The Toro Company, TOTO USA, Xypex Chemical Corporation, and Zurn Engineered Water Solutions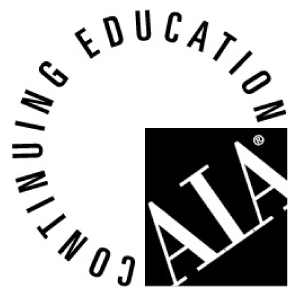 Continuing Education
Learning Objectives - After this course, you should be able to:
Recognize low-flow fixtures and equipment that can be specified for water conservation and energy reduction.
Discuss strategies for integrating new water-saving fixtures in sustainable building.
List strategies for low-impact design and irrigation systems.
Discuss the use and protection of water management containment systems.
Credits:
The planet is getting thirsty as fresh water resources are being used by an ever-growing population. According to the EPA, the water deficit is currently estimated at about 3,700 billion gallons. In fact, we are using more water than nature is providing through rain and snow and condensation. The hydrologic cycle is elemental to human life, however, most diagrams of this cycle don't really show the impact on water quality from buildings, homes and impervious surfaces. In the United States alone, approximately 340 billion gallons of fresh water is withdrawn per day1 to support residential, commercial, industrial, agricultural and recreational activities.
Domestic water use in the U.S. is approximately 43 billion gallons per day, drawn from both public and private systems. As fresh water becomes waste water, it is discharged back into the ecosystem, often without treatment, or with diminished water quality. Increased use of water for agriculture and irrigation systems adds to the water deficit. Humans are now drawing deeply into the aquifers of natural water storage systems. Gunnar Baldwin, water specialist for TOTO USA, dreams of a future that takes the "waste stream and turns it into a resource." Energy from methane - waste nutrients for fertilizer and water - filtered for re-use, may be the answer for the planet's fresh water crisis.
Water is one of many building systems requiring design integration. From outdoor irrigation to indoor water use, stormwater to wastewater, new construction to the rehabilitation of existing buildings, designers who understand the impact of water use on site sustainability, can reduce potable water use significantly. According to Mike Baron of The Toro Company, when you don't pay attention to all of the factors in low-impact design strategies for irrigation, "your site can produce unnecessary run-off which carries nitrates, pesticides and waste residue into municipal storm drain systems causing harmful pollution." In addition to water saving equipment outside and inside buildings, moisture proofing is another way to manage water flow.
 Design integration which includes water saving equipment, and low impact design practices can mitigate the impact of buildings on water use and water quality. There are two main goals a designer can consider to integrate water as a design system. The first is to decrease the demand for water and the second is to find ways to re-use water in both internal and external applications.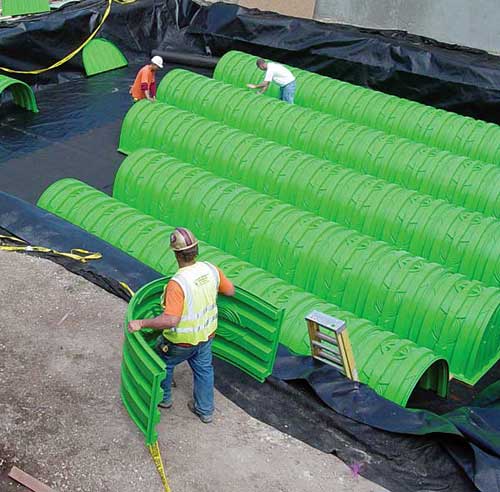 Construction crew installs new reinforced liner and containment chambers under forecourt of Monterey House.
Photo courtesy of BTL Liners, Inc.
 
University of Washington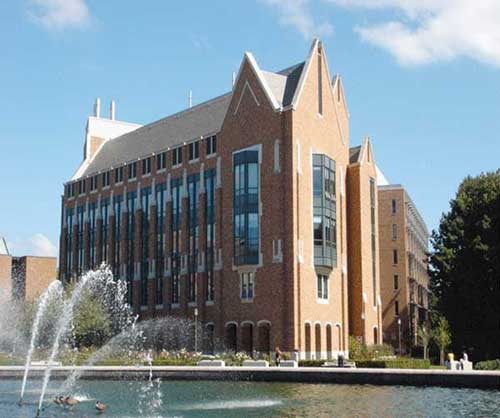 University of Washington retrofitted their plumbing to save water, conserve energy and be "green."
Photo courtesy of Zurn Engineered Water Solutions
Environmentally conscious University of Washington is located on a fresh water lake in Seattle that had problems with alge bloom from residential sewage run-off.  The city of Seattle, like many cities with overburdened treatment centers, encouraged the University to reduce water use on campus. As an incentive, the city offered a rebate of $120 per water fixture that the university replace with new water saving equipment.
 The bathroom retrofit project started with a focus on urinals.  The University utilized a multi-story dormitory on campus as a laboratory for testing purposes and installed different systems including waterless urinals. They installed sensors in the wall to calculate the water use at each fixtue and the life expectancy of cartridges in waterless systems.  After six months, they decided that an engineered 1/8th-gallon system was the fixture that met their needs and installed these urinals throughout the University to replace the 3.5 gallons per flush urinals. In partnership with the manufacturer, a urinal was designed that both worked within small installation areas and had a pressure compensating valve so that it could be fit onto existing plumbing lines.  This flush valve is controlled by a solenoid to deliver a precise amount of water no matter how much water pressure is in the older system.  By smart engineering, the University saved both water and the potential cost of costly asbestos abatement as they retrofitted their older buildings. According to Bryan Murdach, a manufacturer's representative from Mechanical Agents, Inc., "This small urinal enabled the university to easily retrofit the older fixtures without disturbing the waste line, the water inlet, or most importantly, the wall itself."
Originally published in GreenSource
Notice