Choosing Stainless Steel Drains for Caustic Environments
Stainless steel drainage systems provide greater longevity for sustainable wastewater solutions.
Sponsored by BLÜCHER
Pipes and Fittings
Above and below ground pipes and fittings specified in stainless steel are lightweight and fire resistant. They are interchangeable between vacuum and gravity systems. Options for stainless steel piping includes a range of pipe hangers, access pipe forms with hinged doors, a range of sealing rings for special applications. Both manual and electric pipe cutting tools can be used with stainless steel pipe systems. Push-fit sealing rings make installation easier in any application. Standard diameters and standard lengths with an extensive range of fittings are available. Stainless steel pipes and fittings should meet AISI304/EN 1.4301 or AISI316L/EN 1.4404 depending on project type and waste requirements.
Labor Savings With Stainless Steel Fittings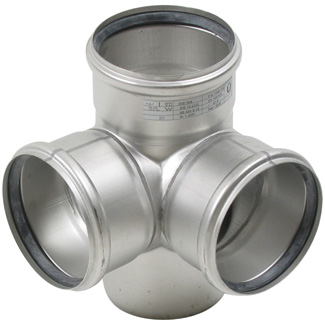 Stainless steel push fittings reduced labor costs in Manchester, UK study.
Photo courtesy of BLÜCHER
A new installation of a stainless steel push-fit drainage system allowed a British contractor to save 11 percent over using more traditional cast-iron. In addition, the installation labor costs were reduced by 40 percent over the traditional methods when studied by a British research institution. The use of stainless steel provided high corrosion resistance, requiring minimal maintenance. The lighter stainless steel system was easier to install.
The challenge to the contractor was to provide the drainage system for a new eight-story office building in Manchester, UK. A lightweight, stainless steel, push-fit pipe system with a rubber, EPDM seal was chosen by the contractor because of the ease of installation and the variety of sizes and lengths suitable for this high-rise office. Some of the advantages of using this system included:
• Many lengths of standard pre-cut pipe reducing the need for field cutting.
• Incorporation of one push-fit connection for each pipe length.
• Ease of handling as stainless steel pipework is one-third the weight of lightweight cast iron.
• Protected joints with an overlap of 40 mm or 1.5 inches of metal-to-metal cover removing the need for separate 'earthing' straps between joints.
• Ability to install above, below ground, and in many caustic environments.
• Suitability for installation in both gravity and siphonic soil, and for waste and rainwater drainage systems.
• Ability to handle temperatures up to 230 degrees Fahrenheit.
The system was simple to install and the manufacturer provided free training to the contractor to assure that they used the specialized cutting and beveling tools properly to increase the efficiency of installation. Connections are sprayed with lubricant before the pipe is inserted into the fitting and allowance for expansion is recommended when inserting the pipe into the fittings.
The Building Services Research and Information Association (BSRIA) evaluated and compared this installation providing data on cost savings in 2003. Founded in 1955, BSRIA provides testing, research and consultation to clients in the construction and building services. For this case study, BSRIA compared the actual installation of the stainless steel push fittings to the installation of a lightweight, cast iron vertical soil drainage system installed on a new fifteen-story office building in the city of London.
Based on the installation of a twelve meter or approximately forty-foot section of vertical soil drainage piping, the case study demonstrates that the use of a stainless steel pipework system with push-fit connections can result in a total installed cost savings of eleven percent in comparison to lightweight cast-iron pipework systems with conventional pipe couplings. A comparison of installation time shows the following savings.
Installation time comparison for a 12-meter section of a vertical soil drainage system.
The comparison used in this example is based on the use of traditional pipe couplings using three separate components bolted together. In addition, the comparisons were made with both contractors using a two person installation team making connections as the work progressed in the field. In both cases the installation used specialized cutting tools, the cost of which were similar. Both installations used previously installed split-ring form supports. The manufacturer provided training for the teams in order to expedite the efficiency of the process.
Successful management of an alternative process can remove unnecessary delays increasing the efficient and time-saving properties of using the push-fit stainless steel drainage system.
Properties of Stainless Steel
Harry Brearley a metallurgist, in Sheffield, England began experimenting with the introduction of alloys to steel in 1908. Employed by the Brown Bayley's Steel Works in Sheffield, he was researching new steels that could better resist the impacts from high temperatures for gun barrels. By adding chromium to steel, he found that he was able to raise the temperature of the materials melting point. Sheffield had been the center of cutlery production since the sixteenth century and from gun barrels to the use of steel for cooking led to the development of stainless steel as a material used in the food service industry. In Europe in the 1960s, stainless steel drainage systems were developed that provided compatible modular components for a complete drainage system. In the United States, stainless steel drainage systems can now be specified and custom designed for any commercial project.
Stainless steel is an alloy that can be manufactured and sold with different properties. The common denominator in all stainless steel is that they contain at least 10-12 percent chromium. As Brearley discovered, chromium is the material that gives stainless steel the ability to resist corrosion and rust. Chromium oxides create a film on the steel surface that protects the steel against rust causing oxygen in air and water. The chromium oxide film will automatically regenerate if the surface of the steel is exposed.
There are many grades of stainless steel, but the one most commonly used in drainage systems is austenitic stainless steel. AISI 304 and 316 stainless steel is often known as 18/8 grade steel because it contains at least 18 percent chromium and 8 percent nickel. The resulting lightweight, durable steel alloy is well suited as a material for drainage systems.
In comparison, cast iron, which is also used for drainage systems, is a material that is made of iron and can be cast into molds after heating. Stainless steel drainage systems weigh one third of a cast-iron drainage system. The weight to strength ratio of stainless steel allows for thinner pipes, drains and fittings that can span longer distances with stronger connections.
Tested in laboratories, stainless steel is resistant to many chemicals. Grades of Stainless steel are based on this resistance. Type A is provides very good service to the operating limit of the material through Type D that is unsatisfactory. In the laboratory, drainage systems that meet Type A Stainless Steel AISI 316L, can handle acetone, acetic acid, Aluminum Sulfates, Benzene, Butanol, Lead acetate, Sodium Nitrate, Sulfur Dioxide and Turpentine, to name just a few. The engineer should work with both the client and the manufacturer to make sure that they understand the caustic matter in the waste stream before specifying any drainage system.
The chromium added to stainless steel also gives stainless steel the ability to resist high temperatures. According to the American Steel Manufacturers Handbook4, stainless steel grades AISI 304 and 316 can withstand intermittent temperatures of 870 degrees Celsius and a continuous exposure to 925 degrees Celsius without deformation. Jamey Logrande realized this advantage when comparing a cast iron system with the stainless steel drainage system for the Louisiana Correctional Facility. According to Logrande, "Because of the high temperatures of the waste from the prison kitchen kettles we chose the stainless steel system. Cast iron was at the maximum temperature ratings to handle this waste, whereas these temperatures were only the mid-range capacity for stainless steel." The ability to withstand high temperatures makes stainless steel a safer choice for handling wastes with high temperature requirements.
Originally published in Architectural Record
Originally published in February 2014
Notice