Sponsored by Think Wood
Learning Objectives:
Outline the environmental benefits of building with wood.
Describe the structural and fire-resistive properties of light-frame and solid-panel wood construction.
Describe the structural strategies that design teams are deploying in order to use wood in taller buildings and to create longer spans.
Discuss the code-compliance issues that relate to using wood in unconventional building applications.
Credits:
This course is approved as a core course
This test is no longer available for credit
This course is part of the Wood Structures Academy
Below are a set of links to building type studies from Architectural Record, which are in-depth analyses of particular kinds of buildings, with photos, drawings, specifications, detailed descriptions, and design solutions. Click on each link below, read the article then complete the quiz to earn your credit and certificate of completion.
Long one of the most universally applied construction materials, wood established itself as so indispensable to the built world that it began to be overlooked, practically invisible. In recent years, technical advances have given birth to a wide range of process innovations, such as CNC milling and off-site assembly, as well as engineered-wood products with enhanced performance properties. These developments have prompted designers to take a new interest in the material, exploring not only its aesthetic appeal but also its structural potential and environmental value. A sampling of projects — from a seven-story office building that employs traditional wood joinery to a new model for ultra-energy-efficient housing — highlight surprising new uses of this age-old material.
For credit, read all of the stories below and take the quiz.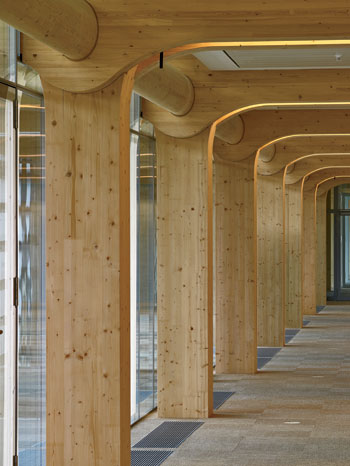 Photo © Didier Boy De La Tour; Tamedia Headquarters Expansion, Zurich, Shigeru Ban Architects
52 Whitmore Road
Waugh Thistleton
Green to the Bone: A mixed-use building experiments with an engineered wood material that is gaining traction in Europe.

Photo © Will Pryce

Lions Park Scout Hut
Rural Studio
Camp Craft: A design-build team explores the potential of low-grade timber for a Boy Scout troop's headquarters.

Photo © Timothy Hursley

Soft House
Kennedy & Violich Architecture (KVA Matx)
Timber's New Wave: A set of rowhouses combines a traditional all-wood structure with strategies for generating and saving energy, offering a new model for low-carbon living.

Photo © Michael Moser

Tamedia Headquarters Expansion
Shigeru Ban Architects
Inside Job: A finely crafted timber office building for a Swiss media company makes a strong statement from within.

Photo © Didier Boy De La Tour

TED Theatre
Rockwell Group
Traveling Show: A pop-up theater assembled inside a giant ballroom brings new scale to portability.

Photo © Paul Warchol

Teaching an Old Material New Tricks
Three projects under construction in North America demonstrate that timber can be used as an alternative to concrete, steel, and even masonry.

Image courtesy Michael Green Architecture
| | |
| --- | --- |
| | Think Wood is a leading education provider on the advantages of using softwood lumber in commercial, community and multifamily building applications. We introduce innovators in the field to our community of architects, engineers, designers and developers. For support or resources, contact us at info@ThinkWood.com. |
Originally published in Architectural Record
Originally published in June 2017
Notice