Blending Aesthetics and Sustainable Design Through Facades
Creating balance between beauty and function
Sponsored by 3A Composites USA, Inc., Cosentino, Endicott Clay Products, Hofmann Facades Group, Inpro, Neolith®, Vitro Architectural Glass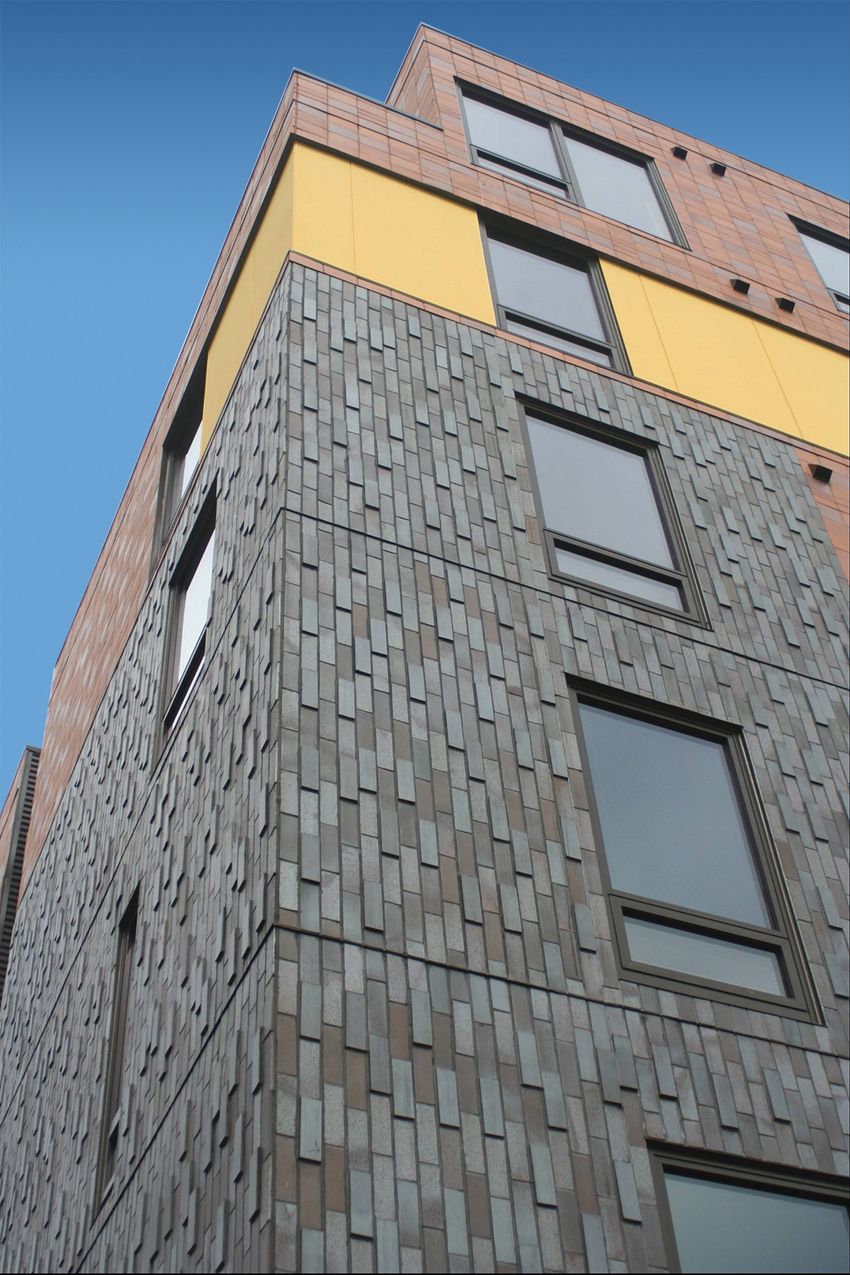 Photo courtesy of Endicott Clay Products
Thin brick is a thinner version of full-face brick and can be applied to places and large expanses that were once too physically impractical or too costly for application.
Thin Brick
Thin brick is a thinner version of a full-face brick that can both functionally and aesthetically work with traditional face brick. Thin brick uses less material and so proves more cost-effective, creates a smaller carbon footprint, and is less expensive to ship. Thin brick is also easy to install. This product can be used in places that were once thought to be physically impractical or too costly for application, such as large stadiums and massive sports arenas.
Thin brick is available in many colors and textures to match the aesthetics of face brick counterparts. Some thin brick comes with a "keyback" design that protects the wall system from having the brick pull out when used in precast or tilt-up applications, allowing the thin brick to be better used in a panel system when applied. The keyback design also offers a seamless look and feel when transitioning from thin to face brick on a single facade.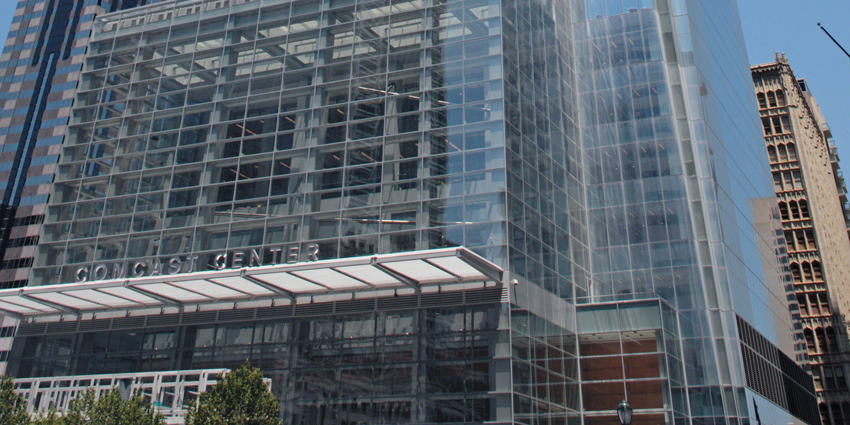 Photo courtesy of Vitro Architectural Glass
The Comcast Center Atrium utilizes low-iron glass with low-e coatings to provide occupants with clear, crisp views while also preventing unwanted heat transfer.
Glass Expanses with Low-e Coatings
To achieve bright beautiful buildings with plenty of daylighting for occupants, architects can specify low e-coated glass in larger expanses without sacrificing energy efficiency and sustainability. Low-emissivity (low-e), low-iron glass can be used to create views so clear and crisp that it's hard to believe the glass is even there. Low-e coatings are engineered to minimize the amount of harmful ultraviolet (UV) and infrared light that can pass through the glass without compromising the amount of visible light that is transmitted. A microscopically thin transparent coating allows low-e glass to reflect exterior heat in warm temperatures and hold in heat during cold temperatures. This helps prevent unwanted heat exchange, reducing the need for HVAC to maintain occupant safety and comfort.
Building-Integrated Photovoltaics (BIPV) options are also available, allowing the integration of solar cells into the building envelope. BIPV materials simultaneously serve as the facade, the building envelope barrier, and as a source of power generation. The systems can help increase the value of the building by enabling it to produce energy while also reducing electricity costs, use of fossil fuels, and emissions.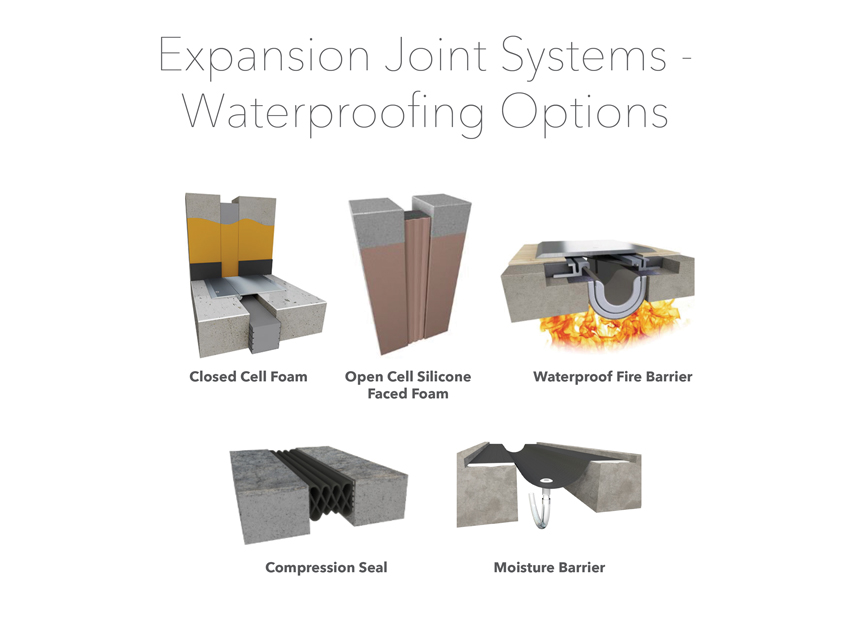 Photo courtesy of Inpro
These are the various expansion joint system options that can be used to help prevent water intrusion in the building envelope, facade, and facade seams.
Expansion Joint Systems
To ensure that the building envelope is designed, specified, and installed to protect the interior and its occupants against the elements, facades must ensure that all seams and joints are adequately sealed. These systems are an integral part of many buildings due to expected movement that naturally occurs over time. Expansion joint systems not only allow for movement but are also designed to provide additional moisture and fire protection and to handle unique conditions within a building.
Closed-cell foams are absolutely watertight and do not allow moisture to enter the body of the foam. This is the best application for horizontal runs where water could pool. The other key advantage of closed-cell foams is that they take well to heat welding of seams. This renders a monolithic installation that reduces risk of water infiltration.
Compression seal joint systems are installed into a joint block out and absorb movement and flexing through compression of the seal. The product is also an excellent option for exterior applications where waterproofing is required.
The hybrid design of a compression seal system is designed to deliver a greater level of waterproofing in split slab construction. A key benefit of this system is its integrated counterflashing, which is engineered to channel water away from the joint opening.
A roof bellows system uses either an ethylene propylene diene terpolymer (EPDM) or a neoprene seal that flexes to accommodate seismic movement. As with counterflashing, the seal must run under the metal flanges to allow water to be shed away from the joint opening. In addition, a compatible non-reacting mastic should be used to ensure watertight adhesion of the seal.
A reinforced vapor barrier (RVB) is another option that can be specified to prevent water infiltration or channel water via an integrated drain tube to drain locations.
A SYSTEMS APPROACH
In the design and planning stages, architects and specifiers must consider how all aspects of the building will work together to ensure that the end result is a high performance building that provides occupant health, safety, and comfort.
Originally published in Architectural Record
Originally published in December 2021
Notice