Blending Aesthetics and Sustainable Design Through Facades
Creating balance between beauty and function
Sponsored by 3A Composites USA, Inc., Cosentino, Endicott Clay Products, Hofmann Facades Group, Inpro, Neolith®, Vitro Architectural Glass
Learning Objectives:
Describe critical attributes of the facade that contribute to a watertight, energy efficient building, thus promoting the health, safety, and welfare of occupants.
Explain how quality, high performance materials lead to aesthetically pleasing, sustainable buildings.
Recognize how the facade and building envelope are part of a systems approach.
Discuss how material coatings and low-emissivity coatings provide more durable exteriors and energy efficient, comfortable spaces for occupants.
Credits:
This course can be self-reported to the AIBC, as per their CE Guidelines.
This course is approved as a Structured Course
This course can be self-reported to the AANB, as per their CE Guidelines
Approved for structured learning
Approved for Core Learning
This course can be self-reported to the NLAA.
Course may qualify for Learning Hours with NWTAA
Course eligible for OAA Learning Hours
This course is approved as a core course
This course can be self-reported for Learning Units to the Architectural Institute of British Columbia
The building's facade is the first thing people see when they gaze upon a skyline or down the street. The facade is not only there to evoke a feeling upon first impression, but it also serves as a vital part of the building envelope. In short, the building envelope is meant to keep the outside out and the inside in while providing occupants with a safe and comfortable environment that will promote their physical and mental health and welfare. The challenges presented by the environment and exacerbated by climate change put added pressure on the building envelope, which can lead to unwanted air and moisture intrusion and all the costly hazards and repairs that follow. Thanks to technological advancements, modern architectural features not only help protect the building envelope against wind, rain, water, and snow, occupants do not have to sacrifice comfort, energy efficiency, or sustainability to enjoy aesthetically pleasing facades. Striking the balance between beauty and function, a well-designed facade can provide the means to ensure that a building is both easy on the eye and easy on the environment, as high quality, long-lasting sustainable materials also require less maintenance and fewer updates or replacements.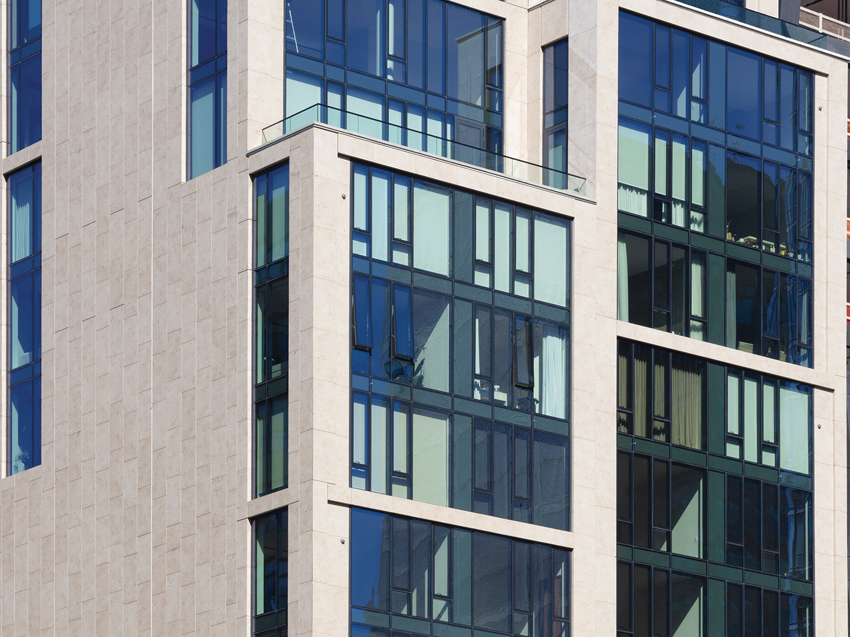 Photo courtesy of Neolith®
The building's facade is a vital component of the building envelope, allowing daylight to enter while keeping unwanted air and moisture out of the building.
MATERIAL SOLUTIONS FOR HIGH QUALITY FACADE
With many different materials available on the market, building designers and architects have a myriad of options to choose from. High quality, sustainable materials are often a blend of naturally occurring and manufactured materials, thus combining the natural weatherproofing qualities provided by Mother Nature with man-made technology solutions.
A key attribute of sustainability is to ensure the balance of natural materials left in nature when extracting them or making a concerted effort to replenish them. Combining natural materials with man-made materials can help make them more durable and increase their life span, preventing an early trip to the landfill. Specifying products that can be recycled or repurposed at the end of their life span is another way to further decrease material impact on the environment.
After a material is selected, it can be treated with coatings or glazes not only to ensure an aesthetically pleasing facade, but also to provide additional protection against the elements, improving the health, safety, and well-being of occupants. Materials can be cut into various shapes and sizes. Coatings and treatments can be applied to update textures, colors, and even designs.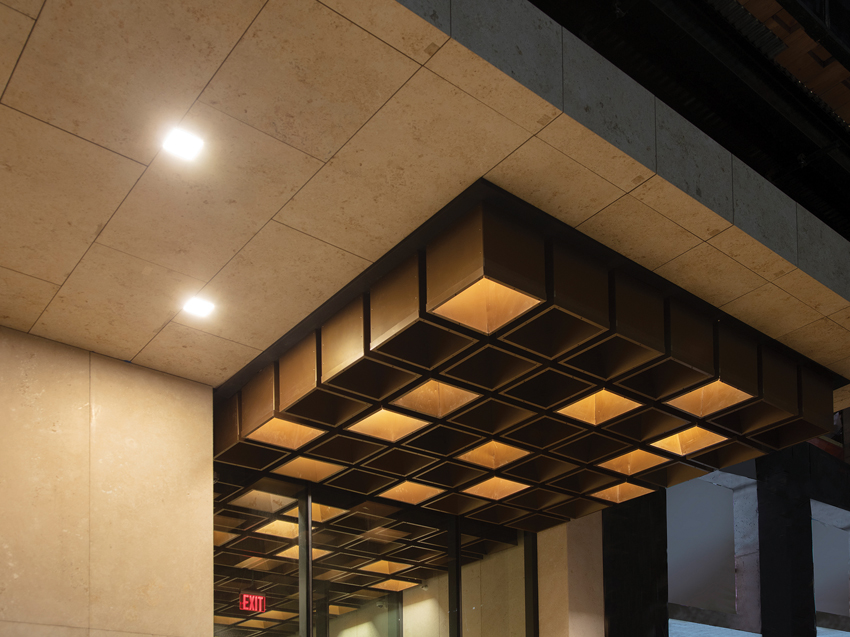 Photo courtesy of Neolith®
Sintered stone surfaces are available in many colors and finishes, providing durability, resilience, and aesthetic appeal.
Sintered Stone
Sintered stone is a fairly new material that combines a perfect blend of man-made processes with natural materials to create surfaces that can withstand both natural elements (hurricanes, blizzards, driving wind and rain) and man-made elements (industrial smog, graffiti). This durable surface is resistant to water, chemicals, scratches, abrasions, and thermal shock, making it a facade material of choice for architects and specifiers worldwide.
Sintered stone can be used for exterior building projects, whether commercial or residential, especially in areas where added thermal and weather protection is needed to protect against extreme temperatures and driving rain or snow. While it is 100% natural in composition, sintered stone can be treated with another material agent to transform the slab into a self-cleaning, anti-pollution, air purifying surface perfect for use in busy, high-emission urban environments.
This natural premium surface is produced in a carbon neutral environment and is one of the most sustainable facade materials on the market. Using 100% natural raw materials, a variety of surface designs can be manufactured including wood, marble, and metal. High performing, ultra-resistant, and low maintenance, sintered stone is available in over fifty colors, patterns, and finishes, providing a striking appearance by combining aesthetic appeal with longevity and resilience.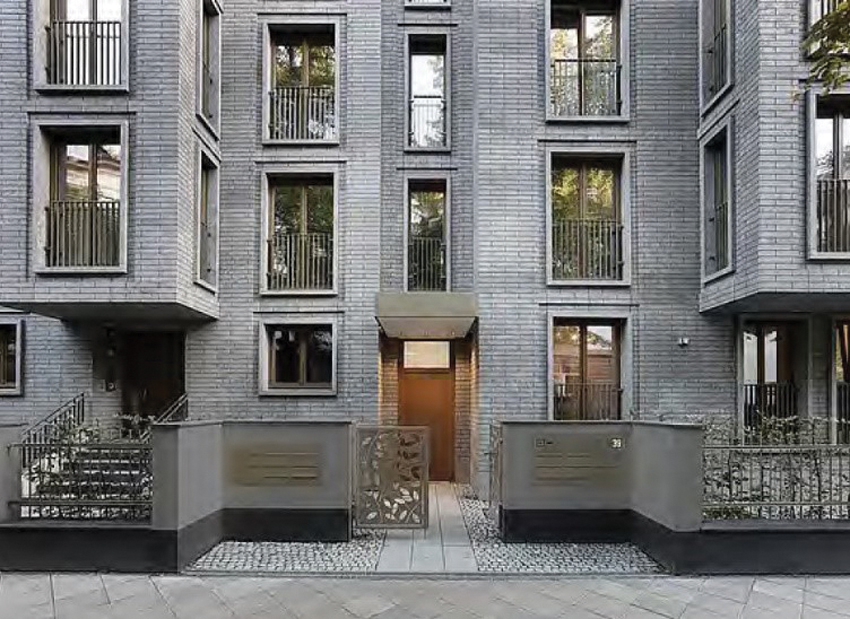 Photo courtesy of Hofmann Facades Group
While the exterior of this building appears to be brick, the facade is made from limestone using natural stone panels, with each stone panel containing multiple faux joints to achieve the look of smaller bricks.
Natural Stone
Natural stone works well in exterior facades. It has the lowest embodied carbon of any fascia/cladding material – four times lower than timber, 3.3 times lower than brick, and 10 times lower than terracotta, ceramic, or architectural precast with high cement or steel content. Natural stones such as sandstone, limestone, and granite can be combined with ultra-high performance concrete (UHPC) into a thin, lightweight, high performance cladding system. This innovative low-weight facade system does not require the use of aluminum, steel, or precast concrete, leaving a much lower carbon footprint. Brick, terracotta, and wood also can be unitized on thin, lightweight cladding panels made of UHPC.
Natural stone can emulate and achieve the look of other less sustainable materials. Faux joints in large natural stone panels can mimic the look of brick or terracotta, as well as yellow or red sandstone.
Performing as a decorative rainscreen, or even a load-bearing outer wall, natural stone has a high thermal mass and a low U-value which reduces the amount of heat loss in the winter and heat gain in the summer.
Natural stone is also highly durable. A well-maintained natural stone facade can easily last 150 to 200 years as it does not use or require structural silicone like glass curtain wall.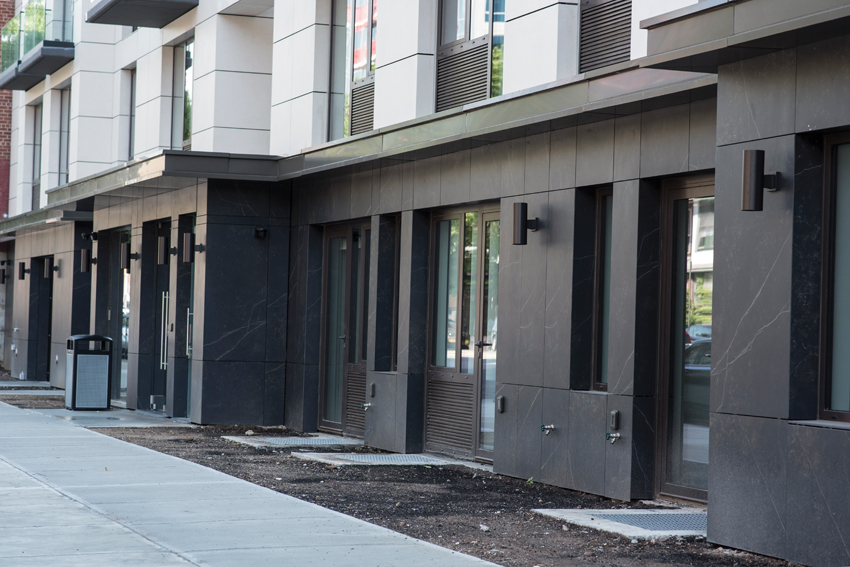 Photo courtesy of Cosentino
Ultracompact surface materials are an ideal material to specify for exterior facades because the raw materials are blended together to make a new product that is resistant to thermal shock, extreme heat and cold, and is practically nonporous.
Ultracompact Surface Material
The ventilated facade is a high performance solution for building enclosures, which takes advantage of mechanical anchoring elements. Through connections between the siding material and the mechanical assembly, design loads are effectively transferred back to the structural wall, providing a safe and secure facade.
For facades fixed with glue, it is very important to select the appropriate adhesives. Mechanical tiebacks or safety brackets can also be incorporated as needed.
Spandrel panels are used in place of glazing units in curtain wall systems when hiding the edges of floor slabs, celling details, insulation, or other building elements.
Ultracompact surface material is available in large format panels (126-by-56-inch) and varying thickness (8 mm, 12 mm, and 20 mm). This material has excellent dimensional stability with a reduced number of joints needed, thus limiting the number of openings in the building envelope.
These panels come in many colors and styles leading to endless design possibilities. Reduced porosity means this material is easy to clean, and resistant to water absorption, thermal shock, extreme heat, graffiti, and freezing.
Originally published in Architectural Record
Originally published in December 2021
Notice