Architecture for Education
Using research-based information to make better design decisions
Sponsored by Construction Specialties, Guardian Glass, Inpro, Mitsubishi Electric Cooling & Heating, NanaWall Systems, and Scranton Products
Restroom Privacy
Recent cultural shifts have moved architects and designers to think less about large school restrooms with ganged fixtures and more about providing greater privacy and gender-neutral options. Such creative solutions can defuse otherwise contentious situations and, in some cases, conserve square footage in buildings. This can be manifested in several ways, discussed as follows.
Toilet Stall Privacy
When it comes to designing and specifying toilet stalls, the first thing to realize is that there are options in partition heights and door-closing details that provide varying degrees of privacy and aesthetics. While individual, private restrooms are always an option (often used for gender-neutral accessible restrooms), American designers can learn some effective strategies from our European counterparts.
Comparing American toilet partitions to European-style partitions, the first thing that jumps out is that American partitions have no 3/8-inch gap between the swinging door and the pilaster that it closes against. European door and pilaster edges are designed to provide a shiplap-style edge condition so the two overlap, thus eliminating any visibility into the stall between the door and the pilaster. The hardware is factor here too. Typical American partition systems use door hardware that creates sightlines on the side of the doors. That's because many of the latching mechanisms use a keeper that typically mounts on the striking pilaster, which requires a gap at the strike side to allow for the door to open or close freely. If a continuous piece is not provided, then there will be a sightline between the door and the pilaster. When switching to a shiplapped system, hardware that mounts on the side of the strike pilaster no longer works. Instead, the hardware must be able to mount separately to latch the door. Some European-style latches also incorporate occupancy indicators due to the fact that it will be almost impossible to see inside the stall to know if it is being used or not. To eliminate sightlines on the hinge side, a continuous hinge can be used that that allows either the door to be in closer contact with the mounting pilaster or uses the hinge itself to fill in the gap.
The next thing that becomes noticeable is the space above and below the door. In the American version, it is common to find the bottom of the door is about 14 inches above the floor, while the top of the door is about 14 inches below the headrail, commonly set at 83 inches above the floor. The standard resulting height of the opaque portion of an American partition is about 55 inches, or just under 4½ feet. In European-style partitions, the partition height can be increased to 62 or 72 inches with corresponding reductions in the spaces above and below, thus assuring greater privacy. It is also common to have full-height partitions that extend from the floor to the ceiling or a soffit above and create "full-room" compartments. These can still be created from partitions using customized sizing between 86- and 112-inch heights. Such prefinished partition systems can save time and money with very quick installations and less on-site construction and finishing if regular construction methods were used.
Part of the flexibility of full-room compartments and taller partition systems is that all common partition materials are still available. These include metal, stainless steel, plastic laminate, phenolic, and HDPE partitions. Each have their own capabilities, strengths, and weaknesses, but HDPE plastic stands out due to its features and benefits for schools. High-density polyethylene (HDPE) is a created from extruded polymer resin with a high strength-to-density ratio and is used in many different types of products. For school restroom partitions, it provides a mid-priced option with the lowest cost of ownership due to its low maintenance requirements. It resists mold, scratches, dents, chipping, rust, oil, and bacteria, thus offering greater durability than some other options. Its finish, with a wide variety of colors and textures, is assured to be a long-term solution since it is produced with a solid color throughout and never needs painting. Because of these attributes, it is common to find it with a 25-year warranty for quality products.
From a school health standpoint, HDPE partitions make a lot of sense too. They are available in low- or no-VOC products that are not a source of chemical off-gassing. Further, they don't require paints or harsh cleaners that may contain VOCs either. Because they are non-porous solid surfaces, mold and mildew growth is resisted, helping with a healthier indoor environment. As such, they can contribute to points under the LEED green building certification program. Some even have earned GreenGuard Certification as administered by UL Environment. Overall, European-style HDPE partitions are proving to be a preferred choice for restrooms, offering extreme privacy, many design options, and innovative features that can significantly upgrade the look of a room and remain healthy and attractive for the long term.
David Casal is the director of sales administration with Scranton Products and has observed this trend, pointing out, "With unlimited design options, HDPE partitions are perfect for creating one-of-a-kind restrooms that really stand out from common designs for innovative facilities. Say goodbye to large sightlines, boring flat doors, and large gaps, and hello to stylish elegance with lots of privacy."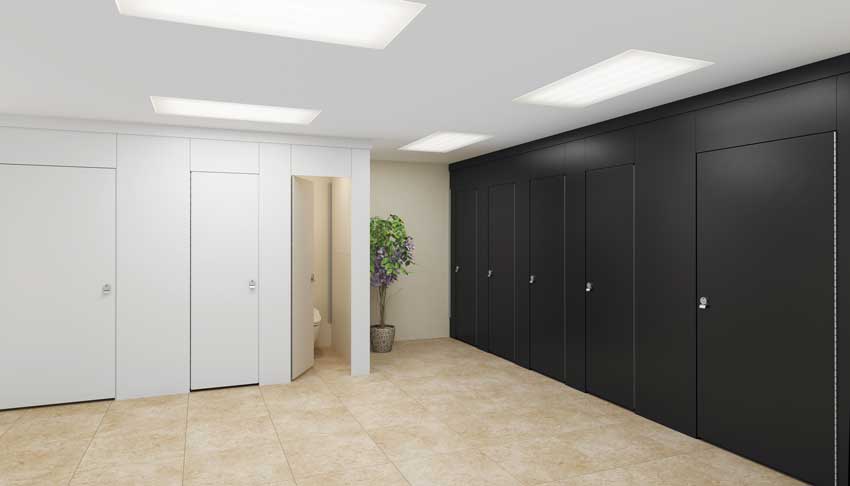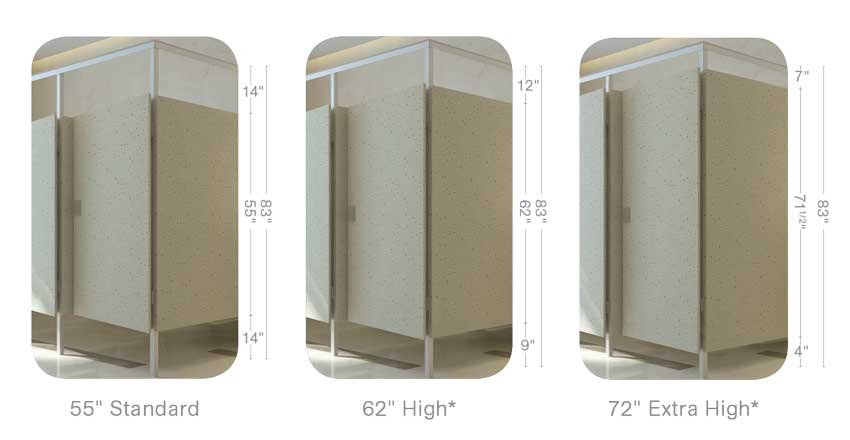 Images courtesy of Scranton Products
Toilet partitions no longer need to be limited to the American standard of 55-inch-tall partitions. Instead, products that provide greater privacy and separation are available in 62-inch, 72-inch, and full-height partition sizes.
Shower Stall Privacy
School gymnasiums with locker rooms and showers have been common programmatic elements of educational facilities. For decades, the norm has been to provide communal or gang showers in situations like this. The concept made sense since multiple showering "stations" within a given space increased efficiency and capacity while reducing mechanical first costs in new construction. But, as we have noted, times and culture have changed. There are new norms about bathing privacy that have raised new concerns and challenges related to bathroom and shower design. Further, additional risks of serious bacterial infections for athletes and other users put new focus on the design and surface cleanliness of communal shower installations.
One answer for increased privacy in showering is to use separated shower stalls or compartments instead of gang shower arrangements. To be effective, they need to include spaces not just for showering but also for adequate dry-floor changing that allow bathers to disrobe and get dressed. In designs where space may not allow the combined shower and changing area, then a more inline approach with individual showering spaces can be used.
Selecting a material for the shower stalls can be important to the health of students. Methicillin-Resistant Staphylococcus Aureus (MRSA) is a bacteria of concern here. MRSA is classed by the Centers for Disease Control (CDC) and the medical profession as one of the deadly "superbugs," with infections considered extremely serious. There have been outbreaks of this bacteria in a variety of sports locker rooms that have prompted a number of recommendations for cleaning and disinfecting them regularly. The recommendations also include avoiding tile and grout, which can be damaged and harbor bacteria. Instead, the use of solid surface material can be an effective way to avoid any potential MRSA buildups and facilitate cleaning. Therefore, creating shower stalls with private changing areas all constructed out of solid surface materials will reflect the best current practices in this regard.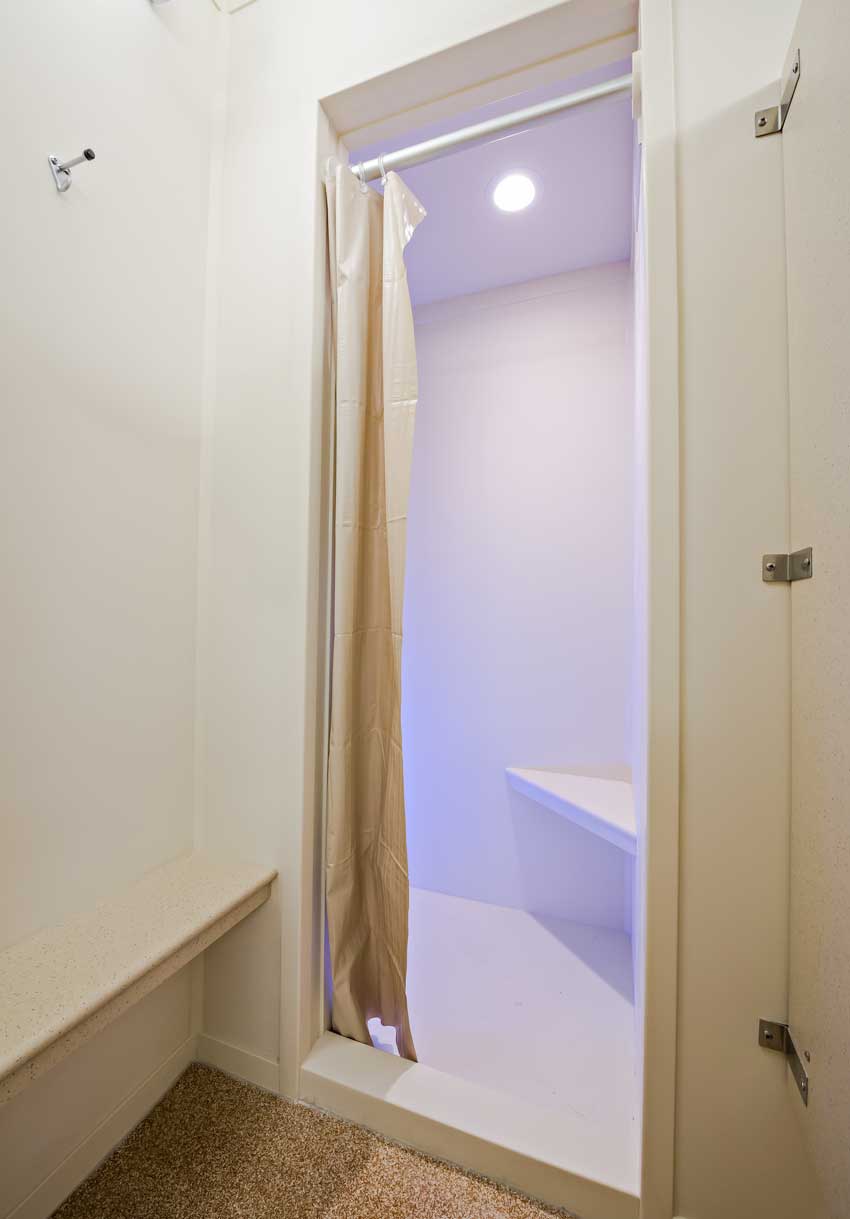 Image courtesy of Inpro
Private shower stalls with private changing areas all made out of solid surface materials offer safer, healthier alternatives to gang shower arrangements in schools.
Conclusion
School design requires an understanding of both building performance and conditions that are conducive for learning and teaching. This is true for exterior wall systems that incorporate controlled daylight to enhance the indoor environment. It is also true for creating vibrant, flexible, and durable indoor spaces that support building operations and programs for students. It even comes together in less-visible but significant ways in restroom design and HVAC systems. Architects and other design professionals who base their design decisions on research have more of a basis for successful design outcomes. This is true whether that research comes from organizations like the AIA Committee on Architecture for Education, academic institutions, or private firms and companies all focused on seeking truth and higher understanding of the interaction between people and the built environment.
Peter J. Arsenault, FAIA, NCARB, LEED AP, is a practicing architect, green building consultant, continuing education presenter, and prolific author engaged nationwide in advancing building performance through better design. www.linkedin.com/in/pjaarch
Originally published in Architectural Record
Notice