Architecture for Education
Using research-based information to make better design decisions
Sponsored by Construction Specialties, Guardian Glass, Inpro, Mitsubishi Electric Cooling & Heating, NanaWall Systems, and Scranton Products
Interior Finish Protection
Schools are busy places with a lot of people and equipment moving daily. That means the interior finishes can get rubbed, bumped, banged, or even abused, and they will start to show signs of wear quickly if they are not inherently durable or protected in some manner. In these cases, material research and testing by independent organizations or manufacturers can help inform design decisions.
Interior Door Protection
Interior doors in a school are prone to get a lot of use and even abuse, which means that the materials used in them need to be able to withstand those conditions. Recognizing this need, door manufacturers provide product offerings that are specifically designed to handle these heavy use conditions. They also recognize that the doors need to meet other criteria for performance, such as fire ratings where required, acoustical control, and the ability to be easily maintained and serviced. Beyond performance, the door appearance is also important, so a variety of finishes have become available that allow doors to stand out as features in a design or blend in with the surrounding surfaces. Either way, some offer the option of customized appearances and even artwork or graphics being integrated into the door. Overall, they provide a durable, attractive, code-compliant, long-term door design solution.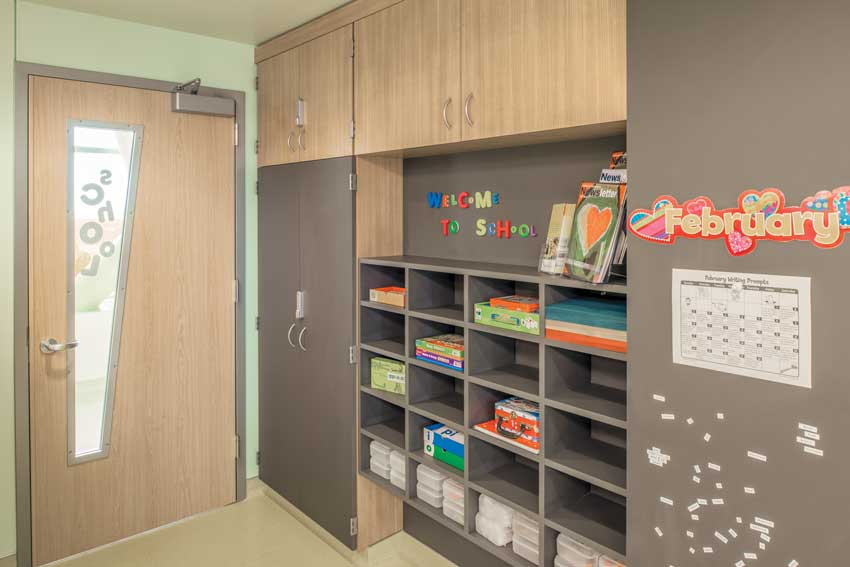 Photo courtesy of Construction Specialties
Doors that are fabricated and treated for heavy use can help with the long-term durability and appearance of school spaces.
Interior Wall Protection
Interior walls are at the forefront of the need for durability in a school. In particular, corners, edges, and other aspects of an interior design are subject to wear and tear from moving people or equipment. Adding products specifically designed to protect these areas is common, with many choices of product types, finishes, and colors to enhance, rather than detract from, an interior design scheme. For full wall areas that need protection, there are a number of choices. One is to use wall panels that are mounted over a substrate wall and incorporated into an overall design scheme. The other is to use rigid sheet protective wall covering that is readily available and easy to clean. Such coverings also come in specialty materials for unique or more demanding locations. One of the more creative choices though is the use of printed wall protection. In this case, the protective covering is clear and backed with a choice of standard or custom graphics such as logos, artwork, mottos, or mascots.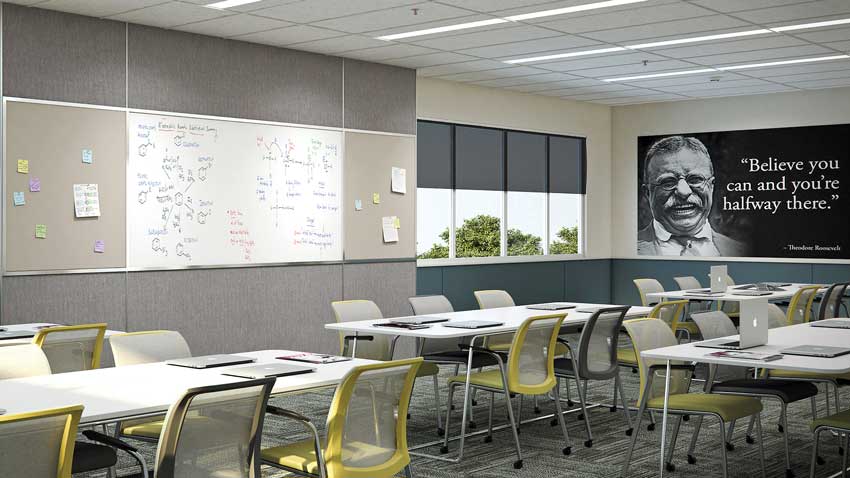 Photo courtesy of Inpro
Protective wall coverings in schools can take many forms to provide long-lasting, durable, and attractive design solutions, including digital imagery that inspires.
Printed Interior Wall Protection
There are occasions when wall protection is needed in a school but there is also a desire to have some printed graphics on a wall. That option is now possible and readily available. "When wall protection is selected that is printed with a design, it is important to recognize that these products are designed first and foremost as a highly durable, long-term wall protection solution that can stand up to years of abuse," says Amy DeVore, business development manager with Construction Specialties. This benefit makes printed wall protection a sought-after choice for schools to control maintenance and replacement costs. But they also provide the ability to showcase visually stimulating imagery, like original artwork, school colors, mascots, or even eye-catching photography. Because artwork is dictated by creative direction, the design options are virtually unlimited. Artwork is printed and installed behind a clear, protective sheet that is all mounted onto the wall.
When specifying such printed interior wall panels, they can be selected as PVC-free and also meet the testing requirements of ASTM E84 Class A/1 fire characteristics. Commonly supplied in 4-foot-by-8-foot or 4-foot-by-10-foot rigid sheets, this product typically installs with a heavy-duty, water-based mastic adhesive and utilizes minimal sheet spacing, caulk, or trims to allow for proper expansion and contraction of the material. This is a break from the status quo of painted walls and metal school lockers, encouraging a collaborative and socially creative environment for students.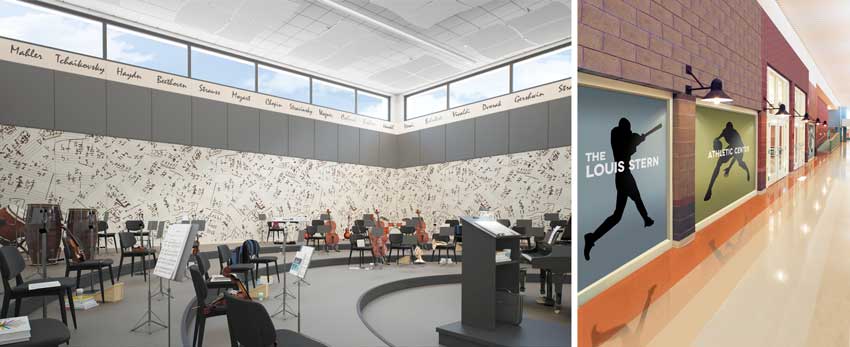 Photos courtesy of Construction Specialties
Walls can be treated with a clear protective surface that can include printed material on the back to create a fully custom look in school settings, as shown in a band room on the left and an athletic area on the right.
Originally published in Architectural Record
Notice