Architecture for Education
Using research-based information to make better design decisions
Sponsored by Construction Specialties, Guardian Glass, Inpro, Mitsubishi Electric Cooling & Heating, NanaWall Systems, and Scranton Products
This test is no longer available for credit
Thermal Comfort
When it comes to creating a school building that is thermally comfortable, accommodating to daylighting and sun, and efficient to operate, the focus often moves from a well-designed building envelope to an efficient cooling and heating system. While mechanical engineers are quite good at figuring out the sizing, efficiency, and economics of different systems, architects are usually more concerned with flexibility in design, quiet operation, availability of indoor unit styles, and being able to modify the systems as needs change during the design or life cycle of the building. From all points of view, variable refrigerant flow (VRF) systems have become a popular choice to provide educational buildings with design flexibility and efficient, personalized comfort for occupants. Because they can be customized and easily zoned to provide cooling or heating simultaneously throughout a building, they meet the needs of a wide variety of spaces, including classrooms, lecture halls, administrative offices, athletic facilities, and more.
Design teams who have incorporated two-pipe VRF systems have found them easy to design, while facility operators find them easy to manage and modify as building needs change. Routine maintenance is minimal and limited to indoor unit filter changes and outdoor unit condenser coil cleanings. With this ease of design and installation, minimal required maintenance, superior energy efficiency, and long-lasting equipment, the systems' total life-cycle costs are less than many others. More importantly, the capability of precise zoning gives individual control to teachers and administrators, keeping virtually everyone comfortable and content. From an operations standpoint, cooling and heating can be utilized in areas that need it, without paying for those that don't.
The quiet nature of VRF systems makes them ideal for environments like libraries, classrooms, and study halls, where students need to focus without the distraction of noise. Indoor units operate down to 19 dB(A), quieter than a whisper, and outdoor units featuring high-performance compressors operate at levels as low as 58 dB(A). Energy recovery ventilators (ERVs) can also be applied to exhaust outside air and rid the school of toxins, odors, bacteria, and other potentially harmful contaminants. They also improve HVAC system efficiency by preheating or cooling incoming outside air with energy recovered from the exhaust air.
Nichole Watring is the principal at St. Joseph School in Pilot Grove, Missouri, where VRF systems have been successfully installed. She notes, "We have not had any issues with the system, and the teachers and students love that they can control the temperature of their rooms. It's much quieter and more efficient than the previous system. The students especially love the burst of cool air when they come in from recess on hot days."
Kevin Miskewicz, director of commercial marketing for Mitsubishi Electric Cooling & Heating, is always glad to hear success stories like this, as he points out, "We understand the challenges educational facilities face—particularly tight budgets, the need for individualized zone control, and high-efficiency demands. Working together, we can help design the right HVAC system that satisfies their unique requirements."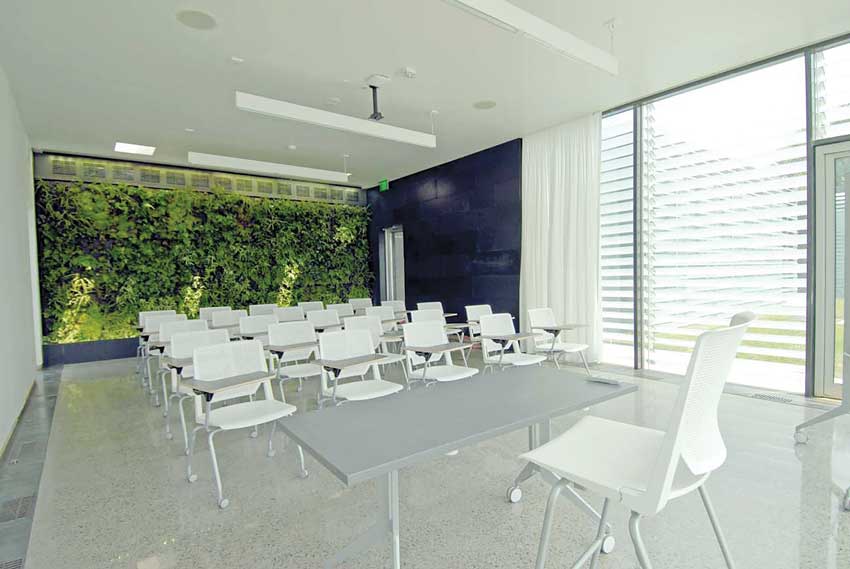 Photo courtesy of Studio 804
Variable refrigerant flow (VRF) systems can be used in very energy-efficient buildings to provide thermal comfort and integrate with other mechanical systems within a building.
Interior Space Flexibility
Collaborative teaching and group learning are concepts in education that have received a lot of attention and investigation in recent times. Whether school boards or educators are aware of current research topics or not, they often request architects to consider ways to incorporate spaces that can be flexible and transformed in size and character. Of course, that has to be easy to do and still allow for the spaces to function in terms of light, views, and acoustics. After all, the goal is to enhance teaching and learning, not detract from it.
One of the solutions being used increasingly in schools is operable glass walls made of panels that can be easily moved to define smaller spaces when they are closed and larger spaces when they are open. From a learning perspective, this solution allows the creation of defined areas for focused learning or the opening up of larger common areas where multiple students can work together on a range of activities utilizing shared resources, such as technology centers or presentation areas. Not only does this approach offer the sought after variety for student programming, but it also means that teachers can support each other, fostering a better-managed classroom environment. From an overall design perspective, creating such a flexible classroom configuration with operable glass walls can optimize or even reduce the needed floor space within a building envelope, which can translate into reduced construction costs.
Taking this flexible-space approach to the design of school environments can contribute to the following common requests from educators:
Variable-sized group work: Operable glass walls enable separation of smaller groups for discussion, group projects, quiet zones, advanced or remedial work, test centers, teacher assistant-led groups, etc.
Multiple concurrent activities: This approach allows teachers to monitor multiple activities in separated spaces.
Outside volunteer space: When a parent or visitor volunteers in the classroom, they can use this area to work independently with students.
Shared resources: Flexibly accessed glass walls offer common storage space for shared books, supplies, computers, and reduces redundant purchases.
Teamwork: Joining two or more classrooms with shared space allows teachers to configure space to meet their needs, while advanced operating mechanisms allow for quick and easy transformations.
Class management: One teacher can temporarily monitor two classes if another teacher has an emergency or needs a break.
Minimized visual distractions: Use of mixed transparent glazing in the upper portion of the glass wall and opaque glazing in the lower portion allows seated students to be isolated from excessive distraction beyond the wall, while a standing teacher can monitor multiple spaces.
Cool off/recovery area: This offers isolated, private space for behavioral and emotional issues or disciplinary actions.
Architects who have used this approach include John Brown, AIA, partner, Hollis + Miller Architects, who points out, "Connectivity, flexibility, and visibility were all very important concepts in the design of the spaces within our school projects. While we still needed the capability of closing off spaces for more traditional classroom and learning spaces, we also needed to open up the walls to accommodate larger groups, which would then allow for collaboration." David T. Esely, AIA, senior project architect of the same firm, adds, "When closed, very little sound penetrates, which allows for diverse learning opportunities on both sides of the panels simultaneously. When the panels are open, the opportunities within the space transform and can then be tailored to specific instructors' needs and requirements. This is all done with ease, speed, and frequency."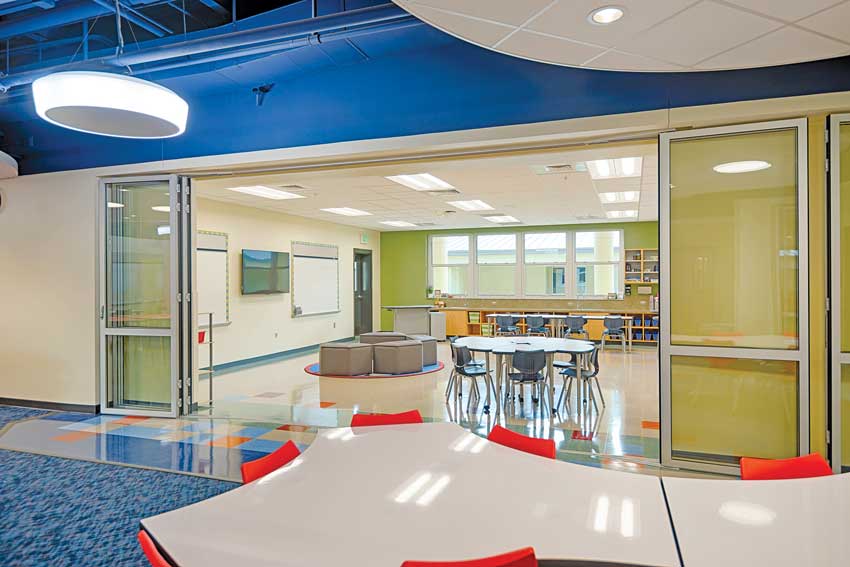 Photo courtesy of NanaWall Systems
Operable glass walls used in school settings allow architects to create flexible spaces that can meet a variety of educational needs and preserve the light, sound, and control aspects of design.
Originally published in Architectural Record
Notice