Architecture for Education
Using research-based information to make better design decisions
Sponsored by Construction Specialties, Guardian Glass, Inpro, Mitsubishi Electric Cooling & Heating, NanaWall Systems, and Scranton Products
Learning Objectives:
Identify the significance of using independent research as a basis for making design decisions in schools.
Assess the health and safety performance aspects of a variety of design characteristics and materials as they relate to durability and sustainability.
Explain the importance of making design decisions that have positive impacts on student performance, indoor air quality, and health.
Determine ways to incorporate the design principles presented into buildings that are sustainable and high performing as shown in case studies.
Credits:
This course is approved as a Structured Course
Approved for structured learning
Approved for Core Learning
This course is approved as a Core Course
Course may qualify for Learning Hours with NWTAA
Course eligible for OAA Learning Hours
This course is approved as a core course
This test is no longer available for credit
Designing K–12 learning environments is a task of considerable complexity requiring a great deal of information gathering, analysis, and synthesis to produce a successful final design. Some of the information is based on the stated needs and desires of a school client board, staff, or regulatory and funding authority. Other information is based on the physical parameters of an existing site or building that is the focus of a new or updated facility. But there is an additional source of information that can be highly valuable in making informed decisions on the ways that a school environment can be successful, namely independent scholarly research. In a world where information has become the new driver of so much of our activities and economies, research that is vetted and found to be reliable can help clarify facts from opinions and offer insights into multiple aspects of architectural design. As such, useful research is not limited just to that done in architectural schools or firms, but from many disciplines of art, science, technology, health, and others. Since architecture has always reflected, and often contributed to the culture of a particular place and time, it is no surprise that all of the disciplines and forces of our current culture come into play in the design of new or renovated schools today.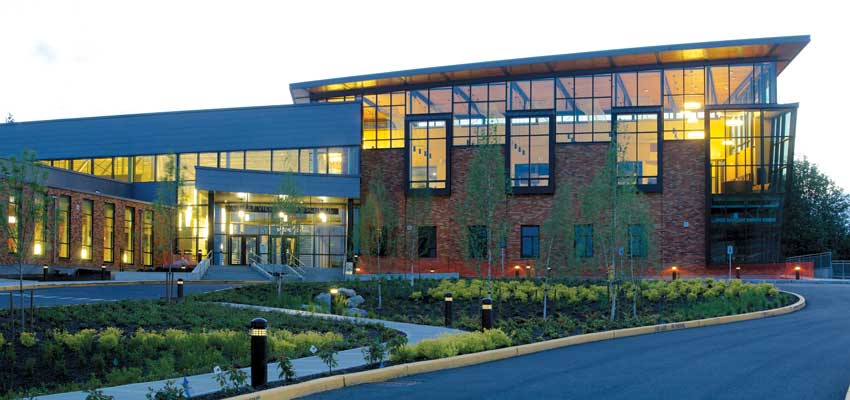 © Matt Todd Photography/Guardian Glass
School design can benefit from advances in research, development and testing focused on a wide variety of disciplines, including building science and human impacts. The Valley View Middle School in Snohomish, Washington, designed by Dykeman Architects, shown here, benefitted from research based design to create a building that would "achieve sustainability and teach stewardship of the environment" while saturating the building with natural light and providing panoramic views.
Recognizing the multiplicity of influences on school design, The American Institute of Architects (AIA) Committee on Architecture for Education (CAE) has been formed with more than 8,000 architects and allied professional members. It is a knowledge community and think-tank group committed to "enhancing educational facilities through thoughtful, research-based, and collaborative programming, planning, and design." As part of this mission, the AIA CAE has created a Research Subcommittee to help bridge the gap between practice and research. The goal is to provide AIA members and other design professionals with a "national interdisciplinary working group focusing attention on the influential interactions, dynamics, and cultural influences that occur within and around physical learning environments in which the learner, teacher, content, and affordances interact within the context of the built environment." In essence, they are seeking to draw from a broad pool of information to provide practitioners engaged in school design with some reliable research upon which to justify and base design decisions. This approach, often referred to as research-based design, means that architects can be kept up to date with the latest information in a manner that allows us to translate research knowledge into built conditions. (Learn more on the CAE Research webpage.)
Toward the end of improving communication, the AIA CAE Research Subcommittee has launched an effort with Learning by Design and published its first issue of Dialogues in fall of 2017. This succinct document provides five summaries of research projects that provide fresh perspectives connecting "health and learning through co-creative design processes, physical activity, multisensory experiences, and encounters with space as a teaching tool." The Subcommittee co-chairs say, "With these touchstones of understanding the deeper intersections between environment and learning, we can begin to nourish expansive conversations around the planning, building, and evaluation of school in the future."
Using work of this research subcommittee for inspiration, this course will address seven common areas of school design and seek to question the basis for design decisions around them. In essence, it is intended to be a call to action for designers to question if they are using research in their design to keep their designs fresh and current or making decisions purely based on quickly fading traditions or past practices.
Daylight and Glazing
One area that is well known for incorporating research-based design is the use of natural daylight to enhance the effects on people in buildings, particularly schools. Numerous studies have indicated that students perform better when they are in classrooms and other school spaces that contain natural daylight. The design challenge comes in the form of not only controlling that daylight but also in finding the balance between appropriate lighting and energy usage. Since any window or glazed opening will allow heat as well as light to pass through it, the treatment of glass has received considerable research attention.
Research, development, and testing have been done by a variety of organizations including institutions, third-party agencies, and manufacturers to identify coated glass products that can deliver high light transmittance while reducing solar heat gain. Such products are ideal for creating learning spaces with abundant natural light while helping to manage heating and cooling costs and the need for artificial lighting. Specifically, glass coatings can be tailored to achieve the right combination of thermal U-factor, solar heat gain coefficient (SHGC), and visible light transmission (VT). So, for example, a solar heat gain coefficient of 0.25 or less may be required in warmer climates, which would commonly mean a large loss in VT. Through research and development, coated glass products are now available that achieve SHGC of 0.23 and corresponding VT up to 68 percent. The color of the primary glass can be selected to suit a particular aesthetic and performance level with a variety of float glass colors, including low-iron (very clear), light gray, and light blue. The neutral appearance of the low-iron glass with a coating is the most similar to clear uncoated float glass, which has a normal green tint from the manufacturing process. Selecting the best version of such coated, insulating glass can help a project earn certification from green building rating systems such as LEED, the Living Building Challenge, and the WELL Building Standard.
Brian Schulz is a product manager with Guardian Glass North America. He observes, "What used to be a trend in school construction—maximizing daylight—is now the standard, and now we must deliver products that bring abundant natural light into spaces while delivering on strict energy-performance requirements. Coated glass products give architects and designers a wide selection of performance and aesthetics to meet even the most complicated specifications." From a designer's perspective, Denis Henmi, FAIA NCARB, president of the firm Kwan Henmi, concurs. "The exterior appearance of the glazing is of top priority," he says. "We go through a very careful selection process balancing the aesthetics and performance characteristics. Maximizing views and natural light are some of the top goals during the design process. Coated glass has played a vital role in our ability to maximize glazing, energy performance, and visual appearance."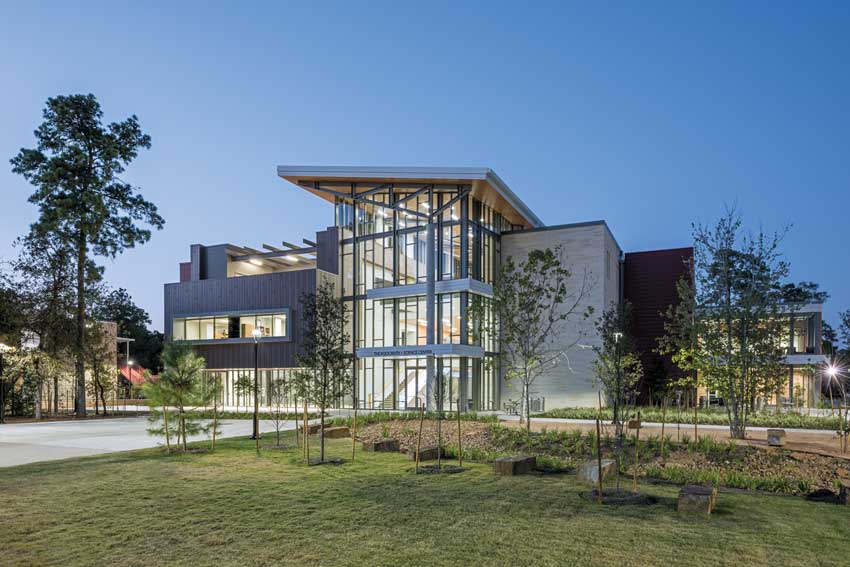 © Ziegler Cooper Architects/Guardian Glass
Incorporating high-performance coated glass, the John Cooper STEM School in Houston designed by Ziegler Cooper Architects includes a dramatic glass entrance that incorporates eye-catching aesthetics with a high level of light transmission coupled with low solar heat gain. This glass performance helps architects meet the most stringent energy codes in North America without sacrificing appearance.
Originally published in Architectural Record
Notice