Creating High-Performance Building Facades
New materials, products, and systems create better results that enhance designs
Sponsored by Azon, HOFMANN FACADES, Inpro, Neolith®, and Vitro Architectural Glass
Higher-Performance Glass
The use of glass in building facades is not only ubiquitous, but it can also be the dominant aspect of the aesthetic look of many commercial building designs. When it is used in even a moderate quantity, it directly affects the thermal performance of a building too. This is true in cold climates, where the concern may be heat loss from inside to outside, and in moderate to warm climates, where the concern is heat gain from outside to inside.
Glass manufacturers have responded with increasingly sophisticated approaches that involve improvements not only to double-paned insulated glass units (IGUs) but also the treatments applied to the glass surfaces. All of this is coupled with general improvements in glass types that produce greater clarity, less coloration, and more visibility—all while mitigating the potential negative impact on thermal performance. And, because this is becoming widely adopted, the cost of this latest generation of glass products is in line with many project budgets. This is all good news for architects since it means that there are now more opportunities to meet higher performance requirements without sacrificing design requirements in building or renovation projects. How are these impressive results achieved? Typically, by combining better glass choices with better coating technology.
Improving Clarity
"Clear" glass is popular in a variety of architectural applications. However, design professionals know that clear glass is not completely clear—it has a distinct green hue when viewed under normal light conditions. Since the green color comes from the presence of iron in the glass when it is manufactured, the way to overcome that condition is to use glass made with lower amounts of iron. "Low-iron" glass can be 60 percent less green than "standard" clear glass for everyday projects, or up to 87 percent less green for projects demanding the utmost transparency.
Of course, a double-glazed IGU consists of two glass lites, separated by an airspace. Manufacturers point out that design professionals often specify a double-glazed IGU with low-iron glass as the exterior lite—typically to achieve greater transparency and color fidelity—and then use clear glass as the interior lite. However, this compromises the design intent of maximizing daylight and color fidelity, as the green hue that is inherent in clear glass will dilute the clarity of the low-iron glass on the exterior lite. Using low-iron glass for both lites in a double-glazed IGU will help achieve a truly transparent look.
Enhancing Performance
Low-emissivity (low-e) coatings are commonly applied to glass in the interest of reflecting heat away from the glass. These coatings consist of extremely thin layers of silver that are applied to the glass substrate through a magnetron sputter vacuum deposition (MSVD) process. These layers of silver reflect infrared (heat) radiation back away from the glass, helping to keep a room either warmer or cooler as desired. This makes the glass-enclosed spaces more comfortable while also helping to control energy costs related to heating and cooling the space. The relative transparency of these coatings also helps transmit natural daylighting, which can improve health, wellness, and productivity, while also allowing electric lights to be turned down or off.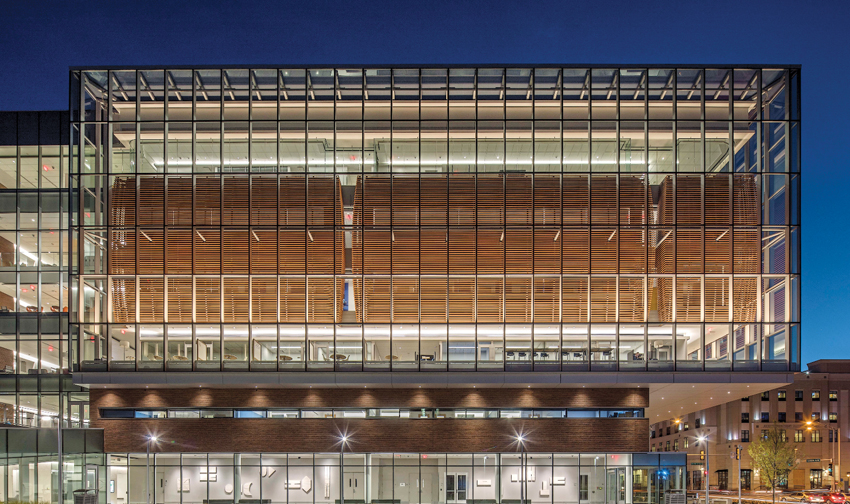 Photos courtesy of Vitro Architectural Glass
Low-iron glass is available at different levels of clarity to suit design and budget requirements.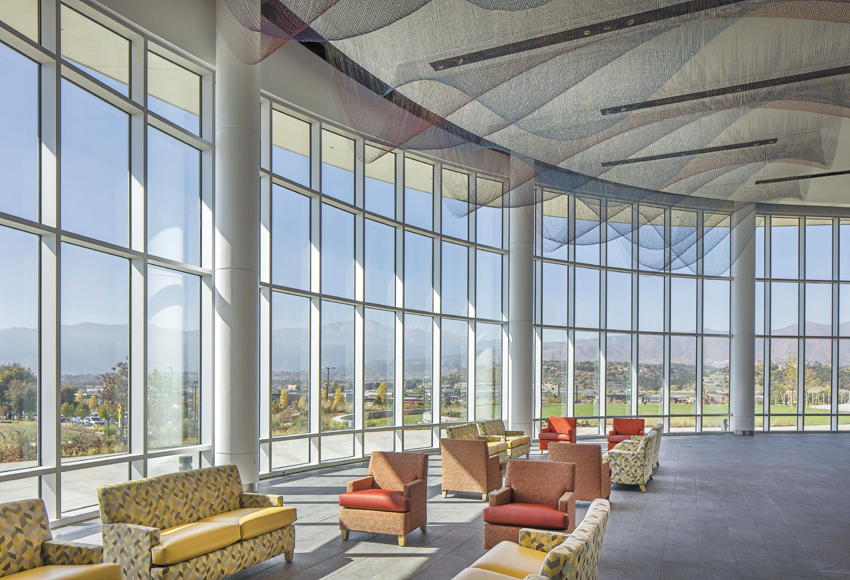 High-performance glass can help create interior spaces that are comfortable for people while reducing energy costs for heating, cooling, and lighting.
Optimizing Results
Different building projects require different glass solutions to achieve the best results. In cases where clarity, color correctness, and energy performance are all required, it makes sense to consider combining high-performance low-e coatings on low-iron glass. Manufacturers who offer such glass systems point out that they combine exceptional solar-control performance with neutral aesthetics, enabling larger expanses without sacrificing occupant comfort. Options are available that offer excellent clarity even using a mix of low-iron and low-e choices. For example, a 1-inch IGU with a mid-range low-iron glass, with an advanced low-e coating as the outboard lite and uncoated mid-range low-iron glass as the inboard lite, can achieve visible light transmittance (VLT) up to an impressive 53 percent with a solar heat gain coefficient (SHGC) of a very low 0.23.
It is worth noting that this approach can be used for all types of glass conditions, including the emerging need for bird-friendly installations. Recognizing that expansive areas of glass can cause birds to accidently collide with them, regulations are in place or pending in many parts of the United States, Canada, and Europe to address this situation. As a result, manufacturers are offering high-performing solar-control, low-e glass that is combined with bird-safe, acid-etched patterns that can satisfy local and/or federal bird-safe glass codes. By placing acid-etched visual markers on the first surface of an IGU, which is preferred to prevent bird collisions, a low-e coating can be applied to the second surface—which is ideal from a solar-control standpoint.
Originally published in December 2020
Notice